COVER STORY
How to walk Athens: A guide for city wanderers
READING TIME
As long as it takes to drink a glass of ouzo
What's your travel personality? Are you a foodie? Are you artsy? Are you the kind who's always looking for the places where the locals hang out, getting just as excited by a cute and colourful doorway as a monument or museum? If that's you, grab yourself a comfortable pair of shoes and we'll do the rest by taking you into some of the coolest neighbourhoods of Athens, looking for all those hidden places and non-touristy things to do in the Greek capital. Where to find the best street food and street art. What to look out for in the architecture and where you'll find the best arts & crafts stores. And much more. Sound like you? Here goes.
ΗΟW TO WALK ATHENS: The neighbourhoods
Every neighbourhood in Athens has its bakeries, grocery stores and collection of cafes, bars and restaurants … especially in and around the squares that are the focal point of daily life. Exploring them and stumbling on parks, churches, theatres and museums is one of the joys of getting to know Athens. So first up, let's get you acquainted with some of the neighbourhoods you'll be heading into and then we'll get specific.
Famous as the locations of the pottery workshops and cemetery of ancient Athens and for housing the city's one-time gasworks (now transformed into an exhibition centre), Keramikos and Gazi (just below Metaxourgio) have been known for their bar and clubbing scene for some time. To that you can add restaurants, art galleries, music venues and an all-round cool vibe.
Meaning 'silk mill', Metaxourgio is just north of the historic centre and was an area in decline until being revived as one of Athens' hippest neighbourhoods. Look for the meze spots around Avdi Square, where you'll get the feeling for old Athens, especially in the historic cafes. Order yourself a Greek coffee brewed in the traditional way, on hot ashes.
For many, the most versatile, eccentric, boho and rebellious neighbourhood in town and, unsurprisingly, a favourite with intellectuals and the artsy crowd. Exarhia encapsulates underground Athens (although it has its historical and architectural interest too) and is packed with homely restaurants, trendy bars and traditional cafes.
Psirri has established itself as one of Athens' most popular neighbourhoods. It is right next to Monastiraki Square and Ermou (a major shopping street) but delivers total authenticity and a sense of discovery, especially in the labyrinth of streets around Iroon (Heroes') Square. You'll find trendy restaurants and bars, clothes shops (including cobblers) and Athens' first cathedral.
Spreading out around the oldest square in Athens (Omonia Square) is an area whose glory days seemed well and truly behind it until a recent regeneration project on the square began to give it the attention it deserved.
With working class roots and first inhabited by refugees from Asia Minor in the 1920s, Petralona is full of curious little detours, such as the Petrina district (at the top of Troon St) named after the stone houses built during a royal housing initiative in the 1950s. It's just west of Philopappou Hill (overlooking the Acropolis). Walking down Troon from Pellineon St, you pass neoclassical buildings, shops and cafes until you reach Merkouri Square.
Koukaki is a favourite little neighbourhood of Athenians, comfortably accommodating both locals (especially the younger crowd) enjoying the bars, cafes, ethnic eateries and delis and the tourists drawn here after visiting the Acropolis or Acropolis Museum. There's a buzz on the pavements of Koukaki that's hard to beat.
A new entry on the visitor map, Kypseli is both classically Athenian and multicultural. It's just north of Pedion tou Areos (one of the biggest green spaces in Athens) and has always been a neighbourhood of theatres and original Athens architecture. But to see why it's a hip new hangout, stroll from Kanari Square along tree-lined Fokionos Negri St and around Agiou Georgiou Square, passing cafes, bars, tavernas, meze & tsipouro spots and ethnic eateries.
Just beyond the National Garden and next to the Panathenaic Stadium, Pangrati has a traditional and modern thing going on, with colourful bars and everything from street food to koutoukia (family-run tavernas) and gems like the oldest cinema in Athens and the Goulandris Museum of Contemporary Art. It's one of Athens' densest urban districts, but also has unexpected pockets of greenery, like Pangrati Grove and Arditos Hill above the Panathenaic Stadium.
A long-time favourite of Athenians looking for something chic and classy, whether that means a boutique or a pavement cafe or bar. Life revolves around Kolonaki and Dexamenis squares but take a walk. There's some beautiful architecture here and hidden gems that include a couple of outdoor summer cinemas. The perfect starting or end point to a walk on Lycabettus Hill.
ΗΟW TO WALK ATHENS: The street food
Who doesn't love street food? Sure, but any walk in Athens will convince you that Athenians take their love of a roadside nibble to another level. Now add the vibe of once classic neighbourhoods getting a whole new gastro scene and you'll get why Athenians have embraced street food with a passion.
So imagine yourself in downtown Athens … say Omonia with a souvlaki in hand (meat on a stick or in a pitta, with all the trimmings). Some of the oldest souvlaki shops in Athens are found here. The same goes for Psirri and a koulouri (you know the ones … the sesame seed-coated bread rings they sell on street corners). But you could always switch it up with a handmade ice cream bursting with the flavour of summer fruit as you wander past the craft stores and antique shops in the streets around Iroon Square. And you'll love the buzz of Varvakios Market. It's the main meat and fish market of Athens … but it's also the site of some pretty cool street food. Look out for the sushi spot right inside the market.
Heading up Evripidou (Athens' spice street), you move further into the so-called Commercial Triangle, containing some of the city's most atmospheric streets (Kolokotroni, Lekka, Nikis and Skoufou as well as Mitropoleos, named after the Metropolitan Cathedral found there), ending at Syntagma Square. Keep an eye out for neoclassical houses, arcades and local nightlife spots … having grabbed yourself a salad on the go. The combinations will surprise you – kale and lentils, orange with olives and almonds, creamy myzithra cheese … that sort of thing. Or maybe a bagel or dim sum – ok, not Greek but somehow it works.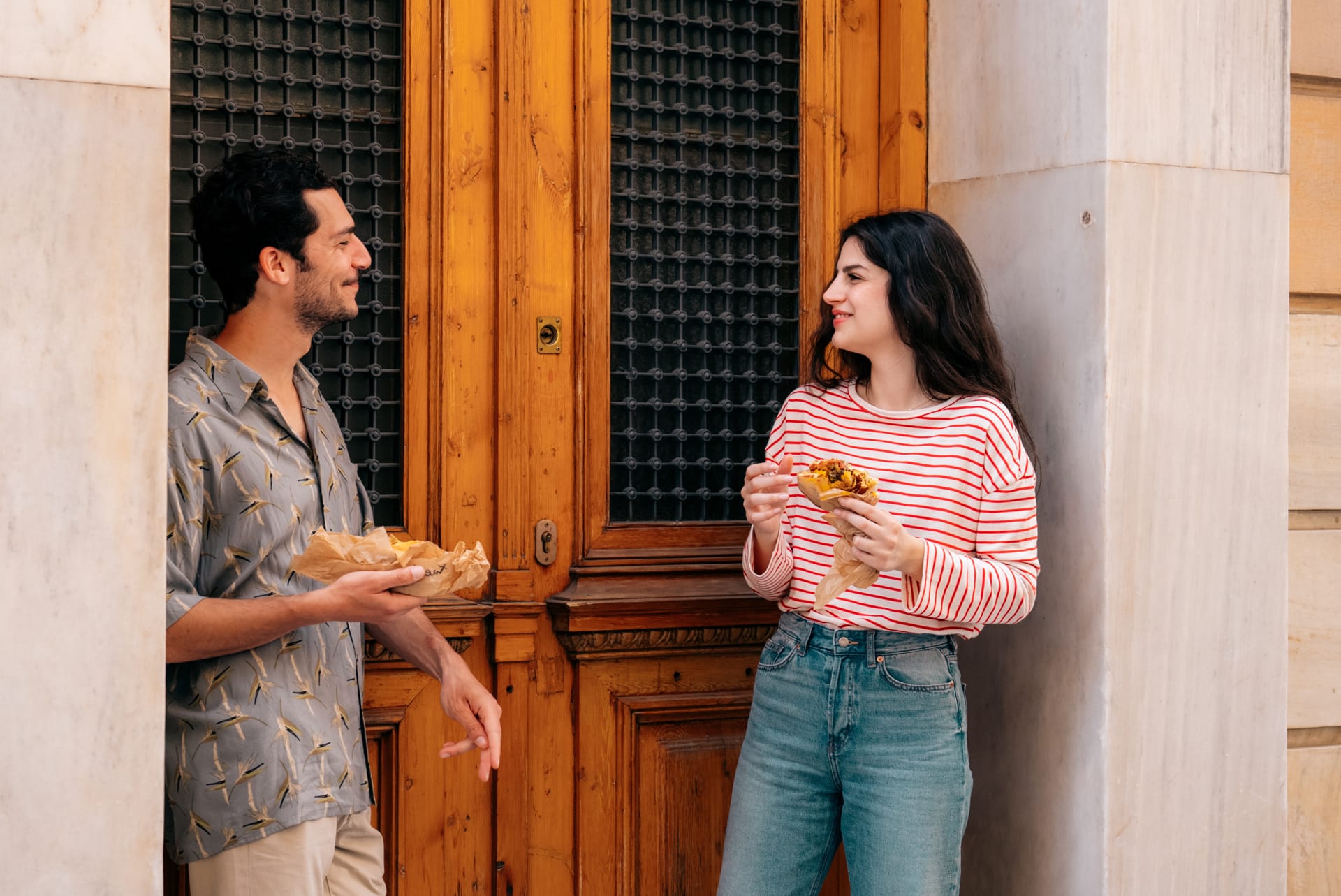 Meanwhile, Metaxourgio (especially around Karaiskaki Square and Avdi Square, where you'll find the Municipal Gallery of Athens) has become one of the city's culinary and nightlife hotspots. You'll love all the different concepts, like the colourful food truck in an abandoned yard of a 1920s listed building that specialises in keftedakia (meatballs), hot dogs and burgers (including vegan).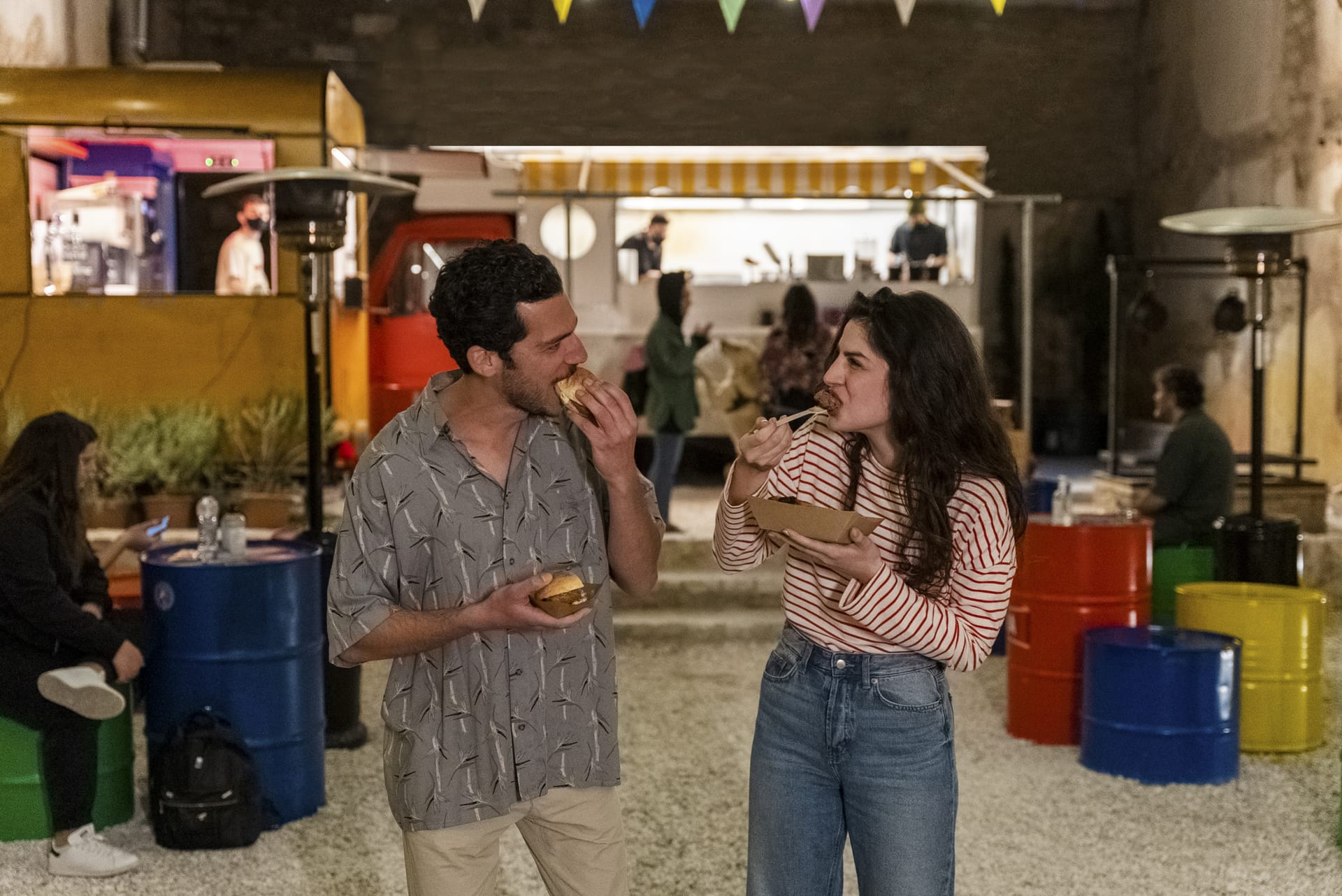 And as a final recommendation, the stroll from Syntagma Square up Vasilissis Sofias Ave takes you past the Benaki Museum and Cycladic Art Museum, alongside Eleftherias Park and by the Megaron Athens Concert Hall until you reach Mavili Square, an ultra-local street food spot. After enjoying a coffee or drink at one of the pavement tables in the square, grab yourself a slice of pizza and head back towards the centre, this time taking a detour to stylish Kolonaki and the lower slopes of Lycabettus Hill.
ΗΟW TO WALK ATHENS: The street art
If you've spent any time looking at ancient Greek vases, you'll know that Greeks have always loved a bit of artwork. Flash forward a couple of thousand years and you'll see the same creative flair on many of the streets of Athens. If fact, there are whole neighbourhoods whose character is in part defined by their street art.
So our next walk around the secret spots of Athens is a graffiti and street art tour that presents the city as an open-air gallery. This time, we start in Keramikos and Gazi, which boast some of the city's largest murals. The 'Last supper in Athens' (by INO, one of Athens' best-known graffiti artists) in an old tram depot doesn't hold back on the social messaging, just as 'Freedom' and 'Access Control' (an older collaboration between INO and Aiva) are influenced by science fiction dystopias.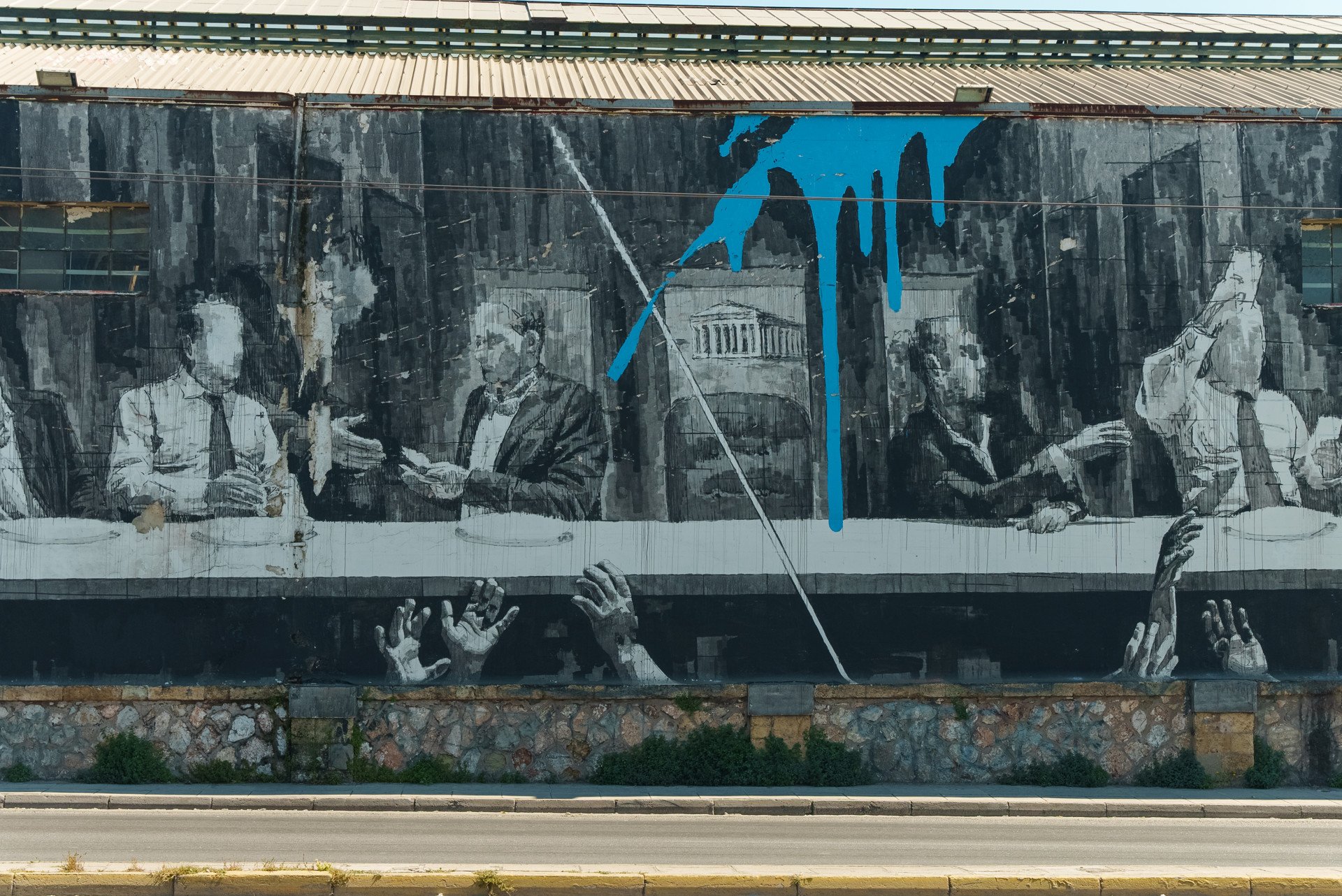 Back in Psirri, we witness more memorable street art. The late, great musician Mikis Theodorakis (creator of the score for Zorba the Greek and a left-wing icon) is immortalised in a grand mural in Theatrou Square, an area popular with digital nomads for its tavernas, pastry shops and ethnic eateries. And Lord Byron's choice of Psirri as a temporary home during his first stay in Athens in 1811 is the subject of a mural by artist Cacao Rocks at the junction of Tompazi and Leokoriou streets (surrounded by concept stores and the food & drink scene of Asomaton Square). Elsewhere, Vasmou's 'Superman' dominates the side of an apartment block in Iroon Square.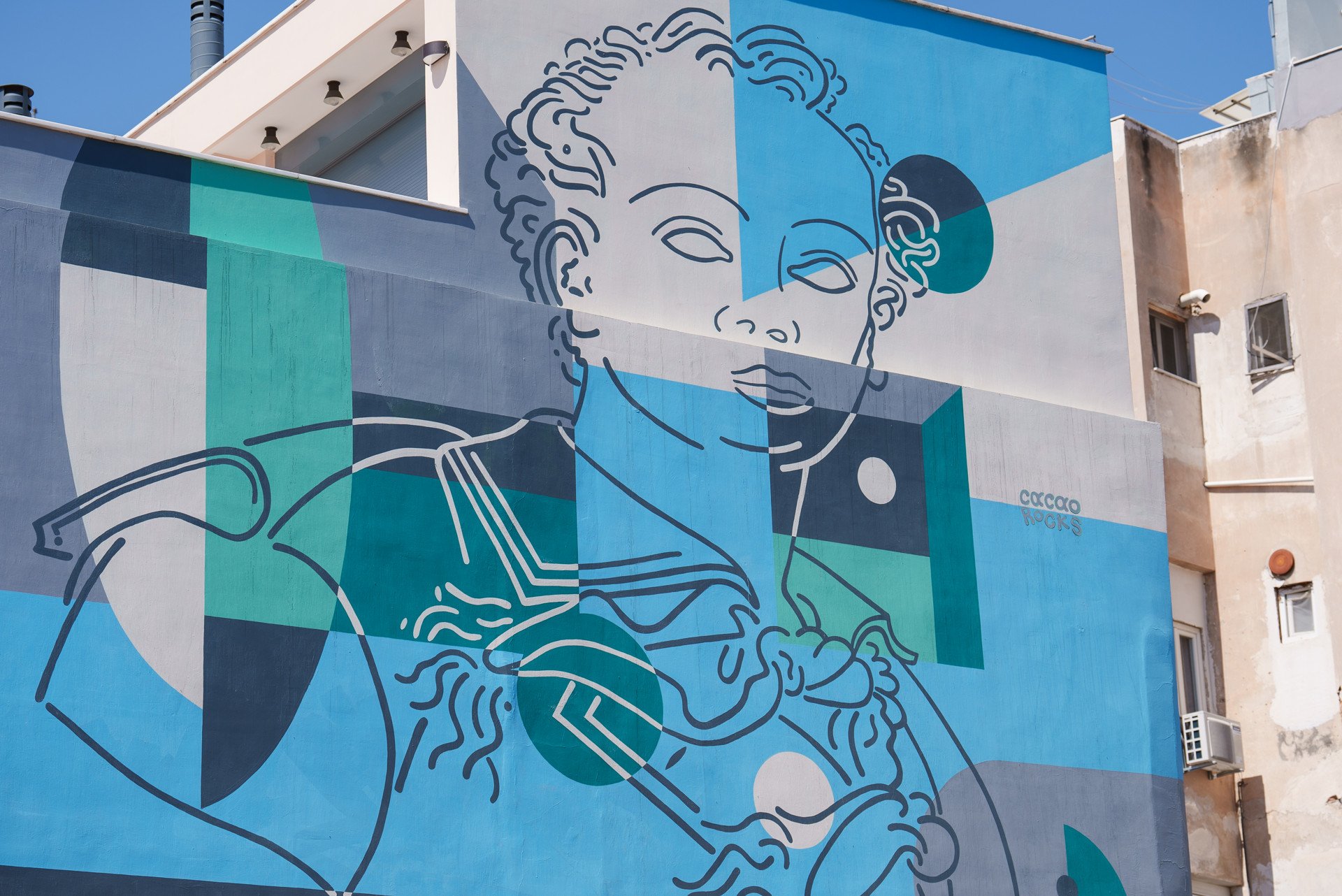 Delving once again into Metaxourgio, you will find four of the city's landmark murals, each telling you something different. The elegance and beauty of SimpleG's 'So many books, So little time' at 2 Megalou Alexandrou St (near Karaiskaki Square) stand in contrast to the rundown surrounds, while the clean, angular lines of 'The Kiss' in Avdi Square are full of love, desire and tenderness. Meanwhile, the heavy features of Plato on Achilleos St gaze down on you knowingly. But the people's choice for favourite street art in Metaxourgio goes to WD's 'Koukouvagia' (50 Konstantinou Paleologou St) depicting an owl whose piercing, glassy eyes stare into your soul from the two walls of a corner building.
Other neighbourhoods with interesting street art include Panormou, a favourite student hangout, with Taxis and INO's colourful collaboration 'At the River' (or 'Places and memories soon to be forgotten if we don't protect our natural heritage from greedy, disgusting people') taking pride of place and other works by INO. And in Exarhia, at the junction of Emmanouil Benaki and Gramvias streets, stop for an ouzo and meze and admire the work of internationally acclaimed Australian artist Guido Van Helten. Inspired by the bookstores and craftsmen in the area, he created a giant mural depicting elderly bookbinders.
Wrapping up our street art and graffiti tour of Athens, the downward-facing praying hands (known as Pray for Us) at 20 Pireos St, near Omonia Square, encapsulate the emotions of the debt crisis years, while Sofia Stevi's 'Wave/Storm' in Mavili Square sends out a message of hope and optimism.
ΗΟW TO WALK ATHENS: The architecture
Athens is one of Europe's quirkiest cities. Yes, there are lots of concrete apartment blocks, but if you spend any time walking around, you're left with a whole new appreciation of the architecture. So next up is a whirlwind tour of some of the city's most iconic buildings, representing all of the cultural influences of the last two centuries.
Your first influence comes directly from the ancients in the form of neoclassical architecture designed by some of Europe's most notable architects. The Danish Hansen brothers were responsible for the so-called Athenian Trilogy (the University of Athens, Academy of Athens and National Library) on Panepistimiou St, which helped establish the city as a cultural powerhouse after independence in the early 19th century, as well as Zappeion Hall, built for the first modern Olympics by the National Garden. And arguably even more influential was German-born Ernst Ziller, responsible for gems like the Cycladic Art Museum (Stathatos Mansion), the Numismatic Museum (Iliou Melathron) on Panepistimiou Ave and the National Theatre on Agiou Konstantinou St. But neoclassical buildings pop up in just about every Athens neighbourhood, from Kolonaki to Kypseli. So you'll find them on any walk in Athens.
It's a total shift in style now as you move onto contemporary architecture. The Bauhaus School that came out of Germany in the 1920s and 30s (valuing functionality, hard corners and grand simplicity) found its expression in Athens in the middle of the century with the US Embassy (with original designs by Bauhaus School founder Walter Gropius) near Mavili Square. But if you know what you're looking for, you'll spot Bauhaus architecture in many Athens districts, from Pangrati to Kypseli. Likewise, look out for the art nouveau touches on Akadimias and Patission avenues and the art deco design of the Rex Theatre in Omonia. The two best examples of modern architecture in Athens are the recently modernised National Gallery on Vasileos Konstantinou Ave and the National Museum of Contemporary Art (EMST) on Syngrou Ave.
Switching themes again, there are Byzantine churches dotted around the city. Look out for the little chapel next to the Metropolitan Cathedral on Mitropoleos St and you simply have to visit the tiny 11th-century Church of Panagia Kapnikarea (built on the site of an ancient temple) right in the middle of shop-filled Ermou St. Meanwhile, the chapel of Panagia Pantanassis is an oasis of calm in bustling Monastiraki Square, as is Agia Marina Church in Thissio, near the hilltop Athens Observatory. Once again, that really is just the start. There are impressive churches everywhere in Athens (not all of them Byzantine), such as Agios Spyridonas church, next to the Goulandris Gallery of Contemporary Art, an ideal starting point to explore Pangrati.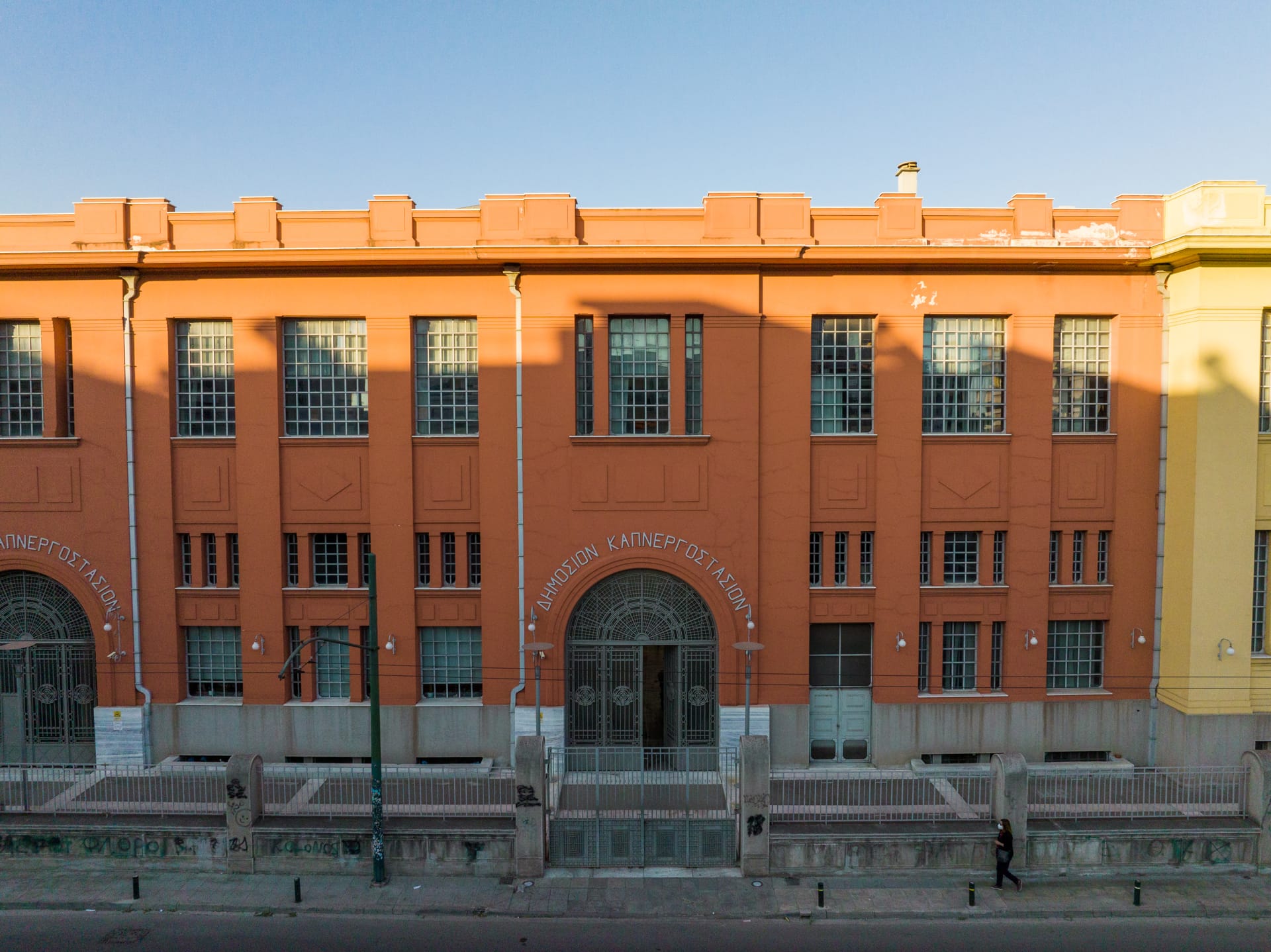 Our last architectural influences come in the form of a converted industrial building and a tower block. The once cavernous and derelict Public Tobacco Factory on Lenorman Ave has been refurbished into a modern exhibition space and can be combined with a visit to Plato's Academy. And as for the Athens Tower on Mesogeion Avenue (near Mavili Square) … Ok at 25 storeys tall, it's no skyscraper but it is Greece's tallest building and, built in 1968, was once a symbol of the city's post-war commercial ambitions.
ΗΟW TO WALK ATHENS: The arts & crafts
Time for something crafty. We're taking you way off the tourist path now and into the secret little arts & crafts spots that are part of the daily life of locals.
We're talking concept stores – little shops where the owner has curated everything to match their personality, with home decor, plants, curios and clothes by select Greek designers. For ceramics shops, check out districts like Koukaki, Petralona and Pangrati (you can have pottery lessons in some of them). And there are small independent book stores in most neighbourhoods with great arts sections. Buy yourself a book and find your new favourite spot in the city … a park or square or even a hill with a view and become a local for the afternoon.
If you've got a thing for musical instruments (maybe a bouzouki or lute), there are specialist shops in Exarhia and for handmade shoes and hats (you can get them made to order), head to Psirri. The vintage stores (clothes, antiques, vinyl records) of Monastiraki (Athens' biggest flea market), Psirri and Exarhia are the best in Athens.
But generally, just take your time and have fun. You'll walk by so many little gems and you could easily miss the shops concealed in arcades (the ultimate hidden spots in Athens). It's worth seeking out a couple. The best-known arcades are Korai, Nikoulidi, Bolani, Kairi, Eirinodikeiou). Good luck trying to leave.

How to walk Athens: A guide for city wanderers
So how did you enjoy walking around all those secret spots in Athens? Makes you want to get out and explore, right? Especially the videos. We had a lot of fun making them. Hope you have as much fun living them.
Book your trip
All your holiday planning needs in one place, letting you book direct and benefit from official online rates