Once you've discovered Zagori, you may well have found your new favourite place in Greece. The combination of natural beauty and the traditional features of the Zagori villages has contributed to this region of Epirus becoming the country's first candidate to be added to UNESCO's list of Cultural Landscapes.
There are 46 Zagori villages (known as the Zagorohoria villages in Greek, some of them household names and others little known) and all hide a charm that changes with the seasons. Spring and autumn are especially beautiful, but you'll adore the villages – with their stone-built houses, squares and tavernas – at any time of year. And as for the north Pindus mountains … extraordinary!
From traversing the legendary Vikos Gorge and hiking up to the 'Dragon Lake' of Mt Tymfi to river rafting and trying your hand at traditional crafts like loom weaving and cheese-making, you'll adore all the things to do on your holidays in Zagori.
Let the villages of Zagori share their magic
Top of your list of things to do in Zagori is to soak up the atmosphere of your chosen village and check out a few more while you're there. Some need little introduction. Megalo Papingo is the most visited of the Zagorohoria villages – and for good reason as its cobbled streets, churches, houses, main square and primary school are all wonderful examples of the stonework and architecture of the area. In the background stand the Astraka Towers (amongst the highest peaks of Mt Tymfi). And just a short walk away is Mikro Papingo (Megalo Papingo's little brother) where you'll find the Kolymbithres – small pools where Ali Pasha (the Lion of Yannina who famously governed in these parts during Ottoman times) is said to have bathed.
But Papingo has plenty of company amongst the best-known Zagorohoria villages. Vikos is situated close to the source of the Voidomatis River, with incredible views of the gorge that carries its name. And Aristi borders the Vikos-Aoos National Park – a great starting point for rafting and hiking expeditions. Monodendri is famous for (among other things) the Rizarios Exhibition Center & Handicraft School, preserving crafts like foot-powered weaving. And a little further away are Kipi, surrouned by stone bridges, and Tsepelovo, the largest Zagori village, with well-preserved mansions, an art gallery and a lovely village square.
Discover the hidden gem villages of Zagori
We did say there were 46 Zagorohoria villages in Epirus! So alongside the highlight villages, you simply have to seek out some of the hidden gems. Many are separated by narrow bridges and steep valleys which can make getting between them tricky. So do your research on the ones closest to your base.
Among the best for local architecture are Dilofo (with stand-out buildings such as the Anagnostopouleios School and a view on entering the village that is out of this world) and Koukouli (especially the Lazaridis Folklore Museum, Plakida Mansion and schoolhouse). Other lesser-known but equally picturesque villages in western Zagori are Ano and Kato Pedina, Dikorfo and Aspraggeli, as well as Elati and Kapesovo. In the middle of Kapesovo, you'll find the Paschaleios School, now converted into a folk museum housing treasures that include a rare copy of the political map of Greece envisaged by Greek War of Independence hero and poet Rigas Fereos.
The natural landscape changes in eastern Zagori, where there are other even more hidden villages … amongst them Laista and Vrysohori and the hamlet of Iliochori, from where a footpath takes you to the Balta di Stringa Waterfalls (three 25m waterfalls with plunge pools that are perfect for a refreshing summer dip). Beautiful Vovousa, meanwhile, is divided by the Aoos River into two settlements connected by a stone bridge.
Explore the legendary Vikos Gorge
Another of the landmark things to do in Zagori (and Epirus in general) is to hike along the Vikos Gorge. There are amazing views of the gorge from several Zagori villages, with the epic being the Oxya viewpoint in Monodendri (where hikes in the canyon usually begin), and in Vikos (from where you can descend to the Voidomatis Springs in 30 minutes) and Vradeto (around a 30min walk to Beloi viewpoint).
In Vradeto, the famous skala (a stairway of over 1,000 stone steps carved by 18th-century craftsmen) snakes down into the canyon. If you're bold enough to descend it, you emerge at Kapesovo, where you can quench your thirst in the village square.
If you choose to walk the entire gorge, the classic route requires 6-8 hours (departing from Kipi or Monodendri and ending at Vikos) and you'll definitely need an experienced guide. When it comes to outdoor activities in Zagori, it should be right at the top of your list.
Follow the banks of the Voidomatis River
If a river walk is more your thing, then how about a stroll along the banks of the crystal-clear Voidomatis River. There is easy access to the river on the road from Aristi to Papingo, with a path that follows the river upstream to Klidonia. As you walk in the shade of the plane trees, you can bend down and drink the cold river water and – after a gentle two-hour hike – you reach the stone bridge of Klidonia. If it's summer and you're walking upstream, you'll get to the Voidomatis Springs within an hour. In this case, be prepared to get your feet wet. (It won't be the last time when it comes to outdoor activities in Zagori.)
Become one with nature by river-rafting
Every season in Zagori has its charms but spring and autumn come with two added temptations. The intense greenery and wildflowers of Zagori in spring are one-of-a-kind, while late autumn offers wonderful colour contrasts and combinations, especially in the turning leaves that creates feelings of peace. Now add the image of the Voidomatis River and its tributaries being at their liveliest and you've guessed the next item in your list of things to do in Zagori: river rafting.
Get yourself properly equipped with one of the providers offering the experience and let the Voidomatis River do the rest. Mostly, it's an opportunity to enjoy the serenity of nature from water level but, at the right time of year, be prepared for the odd adrenaline rush.
Admire the artistry of Zagori's stone bridges
You can't come to Zagori and not experience the stone bridges from up close. They were built from the 17th to the 19th century (with many rebuilt after becoming damaged) and are often named after the merchants who funded their construction. There are around 60 single-, double- or even triple-arched bridges around and within the villages of Zagori, all of them engineering wonders. It seems wrong to highlight a few, but don't miss the single-arched Noutsou or Kokkorou Bridge before Kipi, the impressive three-arched Kalogeriko Bridge in Kipi, and the Klidonias Bridge near Aristi.
Experience the pies and other local products
In such a hardy terrain, livestock breeding has traditionally been the main trade in Epirus so, unsurprisingly, meat and cheese are kings when it comes to raw ingredients in Zagori. And on the subject of food, one dish stands out - or rather one category of dish with dozens of variations … pies!
The staple food of nomadic goat-herders, the pies of Zagori are famous in Greece for being thin and delicious, utilising whatever is in season and plentiful. Blatsaria (wild greens, feta and a cornflour pastry) and kasopita (a 'flour' pie with cheese and no pastry) are favourites, as are kreatopita (meat pie), kotopita (chicken pie) and galatopita (milk pie).
Among meat dishes, tigania is a quick fix of finely cut meat or sausage pan-fried with butter or olive oil, along with chopped potatoes, peppers, onion and garlic. Other favourites are pork with celery, stewed nanny goat and trout with almonds.
And you have to try the wild mushrooms, with the likes of porcini, chanterelles, morels and yellow & black trumpets all delicacies that make holidays in Zagori from autumn to early spring all the more tempting.
Every village has shops filled with local products like such as marmalades and preserves (known as 'spoon sweets') and how about an afternoon wine tasting at the Glinavos Winery.
Find yourself a village square and order a tsipouro
While we're on the subject of food & drink, there's more. Picture yourself in a square in one of the smaller Zagori villages – Koukouli, Vista, Kapesovo or Dikorfo. Amidst the stonework and age-old plane trees are locals sharing their stories and smiles. What could be missing?
Now add a glass of tsipouro and plate of meze and the scene is complete. It's another excuse for a pie (pita) and slice of local cheese (try the grilled metsovone), or other dishes like gigantes (stewed 'giant' beans) with greens or grilled country sausage with a twist of lemon. Undoubtedly one of the most authentic things to do in Zagori.
Learn about the history of the village churches
It may be tempting to see the churches in and around the Zagori villages as yet more examples of the Epirot's mastery of stonework. And they are. But they are also often the oldest and most important buildings in the community, as well as beautiful reminders of the significance of religion in this proud and remote corner of Greece, often containing exquisite icons and hagiographies. Naming a few hardly seems fair to those not mentioned but here goes.
The Monastery of Agia Paraskevi just outside Monodendri has one of the most privileged positions of all the churches in the area, overlooking the Vikos Gorge. Records show that it was founded in the 15th century and the current stone-built chapel is the oldest in the area. There is a path connecting the church with a cave used as a shelter during Ottoman times.
The Taxiarches chapel in Kato Pedina is another church founded in the 15th century and apparently rebuilt two centuries later. Meanwhile, the church of Agios Vlasios (1852) is the most striking church in Papingo, with a 15m-tall bell tower.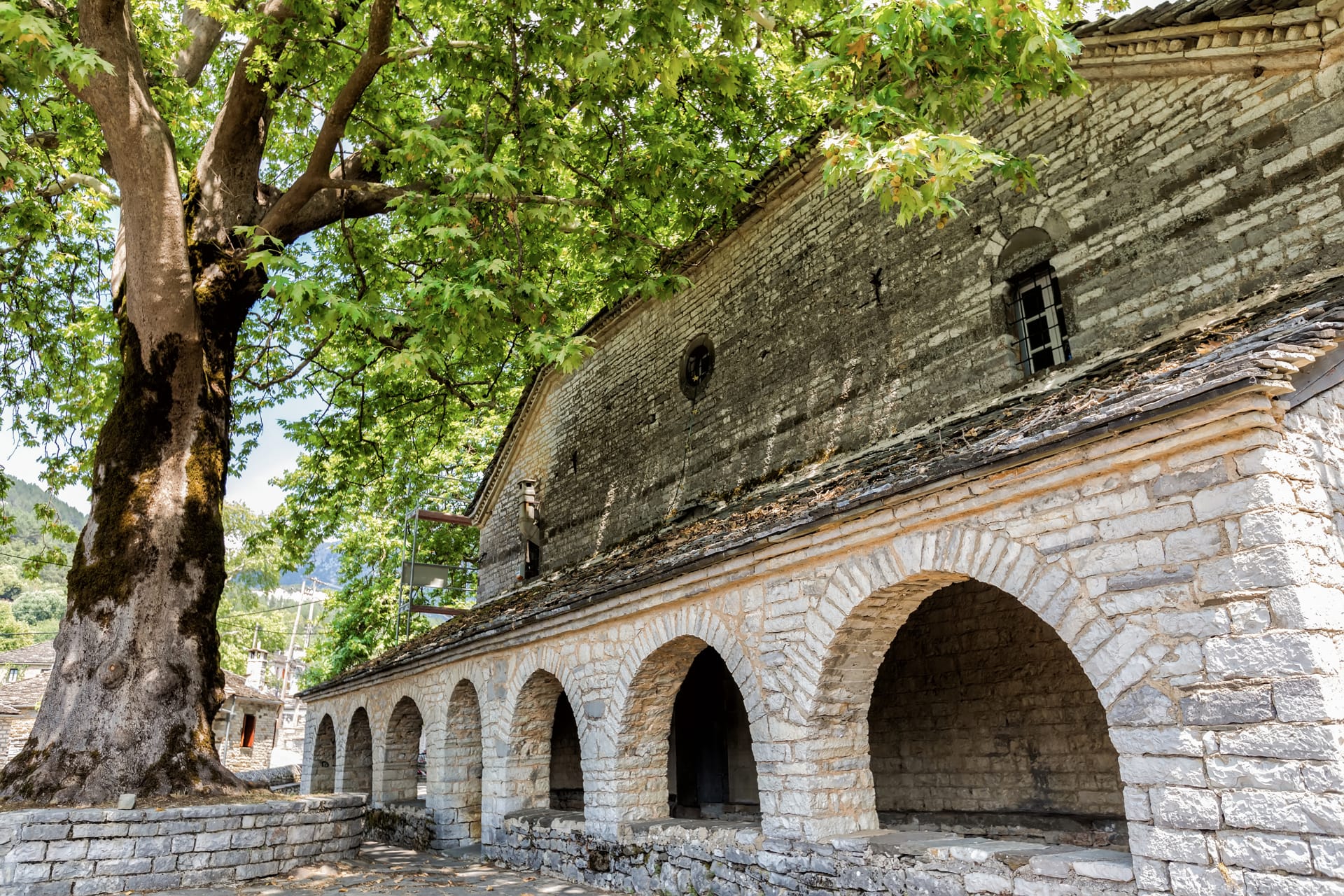 In Negades, the 18th-century church of Agios Georgios has a hexagonal bell tower and wonderful frescoes of saints and ancient Greek philosophers. And the 16th-century Monastery of Panagia Spiliotissa is built on a rock overlooking the Voidomatis River between Aristi and Papingo.
Finally, the Monastery of Agios Ioannis of Rogovou just outside Tsepelovo, was apparently founded in the 11th century and rebuilt in 1749, with a magical wood-carved iconostasis and frescoes painted by iconographers from Kapesovo village.
Hike to Dragon Lake and admire the alpine landscape
The last of your outdoor activities in Zagori is to head into those mountains you'll have been marvelling at since you arrived. If your heart tells you to do it, don't think twice about climbing the path from Mikro Papingo to Drakolimni (the Dragon Lake) of Mt Tymfi, with a stop at a shelter. It's a steady 8-9km walk (4-5hrs with stops), suitable for hikers in a good physical condition and is well signposted – although, as with all mountain walks in Greece, is best done with a guide if possible.
The beauty of the alpine landscape is indescribable, with a clarity you'll find hard to believe could be matched in Greece. Once you arrive at the lake, filled with newts and other amphibians, you will enjoy views of the Aoos Gorge and Mt Smolikas, where there is another Dragon Lake. Legend has it the lakes were created by dragons throwing rocks at each other. On the descent, enjoy a soup or coffee at the refuge and enjoy the stories of your hosts.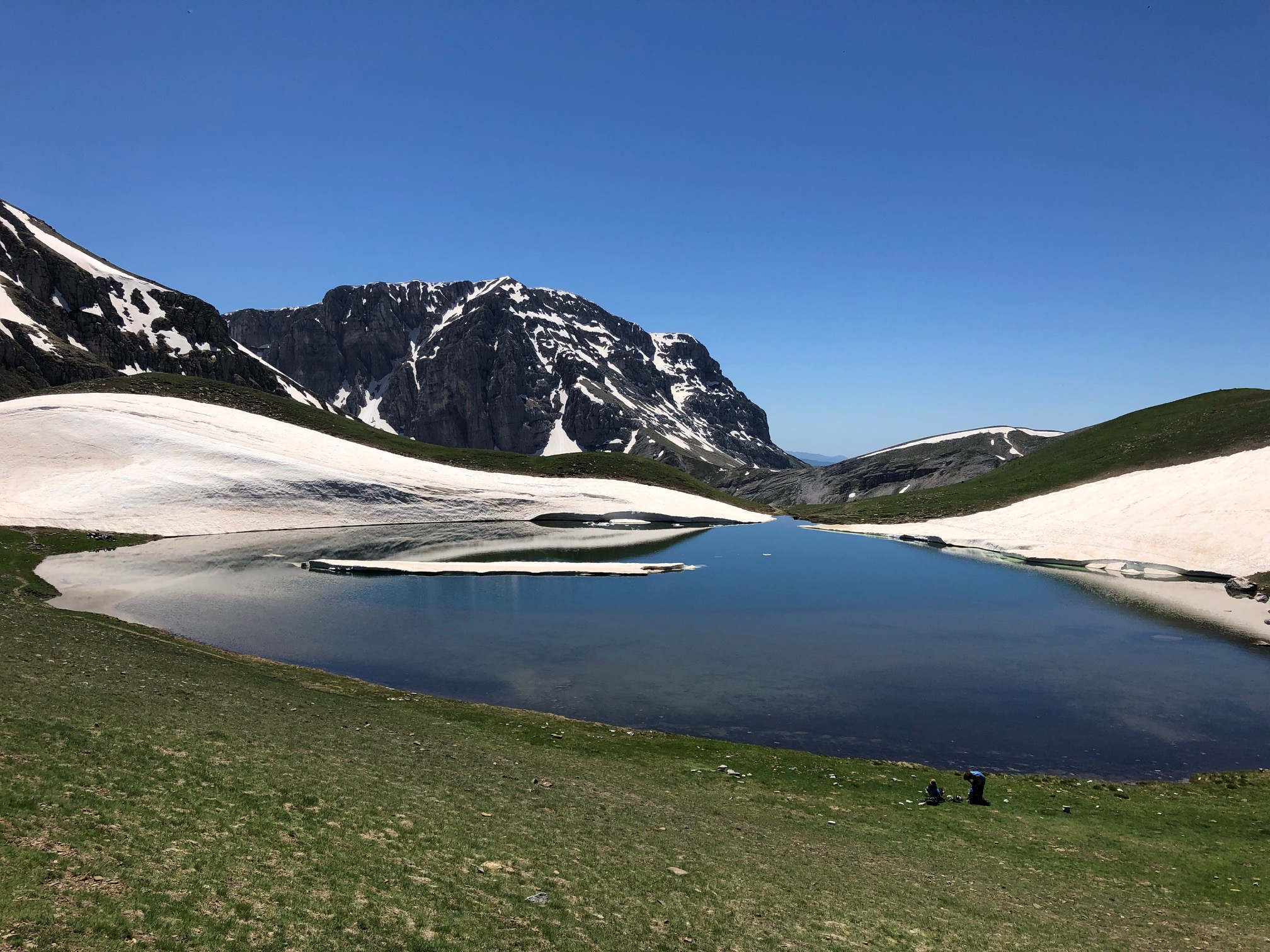 Photo by Vasilis Iosifidis
Make every day a new experience
Don't worry if you're not sure where to start with all the things to do in Zagori. The truth is there are experiences all around you. Take the Sarakatsaniki Sheepfold in Gyftokampos (between the villages of Tsepelovo and Iliochori), where a local initiative has recreated a collection of the straw mountain huts once used by the nomadic Sarakatsani tribe. The huts were used when the shepherds moved their livestock to higher ground during spring and summer months and the tools and other farming utensils on display, as well as church and cheese-making facilities, offer an insight into their way of life. You'll also find a taverna-refreshment area within the grounds.
And how about trying your hand (or foot) at weaving on a loom in the traditional Epirot way? The Ano Kato workshop in Elati village offers the experience, as does Saita in Elafotopos, where the owner, Lena Gerothanasi, will teach you all about the processing and colouring of wool in the time-honoured way as well as working a foot-pedalled loom. The Saita workshop also offers cheese-making lessons.
In Zitsa (strictly speaking, not one of the Zagori villages but close enough to count), pop into the village bakery, where Kostas will gladly give you a baking lesson. You'll learn about the traditional bread-making techniques and how to make Epirot pies and koulouria (sesame seed-sprinkled bread rings).
Other unforgettable experiences (many of which can be booked at the Aristi Mountain Resort) include a photo tour, birdwatching, horse-riding, mushroom hunting and even yoga on the banks of the Voidomatis River.
Dance the night away at a summer festival
Finally, if you hear the sound of clarinets under the summer moon, chances are it's from a summer festival because most Zagori villages seem to have one. Some are extra-special, such as the one held in Elafotopos on 6 August to celebrate St Sotirios. It's not the most advertised of festivals but it always attracts excellent musicians and only ends when the sun comes up. The musicians leave with the participants with a promise to regather in the same place next year. Another gem is the Vovousa Festival, which each year breathes life into the charming little village of Vovousa with arts & entertainment events and activities for all ages.
12 Unforgettable things to do in Zagori
One of the most striking places in Greece, the Zagori villages combine deep traditions with incredible natural beauty. But most of all, they offer their gifts with a generosity that's hard to resist.
FAQs about the Zagorohoria villages
I Sterna: Leaving Megalo Papingo, with a selection of herbal mountain teas.
To Koukounari: A great place to enjoy a coffee and something sweet in Papingo.
Atop: The Aristi Mountain Resort bar is an ideal place to enjoy a drink or a cocktail, summer or winter, with a special aesthetic and exceptional views of the mountain.

Book your trip
All your holiday planning needs in one place, letting you book direct and benefit from official online rates
Group
Group
Group