Thessaloniki's colourful past and present becomes yours on an all-encompassing journey that extends beyond the city walls to some unexpected treasures.
A city renowned for its cultural diversity welcomes you warmly as you become acquainted with its most famous sights and tastes. You discover a world shaped by the ancient Macedonians and Romans, as well as the Venetians, Ottomans and other cultures. And you explore the surrounding area, visiting magical Vergina and going wine-tasting. You even get to experience Mt Olympus and one of its villages.
As an itinerary that's been road-tested by Discover Greece, we've included the restaurants and experience providers that supported the journey. There are, of course, plenty of alternatives out there and feel free to shorten or lengthen your stay as you wish.

SHOW ROUTE ON MAP
DOWNLOAD AS PDF
Start point - End point
Thessaloniki Airport
Means of transport
Airplane, Car, Foot
Highlights
The vibe of Thessaloniki, the waterfront, the historic center, Ano Poli, the local flavors, mount Olympus, Vergina's Royal Tombs
DAY 1 OVERVIEW
The waterfront
26km
Car, Foot
3
Your first day in Thessaloniki is dedicated to the waterfront. Strolling along the city's southern flank is like tapping into its lifeblood. It connects many historical sights and perfectly captures the atmosphere. Best of all, your plane barely has time to land at Thessaloniki's Makedonia Airport and, before you know it, you can be here, your city break well and truly underway.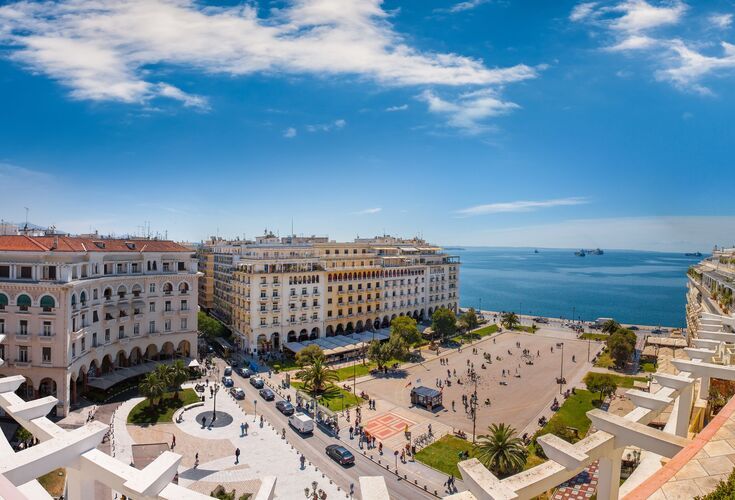 Greek breakfast or brunch
Find yourself a cafe or restaurant and fill up with energy for the day ahead. There are plenty of options around Aristotelous Square, the focal point of the waterfront. Our choice was the rooftop restaurant of Electra Palace, not just for the Mediterranean brunch but because of the sweeping view of the Thermaic Gulf.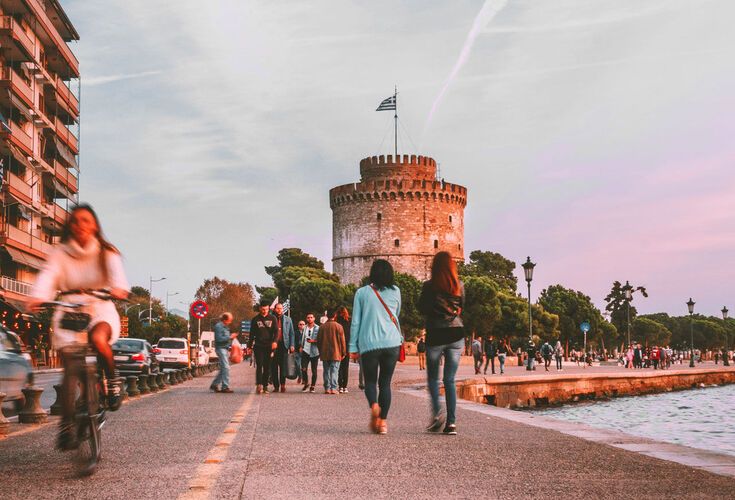 A waterfront walking tour
From Aristotelous Square, you arrive at the White Tower (take your time in the fascinating museum) and beyond that is the statue of a horse-mounted Alexander the Great and the Umbrellas installation – both emblems of the city. Locals know best, of course, so we were shown around by dot2dot experience providers, ending the day at the Megaro Moussikis Concert Hall.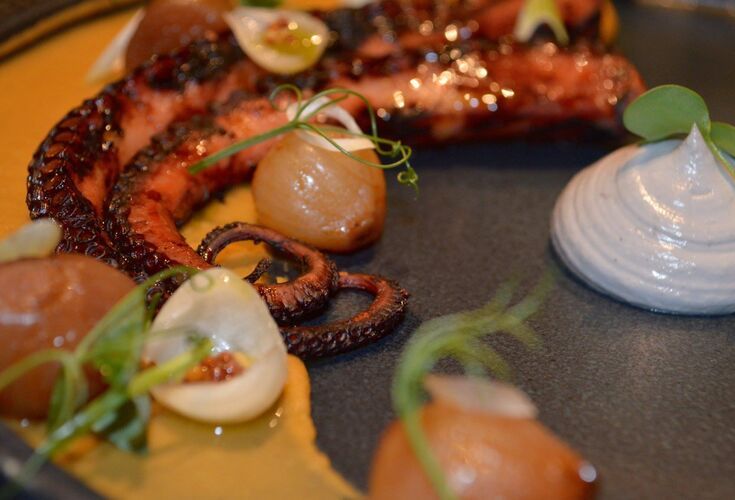 The gourmet dining scene
Thessaloniki's eating options are limitless, so we've made sure to cover all the different styles, kicking off with an example of the city's burgeoning gourmet dining scene. Creativity and artistry on a plate await at Thria Restaurant (near the Concert Hall). Seabass carpaccio sprinkled with citrus zest, black truffle risotto with mushrooms and chestnut cream… you get the idea!
DAY 2 OVERVIEW
The historic centre & a winery
108.5 km
Car, Foot
4
There's a full day in store as you discover more cultural highlights before heading out of town to a winery in one of the city's original wine-producing areas. After a pit stop to talk herbs and mountain tea, you end the day back in Thessaloniki for more great food and a taste of the city's famous nightlife.
DAY 3 OVERVIEW
Urban tastes & Vergina
150 km
Car, Foot
3
There's another full day to look forward to as you enjoy two very different (but equally memorable) experiences. Firstly, a food tour exploring Thessaloniki's extraordinary culinary heritage, followed by a visit to the region's most iconic Macedonian landmark, the tomb of Philip II of Macedon (father of Alexander the Great) in nearby Vergina.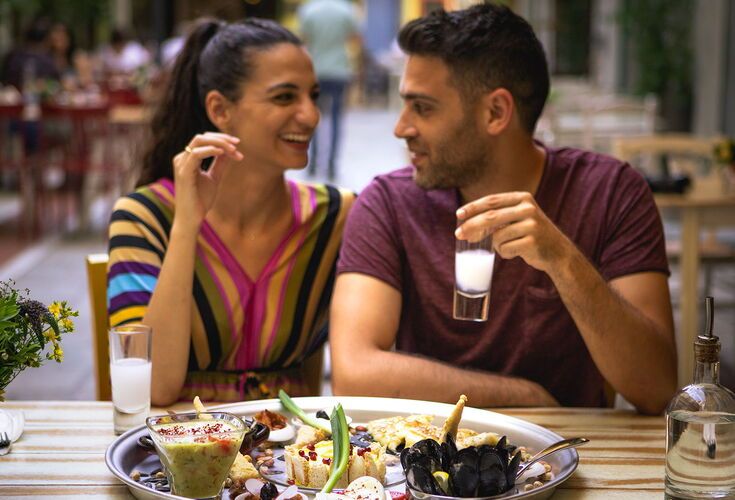 A gastro tour
Every day in Thessaloniki is a gastronomic treat but this morning gives food the exclusivity it deserves. Thessaloniki Urban Adventures are our guides, starting the day with a Greek coffee and discussing the city's cultural influences (Frankish, Ottoman, Jewish, Arab, Anatolian, Pontiac…) before heading into the glass-roofed Modiano Market to taste feta, olives and loukoumia (Turkish Delight). You'll be introduced to bougatsa (phillo pastry-wrapped, cinnamon and icing sugar-dusted custard treats) and tsoureki (a plaited, sweetened bread) and finish with a meze lunch.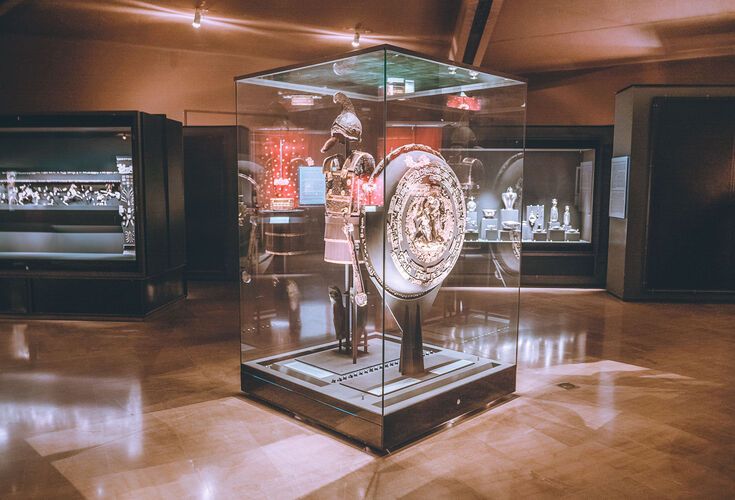 The Royal Tombs of Vergina
The UNESCO-protected Royal Tombs of Aigai (an hour west of Thessaloniki) are a worthy centrepiece to any holiday in the region. The 4th-century BC burial tumulus has been reconstructed to preserve the palatial tombs of Philip II and other Macedonian royalty and includes an atmospheric museum showcasing some of the most impressive finds of antiquity. The entire archaeological site will leave you with a renewed appreciation for Macedonian history.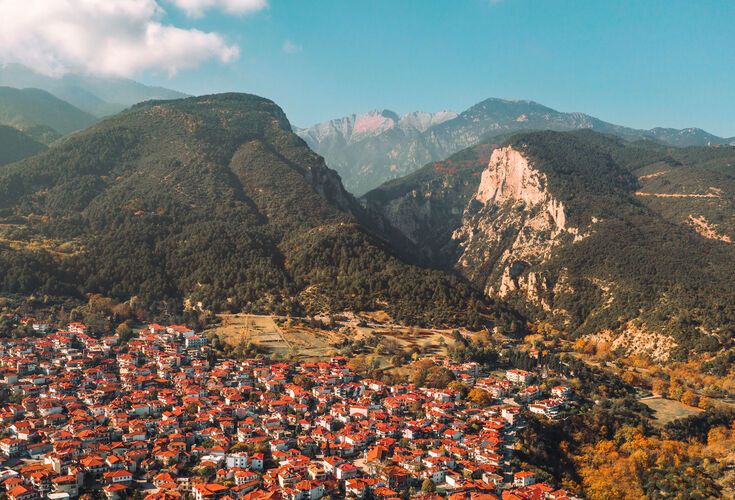 Litochoro
Your day ends in Litochoro, the closest settlement to Mt Olympus. You arrive in time for an evening stroll, admiring the local architecture and feeling of a town that is part-mountainous, part-coastal (only 15-20mins from the Pieria coastline). So the choice of dinner style is up to you… Macedonian mountain fare in town or seafood by the beach, at a taverna like Psarokokalo?
DAY 4 OVERVIEW
Mt Olympus
68 km
Car, Foot
2
You spend a full day on Mt Olympus, beginning with a nature walk along the Enipeas Gorge. The afternoon is filled with the authenticity of a mountain village, where the way of life has barely changed in decades.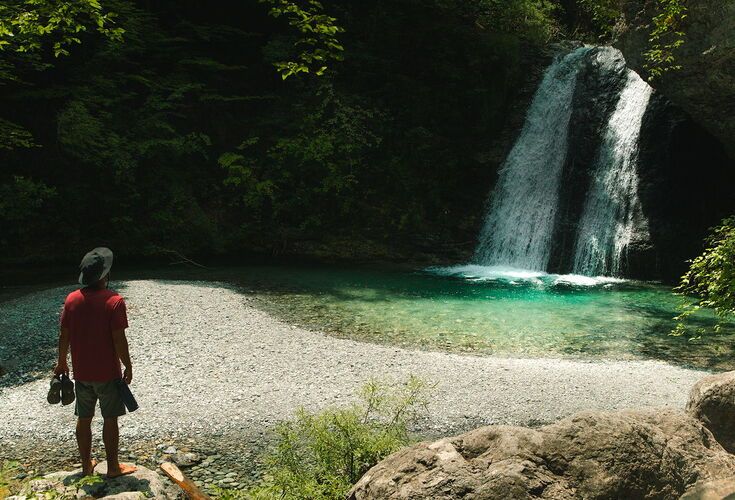 Hiking the Enipeas Gorge
You don't need to reach the summit of Mt Olympus to feel its mythical energy. From Prionia (1,100m altitude), the walk along the Enipeas Gorge is utterly beautiful (2hr30min or 1hr15min without stops). You criss-cross the gorge on wooden bridges and reach the little Monastery of Agios Dionysios hidden in the forest. Before setting out, pass by the Olympus National Park Management Agency (just outside Litochoro), which has information on Olympus' flora and fauna and weather conditions. If you contact them beforehand, they can arrange a guide.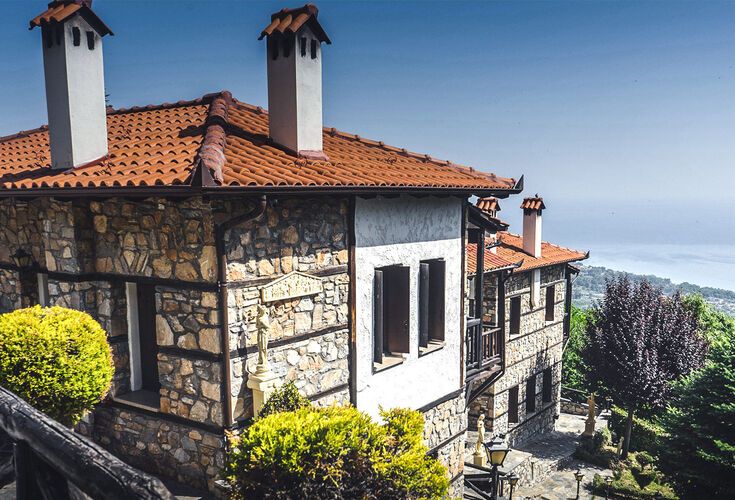 Palaios Panteleimonas
Your afternoon is spent in Palaios Panteleimonas, the embodiment of Mt Olympus village life. Enjoy the Macedonian architecture, shops selling local products and a main square shaded by centuries-old plane trees. There are taverna options, like as the aptly named Olympos, with balcony views over the region or and locals enthusiastically preparing dishes with ingredients from a family-owned vegetable plot. Enjoy a glass of tsipouro (firewater) made from wild strawberry trees.
DAY 5 OVERVIEW
Thessaloniki
110km
Airplane, Car, Foot
3
Returning to Thessaloniki, you either head straight to the airport or (if you have time) take the opportunity to say a proper goodbye to Greece's second-largest city. Returning to Ano Poli, there's a final view of the Thermaic Gulf and one or two more memories in store.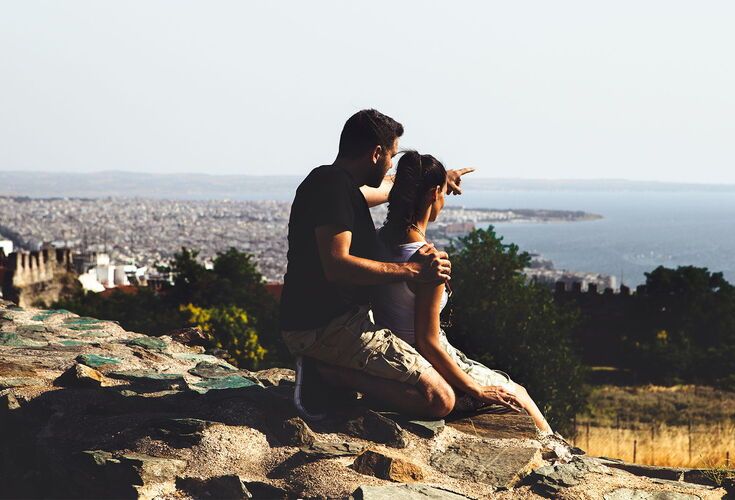 Ano Poli
The cobblestone streets and original architecture of the Upper Town will bring on feelings of nostalgia even before you've left. The alleyways here are perfect for strolling, with countless opportunities to stop and take in the distant sea view, framed by Venetian fortifications and some of Thessaloniki's oldest houses. With many of the streets to yourself, you'll lock in the memories.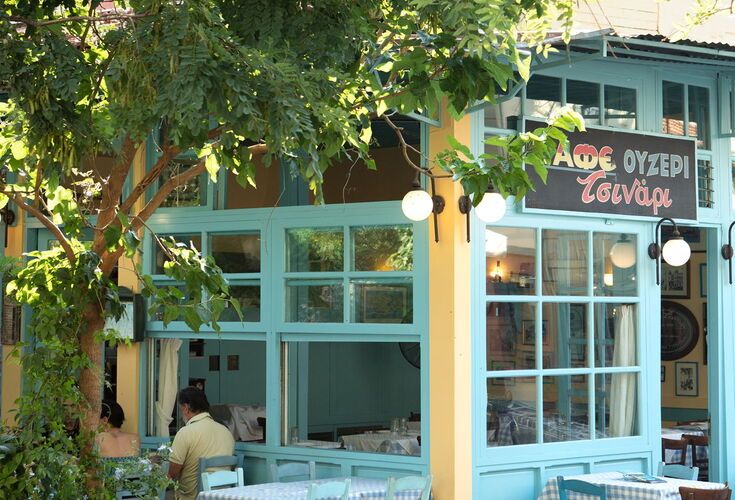 A meze meal to end with
Your final meal in Thessaloniki is reserved for something timelessly traditional. There are plenty of quaint little ouzeries in Ano Poli, such as Tsinari, with just a handful of pavement tables covered by colourful tablecloths. An assortment of seafood, vegetable and meat meze will soon be spread before you, as well as a refreshing glass of ouzo or carafe of chilled local wine. Just don't forget you've got a flight to catch.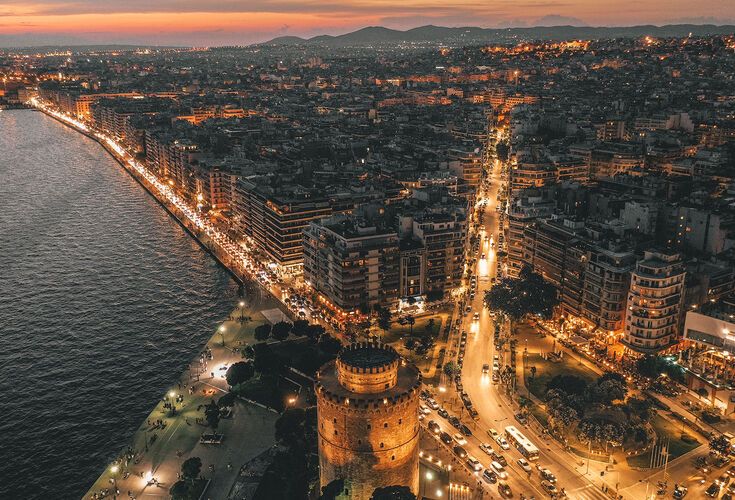 A long goodbye
Thessaloniki's Makedonia Airport is your departure point. Leave time for a final whirl of the shops in the airport, looking for that memento that will bring back all the memories or a gift to share your experiences with friends and family back home.