EXPERIENCE
The best of Thessaloniki's legendary nightlife scene
If there's a city that's become synonymous with nightlife and entertainment, this is it. Thessaloniki's diverse neighbourhoods keep finding new ways to enthral visitors, with everything from traditional tavernas to concept bars for every taste.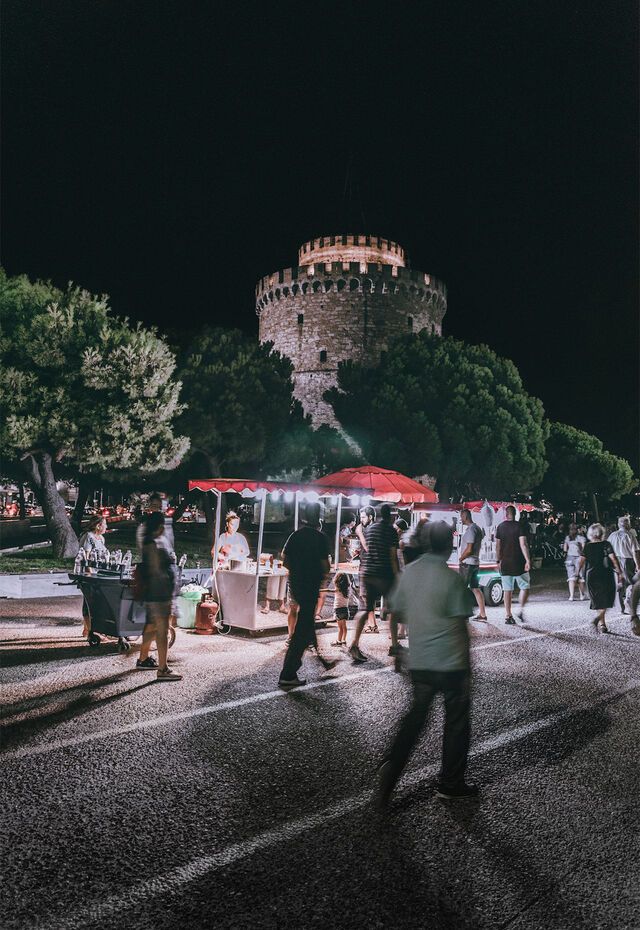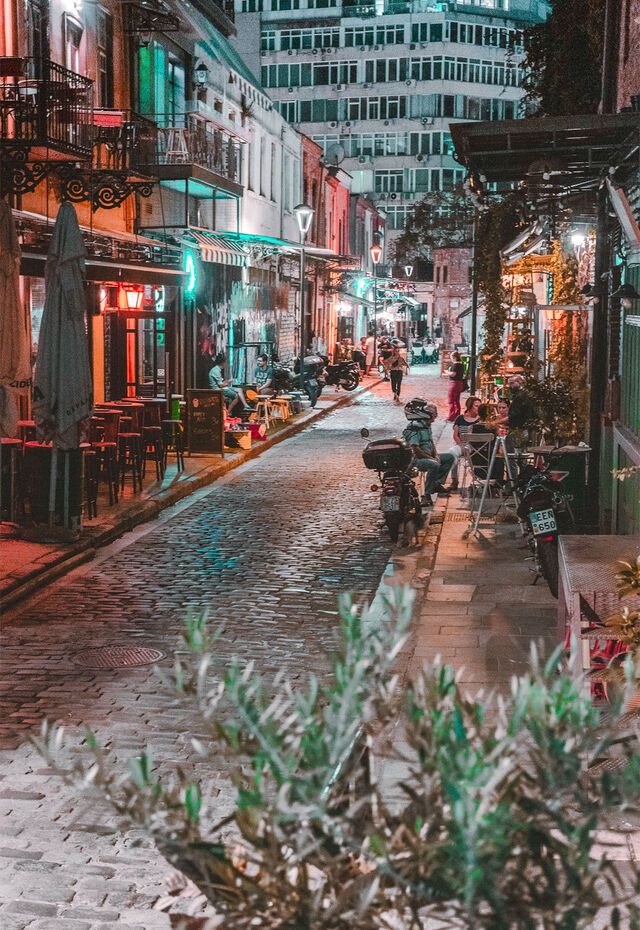 Duration
1 - 3 nights
Season
All year round
OVERVIEW
Warm, diverse, young-hearted, vibrant and eternally welcoming, Thessaloniki knows just how to have fun. It is a product of its ever-evolving mix of influences, never shy to reinvent itself, particularly around its food & drink scene, which is at the heart of its emergence as one of Europe's hottest city break destinations.

You can just walk around until you find a place that grabs your fancy… designer store, meze restaurant, taverna or perhaps a wine, beer or cocktail bar. But it's also worth knowing a few of the neighbourhoods that give it its edge, especially the ones where outdoor tables are buzzing from early-spring till late-autumn.

Perhaps you'll choose according to the style of music that's playing… pop, rock, indie, soul, jazz or rebetiko (Greek folk). It's the sort of place the same bar can be grinding coffee beans and attracting a lively brunch crowd by day, before switching to crushed ice and lemon slices and letting a mixologist loose with a cocktail menu by night. And in Thessaloniki, night really does mean night.
DON'T MISS
Mitropoleos Street
One of Thessaloniki's main shopping streets, along with the surrounding area, has evolved into a prime entertainment spot with a special atmosphere. You'll find neoclassical buildings converted into elegant bars, cafes and shops and an array of restaurants. Be sure to explore before making your choice, including Proxenou Koromila St, parallel to Mitropoleos St. There's no end of temptation, with pavement tables laden with elegantly presented dishes and welcoming bars.
Ladadika
One of Thessaloniki's most popular neighbourhoods and the definition of urban cool. Located west of the city centre, near the port, Ladadika was a commercial district known for selling wholesale oil products (ladi is oil in Greek) before gradually becoming rundown. Then came a renovation and pedestrianization project in the 1980s, on and around Egiptou Street, transforming warehouses into tavernas, bistros, pubs, wine bars and even nightclubs and, in so doing, spawning one of Thessaloniki's hippest neighbourhoods. And as an extra tip, check out Emporiou Square (just above Tsimiski St) for other tasteful wine bars and eateries.
Valaoritou Street
The fun goes on long into the night in Valaoritou (a street that's also become a byword for a neighbourhood). You'll find a whole range of bars, each with a distinct musical style and decor, and buildings whose architecture represents the old Thessaloniki. The city's Catholic Church and State Conservatory are found here, as is the Malakopi Arcade, whose handful of bars and pubs have their own unique atmosphere. You'll also find plenty of old shops in what was the city's commercial district (including Ermou St), now turned into restaurants and cafes.
Bit Bazaar
Here's a little treasure you might miss if you don't know where to look. Bit Bazaar is a tiny district that once housed Greek refugees returning from Asia Minor in the 1920s. It's hidden away between Olympou, Venizelou and Tositsa streets, in a central square with small two-storey houses. Some of the antique shops for which the bazaar was famous are still here, but you'll also find shops converted into cafes, tavernas and bars with alternative music. If you can't find it, just ask. It's become a favourite student hangout.
The classics
You can't come to Thessaloniki without strolling along the waterfront. It's not just an iconic walk along the Thermaic Gulf – stretching from the Ladadika district past the White Tower and all the way to Thessaloniki Concert Hall (Megaro Mousikis) – but it's also a favourite hangout for residents and visitors and the location of a seemingly endless line of restaurants, cafes and bars. The liveliest stretches are around Aristotelous Square and the White Tower, but there are also plenty of tucked-away meze bars and cafes.
Ano Poli and the castles
For a different view of Thessaloniki, head to the narrow streets and Venetian castles of the Upper Town. Take your time to explore, noting the traditional Macedonian architecture (stone-paved streets, squares and two-storey houses) in one of the city's oldest districts. It will make the delicacies in the traditional cafes and tavernas of the Tsinari neighbourhood, and around the Trigoniou Tower, Pasha's Gardens and Heptapyrgion, even more enjoyable. For an extra special treat, find yourself an ouzerie or bar with a terrace and drink up the view of the city and Thermaic Gulf.
GET PLANNING
From the airport to Aristotelous Square
From Aristotelous Square to Ano Poli
Thessaloniki is an excellent city break destination all year round and is a natural stopover during holidays in the wider region.
The city has a vibrant student life, so is especially enjoyable from October to May.
Autumn
Spring
Summer
Winter