To explore Thessaloniki by foot is to hear an extraordinary story of diversity and culture from the buildings left behind by its inhabitants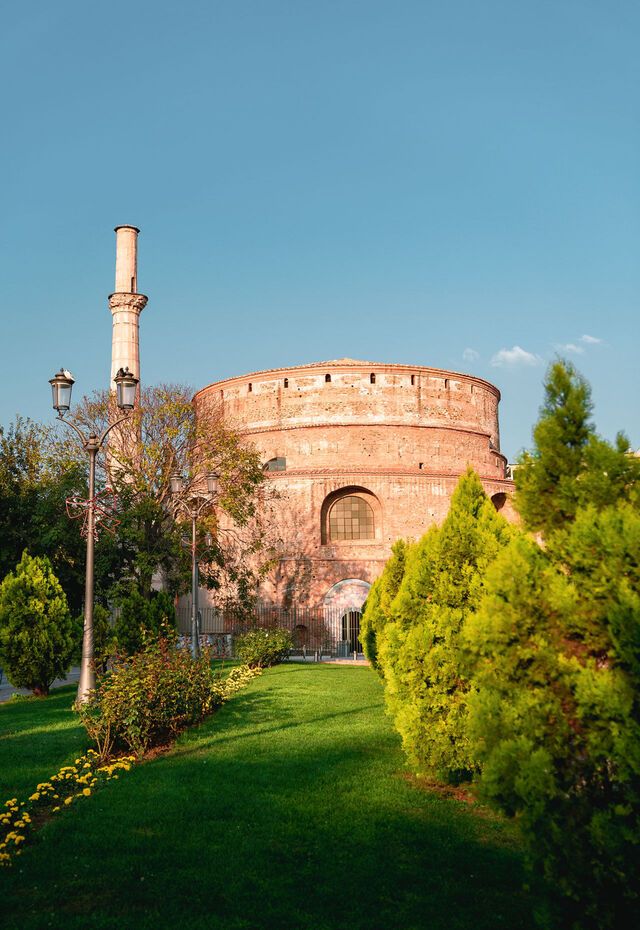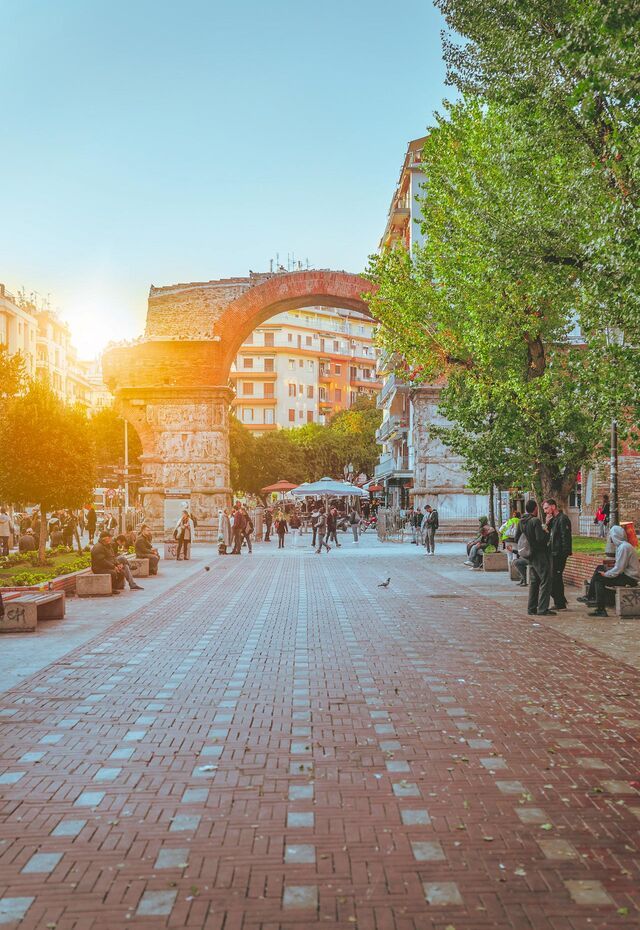 Duration
Full day
Season
All year round
OVERVIEW
A famously welcoming and open-hearted city, Thessaloniki doesn't keep its secrets to itself. Just as the locals will talk with undisguised affection about their hometown, so its buildings and monuments stand ready to reveal all. More than 2,000 years of history – Hellenistic, Roman, Byzantine, Ottoman and modern – it's all there, in plain view. All you have to do is put on a pair of shoes and get exploring.

Early Christian churches, Roman relics, Byzantine castles and Ottoman baths and mosques… they'll tell you everything you need to know about a modern and vibrant city, shaped by a diverse array of cultures and personalities over the years.

You can head out in just about any direction and be rewarded, but we've put together an itinerary that starts at the iconic White Tower and ends at the castles of the Upper Town. Pick and choose as you wish. You won't be disappointed.
DON'T MISS
White Tower
We start at the emblematic White Tower, the 15th century prison that is now a museum that tells the story of Thessaloniki (its diverse personalities and cultures, history as a commercial hub, artistic & intellectual scene and rich culinary traditions) all the way from antiquity to today.
The Galerian Complex
A short walk away is a group of monuments from the late 3rd and 4th centuries AD, when Caesar Galerius Valerius Maximianus chose Thessaloniki as the seat of the eastern part of the Roman Empire. The once vast complex now consists of individual parts, amongst them the Arch of Galerius (to commemorate Galerius' successful campaign against the Persians), the Octagon, the Apsidal Hall and – most impressive – the UNESCO-protected Rotunda (which has served as a place of worship for pagans, Christians and Muslims).
The Church of Hagia Sophia
From the 8th century, one of the oldest churches in Thessaloniki and another of the city's many UNESCO World Heritage site monuments.
Bey Hamam
Near Aristotelous Square, these were the first hamam baths in Thessaloniki. The building is perhaps the best example of intricate Ottoman architecture in the city and is used today as a site for cultural events.
Roman Agora
Right next door is the Roman Agora (or Forum) which, along with the Galerian complex, constituted the heart of Thessaloniki's public and political life during Roman times. Amongst the remains are two Roman baths (one excavated) and a small theatre.
Agios Dimitrios Church
Another of the UNESCO-protected monuments, best known for its crypt containing the relics of the patron saint of Thessaloniki, who was a Roman soldier and an early follower of Christianity. When he died, St Dimitrios was reputedly dropped into the church well that he used as a secret meeting place with other Christians.
The Administrative Complex of the Kyprion Agonistou
Another excavation between the apartment blocks of a residential area. This 3rd century BC site is believed to belong to the Hellenistic period.
Upper Town (Ano Poli)
We end in an area where you could spend most of the day … Thessaloniki's labyrinthine upper town. The sites here seem endless – the Byzantine Bath (one of the best-preserved from this period), the Church of Hosios David (Latomos Monastery) and the Vlatadon Monastery – all of them UNESCO-protected. But it's worth giving a special mention to the castles of the Upper Town (the Heptapyrgion and Trigoniou Tower). Not only will you admire these Byzantine fortresses but the views of the city, the Thermaic Gulf and – if you're lucky – Mt Olympus are outstanding.
Book your trip
All your holiday planning needs in one place, letting you book direct and benefit from official online rates
Group
Group
2 hours
Free cancellation
Not sure? You can cancel this reservation up to 24 hours in advance for a full refund
Group
GET PLANNING
You can begin your walking tour wherever you like, but if you do choose the White Tower:
From Aristotelous Square
By car, taxi or on foot: Along the promenade (900m)
By bus: No. 5, 6, 33, 39, 3Κ, 12 or 15 (Stop: White Tower or Lefkos Pyrgos)
From the airport
By car or taxi: 17km (30mins)
By bus: 01Χ (Town Hall or Dimarchiako Megaro stop) and from there by foot (590m).

Thessaloniki is an excellent city break destination all year round
It's also a natural stopover during holidays in the wider region.
If you do visit in July-August, set out in the morning or afternoon to avoid the midday heat.
The sites mentioned are open all year round but check the opening times and entry fees as they may vary during the year and week.
It's worth exploring the city in the quieter months of March-June & September-October.
Museums and cultural sites
White Tower: Opening hours
Octagon, Apsidal Hall and Rotunda: Open daily (except Tuesday). Entry: €2.
Seasonal opening times apply. Access for visitors with disabilities. More info
Roman Agora: Open daily (except Tuesday). Entry: €4. Seasonal opening times apply. Access for visitors with disability.
Heptapyrgion: Open daily (except Tuesday). Seasonal opening times apply. Limited access for visitors with disabilities.
Church of Hosios David (Latomos Monastery): Open 9:00-16:00 Mon-Fri and 9:00-15:00 on Sat. Sunday service 6:30-13:00.
The Church of Hagia Sophia: Daily 8:00-18:30. More info
Agios Dimitrios Church: Open daily (except Tuesday). Free entry. Access restricted for visitors with mobility difficulties.
Byzantine Bath: Open Tuesday, Wednesday, Friday. Seasonal opening times apply.
Vlatadon Monastery: Chapel open Mon-Sat 7:30-12:00 and 18:00-20:00. Other areas open 8:00-20:00.
Triangular Tower: Open 9:00-14:00 Wed-Fri. Free entry. Access not suitable for visitors with disability.
Thessaloniki Ephorate of Antiquities: More info
Autumn
Spring
Summer
Winter
The distances aren't great but the proposed itinerary will take most of the day.
Or you could spread it over two or more days.
Organised walking tours (which will likely contain some of the monuments) last around 3hrs.