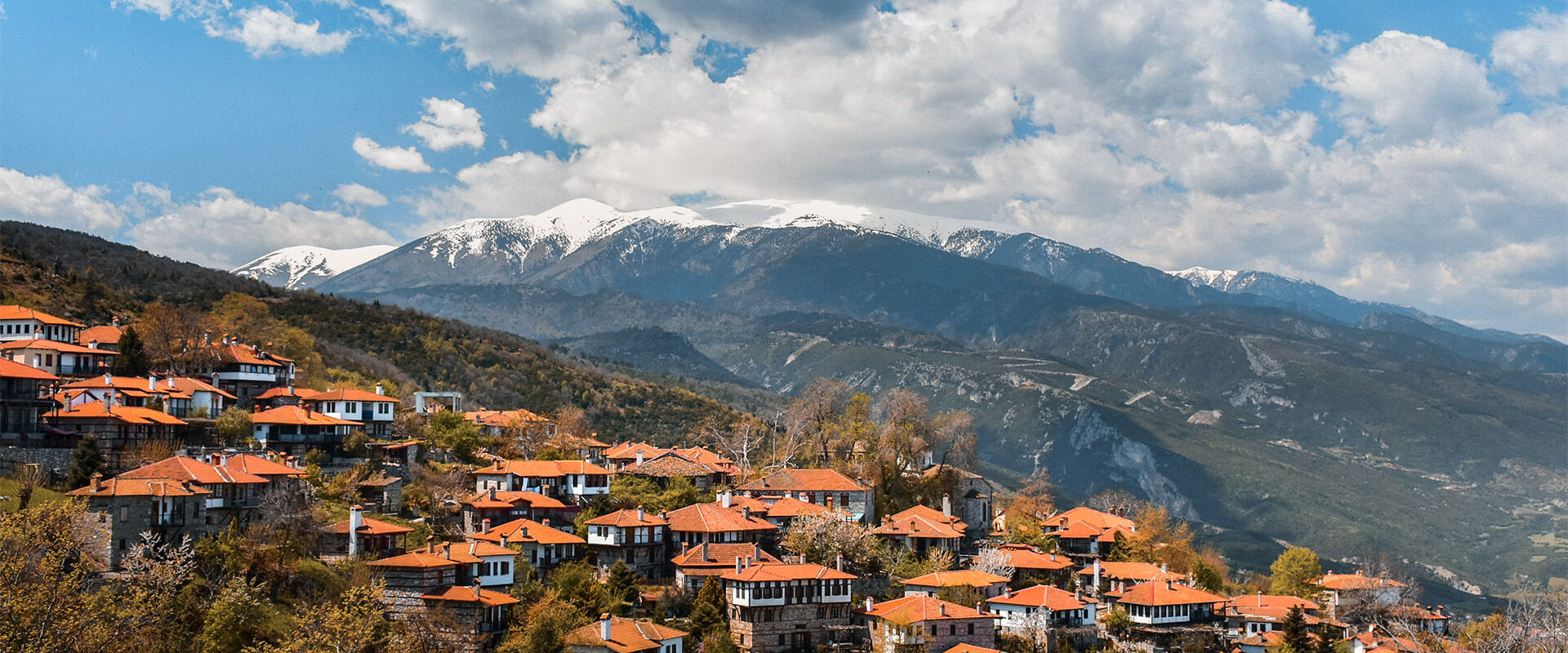 EXPERIENCE
Mythical village-hopping on the slopes of Mt Olympus
Whether you're looking for pockets of authenticity in which to unwind or an escape for activities in nature, the villages of Mt Olympus capture everything mythical about the legendary mountain of the gods in northern Greece.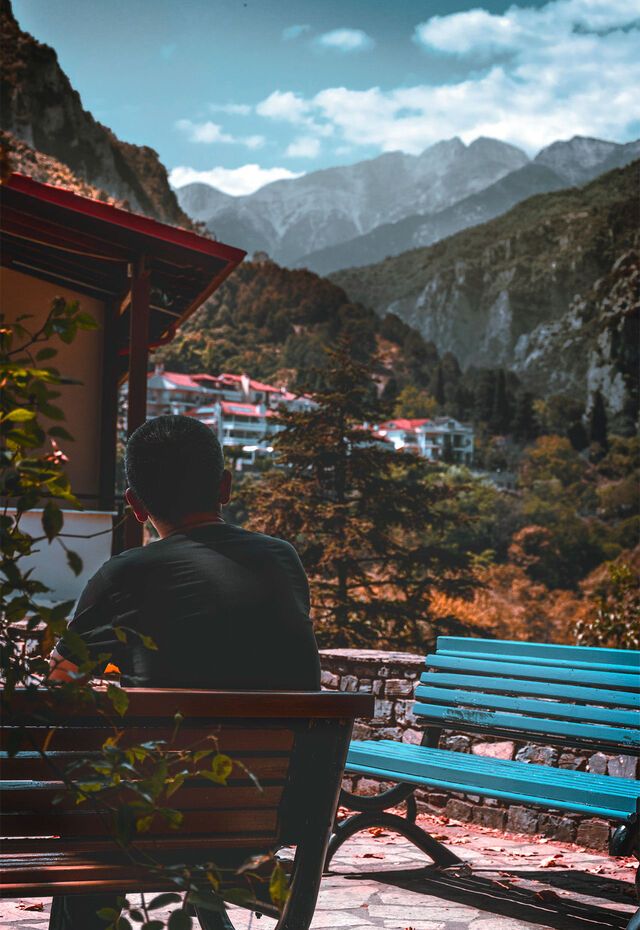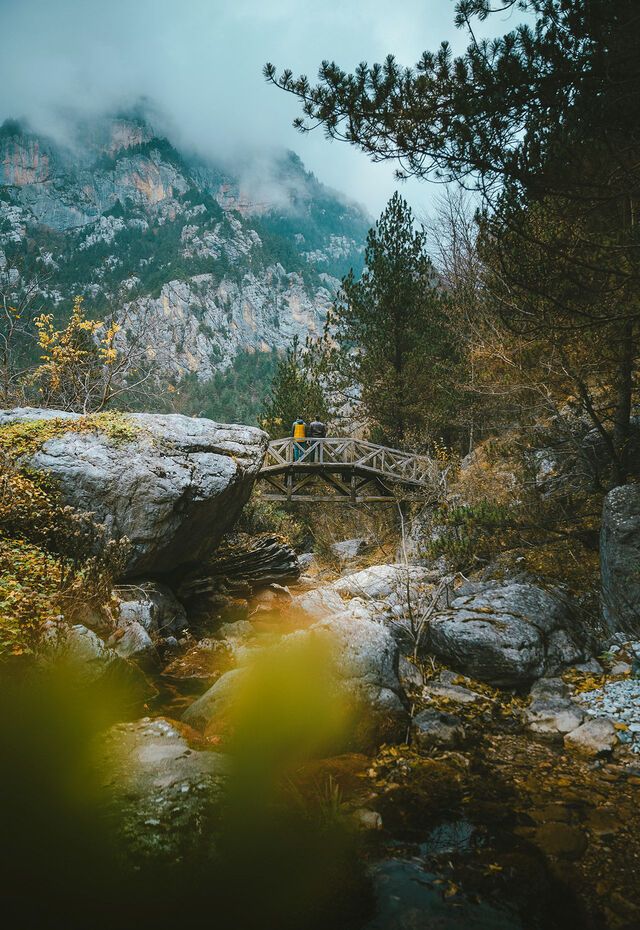 Duration
1 - 2 days
Season
All year round
OVERVIEW
It's up to you whether you believe the 12 gods of Ancient Greece, among them the all-powerful Zeus, still live on Mt Olympus. But what you won't have any trouble finding – within the greenery of Greece's first National Park and a UNESCO-protected Biosphere Reserve – are villages still inhabited by locals doing their bit to keep the traditions and crafts of this mythical mountain very much alive.

The popularity of Olympus' villages has grown as visitors discover all the adventures offered on the mountain (hiking, mountain biking, horseback riding – or perhaps adrenaline-filled canyoning, rock climbing, paragliding or 4x4ing along dirt paths).

Residents who had drifted away to nearby coastal settlements have returned, restoring buildings in the traditional Macedonian style and opening guesthouses, tavernas and shops to sell their handmade local products.
DON'T MISS
Litochoro
Village life still beats strongly in the small town of Litochoro, the base for so many adventures on Mt Olympus. In the old town, you will find architecture that is unmistakably Macedonian (two-storey houses, with wooden beams and balconies) and there's a strong maritime tradition in the neoclassical captain's houses. Likewise, many of the narrow alleys wind back to the main square (as they do in a village). There are modern twists to restaurants and cafes, but there's still a traditional atmosphere in the tavernas along the Enipeas River and in the centre (drinking tsipouro and eating meze). Mt Olympus appears through its foothills and nearby is Myli, with its watermills and the chapels of Agion Apostolon and Profitis Ilias, where you can pick up the E4 long-distance hiking trail.
Ano Skotina
You're surrounded by a forest of fir and beech trees as you enter Ano (Upper) Skotina, around 750m up on the lower slopes of Mt Olympus. Many of the houses here are from the 17th or 18th century and the church of Agios Athanasios (with a wonderful wood-carved iconostasis) dates to the 14th century. There was a time when the residents of Ano Skotina began to relocate. But slowly they have returned, restoring properties and opening guesthouses and tavernas. The heart of the village is the square, with the 19th-century Church of the Dormition (Kimisis Theotokou) and an enormous plane tree. There is a view all the way to the sea and, around the village, are footpaths for hiking, mountain biking or 4x4ing.
Palaios Panteleimonas
Another centuries-old village whose inhabitants had chosen to relocate to the coast before returning to breathe new life into the red roof-tiled houses and open traditional tavernas and guesthouses. The car-free roads and plane tree-lined main square (with the Church of Agios Panteleimonas) are a joy – especially whilst having a bite with a glass of local wine or a koumara tsipouro (firewater made from the fruit of the wild strawberry tree). Around you are shops selling handmade pasta and sweets and jars of blossom-scented honey.
Palaioi Poroi
Palei Pori (as it's pronounced) is a village that received modern comforts (such as electricity) later than its neighbours. Most of its narrow alleyways, lined with handsome 18th and 19th century buildings, lead to the main square, with a huge plane tree, the Byzantine church of Agios Georgios and views all the way to the Thermaic Gulf. Many of the houses in the village have been converted into traditional guesthouses and above the settlement is a forest, in which you will find two pretty churches (Agion Apostolon and Zoodochou Pigis.)
Dion
Your final stop is another settlement inextricably linked with the region's history. Dion was the most sacred sanctuary of King Philip II and his son Alexander the Great in the 4th century BC and its archaeological site – noted for its greenery and water features – was dedicated to Zeus. Strolling around the park, you'll find sanctuaries to the leader of the gods and (amongst others) the Egyptian goddess Isis. There's an on-site museum and the ancient theatre still stages cultural events, as one of the venues of the Olympus Festival each summer. One of the roads out of Dion leads to the little church of Agios Konstantinos, where the Orlias Gorge begins, perfect for a nature walk (or something more active). And don't forget to finish the day at a taverna serving hearty local dishes.
Book your trip
All your holiday planning needs in one place, letting you book direct and benefit from official online rates
Outdoor activities
Olympus Macedonia Thessaloniki Katerini - Platamonas - Litohoro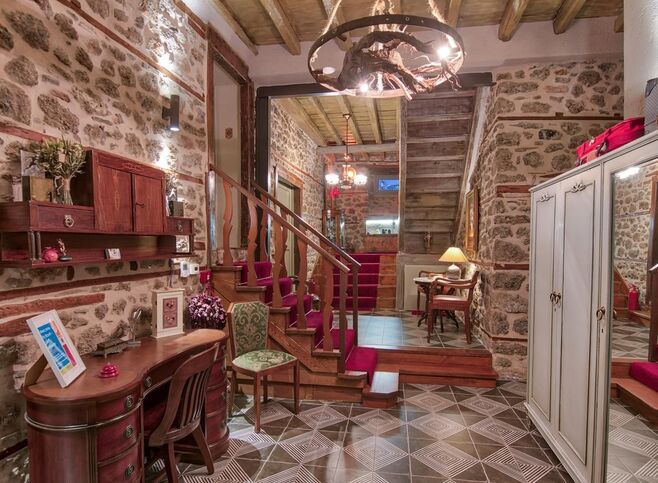 Accommodation
Olympus
BAYIRI, is a boutique style guest house operating from 2017. It offers high quality hospitality in harmony with natural materials and local architecture insi...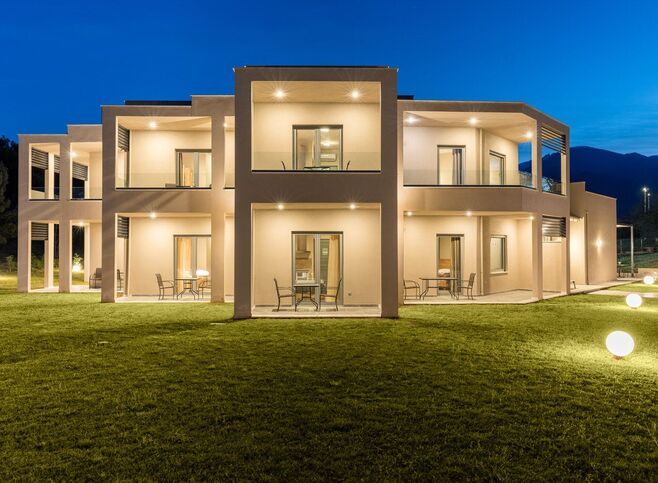 Accommodation
Olympus
Welcome to Olympus Pantheon. An Olympian Collection™ hotel unique for its ideal location between the foothills of Mount Olympus and only a few steps from...
GET PLANNING
It's worth starting your journey from the city of Thessaloniki, which has the nearest international airport. After driving to Litochoro, you can follow the order of the villages as presented, but feel free to mix and match, especially if you've planned outdoor activities. All the villages are close to each other.
By car:
From Thessaloniki Airport to Litochoro (121km, 1hr20min)
From Litochoro to Ano Skotina (28km, 47min)
From Ano Skotina to Palaios Panteleimonas (9.3km, 23min)
From Palaios Panteleimonas to Palaioi Poroi (5.7km, 17min)
From Palaioi Poroi to Dion (37km, 37min)
Starting early in the morning, you can visit all of the villages in one day, but you're unlikely to spend as much time as you would like in each.
You'll find accommodation in all the villages (with nearby Litochoro having the most options if you are in Dion).
TRAVEL RESPONSIBLY
Let's all try to keep the magic of Greece's villages, towns and cities alive for future generations.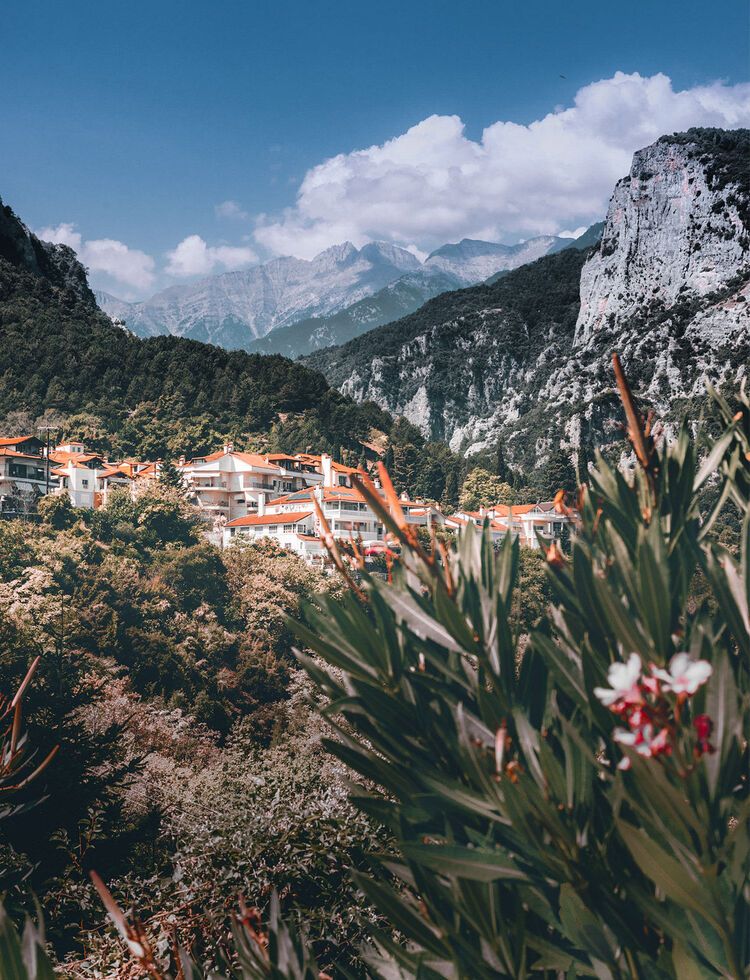 Keep the streets as clean as possible by using the bins provided or, if necessary, keeping your rubbish with you until you find one.
Use a refillable water bottle to try to minimise your use of plastic.
Do your best to support small, independent family-owned stores and local producers, taking home something handmade and local.
Explore your surroundings but please keep to designated paths for your own safety and to avoid disrupting the flora and fauna.
Respect your fellow visitors and the locals.
Be inquisitive and definitely ask the locals for tips.