READING TIME
As long as it takes to drink a glass of ouzo
With incredible countryside and rich history, there are so many things to do in Crete. So we've prepared a love-list for your next magical holiday in Greece.
Wherever you are in Crete – in the region of Chania, Rethymno, Heraklion or over on the eastern shores in Lassithi – you'll find an irresistible story of beaches, culture, mountains, valleys, villages, wine routes and people. And somehow, once you've sampled it all, it becomes part of your story.
The legendary beaches of Crete
When it comes to top attractions in Crete, you' probably already know about the beaches. The exotic blue water and soft white sand of Chania's Balos lagoon and Elafonisi regularly feature in Top 10 lists of breathtaking beaches. But on an island with 1,000km of coastline, there are beaches to discover all over Crete.
Prepare to be mesmerised at Crete's Balos beach
If you're based in Rethymno or Heraklion, it's just a short journey to the four beaches of Bali, perfect for a family splash or romantic getaway. But you could also head south to the twin beaches of Triopetra (separated by a peninsula) or secluded Agios Pavlos and intimate Lentas, a little further along the south coast.
The dreamscape of Crete's Elafonissi beach
Likewise, Malia and Sitia, to the northeast, have rightly gained their popularity on the back of their sandy, organised beaches that tick every holiday box.
And if you feel like venturing out, there's wonderful Falasarna (less than 1hr from Chania, near Balos) or Kedrodasos (close to where you catch the boat for Elafonisi). And finally, the remote Agios Ioannis (on the tiny islet of Gavdos) or Chrissi (golden by name, golden by nature) are reached by boat from Ierapetra. And that's just the start.
The extraordinary cultural legacy of Crete
Crete's long and very proud history of invasion, rebellion and trading on an island that is at the crossroads of all ancient Mediterranean civilisations has left a legacy that is extraordinary.
We start with the Minoan civilization, which flourished here from 3000-1200 BC – with the world-renowned Knossos Palace (near Heraklion) often referred to as Europe's oldest city. But there are other Minoan settlements on Crete (such as Phaistos, Gortyna and the Palaces of Malia and Zakros), as well the archaeological site of Vasiliki (near Ierapetra) and the Museum of ancient Eleutherna, all worth a visit.
Exploring the Minoan palace of Knossos on Crete
There are also plenty of examples of Classical civilization, such as the archaeological site of Aptera, in northern Chania. Just make sure you don't miss the Archaeological Museum of Heraklion, to put everything into context.
The archaeological museum of Heraklion
And then there's the legacy of the Venetians, who ruled from 1212 for more than four centuries, notably at Frangokastello (the castle of the Franks), built in 1371-74 as a garrison to impose order on the rebellious Sfakia region, and the Fortezza of Rethymno, built the following century.
And then there's Spinalonga, the tiny island in the Gulf of Elounda that merges Venetian, Ottoman and Greek history in a unique way (from playing a role in the Cretan revolt against the Turks to being used as leper colony).
And don't think it's just about archaeology: Highly recommended are the Museum of Typography in Chania, the Museum of Contemporary Art in Rethymno, the Natural History Museum in Heraklion and the Folklore Museum of Agios Nikolaos.
The Cretan way of life
Of all the things to do in Crete, if you really want to understand the traditions, food and lifestyle of the people… head to its villages. There are villages in the mountains and along the coast and many are seemingly untouched by time.
Little more than 30km outside Chania, the collection of Apokoronas villages – one of our favourite places to visit in Crete – offers just that. Semi-mountainous Vamos is the largest and you should visit beautifully preserved Gavalochori, a settlement of 400 people complete with a 14th-century olive oil press and folklore museum. Or how about heading to the south coast town of Hora Sfakion, from where you can catch a boat to the neighbouring – and carless - village of Loutro.
We're going 740m up to the village of Anogia next (1hr from Heraklion and 1.5hrs from Rethymno), a village with a turbulent past at the hands of the invading Ottomans and Germans but with a spirit that remains undimmed. Locals are often stockbreeders and musicians… with a glass of raki close to hand.
Close to Heraklion, lovingly restored Archanes is worth visiting. And, if you find yourself in eastern Crete, take some time to explore the villages of the Lassithi plateau (Zakros, Ziros, Makris, Neapolis, Krtisa…), traditional settlements with local delicacies and the good old Cretan way of life.
The vineyards and wineries
Crete produces excellent wines, made with local grape varieties and European blends at modern family-run vineyards. So our next recommendation is to hit the road… or, more specifically, one of Crete's wine roads for wine-tasting and a vineyard tour.
Around two-thirds of Crete's wineries are found near Heraklion, with the vineyards of Archanes and Peza, or Dafnes (on the lower slopes of the Psiloritis Mountains), standing out.
To the west, Chania is the second-largest wine area, with the foothills of the White Mountains offering excellent vine-growing terrain. Many wineries are found around the village of Kissamos, which has gained PGI (Protected Geographical Indication) status, although numerous wineries can be visited in northeastern and central Chania.
Wine-making was more recently introduced to Rethymno, with wineries well worth visiting in the areas of Geropotamos and Finikas. And to the east, the vineyards of Lassithi are located around the town of Sitia and the Ziros plateau.
The countryside… beautiful and big
No island in Greece does dramatic quite like Crete. There are mountain ranges across the island, with cloud-piercing tips sending water cutting through the limestone terrain to leave a legacy of more than 400 canyons and gorges that have rightly gained cult status amongst hikers.
If you know one gorge already, it will likely be the Samaria Gorge, in Chania's Sfakia province, starting at the White Mountain's Omalos Plateau and descending through a magical landscape of pine and cypress trees. You'll hike through a narrow path with vertical walls before emerging at the seaside village of Agia Roumeli.
Hiking the spectacular Samaria Gorge in Chania
A National Reserve, the White Mountains boast a rich variety of flora and fauna, with a central massif of more than 50 peaks above 2km known as the Mountain Desert. Truly incredible.
Heading east are the impressive Psiloritis Mountains (also a Natura-2000 site). In Rethymno, the Kourtaliotiko Gorge, in which flows the Megalos River, ends at the beach of Preveli (complete with palm groves). And Heraklion also boasts many exciting canyons, notably Agiofarago (Martsalo and Trafoulas) and Gafaris, crossing the magnificent oak wood of Rouvas.
We end in the Dikti Mountain range, home to impressive canyons of its own – the most famous being Sarakina and Mythi and, of course, Zakros and its Canyon of the Dead, so named after the discovery of Minoan graves in its walls. Now we've got your attention.
The outdoor activities and adventures
It should be pretty clear by now… if you love the outdoors, you won't be short of things to do in Crete. Take the sea… there are many excellent scuba dive sites but if you want one tip head to Chania's Gramvousa Peninsula (to the east) or Kalyves (on the edge of Souda Bay). The underwater coastline all the way to Georgioupoli is well worth exploring, including the Cave of Elephants, so-called because of the elephant bones found on the seafloor.
With all those gorges, can we tempt you to try something new? You'll need the help of a specialist company and the appropriate equipment, but how about canyoning? The gorges of Ha (experience required), Tsoutsouras, Kalami and Arvi (which turns into a dark underground river after an 80m waterfall) are all recommendations.
Next, we're sending you mountain biking in the Asterousia Mountain range, south of Heraklion, between the plain of Messara and the Libyan Sea. Rising to 1,230m, you get a pure mountain thrill without the extreme altitude.
And you can't leave Crete without having a little fun on the water. The popular family beaches in Sitia and Elounda Bay are ideal for hiring a Stand-Up-Paddleboard or for other water sports, as Kouremenos beach (in northeastern Lassithi)is for windsurfing and kite-surfing.
The atmosphere of Crete by night
And lastly for your list of things to do Crete, it's the nightlife. This is, after all, when the island really comes to life. You'll be spoilt for choice, so here are a few pointers.
The charm of both Chania and Rethymno is set by the atmosphere of Old Town districts in both locations, so that's where you should head for a leisurely moonlit stroll by the sea. Both the settings have inspired a new generation of restaurant and bar owners, with inventive menus and cocktails. And you're sure to spend far too long in a "rakadiko", a traditional little Cretan eatery serving Cretan raki and meze .
In Heraklion, the city feel takes nights out to another level, with a vibrant clubbing scene to go along with the seaside restaurants and bars that also cater to a softer vibe.
And if you're in Agios Nikolaos, you should head to Lake Voulismeni, the small inland body of water connected to the sea, in the centre of town. Known simply as "The Lake", it hosts some of the best nightlife in town and one of the most notable attractions in Crete.
FAQs about Crete, Greece
Where is Crete in Greece?
Crete is the largest and southernmost island in Greece, located between the Aegean and the Libyan Sea. It has a population of around 630,000. Just above Crete are the Cyclades islands and, to the northeast, the Dodecanese islands.
What are the main cities and regions of Crete?
Crete is divided into four administrative units called prefectures. Chania is in the west, followed by Heraklion, Rethymno and Lassithi. Chania, Heraklion and Rethymno are also the names of the cities in these prefectures. The capital of Lassithi (the easternmost prefecture) is Agios Nikolaos.
Does Crete have an airport?
Crete has three airports. Chania and Heraklion have airports that serve international and domestic flights and there is a third, smaller airport in Sitia (in Lassithi) just for domestic flights. The flight time to Athens is around 55mins and to Thessaloniki is approx. 1hr30mins.
How do you get to Crete by ferry?
There are numerous ports along the northern coast of Crete with ferry connections to Piraeus and other Greek islands. There are daily ferries from Piraeus (the port of Athens) to Chania and Heraklion and (in the summer months) to Sitia. Many ferries also stop at Cyclades and Dodecanese islands. Another option from Athens in the summer months, is the port of Rafina to Heraklion, in eastern Attica (around 45mins from the centre of Athens).
When is the best time to visit Crete?
As Greece's southernmost island, summer starts earlier in Crete than elsewhere in Greece. You can comfortably swim from mid-May till the end of October, but every season is special in Crete, with spring and autumn especially popular for outdoor activities. The temperatures can vary by 5-10 degrees from coastal to mountainous regions throughout the year. Crete does get busy in the peak summer months (July and August), so visiting in May-June and September are best.
Book your trip
All your holiday planning needs in one place, letting you book direct and benefit from official online rates
Outdoor activities
Chania Crete
Culture
Crete Heraklion - Knossos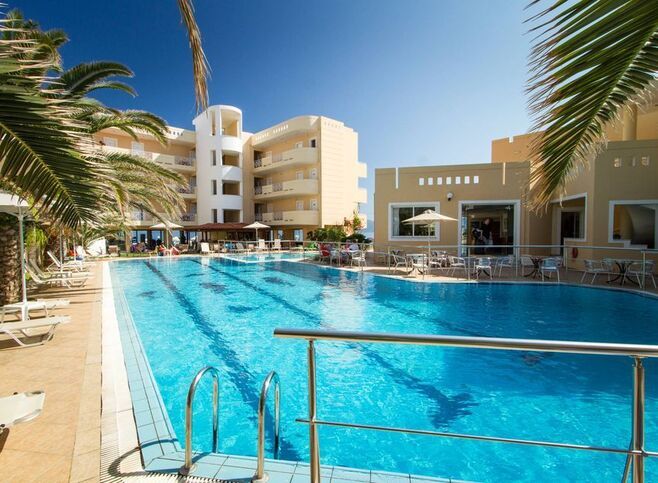 Accommodation
Crete
Sunny Bay is a 3 stars beach hotel.The complex lies in an idyllic position in the bay of Kissamos, 37 km west of Chania and...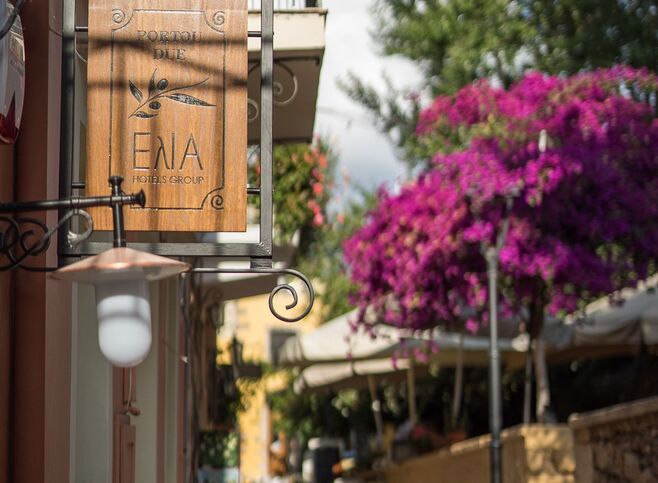 Accommodation
Crete
The "Elia Portou Due" is a renovated traditional house in the heart of the old town of Chania. It is in one of the most...