Built amphitheatrically above a lake, the town of Agios Nikolaos has all the attractions (museums, cafes, shops and tavernas) to keep you away from eastern Crete's famous beaches for the day. In fact, it's even got beaches!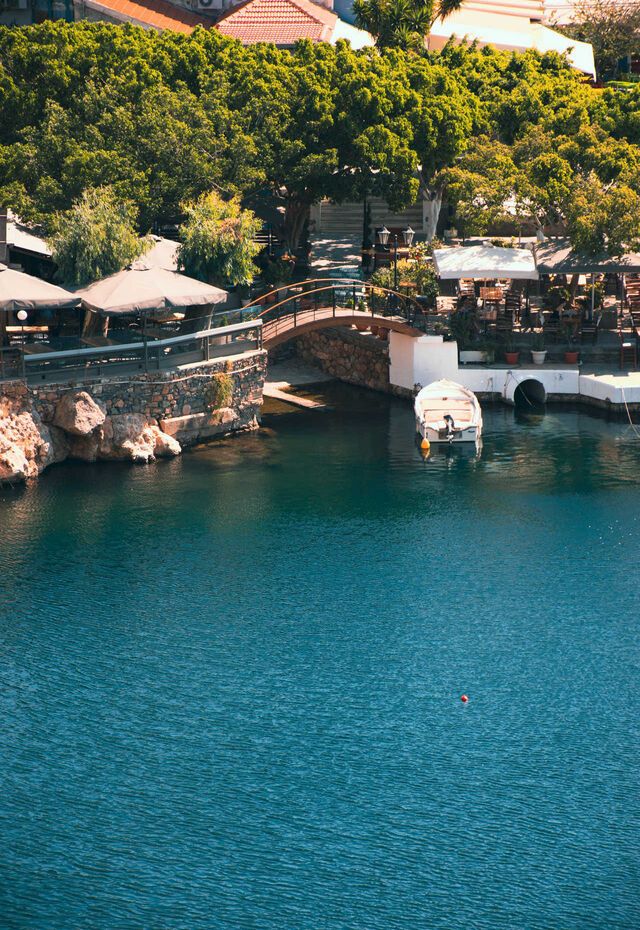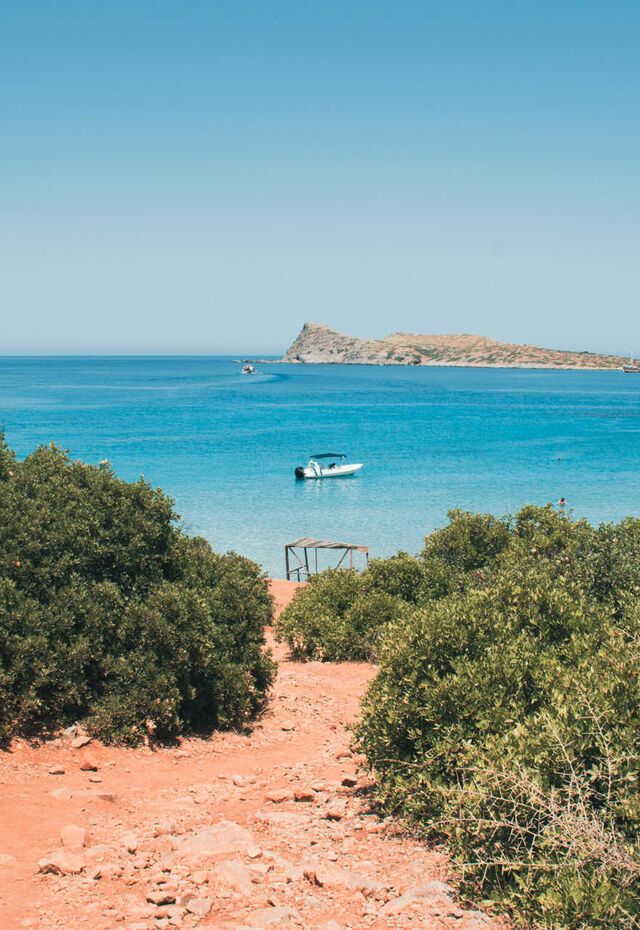 Duration
1 hour - 1 Day
Season
April - October
OVERVIEW
A tour of Agios Nikolaos in Crete
The capital of Crete's eastern Lassithi region, Agios Nikolaos is a town of around 13,000 inhabitants – large enough to buzz with life but also small enough to be quaint and understated. It is found within Mirabello Bay, famous for its beaches (particularly in Elounda) and the history of Spinalonga island and other cultural highlights. And from here, you can easily reach the port towns of Ierapetra and Makri Gialos (and the magical islands of Chrissi and Koufonisi) to the south, or the exotic palm tree beach of Vai to the east. But hang on a minute! Before you get exploring, there's also beauty right where you are.
Agios Nikolaos became eastern Crete's principal harbour because of the protection offered by the islands of Agii Pantes (All Saints) and Fourni within the bay. It is built on three hills, which add character to the many small, winding streets that lead to squares, of which Eleftherias is the largest and Nearchou is for many the prettiest, particularly its neoclassical elements.
Besides the modern marina, the focal point of Agios (as the locals call it) is Lake Voulismeni, lined with tavernas and cafes (quiet or lively, depending on your preference and time of day). And just because we're here to take you on a walking tour, it doesn't mean you can't sneak in a swim. Just by the marina and a short walk down the coast are beaches that make a perfect pit stop on your tour. So let's get your holidays in Agios Nikolaos started and introduce you to one of Crete's undoubted gems.

DON'T MISS
The attractions of Agios Nikolaos
Lake Voulismeni
Your tour of Agios Nikolaos begins at Lake Voulismeni. There are various myths about the lake, including that it is bottomless and that the goddesses Athena and Artemis bathed in it. It's actually a lagoon connected to the port by a narrow canal. A stone path climbs through a pine-filled park on Agios Charalambos Hill to the south, from where there are panoramic views. There are cafes and tavernas around the lake, as well as a lively nightlife scene (particularly 25th March and Iossif Koundourou streets). And in the summer, you might be lucky enough to catch the Cliff Diving Festival and enjoy a spectacle of divers from all around the world diving into the lake.
The Folklore Museum
Next to the bridge crossing the canal is the Folklore Museum, in the old Port Authority building, containing an interesting collection that pieces together Agios Nikolaos' past. Books, photographs, documents, coins, instruments, Cretan costumes and embroideries are on display, as well as weapons from the Ottoman era and Balkan Wars.
The Archaeological Museum
Considered amongst the most important attractions in Crete, Agios Nikolaos' Archaeological Museum chronicles the region's history from the Neolithic era (5700-2800 BC) and the remains of the Minoan civilisation all the way to Greco-Roman finds from 100 BC-400 AD. Its most notable exhibit is the Goddess of Mirtos, a libation vessel in the form of a female figure discovered in the Bronze Age settlement at Fournos.

The main shopping street
To the south of the lake, you will find 28th October Street (the date of one of Greece's national holidays), the town's main shopping street. This is where you'll head if you want to pick up a wood-carved souvenir or a traditional scarf, or perhaps a piece of jewellery or a book. You'll find the Municipal Gallery in a renovated neoclassical building and the road leads to the busiest square of the city, Eleftherias (or Eleftheriou Venizelou), where you will find the Cathedral of the Holy Trinity and a statue of Venizelos, Greece's foremost statesman.
The beaches of Agios Nikolaos
You'll be spending plenty of time at the beach on your holidays in and around Agios Nikolaos, but don't let your day dedicated to a walking tour be any different. Cosy Kitroplatia beach (with shingle and sand) is found just by the marina, as is Ammos beach (with sand, as its name translates). A short walk out of town are the beaches of Garadoro (15mins) and Almiros and Ammoudara (sandy beaches with organised facilities, 30-40 mins away.) With tall eucalyptus trees and reeds, Almiros beach attracts migratory birds, depending on the season.
The Church of Agios Nikolaos
This Byzantine church, found on a cape north of town known as Nissi (island), gave Agios Nikoalos its name. It's a little stone church, believed to date from the 7th century, that was rebuilt after an earthquake at the start of the 14th century. The icons are beautiful but your lasting memory will be the view, with the little islands of Agii Pantes and Fourni in the bay.

GET PLANNING
The closest airports to Agios Nikolaos are in Heraklion and Sitia (domestic and seasonal international flights) and there is easy road access to other major destinations in Crete. The airport of Chania also receives direct seasonal international flights but is further away.
By car: 63km (55mins)
By bus: More info
By car: 66.5km (1hr20min)
By bus: More info
By car or taxi: 13km (25mins)
By car or taxi: 37km (40mins)
By bus: More info
By car: 200km (2hr45min)

When is the best time to visit Agios Nikolaos in Crete?
You can visit Agios Nikolaos all year round but it is at its liveliest from April to October.
The best time to visit is in April-June and September-October when it is at its most charming and quiet.
Does Agios Nikolaos have museums?
The two main museums of Agios Nikolaos are:
The Archaeological Museum
More info
(Suitable for visitors with mobility difficulties)
Open daily (except Mondays) from 10:30 to 14:30 and 18:00-20:00
More info: +30 28410 22357 (Municipal Tourism Office)

How long do you need to see the sights of Agios Nikolaos in Crete?
You could spend anything from an hour to a whole day enjoying the attractions of Agios Nikolaos, especially if you combine it with a swim.
If you are staying in Agios Nikolaos or the surrounding area, there will be plenty of time to get to know every corner of town.