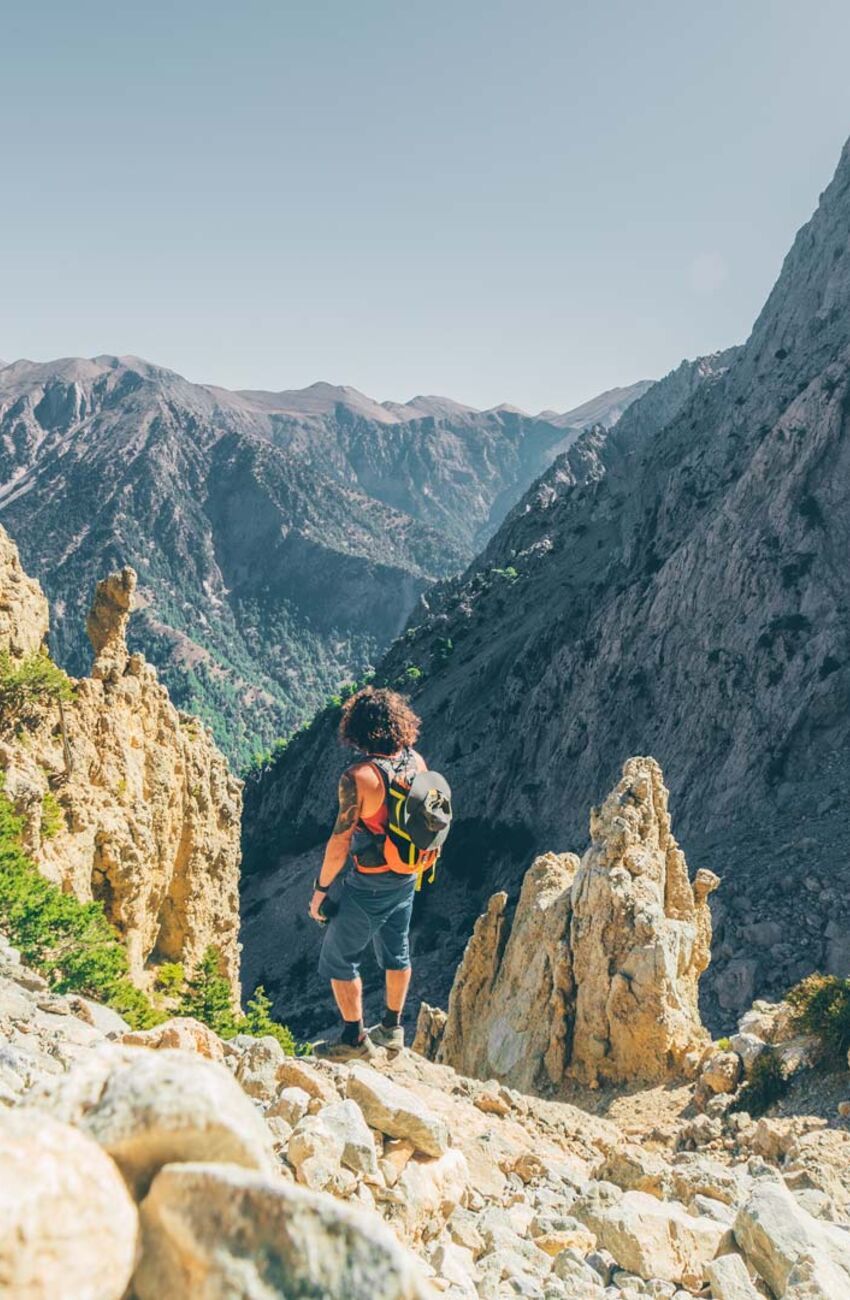 EXPERIENCE
Hiking the spectacular Samaria Gorge in Chania
Crossing the Samaria Gorge takes you through some of the most magical scenery in Europe, as well as abandoned villages and other historical highlights, and allows you to get close to the rich wildlife of Crete's White Mountains National Park.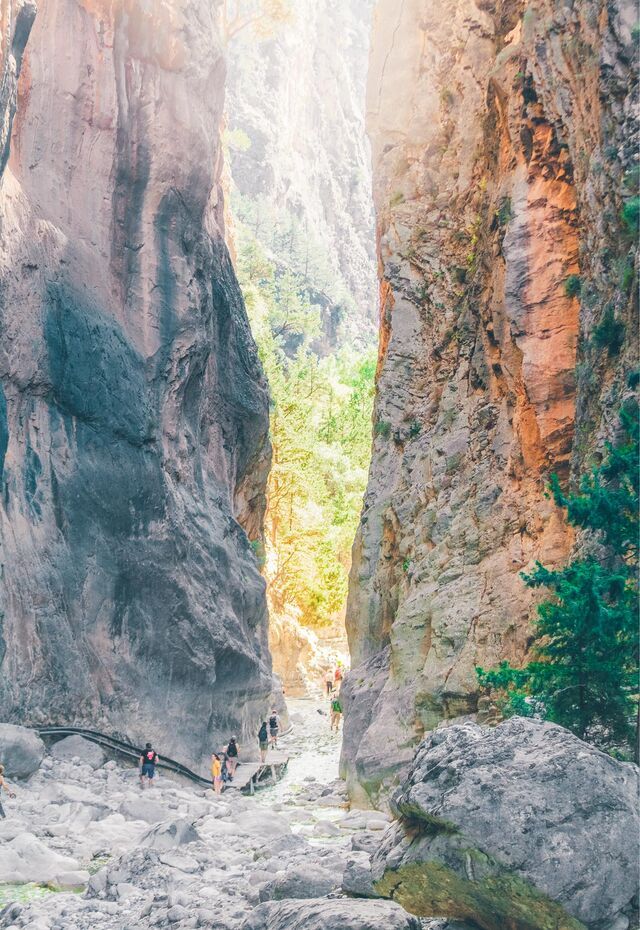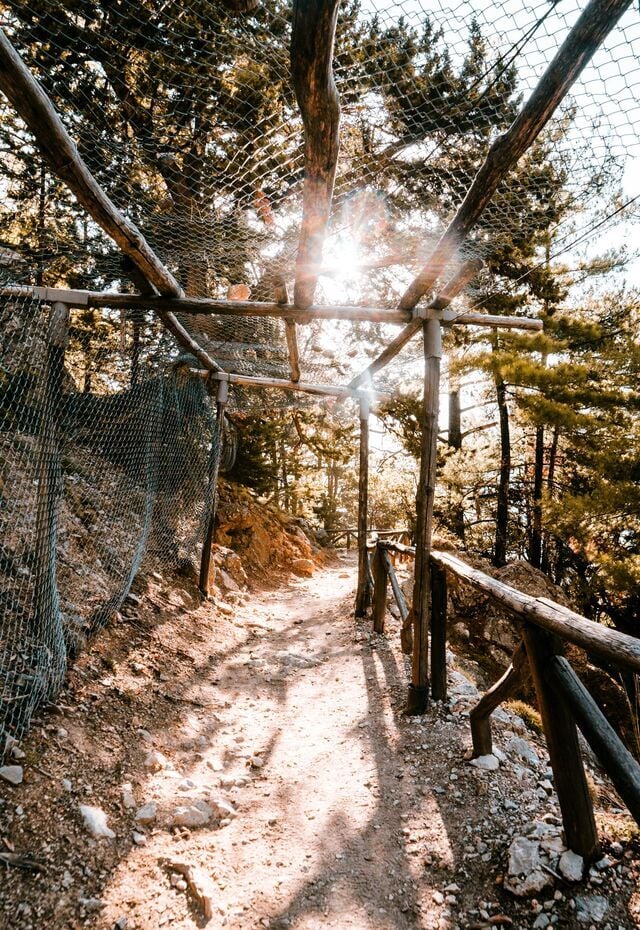 Duration
6 - 7 hrs
Season
May - October
OVERVIEW
The Samaria Gorge has rightly become one of the iconic hiking destinations of Europe. The 16km canyon runs from a plateau in the shadow of Crete's White Mountains all the way to the Libyan Sea. It is the longest gorge in Greece and forms part of the E4 hiking trail that traverses Europe. But that's just the start of a journey that has become a rite of passage for anyone wanting to explore the extraordinarily diverse region of Chania.

Containing 450 species of plant and animal life (70 endemic to Crete), the Samaria Gorge is a UNESCO-protected Biosphere Reserve. You will pass through forests of pine, cypress and holly trees, and by 22 drinking water springs, as well as abandoned villages and churches you can pop into. The gorge itself is 150m at its widest but narrows to just 3m, with sheer walls of rock soaring skyward.

If tackled from Xyloskalo to Agia Roumeli, by the sea, it is downhill all the way. And although you will crisscross a river multiple times – sometimes over wooden bridges, sometimes hopping from rock to rock – it's not a difficult or technical hike. Just don't expect to pass as effortlessly as the gorge's real residents – the Cretan 'kri-kri' mountain goats.

DON'T MISS
Xyloskalo (Omalos Plateau)
There's no better build-up to the hike than the view of the gorge from the taverna at Xyloskalo, at an altitude of 1,200m. The path starts from here, with quite a steep descent over stone steps through a pine and cypress tree forest.
Riza Sykias and Agios Nikolaos
Almost 3km into the gorge, you get to your first rest point, at Riza Sykias, or you could push on a further 1km to Agios Nikolaos. Both have natural sources and you can rest among centuries-old cypress trees. The chapel of Agios Nikolaos is where, in the late 1700s, thousands of women and children hid during an uprising against the Turks.
The abandoned settlement of Samaria
When you reach the abandoned village of Samaria, you will find it astonishing to think that people lived this remotely until 1962, when the gorge was made a part of the White Mountains National Park and the residents were resettled. Samaria takes its name from the village's church, Osia Maria (Saint Mary). From here, the canyon begins to narrow and the landscape becomes more wild.
Portes (Gates) or Sideroportes (Iron Gates)
Perhaps the most impressive (certainly the most photographed) part of the route is here, where the canyon narrows to just 3m and the rock walls soar more than 100m above you. As you cross over bridges, the gorge begins to widen again and you know that you've nearly arrived.
The beach of Agia Roumeli
What better way to celebrate the end of your hike than a swim? About 3.2km from the end of the gorge is the beach of Agia Roumeli, next to a village with the same name. Enjoy every minute of it.
GET PLANNING
There are two entrances to the gorge, Xyloskalo (Omalos), to the north, and Agia Roumeli, to the south.
We've described walking from north to south, which is the easier, downhill route.
You can reach Xyloskalo by bus or car and there are ferries from Agia Roumeli to ports from which you can catch a bus back to Xyloskalo (Omalos) or Chania.
To Xyloskalo (Omalos):
From Chania:

By car: 43km (1hr)
By bus (KTEL)


From Sougia:

By car: 38km (1hr)
By bus (KTEL)


From Paleohora:

By car: 55km (1hr30min)
By bus (KTEL)
More information - Bus schedules
---
Return from Agia Roumeli:
Boats depart to Sougia, Paleohora, Sfakia, Loutro and Gavdos.
The last ferries from Agia Roumeli to Sougia, Paleohora, Sfakia and Loutro are typically at 17:30, and to Gavdos at 10:00-11:00 (so you would need to stay overnight stay in Agia Roumeli).
There are buses (KTEL) from Sougia, Paleohora and Sfakia to Chania and from Sougia and Paleohora to Xyloskalo (Omalos).
The gorge is open from May to mid-October (although the opening and closing dates can be affected by weather conditions, especially in October).
It opens at daybreak (from 6:00) and closes at 16:00. (Call +30 28237 70046 for up-to-date opening times and weather information, especially early and late in the year.
If you want to enter after 14.00, you'll probably only be allowed to walk the first quarter of the route and be required to return to your starting point.
There's a €5 fee to enter the gorge.
To check boat itinerary and prices from Agia Roumeli click here
May - June and September - October are the best and quietest months to visit. The path gets busy during peak summer, so make sure you set out early if you visit in July-August.
Useful contact numbers:
Forest Warden at Xyloskalo: +30 28237-70046,
Forest Warden at Samaria settlement: +30 28211 11736
Forest Warden at Ag. Roumeli: +30 28250 91254

It's worth booking an organised tour, which includes transportation to Xyloskalo and from Agia Roumeli. Your guide will also give you plenty of information on the wildlife and the abandoned settlements and churches.
There's a taverna in Agia Roumeli and rooms to rent if you want to stay overnight.
The route:
Start & end point: Xyloskalo (Omalos) – Agia Roumeli
Distance: About 16km (depending on your specific end point)
Difficulty: Medium
Elevation: Highest point 1,200m
Duration: About 6-7hrs depending on walking speed and number of stops
Natural water sources: About every 1-2km
Make sure you're fully equipped before setting out:
TRAVEL RESPONSIBLY
The charm of hiking on the Samaria Gorge is that it is a completely wild and unspoilt environment, so please help keep it that way.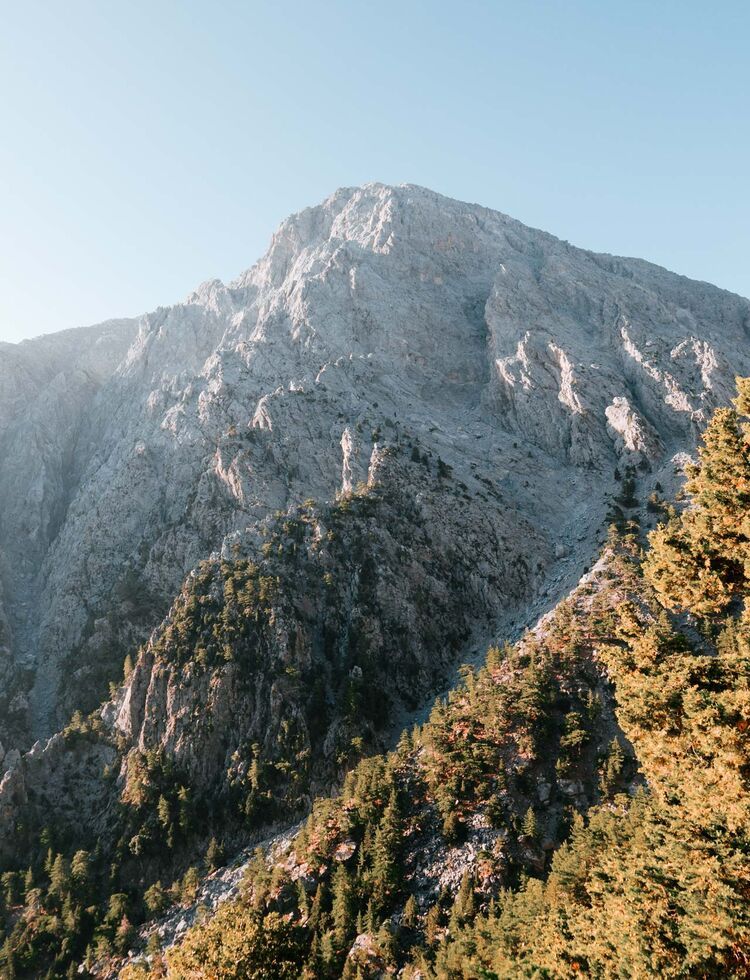 Don't forget to keep any rubbish with you until you reach a bin.
Use a refillable water bottle to try to minimise your use of plastic.
Please keep to designated paths for your own safety and to avoid disrupting the wildlife.
Tempted as you might be, please don't feed any animals.
Respect the local environment by not picking any plants or flowers.
Respect any cultural sites or monuments you encounter on the way.
Always check the weather and don't attempt anything that is beyond your abilities or physical condition.
Lighting fires in the wild is prohibited.
Camping and staying overnight in the wild is strictly prohibited.