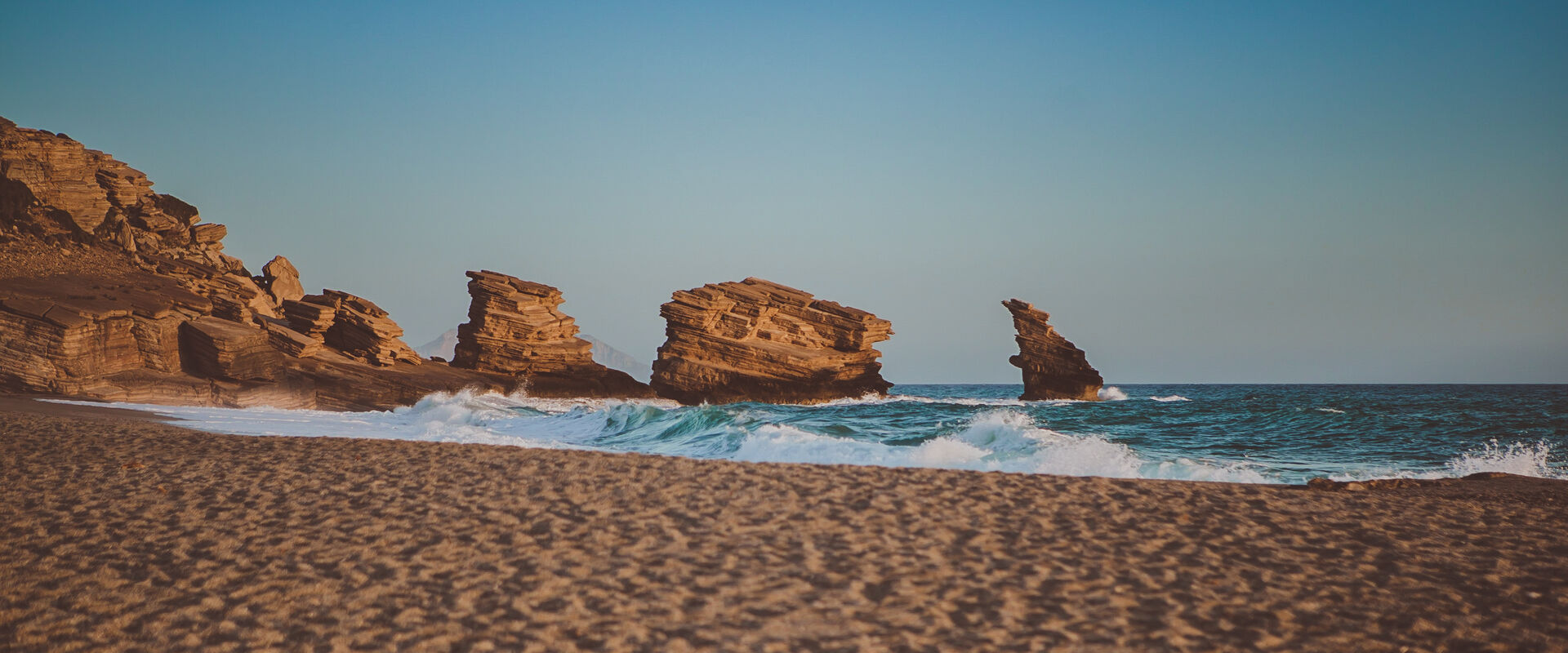 COVER STORY
Discover the Cretan way of life
READING TIME
As long as it takes to eat a Greek salad
Join us on a journey through Crete – from the island's grand-scale archaeological monuments and epic landscape, all the way to the locals' rich traditions and insatiable appetite for fun, laughter and generosity.
Loving life with every bite
You know you've sat at a Cretan table just from the bounty in front of you. Fruit and vegetables radiating colour and flavour, the most golden extra-virgin olive oil, delicate little cheese pies, cured meat and aromatic herbs that have literally captured the Mediterranean sunshine. But, above all, the ingredients that make you know you're in Crete are the laughter and generosity of the people around you.
A culinary tour of Chania

With every glass of raki you share (locally known as tsikoudia), you'll become better versed in a unique language punctuated by the delicious mouthfuls. To eat and drink with locals is to uncover the soul of Crete. You just have to experience the rakokazona – traditional raki-brewing in a Cretan village, typically in November – to know the meaning of banter. But at the very least, book a cookery lesson or a visit to a farm to experience first-hand local cheese-making and bread-baking. Your appetite for life will never be the same.
Locating the pulse of Crete
If food fills the soul, music comes from the heart in Crete. More often than not it is the three-stringed Cretan lyra that is the vehicle of expression for the communal dances that light up the island's many festivals and feasts or the heart-rending sonnets known a mantinades, conveying messages of love and sorrow, that resonate in mountain villages.

Music has survived and flourished here since ancient times, passing from generation to generation, but always with spontaneity and improvisation. So don't leave before visiting the workshop of an instrument-maker – not just the lyra but violins, lutes and rarer instruments known as bulgari, askomandoura or the thiamboli are made and repaired here. You'll discover the very pulse of Crete.
5,000 years (and counting) of myths and history
Psiloritis, are connected to his birth and upbringing). It also won't surprise you that the king of the gods was also patron of hospitality – for that is perhaps Zeus' greatest legacy here, witnessed in every inhabitant of the island, alongside a deep commitment to authenticity and positivity.

Every civilisation has left its legacy on Crete, notably Minoan palaces, Classical temples and Venetian and Byzantine fortresses. This is, after all, the island that gave birth to Europe's first written languages (the Minoan's Linear A and B) and myths that are still told in households around the world (Theseus and the Minotaur chief among them). Crete is, indeed, a story that is 5,000 years in the writing. Discover more about Crete's rich and diverse history here.
The original holistic wellness retreat
If there's one feeling you're bound to take home with you it is that of being revitalised. It's simply not possible to visit Crete without being inspired by its special aura. Not only the Zen of the nature that surrounds you and the mystical energy of the sea, but the locals' philosophy of life. The diet (naturally rich in nutrients and antioxidants), the exuberance at mealtimes and festivals, the lung-filling fresh air and mountain herbs… Crete is the original holistic wellness retreat. Of course, you could take it a step further by adding yoga, a spa, thalassotherapy, Reiki (or whatever your wellness preference) to your holiday. One way or another, you'll return home understanding the meaning of the slow life.
An island of artisans
Skilled craftsmanship can, indeed, be found throughout Crete with traditions that have stood the test of time. Basket-making and fabric weaving, using natural products and dyes, are time-honoured skills that have lost none of their intricacy and attention to detail. So too pottery, with pots that resemble in every way those that once decorated Minoan palaces.

Taking a souvenir home with you is to not only own a piece of Cretan history, but to also breathe life into a future generation of artisans. Perhaps a pair of stivania (the knee-high riding boots slapped by men during Cretan dances), a white sariki headscarf (worn by women as a sign of joy during weddings, feasts, births and christenings) or a beautifully engraved piece of local woodwork.
Crete
A way of life
Crete is an island of enduring customs and traditions. Right the way through the year and on every corner of the island, you'll find locals displaying a commitment to not just living life to the full but living it their way.
Plan your trip
Culture
Crete Heraklion - Knossos
Skip the ticket lines and enter the Palace of Knossos and the Heraklion Archaeological Museum with a combo e-ticket. Explore the sites at your own...