You might already know about Chania's Venetian Old Town and beaches. But what else do you know about this much-loved region of Crete (yes, Chania is both the city and the region)? The neighbourhood walks in less-visited parts of the city, the best beaches for water sports, the secrets of Crete's incredible cuisine, Chania's traditional villages and best hiking trails, the monasteries and cultural sites… Should we go on? All of these and more are in our list of best things to do in Chania, whether you're travelling as a family, couple or friends. And we've made a special effort to pick out sustainable activities in Chania, especially in spring and autumn.
A walking tour of Chania Old Town
Top of every list of things to do in Chania is to discover the old town. Everything that makes the city tick, culturally and historically, is packed into it. And the beauty of it is that you can experience it all just by strolling around the Venetian harbour. The Firka Fortress is a good place to start, built at the mouth of the bay in 1629 to protect Chania from raids. (You learn more in the Maritime Museum of Crete, next to the fortress.)
Across the bay is the famous Egyptian Lighthouse, so-called because it was reconstructed during the brief Egyptian rule in the 18th century. Walking along the waterfront, you pass the Kucuk Hasan Mosque (built by the Ottomans in 1645) and the Neoria (the Venetian shipyards, one now housing the Museum of Ancient and Traditional Shipbuilding).
From the Neoria, it's a short walk to Splatzia Square and the Turkish quarter, and from there to Athinagora Square and the city's cathedral.
Close by are the Folklore Museum of Chania and the Municipal Art Gallery (housing a collection of local fine art). And as you circle back towards the harbour through the backstreets comes the Jewish quarter (including the only surviving synagogue in Crete as well as shops, restaurants and trendy bars).
Eventually, you enter Topana (the Greek quarter during Ottoman times) and return to the Firka Fortress.
Your final stop is the Byzantine and Post-Byzantine Collection of Chania, a Venetian convent that was once converted into mosque.
A neighbourhood walk into Koum Kapi and Halepa
Ok, so you've ticked off the Old Town. Now it's time to dig a little deeper so you can say you've experienced Chania like a local. We've got some neighbourhoods walks for you, starting at the Sabbionara Rampart – or Koum Kapi as the Ottomans knew it, the name that's also given to the waterfront promenade and beach east the Venetian harbour.
The waterfront is lined with cafes, bars and restaurants. And as you walk around the bay, you can detour into Eleftherias (Freedom) Square, where there's a statue of Eleftherios Venizelos, Greece's foremost statesman, who was born in Chania.
Eventually, you reach Tabakaria, where more than 80 tanneries once operated (tabak is Turkish for tannery). A once run-down district, it is now one of Chania's up-and-coming districts.
Your next neighbourhood lies just east of Tabakaria and has a very different history.
Halepa was the heart of the city in Venetian times and it was Chania's aristocratic district in the centuries after, with grand neoclassical buildings that once housed the British and German consulates and the Old French School (when French was the language of the aristocracy) as well as Eleftherios Venizelos House (now a museum).
If you're feeling energetic, you can continue your walk up to the Venizelos Graves, where various members of the Venizelos family are buried and there you get panoramic views of the city and the sea.
The Archaeological Museum of Chania
The Archaeological Museum of Chania is in Halepa and deserves to be on every list of places to visit in Chania.
Recently relocated to a state-of-the-art building, it explores the history of Crete from prehistoric times to the 2-3rd Century AD Roman occupation, including 3,500 artefacts from excavations in both the city and the wider area of Chania.
It explains the administrative, religious, commercial and everyday life of Greece's second-largest island.
The Permanent Collection includes prehistoric artefacts and the Mitsotakis Family Collection (the private collection of Crete's most famous political family), including Minoan ceramics, stone carvings and jewellery, and rare Linear A scripts.
The best beaches in Chania
Chania is famous for its beaches. If you've seen pictures of Balos and Elafonisi beach, it's possible that these are what tempted you to Greece in the first place. We're talking turquoise water and almost pink sand… Instagram heaven. The problem is, you won't be alone in having been tempted to see them. And too many people in one place isn't good for you or the delicate ecosystems of the beaches. Falasarna beach (near Balos), Kedrodasos (near Elafonisi) and Seitan Limani (near Chania) are beautiful alternatives … although that means that they can also get busy. So your best bet is to visit these superstar beaches in Chania in early and late summer (or even late spring or early autumn). Other star beaches include Marathi and Stavros close to Chania town and Paleochora, Loutro and Frangokastelo on the south coast.
Water sports and more sea fun
Now you've been introduced to the star beaches, let's get down to details. Sunbathing and long lunches are only part of the summer holiday experience in Chania. Sometimes you need to get active by the sea and there are great water sports options on beaches all around Chania.
There's the adrenaline rush of being pulled on an inflatable banana or tube, of waterskiing and windsurfing … or maybe even kitesurfing or parasailing. Perhaps you want to explore the coastline at your own pace by hiring a sea bike, stand-up paddleboard or sea kayak? Or maybe you're looking for a diving centre?
Whatever your idea of beach fun, Chania has you covered.
The legendary Cretan cuisine
Where do you start when it comes to Cretan food? Whether you're in an authentic little taverna in a mountain village, eating seafood by the coast or enjoying high-end Mediterranean cuisine from a talented chef in Chania town, you're in for a treat. Crete is an island that is virtually self-sufficient and where farm-to-table is a way of life rather than a trend.
Olive oil, pulses, greens, tomatoes, aubergines, courgettes, mushrooms, fresh herbs like oregano and thyme (we could go on)… they're all part of everyday life in homes and restaurants in Crete. Cheeses come in many forms and flavours … from spicy, yellow graviera to smooth, white myzithra and anthotiro. And many dishes (especially goat and lamb) are slow-cooked for extra sumptuousness.
You can't get more Cretan than antikristo (lamb cooked by burning wood) washed down with locally brewed tsikoudia (as raki is known in Crete). For the best experience, book a cookery lesson or visit an olive press (you could even help out in the olive harvest). And there are vineyards that offer wine tasting where you are introduced to the local grape varieties.
The authentic Apokoronas villages
If you really want to get to the heart of the customs and traditions of Chania, you have to head to the villages. The Apokoronas villages are a collection of more than 30 settlements on the coast or in the valleys of the White Mountains which, despite being close to Chania town, have lost none of their authenticity. Visiting at least one is a must on your list of things to do in Chania.
Each has its own character and rhythm. Chania's 'head village' is Vamos, whose main square, shops and tavernas are lively throughout the year. There's a cheese factory and a nearby winery you can visit and even an annual jazz festival. Compare this to Douliana, with 40 houses and a population of just 200.
There's a lovely path that takes you from Douliana to Gavalohori, a village with traditional coffee shops and an active women's cooperative.
Higher up (220m) is Fres, surrounded by olives groves and vineyards and famous for the Church of Panagia of the Two Rocks (so-called because it is built on a large boulder). And Vryses (meaning springs) is known for its running water, bridges and waterside cafes and tavernas.
Among the coastal villages, Kalyves stands out. It's big enough to find places to stay but still feels quaint and traditional… and comes with the bonus of a beach.
Hiking the Samaria Gorge
Especially in the peaks and valleys of the White Mountains, Chania boasts some of the most spectacular scenery in Greece. And when it comes to making a statement, nothing is more striking than the Samaria Gorge. It is a 16km long canyon (the longest in Greece) that runs from the Omalos plateau to the Libyan Sea and is part of the European E4 hiking trail. It takes about 6-7 hours to reach Agia Roumeli by the sea, crossing wooden bridges and passing abandoned villages. Some 450 species of flora and fauna live in and around the gorge, making it a UNESCO-protected Biosphere Reserve. But the most memorable part is the passage through Portes (Gates), where the near-vertical walls of the gorge narrow to just 3m wide.
A boat-trip to picturesque Loutro
It doesn't take much to escape in this special region of Crete but Loutro – a fishing village on the south coast – takes the feeling to another level.
It is inaccessible by car but that doesn't stop you finding locals going about their business for much of the year, delicious tavernas and whitewashed houses that are straight out of the Cyclades.
Add to this the refreshing water beckoning you for a swim and the backdrop of the White Mountains and you have a unique corner of Greece. To get there, drive to Hora Sfakion, from where boats depart regularly to Loutro and nearby beaches. You can even find accommodation in Loutro to make the feeling last.
The south coast of Chania
Seeing as you're in southern Chania, let's open your eyes to some of the other highlights of this less-explored part of Crete. Cosmopolitan Paleochora is a great place to base yourself, not only for its facilities but also for the choice of beaches around it (Gialiskari Pachia Ammos, Psilos Volakas, Grammenou, Krios etc). And if you are a keen hiker, the paths between Paleochora and Elafonisi and Sougia (both part of the E4 long-distance trail) are magical, as is that between Azogyres to Anidri (more suited to beginners and younger hikers). The small fishing village of Sougia is worth visiting for a seafood meal and a swim, as are Domata and Glyka Nera for their fantastic beaches and clear waters. Finally, Hora Sfakion (from where boats leave for Loutro) is worth visiting for its beach and seaside tavernas and the neighbouring Frangokastelo (the castle of the Franks).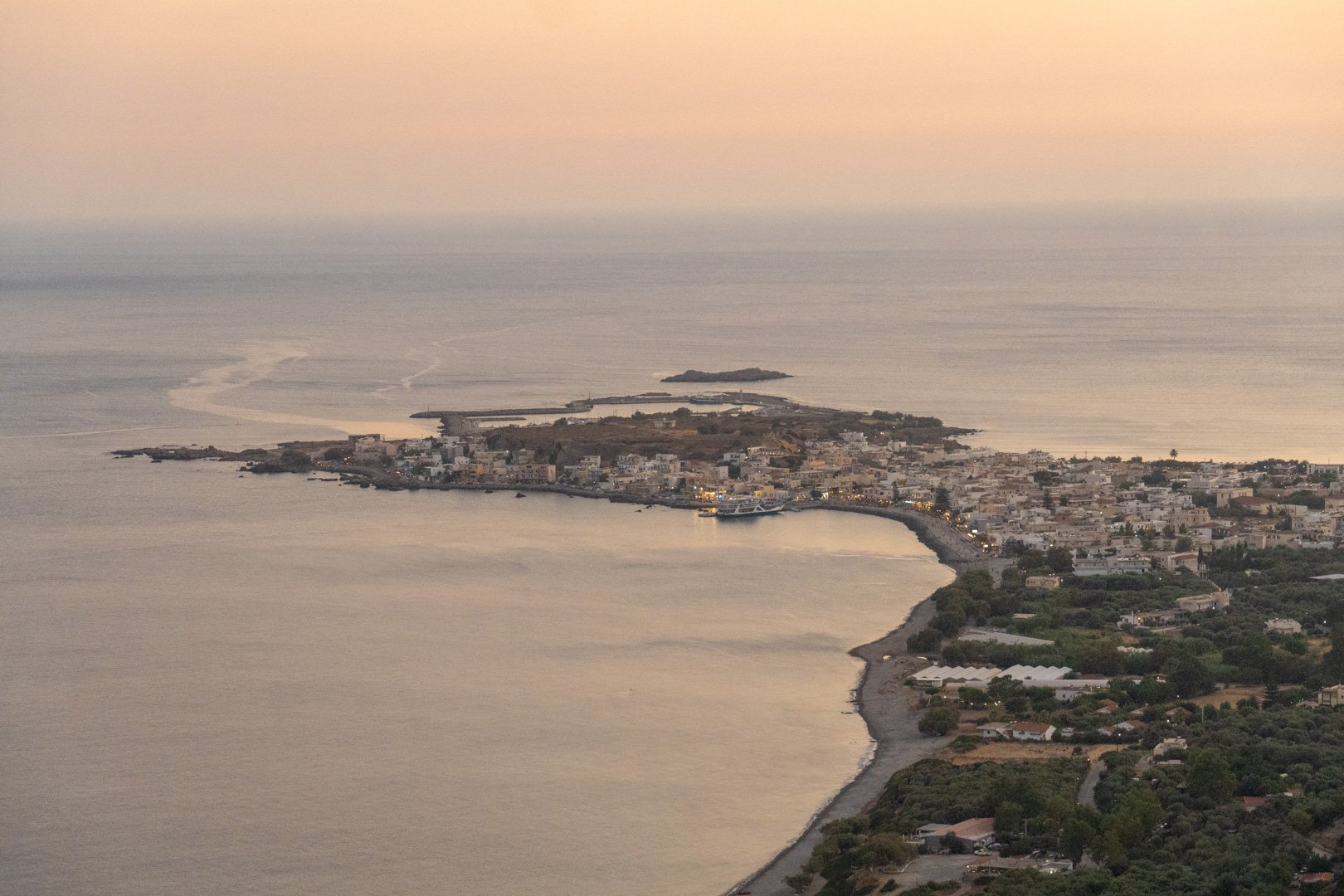 More gorges to explore
The Samaria Gorge may be king of the gorges in Crete but this is where you learn that Crete has dozens of other canyons that can become an unforgettable part of your holidays in Chania. The next best known is Agia Irini Gorge (part of the Natura 2000 network), which you access by foot from Sougia or (for a shorter hike) from the village of Agia Irini. Imvros Gorge (near Hora Sfakion) is also on the E4 hiking trail and takes about 3-4 hours to walk. The Aradena Gorge (also in the Sfakia region) takes hikers from Aradena village on the southern slopes of the White Mountains to Marmara, just west of Loutro. But perhaps the most memorable experience in the Aradena Gorge is bungee jumping. Likewise, you can paraglide in Therissos Gorge, a small but impressive gorge close to Chania town.
Remember that the weather and landscape in the White Mountains can be wild and unpredictable, so use a guide where appropriate. You can find out more about the outdoor activities in Chania here.
Hire a water bike on Lake Kournas
Another great idea if you're looking for sustainable activities on your holidays in Chania is to visit Lake Kournas, Crete's only fresh-water lake and another Natura 2000 spot. The lake attracts ducks, geese, herons, cormorants and other water birds and you can hire a water bike and explore the 3.5km lake perimeter. The backdrop of the White Mountains is the finishing touch. And once you're done, a traditional taverna lunch in Kournas village awaits.
Visit archaeological sites & museums
Adding a bit of culture to your day exploring Chania couldn't be easier. The Archaeological Site of Aptera is just 15km east of Chania town, on a plateau above Souda Bay. Its 4km long fortifications, theatre and necropolis hint at its status as one of the most significant city-states of ancient Crete. While you're there, you can also visit the Museum of Typography just outside Souda, which has a private collection of printing presses and other typography-related objects from one of Chania's original newspapers. Heading 37km west in the opposite direction of Chania town, you reach Kissamos where you'll find a Venetian-era building in the Castle of Kastelli that houses the Archaeological Museum of Kissamos. Inside are the remains of Minoan, Hellenistic and Roman-era artefacts.
In Gavalohori, there's a folk museum with seven rooms full of artefacts of days gone by in the village. And the Historical and Ethnological Museum of Therisso was once the headquarters of the 1905 revolution led by Eleftherios Venizelos, displaying weapons, photographs, newspapers and postcards from the period. Meanwhile, on the south coast, Ancient Lissos (reached by boat or along a footpath from Sougia or Paleochora) was once the harbour of Elyros, which boasted a population of 30,000. Sadly, much of it is ruined but you can still see fragments of floor mosaics and column heads.

Discover the local crafts scene
Crete feels like an island of artisans. Pottery, weaving, basketry and fashioning shepherds' knives are just some of the crafts passed from generation to generation.
Especially in the villages (and in Chania town), you'll find shops selling handmade souvenirs – sometimes staffed by the craftspeople themselves.
Supporting them is the best way to keep the craft alive.
Among the shops, you'll find gems you might never have expected, such as those selling soap made from olive oil, cosmetics made with local herbs and canvas toiletries.
The ultimate craft experience is to join a workshop, making everything from musical instruments to mosaics … and even glassblowing.
At the Verekinthos Arts & Crafts Village near Souda, there are workshops, including pottery, ceramics and sewing.
The monasteries of Chania
The last of your things to do in Chania is to visit a monastery. There are some with fascinating histories you'll enjoy learning about. Not far from Elafonisi on the southwest coast is the Chrysoskalitissa Monastery, built on a rock overlooking the sea. It is a double-aisled church, built in 1894 on top of an original Catholic cave-church, whose 8th-9th century AD icon of the Assumption of the Virgin Mary has been preserved. There is a Byzantine Museum and a small folk collection within the monastery.
Meanwhile, near Chania Airport are a couple of fascinating monasteries. The Holy Trinity Tzagaroli Monastery was built by the Venetians in the 17th century, and has a vineyard offering wine tasting, an olive press and a museum nearby. And the Gouverneto Monastery has a fortress architecture that includes four towers. It has a cruciform shape and a dome and is dedicated to the Virgin Mary (it is also called the Monastery of the Lady of Angels). It was established to worship Saint John the Hermit, who died in the 11th century in a cave after a huntsman mistook him for an animal and killed him with an arrow.

Best things to do in Chania
It's not surprising that summer holidays in Chania (and Crete generally) are so popular. But now you've been introduced to all the best things to do and places to visit in Chania, we hope we've inspired you to visit either side of peak summer months – or better still in spring and autumn. You'll love all the activities even more (especially those in nature) and have more of Chania to yourself.
A road-tested experience
This experience has been road-tested by Discover Greece, including sending international journalists to live the experience for themselves. Here are some of their highlights:
★★★★★
"Just an olive's toss from the balmy waters of the Aegean, the mill is open to the public all year round. If you're lucky enough to be in Chania during harvest season, you'll be invited to watch the cold extraction process, which involves grinding the olives into an aromatic paste and extracting the oil, which you'll be able to taste for yourself at the end of the tour."
"At the top of the mountain, I pass the 16th-century Gouverneto monastery, then zigzag sharply downwards to the crumbling Katholiko monastery, the oldest in Crete, founded in the 11th century."
- Daniel Stables, National Geographic ⇩
"At every step, the visitor realizes very quickly that he falls on history. Under almost every square meter of Chania there is a testimony of the past."
- Jan Schäfer for Siegener Zeitung ⇩
"Yianna is guiding me through Samaria Gorge, one of a series of dramatic clefts that concertina the southwestern coastline of Crete, from the White Mountains down to the Libyan Sea. Trees of cypress and maple shade the path as rock formations rear up on either side, the latter's faces twisted and deeply ridged like carved flames. The air is heavy with the aroma of mountain herbs: wild thyme, oregano, Jerusalem sage."
- Daniel Stables, National Geographic ⇩
"And then suddenly there is Loutro. The smallest and most beautiful coastal village, that I have ever seen: white houses with blue shutters, like colored spots in the brown landscape. Beautiful."
Book your trip
All your holiday planning needs in one place, letting you book direct and benefit from official online rates