Southern Chania matches wild beauty with hospitality and authenticity. One day you could be crossing the Samaria Gorge with people who love the outdoors as much as you do and the next you could find yourself on a remote beach with barely a soul in sight. Similarly, you could be about to tuck into the tastiest homemade gemista (stuffed vegetables) or settling down to sunset cocktails in a coastal village. There's no end to the experiences you can enjoy in south Chania. Holidays in Crete might never be the same again.
Be seduced by the beauty of Elafonisi beach
Elafonisi is one of the most famous beaches in Crete and Greece as a whole. It is full-on exotic, with shallow turquoise waters and white sand that turns pink at times, from the crushed up shells and corals, making it different to any other beach in Crete. Even the vegetation adds to the experience, with the endemic krinaki (sea daffodils) being a protected species.
Elafonisi beach is right in the southwest of the region and despite its distance from Chania town (around 1hr30min away by car) is popular. You'll find snack bars and amenities such as beach umbrellas in the summer months.
Local tip: To really appreciate the beauty and isolation of Elafonisi beach, visit on a sunny winter's day.
Admire the view from the Monastery of Chrisoskalitisa
This female convent attracts a fair few visitors, not just for the unforgettable setting at the top of a hill overlooking Crete's south coast, but also due to its proximity to Elafonisi. Despite the island's turbulent history and raids on the monastery itself, it is in excellent condition. The view and the serenity of the location make visiting a must if you are in the area – especially when combined with a day at Elafonisi beach.
Discover the beaches and treats of Paleochora
Paleochora (aka the nymph of Lybian Sea) is a seaside village that's a great springboard for all the experiences in the south Chania. There's a cosmopolitan and inviting air to Paleochora, with one of the many draws being the multitude of beaches either side of it – meaning you can go for a dip whenever you want. Some of the best beaches are Gialiskari (which has a dirt road as you approach it), Pachia Ammos, Psilos Volakas, Grammenou and Krios. Paleochora serves up a treat, too. Some local tips are Kafeneio sto Scholeio in neighbouring Anidri village, or stick around and try Pasifai, Methexis & Akrogiali in Paleochora itself. The cocktails at Agios bar are top-notch.
Explore some of the best hiking paths in Greece
When it comes to experiences in Chania, it won't take long before you're tempted to get hiking, especially in April-May or September-October when it's is milder and you can enjoy Crete's natural beauty even more. There are many routes of varying difficulty, but you can enjoy hiking in Chania whatever your age or whether you're travelling with friends, as a couple or with kids. For experienced hikers, there are wild and gorgeous stretches of the E4 European long-distance hiking route, such as between Paleochora and Elafonisi and Paleochora and Sougia. Other stretches, like Azogyres to Anidri, are more suited to beginners. Another great hike in southern Chania is along the Agia Irini Gorge.
Enjoy a swim followed by a seafood lunch in Sougia
Sougia is a small fishing village with a sandy beach and cooling waters that has a loyal following. It presents visitors with a combination of beach time and a seafood lunch. Just pick from the many tavernas along the shore. There's even a nudist-friendly part of the beach, while tamarisk trees offer shade to those who'd rather seek out some solitude. Things are simple in Sougia. You wake up with a swim and wind down with meze and ouzo.
Local info: You can drive to Sougia or take the boat from Paleochora, Hora Sfakion, Agia Roumeli, Loutro or Gavdos.
Get your dose of history at Ancient Lissos
Another experience worth adding to your holidays in south Chania – especially if you're beach-hopping by a boat (another great option) and you like your history – is to visit Ancient Lissos. Lissos was once the harbour of the long-gone city of Elyros that is said to have numbered more than 30,000 citizens. The thermal baths and healing temple once found here are, sadly, almost entirely ruined, but you can still see fragments of floor mosaics and scattered column heads.
Local info: Ancient Lissos is reachable by boat or along a footpath from Sougia or Paleochora (it's closer to Sougia).

Conquer the legendary Samaria Gorge
If there's one route in south Chania that deserves to stand alone it's the Samaria Gorge, which isn't just one of Europe's best hikes but rewards those who complete it with a swim in the sea. The main trail is around 13km long and well maintained, receiving thousands of visitors every year.
It starts at the Omalos Plateau in the shadows of the White Mountains and meanders all the way to Agia Roumeli on the south coast. Follow your swim with a cold one and some meze as you wait for the boat to bring you back to Hora Sfakion, Sougia, or Paleochora.
Local tip: Samaria Gorge is usually open from May 15-Oct 15.
Take a dip in the deep blue of Domata and Glyka Nera
Our favourite beach – not just in Crete but in Greece generally – is Domata. Wildly spectacular rock formations that look like they've been cut with a knife, green-blue water and privacy give this beach its unique character. Access is tricky, though, as you can only reach it by boat or by following a difficult stretch of the E4 hiking route that's recommended only for experienced walkers. Alternatively, Glyka Nera has the same impressive water and a pebbly beach, but you'll have more company here. The beach is close to Hora Sfakion and is also reachable by boat or by following a stretch of the E4 trail.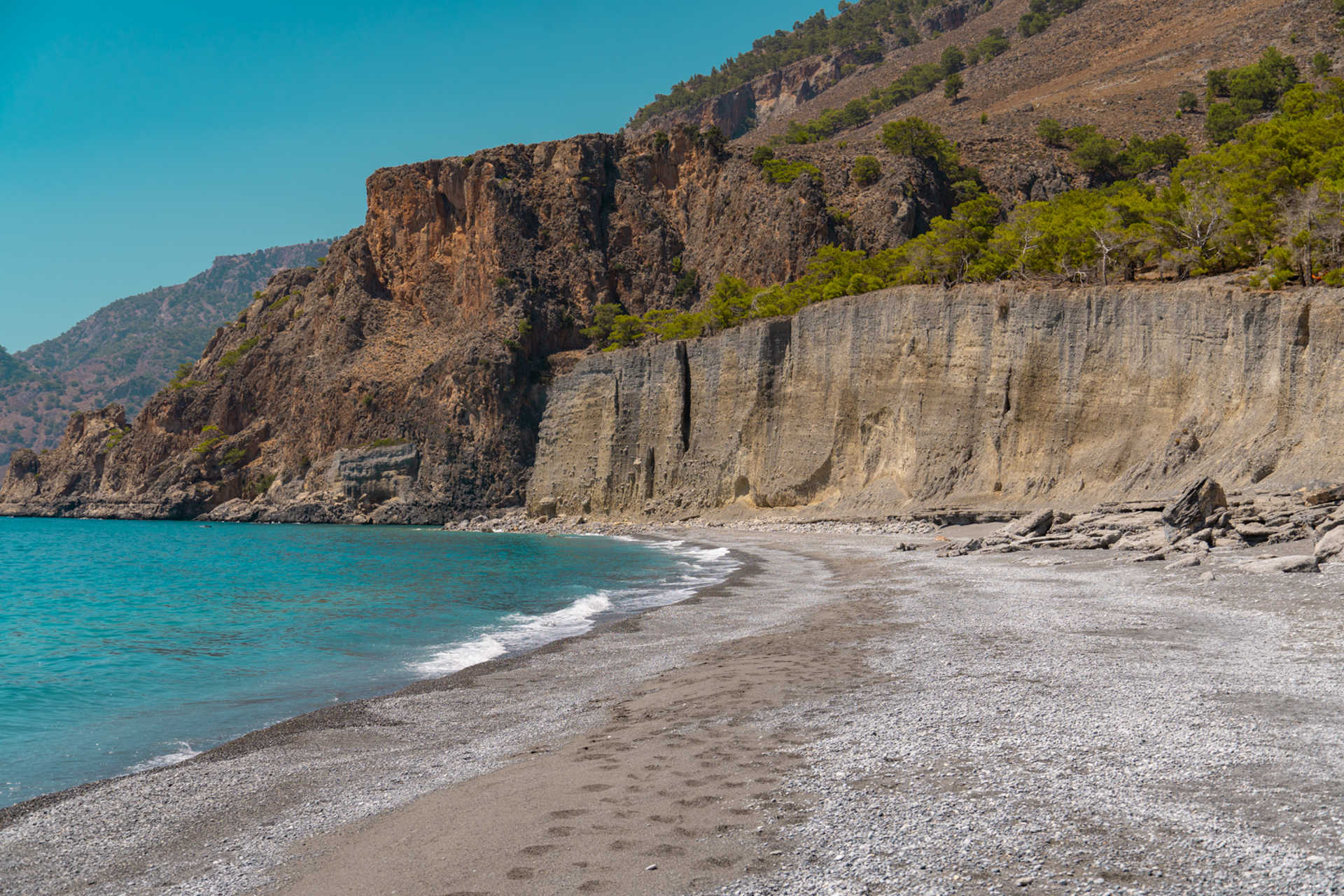 Photo by: Yaba Travellers
Follow the siren calls to lovable little Loutro
If you're fortunate enough to visit Loutro on a warm sunny day in May, you'll understand why people fall in love with it. This seaside village is only accessible by boat and its small houses all have views of the hidden bay in which the village sits. As experiences in south Chania come, visiting Loutro is one of the best ways to disconnect, enjoy the sea and succumb to the siren calls of freshly grilled delicacies.
Solve a castle riddle and eat in Hora Sfakion
Rounding up your experiences in southern Chania are visits to a Frankish castle and another coastal settlement. Frangokastelo (the castle of the Franks) sits right by a sandy beach and is famous for the Drosoulites, as they're known – the shadows of fallen revolutionaries that appear to dance on the castle walls during springtime. Hang around and see if you can solve the mystery. But you'll probably be tempted away for a swim at the beach here – or better still at Orthi Ammos, just a kilometre up the road. After that, take a drive to Hora Sfakion, a coastal town where you'll find tavernas as well as shops and places to stay, making it an ideal base from which to explore the area.
10 unique experiences in South Chania
There's something for everyone when it comes to the experiences of southern Chania. Beaches with cool blue waters, hiking trails with amazing views and tavernas with traditional and modern cuisine await, as well as sunsets on the Lybian Sea that will melt your heart.
Book your trip
All your holiday planning needs in one place, letting you book direct and benefit from official online rates
Private
Group
6-7 hours
Free cancellation
Not sure? You can cancel this reservation up to 24 hours in advance for a full refund
Group