Whichever type of waters sports you're into, Chania and its awesome beaches have you covered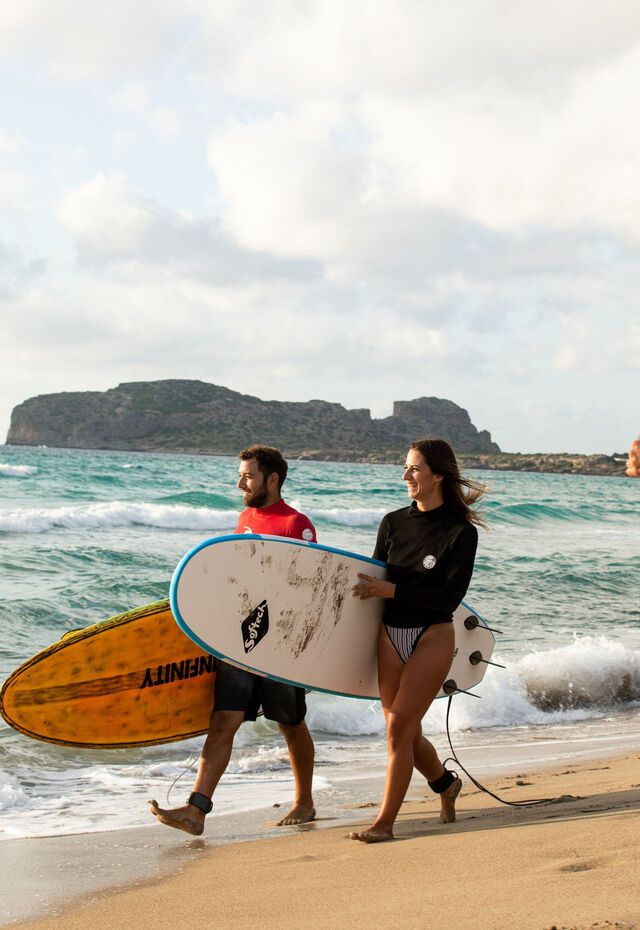 Duration
Half or Full Day
Season
April - October
OVERVIEW
Chania has earned a reputation as one of Greece's most popular holiday destinations … and rightly so! Anyone who has strolled around its cosmopolitan Old Town, explored natural highlights like the White Mountains and Samaria Gorge or experienced the taste of Crete's famous hospitality will agree. And what about all those legendary beaches? Sure, they all offer the relaxation you need to totally unwind on your summer holidays. But what if you're in the mood for some water action? Well, you've come to the right place.
Some of the best beaches in Crete are found in Chania and many have a full range of water sports options for all ages and levels of experience. Enjoying a spin on an inflatable banana or tube, going waterskiing or parasailing, windsurfing or maybe even trying your hand at kitesurfing… you'll find it all. Or perhaps you're after some gentle exploration on a sea bike, a stand-up paddleboard or a sea kayak. Whatever water sports you're after, you'll find it in Chania. Scuba diving, jet skiing, flyfish – if you're up to it, you can get planning.

DON'T MISS
Chania water sports highlights
All-time classic water sports
When we say the all-time classics, we mean all the water action you usually associate with having fun on a beach holiday on a Greek island. Screeching with laughter being pulled behind an inflatable tube or banana, the adrenaline rush of going waterskiing or hiring a jet ski… that sort of thing. Classic water sports will never be far away on your holidays in Chania. Popular beaches are Agia Marina and Platanias (sandy and big, with shallow water and beach bars) and the beach at the small seaside settlement of Georgioupoli, with its shallow water and fluffy sand that are magnets for families. There's parasailing at Platanias and Georgioupoli, while in Falasarna (with its exotic mix of fine white sand and blue-green water) you'll find all the classic options on the menu, as well as flyboard and wakeboard for the more adventurous. For waterskiing and jet skiing, Pachia Ammos beach in Paleochora (big, shallow and with facilities) is a popular option.
Surf, Windsurf & Kitesurf
If you're into surfing, head straight to Kato Stalos beach. This beauty is sandy, with green-blue water and all the facilities you need … pretty similar to Nea Hora, in fact, which is another option. And then there's Elafonisi, a must-see beach tucked away in southwestern Chania and which merits a visit on its beauty alone (the pink-tinged sand is legendary). You'll find windsurfing on offer at Elafonisi, as you will at Falasarna (where conditions are best when the westerly winds blow). And if Georgioupolis or Nea Hora are closer to where you're staying, they're also great windsurfing options. Nea Hora also has kitesurfing.

Scuba diving
Looking forward to a dive during your holidays in Chania? Your best bets are the beaches at Platanias, Nea Hora and Sfakia, where you'll find well equipped diving centres. Both Platanias and Nea Hora beaches are big and sandy, with shallow water that's ideal for families with kids as well as sunbeds and umbrellas and beach bars. At Sfakia, you can follow your dive with a hearty lunch (or dinner) at one of the many seaside tavernas in Hora Sfakion, or even embark on a boat trip to Loutro, a scenic seaside village inaccessible by car.
SUP, Sea bike, Canoe
Last but by no means least are the water sports that offer total relaxation. If that's you, then hiring a SUP, sea bike or canoe and setting out around the coastline is for you at beaches like Balos (another on Chania's must-see list!), Pachia Ammos in Paleochora, Gialiskari (aka Gianiskari or Dialiskari, one of three beaches at the entrance to the Anidri Canyon), Agii Apostoli, Chrissi Akti, Kiani Akti and Marathi (with fine sand and calm water that is ideal for kids). You'll also find stand-up paddleboard at Loutraki beach (hidden within a small bay, with deep clear water) and Kato Stalos, while the beaches of Troulaki, Agia Marina and Kalathas offer SUP as well as canoe rental.

GET PLANNING
How do you get to Chania in Crete?
Chania airport has year-round connections with Athens and regular direct international flights during the summer months.
You can reach Chania by boat from Piraeus all year round and from many Aegean islands during the summer months.
What is the best way to get to the beaches in Chania?
Crete is the biggest Greek island, so your best bet is to rent a car and give yourself the freedom and flexibility to explore beaches all around Chania.
There are bus services to the beaches at Agia Marina, Platanias, Marathi, Loutraki, Elafonisi and Paleochora.

What is the best time of year for water sports in Chania?
The ideal time to enjoy water sports in Chania is during the summer months, when the weather conditions are best (and safest) for all options and all water sports providers are open.
If you want to enjoy your holidays in Chania with fewer people, then April-May & September-October are ideal months as the weather is still warm enough to swim.
How much do water sports in Chania cost?
The cost of your chosen water sport will depend on your level of experience, whether you're alone or in a group, and whether you rent or bring your own equipment. For most of the water sports highlighted here, equipment is included in the price.
Windsurfing: Equipment from €40/hr (depending on your level and whether you have a private lesson).
SUP: From €15/hr
Scuba diving: Scuba diving from €70/dive, rising for more technical dives and boat dives.
Canoe: From around €15-20/hr
Kitesurfing: Equipment from approximately €40/ (depending on your level and whether you have a private lesson)
Jet ski: From €50/15min
Parasailing: From around €60 per go
Ιnflatable tube & banana: From €20 per person

How long do water sports in Chania last?
The length of your experience depends on your chosen water sport. For canoe rental and wind & kitesurfing, there are per hour rates as well as rental packages for half or a full day, or even multiple days.
We recommend you dedicate at least half a day to your water sports day in Chania, so you get to enjoy a good swim too.