A boat trip to Loutro in Chania allows you to spend the day in a part of Crete inaccessible car, in a seaside village filled with authenticity and charming locals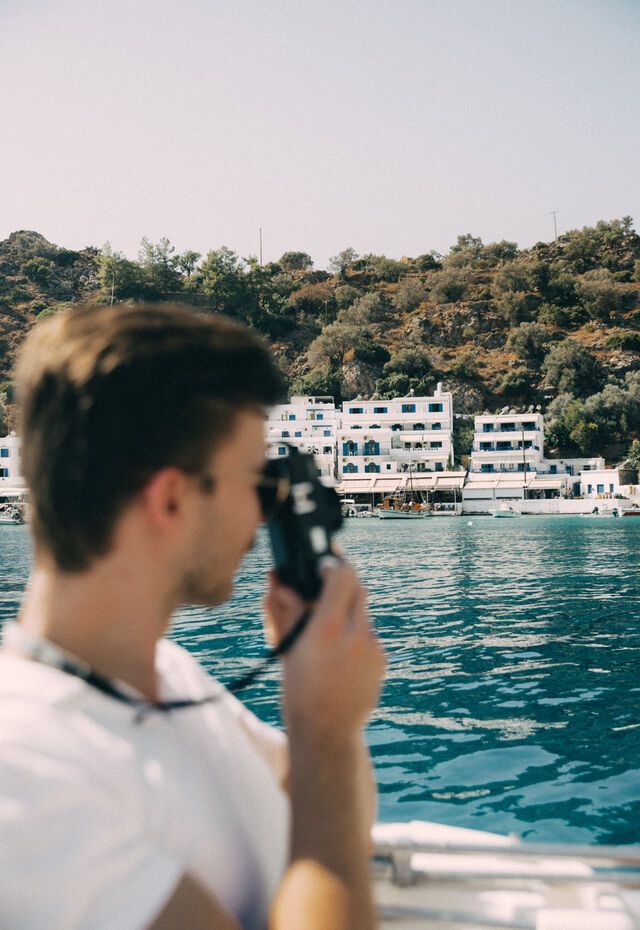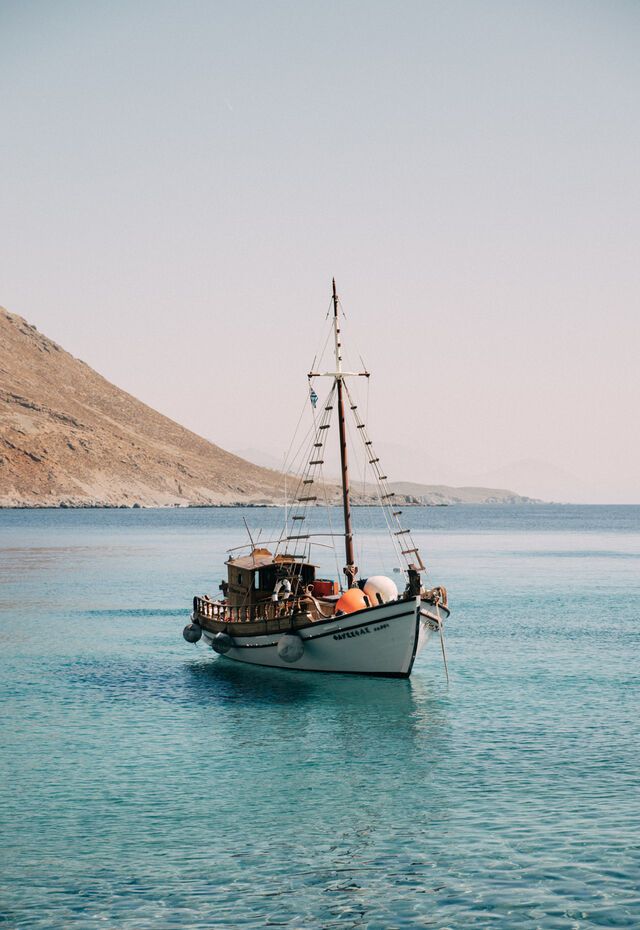 Duration
5-8 hours
Season
All year round
OVERVIEW
Why take a boat trip to Loutro
In Crete, you can always count on the unexpected. You might think that visiting the seaside town of Hora Sfakion is as far as your journey takes you on the south coast of Chania. But while the road may end here, your adventure doesn't. There are boats that leave regularly from Hora Sfakion to Loutro, a seaside village inaccessible by car and dripping with authenticity and charm. Once there, you'll find locals quietly going about their business and untroubled by the stresses of the world as well as dainty, sugar-cubed houses and fish tavernas that could be straight out of the Cyclades islands. Couple that with the turquoise waters and a backdrop of the majestic White Mountains and you're in for an unforgettable day.
And it doesn't end there. From Loutro, you can board other boats and explore some of the neighbouring beaches – many wild and unorganised and equally inaccessible by car. If you like, you can even extend your stay in Loutro as there are accommodation options there. Just don't stay too long. You might never want to leave. After all, a boat trip to Loutro allows you to discover one of Crete's best-kept secrets.
DON'T MISS
What else to enjoy on a boat trip to Loutro
Hire a canoe and explore the coastline
There are two beaches in Loutro, the smaller Gialos beach right in front of the settlement and Keramos just to the east. Both have sand and shingle and offer sunbeds and umbrellas. But before you settle for the day, how about renting a canoe? Since Loutro is a natural harbour, you can explore the tranquil bay at your leisure, stopping off for the occasional dip and marvelling at the scenic settlement.
Other beaches near Loutro
There are plenty more swimming options to explore near Loutro. If you want wild and pure, with no amenities, head over to Perivolakia and Timios Stavros (both nudist-friendly beaches). Alternatively, Finikas, Glyka Nera and Marmara offer sunbeds and umbrellas. Finikas is a seaside settlement with a fine-pebble beach and a lone taverna, while Glyka Nera is an exotic stretch of sand, fed by freshwater springs and with a snack bar built in the sea that is accessible only by ramp. If you're not on an organised boat trip to Loutro that includes some of these beaches, or you haven't hired a boat and skipper for the day, there are boats in Loutro that visit these beaches.
Hike to Koules Castle
Don't think twice about setting out on the brisk 20min walk up the hill behind Loutro, amongst olive trees and accompanied by sweeping views of the bay, to reach this Ottoman-era castle. Rebuilt in 1868, it's one of the few Cretan fortresses built by the Turks to be designated a protected monument. Parts of the castle walls are still intact and you'll find the remains of a cistern and windmill.
Book your trip
All your holiday planning needs in one place, letting you book direct and benefit from official online rates
Group
Group
Private
GET PLANNING
How do you get to Loutro in Chania?
Boats leave for Loutro from Hora Sfakion harbour throughout the day. Alternatively, there are organised boat trips from Hora Sfakion that include stops at beaches on either side of Loutro, or you can hire a skipper and plan your route.
How much does a boat trip to Loutro cost?
If you choose to go with the regular boat service, one-way tickets cost €6 for adults and €3 for minors.
Prices for organised boat trips start from €40 per adult and private boat hire is from €130 for the day.
How do you get to Hora Sfakion from the city of Chania?
It takes 1hr30min to get to Hora Sfakion from Chania airport (76km). Alternatively, you can catch the public bus, which will take somewhat longer.

When is the best time of year for a boat trip to Loutro?
There is a regular boat service from Hora Sfakion to Loutro throughout the year, with more trips added between April and October.
Organised boat trips operate from May (or June) to September (and sometimes October).
The best months to visit Loutro are May-June and September-October when there are fewer visitors but it is still warm enough to swim.
Note that all boat trips are dependent on weather conditions.

How long to boat trips to Loutro last?
The boat trip to Loutro from Hora Sfakion is 15min.
Organised boat trips last around 5-8 hours.
It is worth dedicating a whole day to visiting Loutro and its surrounding beaches or even staying the night.
There are some accommodation options and restaurants, as well as a bar in Loutro.
You can also reach Loutro from Hora Sfakion by hiking for 1.5hrs.
Make sure you have everything you need for a day in the sun.