READING TIME
As long as it takes to eat a souvlaki
Halkidiki is deservedly famous for its exotic beaches and dreamy coastline, but there is so much more to this fascinating corner of Greece. The food and wine, the timeless villages, the archaeological sites and museums, the hiking paths and of course the unique monasteries of Mount Athos all contribute to it being an ideal destination in spring and autumn as well as summer. Here are our best things to do in Halkidiki, to get your holidays started.
* Before planning your holidays in Halkidiki, it's worth understanding the geography. It's an area of northern Greece that includes a central region and a three-pronged peninsula (Kassandra, Sithonia and Mount Athos – often referred to as the three "fingers" of Halkidiki).
Pick your favourite beach in Halkidiki
With so much natural beauty, it hardly seems right to start singling out beaches in Halkidiki. There are fully organised beaches (with umbrellas & sunbeds, tavernas, beach bars and water sports) and accessible beaches (for visitors with mobility difficulties). And then there are the intimate little coves dotted along the coastline. In Kassandra, highlights include Kallithea (crystal-clear waters) and Sani (Blue Flag awarded), as well as Pefkohori (sandy with water sports) and Possidi (one of the sandiest beaches in Halkidiki).
In Sithonia, Karidi, Lagonisi and Kalogria are all about turquoise waters and emerald greenery, as are Vourvourou beach (opposite Diaporos island) and Kavourotripes and Kalamitsi further south. Lastly, just above the Mount Athos peninsula are Ierissos, Develiki, Tripiti and Komitsa – all of them unforgettable swimming spots.
Take a boat trip to Halkidiki's islands
One of the region's best-kept secrets is that its magic doesn't end at the coastline. There are a handful of islands you can visit that make a perfect addition to any holidays in Halkidiki. So taking a boat trip from the mainland is the next of our things to do in Halkidiki. It's the easiest way to reach inaccessible beaches and engage in the pristine landscape in a way that makes you feel like you're the first to discover it. Diaporos and the cluster of eight islets just outside Vourvourou bay off the eastern coast of Sithonia are exotic little gemstones, boasting beaches like Myrsini and the aptly named Hawaii beach and Blue Lagoon. You can hire a boat and skipper in Vourvourou bay, where you will also find seaside tavernas to end the day. And then there's Ammouliani , which you reach from Tripiti near Ouranoupoli. It's Halkidiki's only inhabited island, which means you can spend the night here too. It has a sleepy little main town, with flower-potted houses and a quaint little port, as well as a selection of sandy beaches. And from the port, you can take a boat trip to the tiny Drenia isles, which offer even more seclusion and the possibility of canoeing between the islands.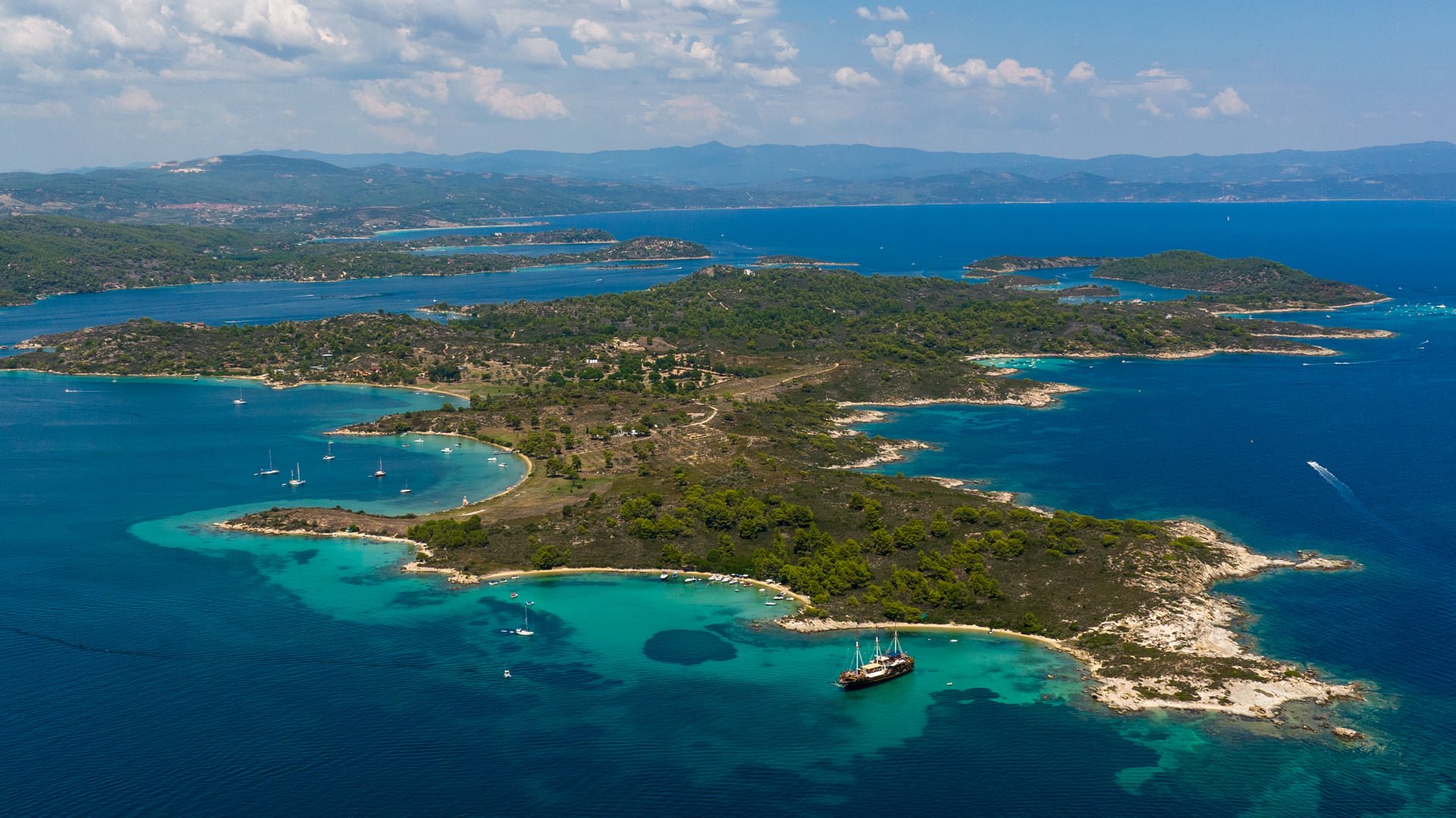 Explore the timeless villages of Halkidiki
Next, you head into the villages of Halkidiki. This is where traditions and customs run deepest and where time seems to have stood still. It's also your chance to discover the beauty of Central Halkidiki as well as the hilly interior running down "fingers" of the three-pronged peninsula. For alpine scenery, head to Arnea, a village at an altitude of 600m in the foothills of Mount Holomontas in the heart of Central Halkidiki. The Macedonian architecture, food & wine and cobblestone streets are unforgettable.
Nearby is Taxiarchis, another village surrounded by forest greenery (it's known as the village of the Christmas tree) and filled with traditional architecture. In Kassandra, Afytos overlooks the Torneos Gulf and Paliouri (in southern Kassandra) offers both a mountain village experience and access to the beaches by the coast. Lastly, Nikiti and Parthenonas are highlights in Sithonia. On the lower slopes of Mount Dragoudelis, Parthenonas was once abandoned but has returned to life and even has a cinema that hosts a film festival.
Get to the roots of the local cuisine
The beauty of eating out in Halkidiki is that so much of the food is produced locally. The fertile plains and valleys around Mount Holomontas account for many of the ingredients, just as the sea provides fresh fish and seafood (including mussels in the northeast). Apricots, quinces, tomatoes, peaches, pears, almonds, pistachios… you name it. They're all grown here. Some 30% of Greece's honey is also produced in Halkidiki (much if it in Arnea and Nikiti, which are surrounded by forests).
Look out for the large, juicy Hondrolia or Halkidiki table olives (awarded PDO status) and agoureleo olive oil (also PDO), made from unripe green olives and renowned for its fruity taste. It's worth visiting an olive press that offers olive oil tasting or taking a cooking lesson with a local. Meanwhile, the goats and sheep you'll see roaming freely are responsible for cheeses like feta, myzithra and graviera. And for a final treat, truffles and wild mushrooms grow around Taxiarchis on the slopes of Mount Holomontas.
Enjoy wine tasting and a vineyard tour
There are vineyards right across Halkidiki, from the low-lying hills of Kassandra to the slopes of Mount Meliton in Sithonia and the monasteries of Mount Athos, whose monks have been producing wines for centuries. In fact, Aristotle (more on him below) once mentioned Limnio, an ancient grape that is still produced here. Other wine-producing grapes that may be new to you that thrive in Halkidiki's terrain include Assyrtiko, Malagouzia, Roditis and Xinomavro.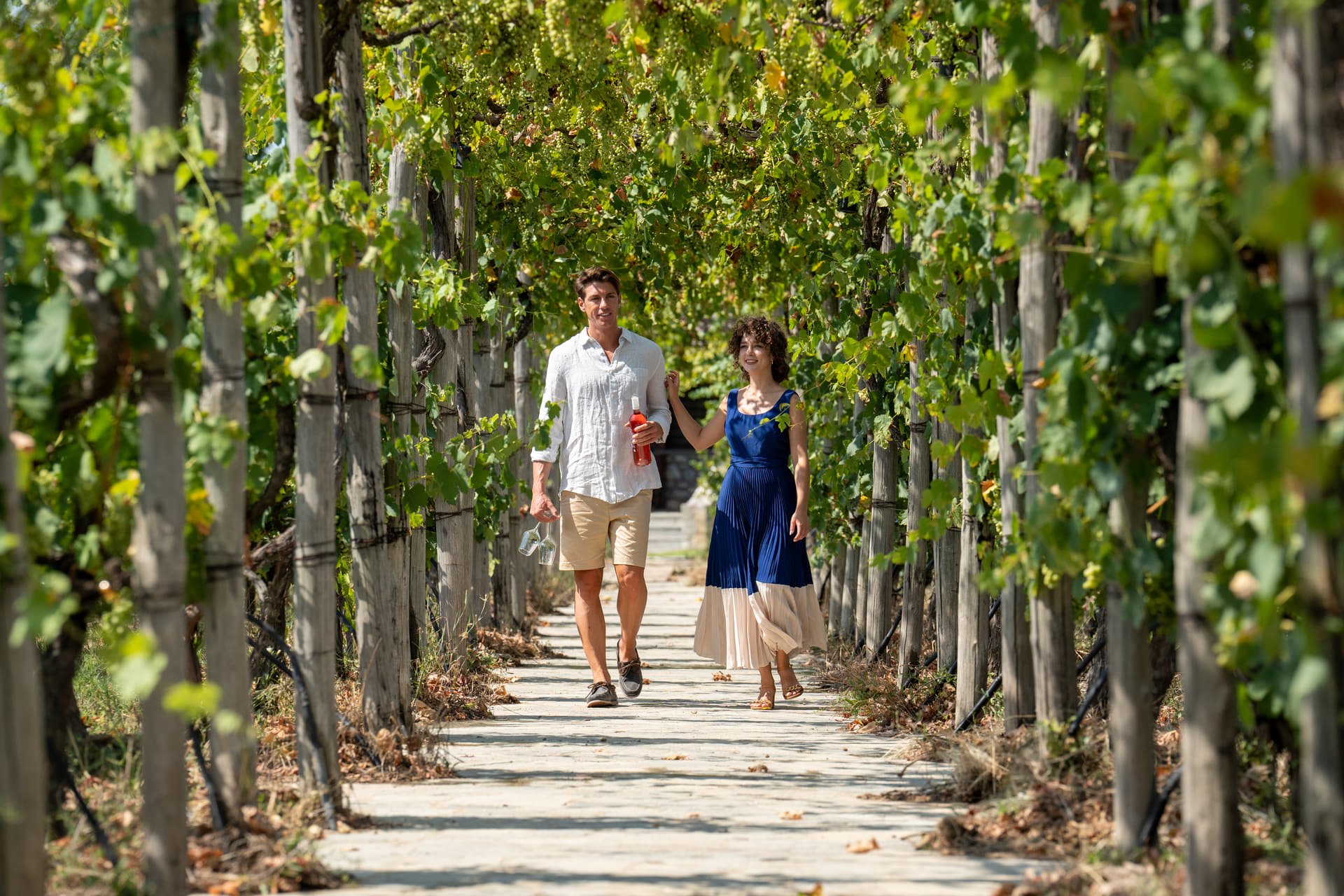 You'll learn all about them on a vineyard tour and wine tasting in one of Halkidiki's wineries. In Sithonia, Domaine Porto Carras in Neo Marmara is the largest organic vineyard in Greece and in Arnea, you can visit the Claudia Papayianni Winery. In Marathousa, the Livadioti Estate has operated since 1978 and also has a tsipouro distillery and in Agios Pavlos, near Thessaloniki, the Tsantali Winery's vineyard has panoramic views of the Thermaic Gulf and a cellar housing more than 2,000 barrels. Finally, the Mylopotamos Winery is an important part of the monastic community of Mount Athos.
Get active with some water sports
In a place that's built its name on sun and sea, there's no way that water sports won't be on your things to do list if you're in Halkidiki for your summer holidays. You'll find sea fun wherever you are along the coast: kayaking and canoeing, SUP, windsurfing and sea biking as well as more adventurous options like tubing, parasailing, jet skiing and flyboarding. There are plenty of beaches with equipment for hire.
In Kassandra, Sani, Kallithea, Pefkohori and Possidi stand out. And in Sithonia, there's Nikiti, Vourvourou, Trani Ammouda, Platanitsi and Kriaritsi. Likewise you'll find water parks in Nea Potidea and Glarokavos beach in Kassandra and at Milies in northeastern Halkidiki. And finally, there are scuba diving centres in Kassandra (Paliouri and Siviri) and Sithonia (Nikiti, Kalamitsi, Toroni and Sarti), as well as in Ouranoupoli at the top of the Mount Athos peninsula.
Discover the birthplace of Aristotle
Back to the unexpected things to do in Halkidiki. You've already heard the name Aristotle mentioned above. The great Greek philosopher was born here, specifically in Stagira, near the town of Olympiada in eastern Halkidiki. It was founded in the 7th century BC by colonisers from Andros and was occupied by Philip II, the father of Alexander the Great and pupil of Aristotle. And it was Alexander who gave the orders to rebuild Stagira when it was destroyed during the Peloponnesian Wars. You can visit the ancient citadel, with its agora and Byzantine-era walls, and the tower of Ancient Stagira. And near Stagira is Aristotle's Park, which has instruments like a prism, optical discs, a compass, a sundial, parabolic refractors and wind turbines, all intended to give you a hands-on understanding of the Aristotelian principles known as 'the Naturals'.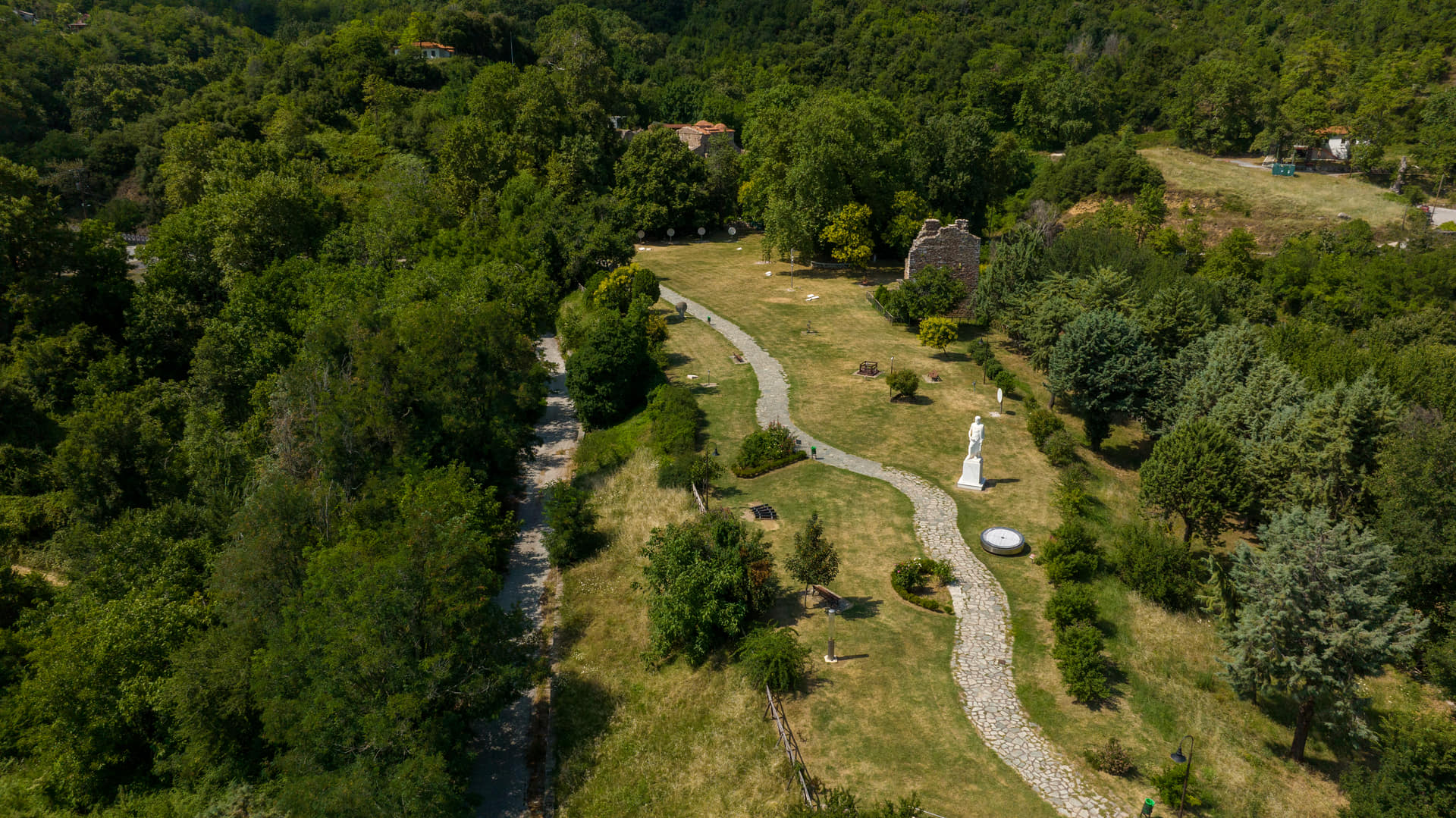 Set out on the hiking routes of Halkidiki
With so much greenery, there are hiking trails all over Halkidiki. Staying with the Aristotelian theme, Aristotle's Trail is a 13km route from Ancient Stagira to Olympiada that takes you through a forest of oak, beech and chestnut trees on the slopes of Mount Stratoniko. Or you can walk from Olympiada to the village of Arnea (or vice versa), passing the beautiful Agia Varvaras Waterfalls. Alternatively, there are paths from Arnea to the Varvaras Waterfalls through the Kipouristras forest and past Pente Vrises (Five Springs) or (for more ambitious hikers) up to the Byzantine castle of Neposi.
In Sithonia, there are footpaths into the Natura 2000-protected pine forest of Mount Itamos from all directions: Vourvourou on the east coast, Parthenonas in the centre and Neos Marmaras on the west coast. Further south in Sithonia, there's an easy coastal path from Porto Koufo to Toroni, where you can visit the archaeological site of Toroni. Finally, in Kassandra there are walks from Sani beach and (just above the Mount Athos peninsula) from Ouranoupoli to the ruins of the Zygos Monastery, one of the finest examples of Athonite architecture outside Mount Athos.
Discover more archaeological sites & museums
Diving into the culture of Halkidiki, we arrive at the archaeological sites and museums. The archaeological Site of Ancient Olynthos (a town founded in the 7th century BC) has some of the oldest mosaic floors discovered in Greece and remains showing a Hippodamian (grid) town planning system. The Archaeological Museum of Polygyros (also in Central Halkidiki) has finds from prehistoric times to the Roman era from across Halkidiki (including Ancient Stagira, Ancient Toroni, Polygyros, Ancient Olynthos etc).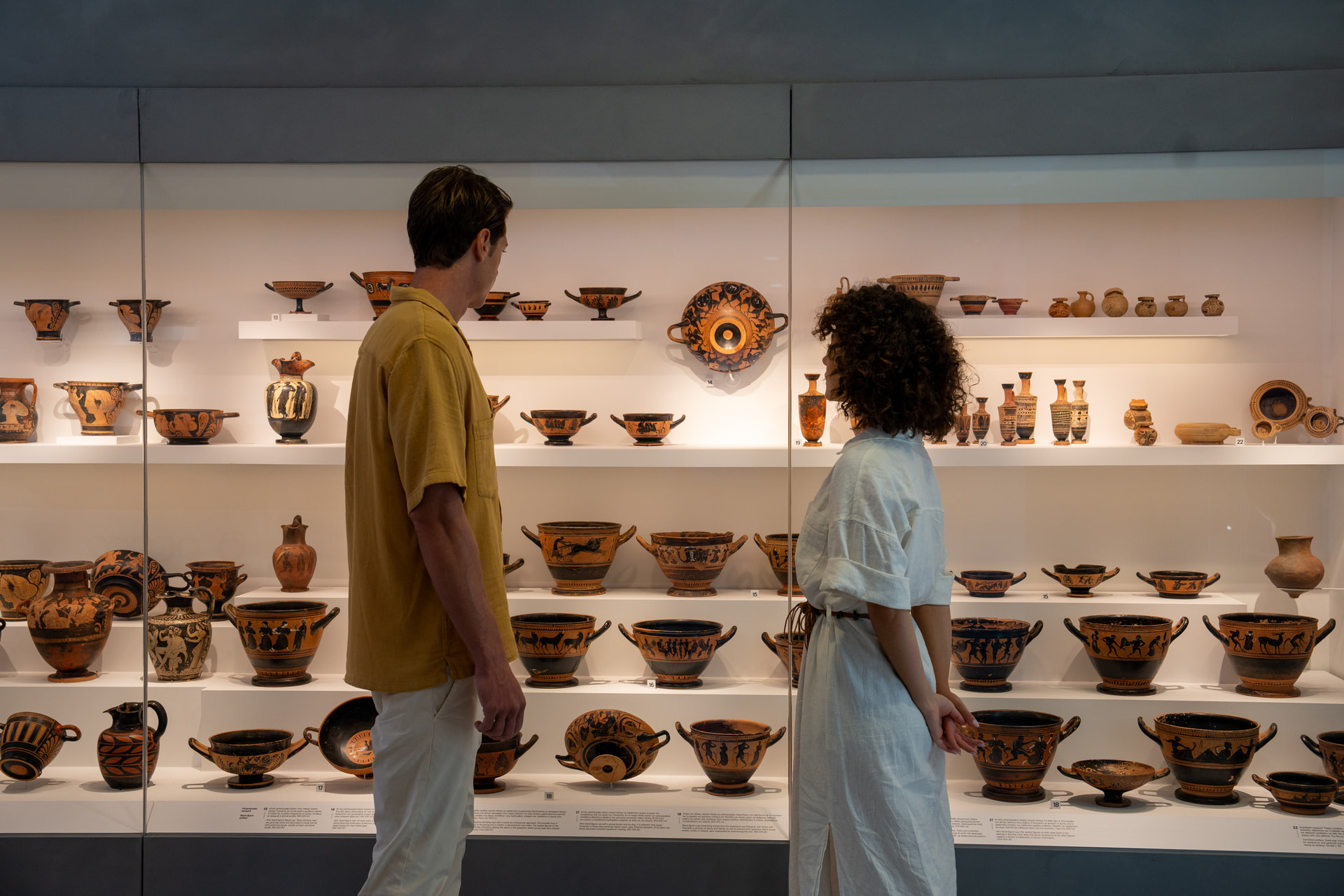 And Ancient Akanthos, near Ierissos, contains the remains of the most powerful port in the region, dating from 650 BC. Meanwhile, Halkidiki's villages contain gems such as the Weaving Museum of Arnea and the Folk Museums of Afytos and Nikiti. Lastly, we have Halkidiki's Byzantine towers, typically built to protect the local metohi or dependency: the Tower of Prosforios in Ouranoupoli, the Stavronikita Tower by Sani beach (a backdrop for cultural events), the Krouna Tower near Ierissos and the Tower of Nea Fokea (also known as St Paul's Tower and considered the best preserved).
Admire the monasteries of Mount Athos
The last of your things to do in Halkidiki is to visit Mount Athos. Often referred to simply as the 'Holy Mountain', it a unique spiritual and cultural haven and one of the most revered sites in Orthodox Christianity. The only catch (for half the population) is that it's strictly for men only. There are 20 monasteries on the peninsula, whose natural beauty and tranquil landscape have remained largely unchanged over the millennia that monasteries have been found here. It is a protected UNESCO World Heritage Site and visiting is a unique experience, especially if you attend a church service or experience the monastic way of life. When they aren't praying, monks might being making candles or tending the vineyards and orchards (or enjoying their produce!). Another way to appreciate the monasteries (everyone's invited, this time) is to take a boat trip down the peninsula and admiring the monasteries overlooking the sea.
10 best things to do in Halkidiki
What are you putting on your wish list of things to do on you holidays in Halkidiki? Were you tempted by the boat trips, the food & wine experiences or the hiking routes? Maybe you've always dreamt of visiting Mount Athos. Or are you heading straight to the beach and staying there until sunset?
Book your trip
All your holiday planning needs in one place, letting you book direct and benefit from official online rates
Private
6 hours
Free cancellation
48 hours before departute fully refundable | after that 18 months credit voucher to all services
Multi-day Tours
Group