Halkidiki is famous for its dreamy beaches and exotic sea, but look a little further and you'll also find mountain and coastal villages packed with authenticity right the way through the year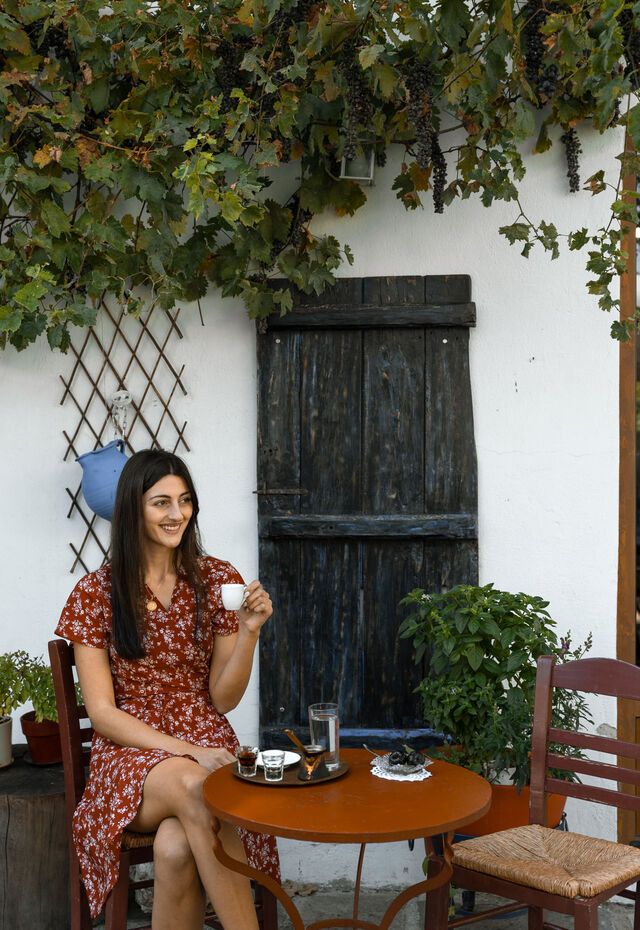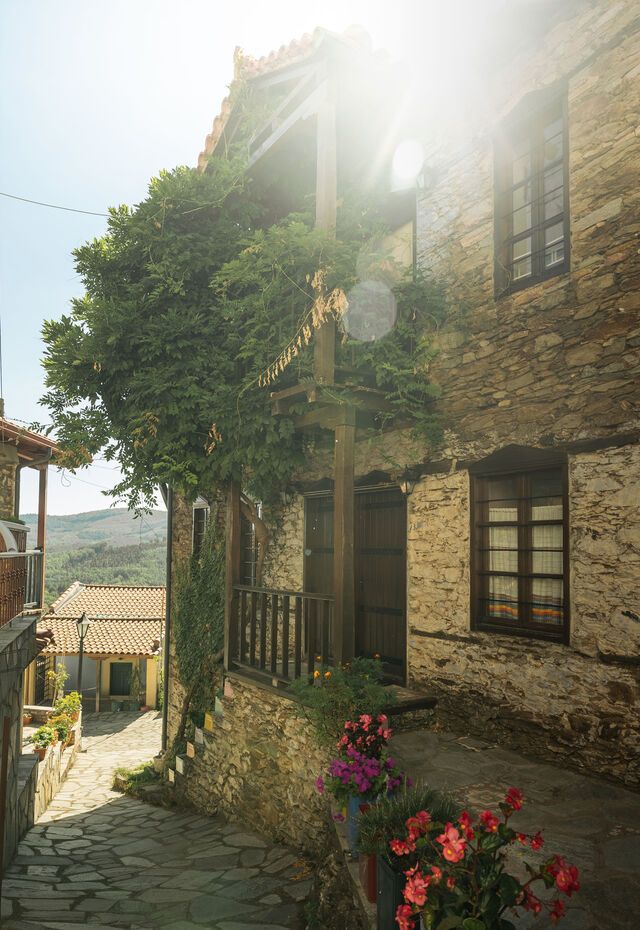 Duration
1 - 2 Days
Season
All year round
OVERVIEW
Exploring the villages of Halkidiki
You can't blame any of Halkidiki's loyal fans if they've never been to the villages. With all that amazing coastline and sea (not to mention the food and culture), it's hard not to focus on the sublime summertime attractions when you're there.
And yet, if you want to really understand this fascinating corner of Greece – the traditions and crafts, the stone houses with wooden balconies, and the local flavours and customs – you have to head to the villages.
There are great villages both in the mountains and along the coast, wherever you find yourself in Halkidiki. So there's no excuse for not adding them to your bucket list when you're in Greece's premier holiday region of the north. It's just a question of where to start.
We've got a village-hopping itinerary for you to pick and choose from. We start with four villages in Central Halkidiki before moving on to Kassandra (the first finger of the three-pronged peninsula) and finishing with the two best villages in Sithonia (the second finger). Visiting any of them is definitely amongst the best things to do in Halkidiki.
DON'T MISS
The best villages in Halkidiki
Central Halkidiki
Arnea
We begin our village-hopping journey in Halkidiki at the foot of Mt Holomontas, in the heart of the region. Arnea is authenticity personified: cobblestone streets and Macedonian architecture, fantastic food and wine … and a glass of tsipouro. It's also 600m above sea level and surrounded by eye-candy nature. And with 2,000-plus permanent residents, it's alive all year round. Look out for the brightly coloured, patterned textiles, which you can learn more about in the Weaving Museum (the rugs are so ornate, they're used as wall hangings) and you should visit the Folklore Museum (with its collection of agricultural, craft and household items) in a mid-18th century building and the churches: Agia Paraskevi and the chapel of Profitis Elias (with its panoramic views) and Agios Stefanos, which has been lovingly restored after being burnt to the ground (along with the rest of the village) in the 1821 revolution.

Taxiarchis
Heading southwest, Taxiarchis is our next village in Halkidiki, built between two slopes. It is surrounded by a dense spruce forest and has been called the village of the Christmas tree (a name that will need no explanation when you explore the surrounding forest). Before sitting down to lunch or coffee in the village square, visit the Chapel of the Archangel Michael and its Ecclesiastical Museum, and don't forget to take home a jam or preserve made by the local women's cooperative and visit the honey shop. If you can coincide your visit with the autumn Mushroom Festival, you're in for a treat. And make time to explore the countryside – hiking, horseback riding or mountain biking. There's even a 15km footpath to Arnea.
Kassandra peninsula
Afytos
Down the first finger of Halkidiki's three-pronged peninsula is the village of Afytos, on the eastern coastline of Kassandra. The setting is half the experience, with the village built on a rock that ends at a steep slope with gorgeous views of the Torneos Gulf. There is a part-traditional village, part-island town feel to it. The Folk Museum and the mid-19th century Church of Agios Dimitrios are well worth visiting, before heading down to the waterfront to enjoy tavernas, cafes and little shops with locally made souvenirs and, of course, a long, refreshing swim.
Paliouri
Almost at the foot of the Kassandra peninsula, Paliouri is a traditional settlement that offers the best of both worlds. It's close enough to the sea to let you nip to the beach whenever you want but built just inland on a pine tree-covered hill. Wandering the narrow alleyways, you can pick your dinner spot (the meat dishes and fresh fish are recommended). But the highlight is nearby Chrouso beach, a hit with young crowds and families because of its fine sand and shallow, clear water and buzzing beach bars and water sports.
Sithonia peninsula
Nikiti
One of the best villages in Sithonia, Nikiti has an old and new section and you'll naturally want to concentrate on the traditional half of the village. Stone houses and flower-filled courtyards, a square with a running fountain and tavernas, and winding alleyways with cute little shops. Quaint hardly does it justice. There is also the village church and the Historical & Folklore Museum to visit, in an old school building from the 1870s. And there's no way you're going home without buying a jar of locally made honey (the village is famous for it!). And all of that is before the beach calls out your name. No wonder Nikiti is one of Halkidiki's must-see villages.

Parthenonas
Another of the best villages in Halkidiki, let alone Sithonia. It wasn't so long ago that Parthenonas, built 300m up on the slopes of Mt Dragoudelis (Itamos), was abandoned, with its residents moving to nearby Neos Marmaras. But in the last few decades, life has returned to a village that is now one of the most charming in Halkidiki. Parthenonas' once-derelict homes have been refurbished and the village square once again bursts with life each evening. There's even a film festival in the cinema each July and autumn is celebrated with the Crossing of Dragoudelis, an eagerly attended event where participants hike or cycle across the Natura-protected mountain by day and enjoy the buzz of the village square by night.

Book your trip
All your holiday planning needs in one place, letting you book direct and benefit from official online rates
Private
9 hours
Free cancellation
Not sure? You can cancel this reservation up to 48 hours in advance for a full refund
Group
GET PLANNING
How far are the villages of Halkidiki from Thessaloniki?
That depends on which villages you visit and the route you take, but below are the distance and time by car from Thessaloniki airport to our first village, Arnea, and then to each village mentioned, before returning to the airport:
From Thessaloniki airport to Arnea (64km, 1hr)
From Arnea to Taxiarchis (20km, 35min)
From Taxiarchis to Afytos (67km, 1hr5min)
From Afytos to Paliouri (32km, 35 min)
From Paliouri to Nikiti (91km, 1hr 17 mins)
From Nikiti to Parthenonas (25km, 26mins)
From Parthenonas to Thessaloniki airport (112km, 1hr30mins)

When is the best time of year to visit the villages of Halkidiki?
You can visit Halkidiki's villages all year round but the ideal months are April to October, when you can enjoy the best of village life with swimming and other outdoor sports.
What are some of the best things to do in the villages of Halkidiki?
If you really want to get to understand the traditions of Halkidiki's villages, visit the folk museums wherever you can. The following four are amongst the best cultural things you'll do in Halkidiki:
Historical and Folk Museum of Arnea
Open daily (except Thursday) from 10:00-14:00
Tickets: €2
More info: Historical and Folk Museum of Arnea
Open daily from 19:00-23:00 and Tuesday & Sunday from 11:00-13:00 & 19:00-23:00 Tickets: €2 (under-5 free)
More info: Folk Museum of Afytos
Folk Museum of Parthenonas
Open daily (except Monday & Tuesday) from 09:00-14:00
More info: Folk Museum of Parthenonas
Open daily from 11:00-13:00 & 19:00-22:00
Free entry
More info: Folk Museum of Nikitis
How long do you need to visit the villages of Halkidiki?
You will need to start early in the morning if want to visit four or more of the villages of Halkidiki in one day. But you won't be able to devote enough time to each one if you do so.
It's worth spending two days visiting Halkidiki's villages, to get the most out of them.
An option is to visit the villages of Central Macedonia & Kassandra and then the best villages of Sithonia the following day.
Staying the night in one or more of the villages is one of the best things you'll do in Halkidiki. They all have accommodation.