EXPERIENCE
Setting sail for Ammouliani, Halkidiki's only island
The pace slows to an irresistible crawl as you hop over to Halkidiki's only inhabited island, where you can laze on golden sandy beaches and explore a tiny cluster of idyllic isles.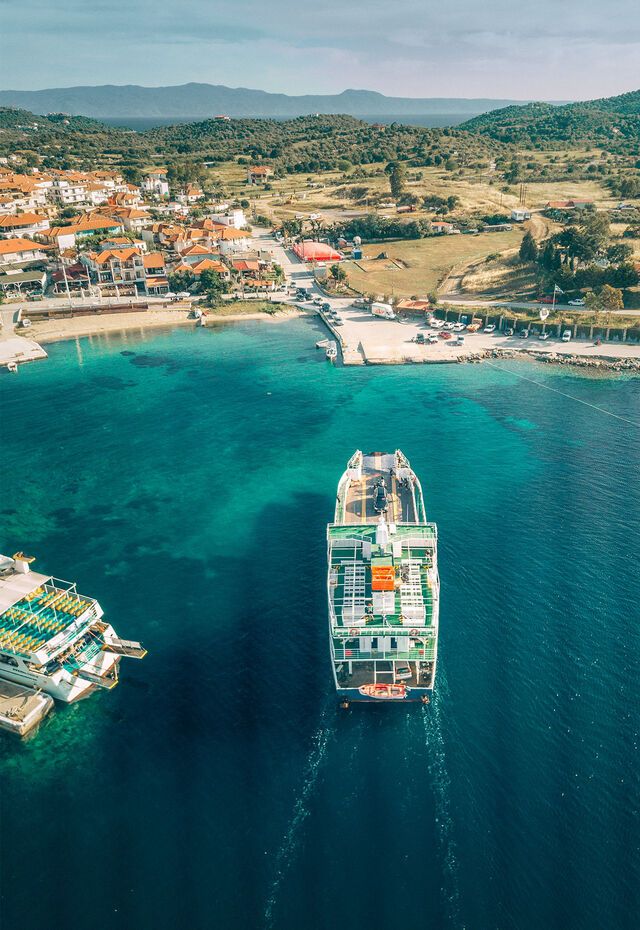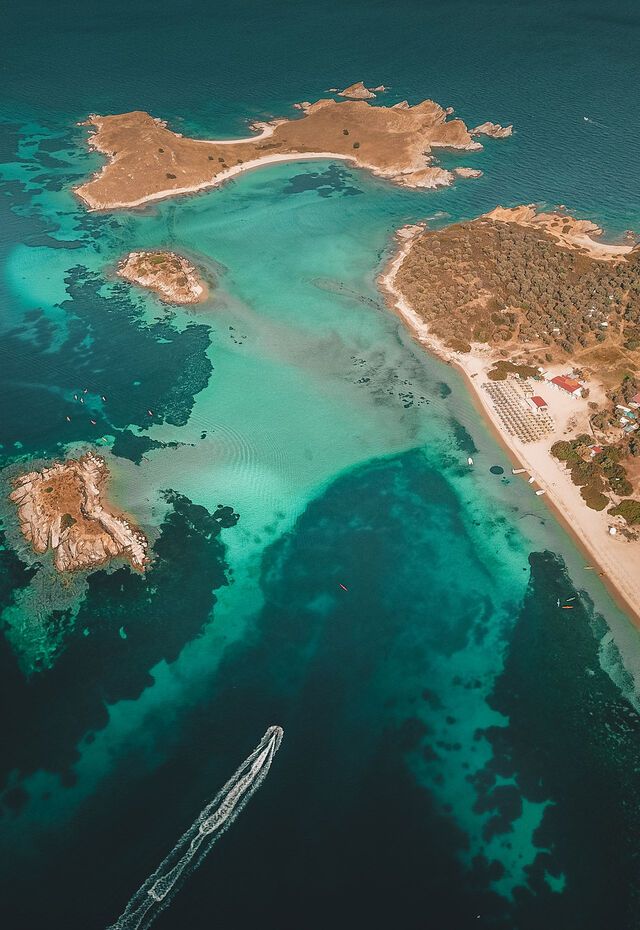 Duration
1 Day trip
Season
April - October
OVERVIEW
Known for its beautiful coastline and rolling countryside, Halkidiki hides another secret awaiting discovery. Between the second and third legs of its three-pronged peninsula, lies Ammouliani – not only the region's only inhabited island but a gateway to a cluster of tiny isles that make it perfect for a day trip or a longer stay.
Your experience starts at Tripiti, on the Halkidiki mainland as you approach Ouranoupoli, from where it's a short hop over to the charm of island life.
In Ammouliani's picturesque main town, life slows to an irresistible crawl, with flower-potted houses and a quaint little port. Around the island are numerous sandy beaches, rightly considered draw cards and perfect for a long afternoon in the sun.
And from the main town, you can hop back in a boat and head to the tiny cluster of Drenia isles. Otherwise known as the Gaidouronisia (Donkey Islands), these six little gems offer beautiful, shallow sandy beaches with idyllic scenery.
DON'T MISS
Ammouliani town
You'll enjoy walking around the port and the old shipyard, known as Arsanas, where the monks of Mt Athos kept their boats during bad weather.
A selection of beaches
Alikes, one of most beautiful and popular beaches on the island, is centrally located on the southwest coast, looking onto the Sithonia peninsula. To the south is Megali Ammos, covered in golden sand, and to the east is Agios Georgios, with views of Ouranoupoli, on the Mt Athos peninsula.
Fresh fish
For lunch or dinner, head to one of the many fish tavernas in the main town or near a beach around the island.
Drenia Isles
The Drenia isles take their name from the largest (and only organised) island of the group, but if you hire a private boat, head to one of the smaller and totally virgin isles (with names like Feti, Penna, Artemi and Elia). You can canoe or even swim between the islands.
GET PLANNING
Boats leave:
Ferry boats to Ammouliani leave regularly throughout the day.
More info
You can also schedule your own crossing at night or at any other time and hire a private boat.
From Thessaloniki: By car 130km (around 2hrs)
Ammouliani to the Drenia isles
Scheduled boat trips/day cruises leave regularly throughout the day from Ammouliani, and boats with skippers are available for hire in the port.
There are crossings to Ammouliani all year round but the ideal time to visit is April-October.
Ferry crossings from Tripiti range from €2.50 for foot passengers to €10 for cars.
All boat trips are dependent on weather conditions.
If you want to avoid the crowds and heat, the early and late summer months are ideal (May-June and September-October).
The crossing from Tripiti takes 15 minutes.
Ammouliani is perfect for a day trip from Halkidiki, but it has all the facilities to extend your visit if you wish.
Ammouliani provides everything you need (hotels, tavernas, supermarkets, bars, motorbike & bike rental companies and many beaches with umbrellas and canteens).
If you're going to visit the quieter beaches or the Drenia isles, make sure you're fully equipped for a day in the sun:
TRAVEL RESPONSIBLY
Please help preserve the magic of Greece's islands, cultural sites and natural environment for future generations.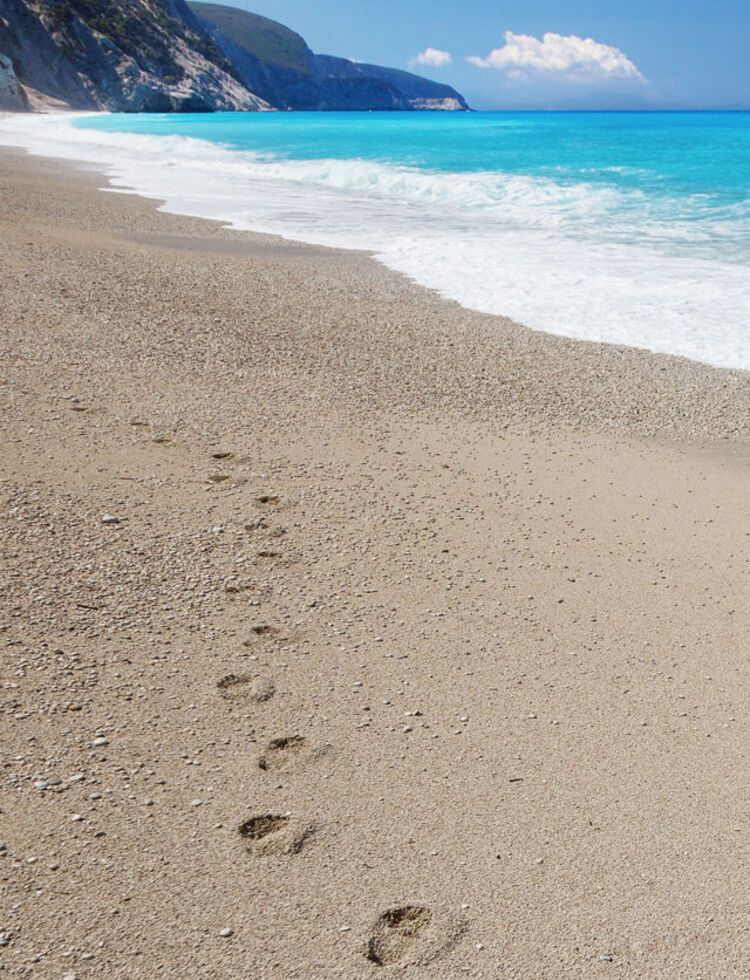 Use the bins provided or, if need be, take your rubbish with you.
Leave only your footprints on the beach and don't remove any shells, rocks, fossils or sand.
Respect the marine life and the plants and animals on shore.
Use a refillable water bottle to try to minimise your use of plastic.
Do your best to support small, independent family-owned stores and local producers, taking home something handmade and local.
Explore your surroundings but please keep to designated paths for your own safety and to avoid disrupting the flora and fauna.
Making fires on beaches is strictly forbidden.
Respect your fellow visitors and the locals.
Be inquisitive and definitely ask the locals for tips.