You'll already know all about Halkidiki's exotic beaches and pine-tree studded coastline, as well as the monasteries of the Mt Athos peninsula. But how much do you know about the food in Greece's most popular northern holiday destination?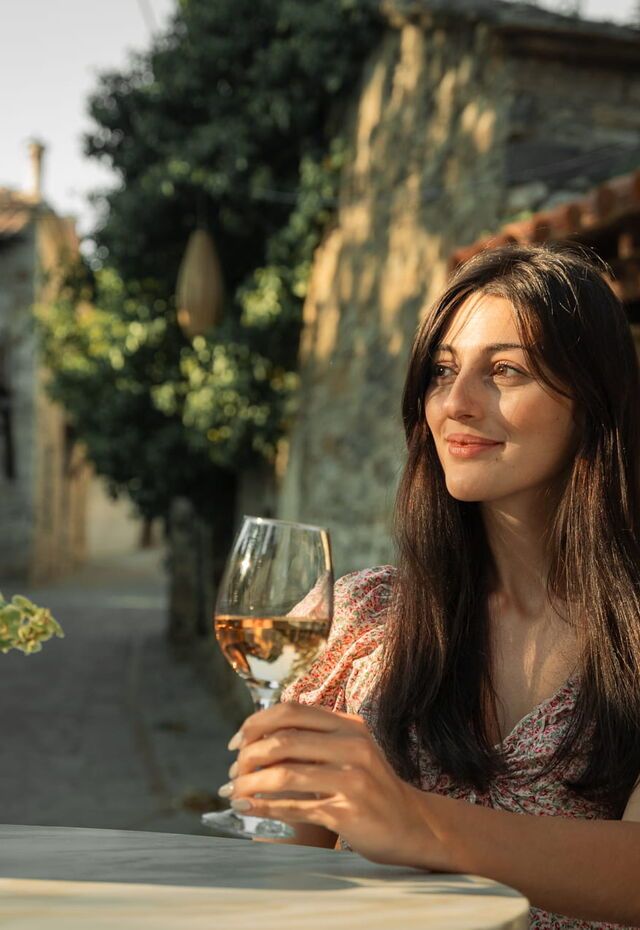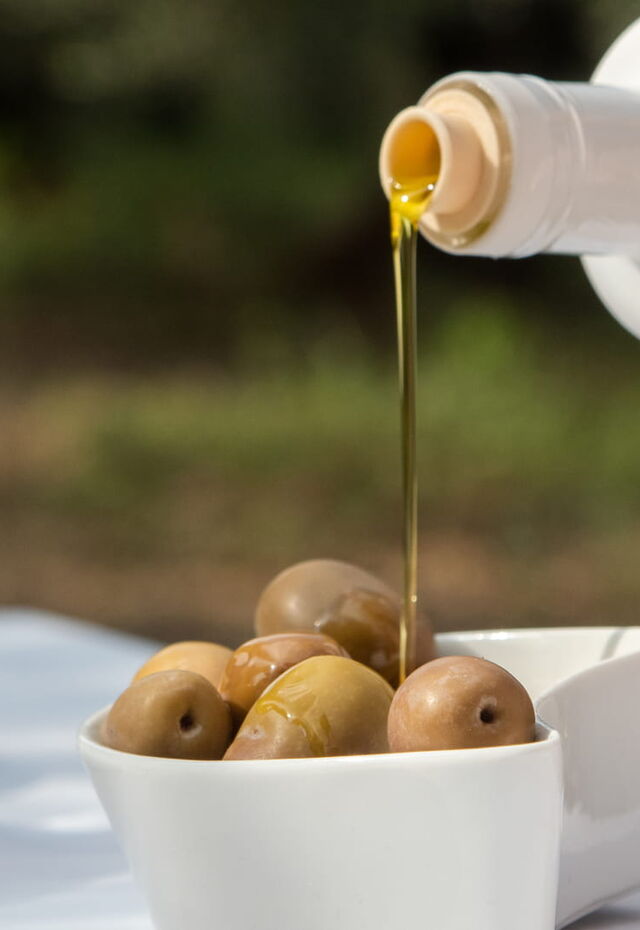 Duration
3 - 4 days
Season
All year round
OVERVIEW
Here's the part where Halkidiki steals your stomach as well as your heart. Wherever you find yourself on the famously three-pronged peninsula – Kassandra (the closest to Thessaloniki), Sithonia (the quieter 'second finger') and Mt Athos (the 'Holy Mountain' to the east), incredible food awaits. What you're about to learn, however, is that much of it is produced in the lesser-known central part of Halkidiki, dominated by Mt Holomontas and with fertile valleys and planes that spread towards the coasts.
Olive groves, vineyards, orchards, apiaries - it's a landscape that's alive with productivity. In the west, the fish market in Nea Moudania is one of the most active in Greece… and to the east, the mussels of Olympiada (by the Strymonian Gulf) are as big in taste as they are in size. Settlements like Ormylia, Olynthos and Metaggitsi are synonymous with olives, while Portaria is known for apricots and Vrastama for tsipouro. Meanwhile, Arnea is as famous for its Macedonian architecture as it is its honey (to which you can add jams, wine and tsipouro…) and the village of Nikiti, just above the Sithonia peninsula, is another honey trap.
Quince, tomatoes, peaches, pears, almonds, pistachios … the list of local products in farmers' markets and roadside stalls is a long one. And look out for the women's cooperatives making handmade jams, marmalades, pasta and spoon sweets.
The goats and sheep that roam the countryside prepare you for the excellent meat dishes and cheeses (feta, myzithra, graviera etc). And Mt Holomontas (much of it Natura 2000-protected) hides an unexpected culinary treasure near Taxiarchis in the form of truffles and wild mushrooms (porcino, cepe, morels, chanterelles etc), thriving in the alpine microclimate. And as for Halkidiki's wines, there are vineyards you can visit from Agios Pavlos on the west coast all the way into Mt Athos peninsula.
Halkidiki is a culinary experience in itself and now that you've got a taste for it, it's time to delve even deeper into some of its signature products and meet some of the locals that make them memorable.
DON'T MISS
Highlights of a food & drink tour of Halkidiki
Halkidiki's honey heritage
Aristotle (famously born in Ancient Stagira, in eastern Halkidiki) championed both the goodness of honey and the perfect collaboration of honey bees, and beehives continue to dot the countryside of the region of his birth. Scented with the blossom of trees like pine, fir, oak, almond, chestnut and wild strawberry on which the bees feed, Halkidiki's honey accounts for 30% of national production. You'll enjoy it at the breakfast table and in both savoury and sweet dishes. The loukoumades in particular (fried dough balls drizzled with honey and cinnamon) are heavenly.
But to truly immerse yourself in Halkidiki's honey heritage, you can have a hands-on experience by becoming a beekeeper for the day at Passion Honey, an apiary in Taxiarchis. Putting on protective equipment, you learn everything about the incredible life of the honey bee and its importance to the local biodiversity. Otherwise, everywhere you travel in Halkidiki (Nea Moudania, Nikiti, Neos Marmaras, Arnea…) you'll see evidence of its honey tradition and be tempted to buy a jar.
Halkidiki's famous olives
Halkidiki's olive industry is made up of around 5 million trees, 310,000 hectares of cultivated land and 19,000 mostly small producers arranged in collectives. That's a lot of olives! But where Halkidiki really distinguishes itself in Greece is in the production of Hondrolia or Halkidiki table olives (awarded PDO status), harvested while green or black depending on preference and exported in impressive numbers. If you've had a green olive from Greece (maybe stuffed with red pepper and cheese), chances are it's from Halkidiki. And next time you do, consider that each is hand-picked to protect it from damage.
What you might not have tried before is Halkidiki's agoureleo (also PDO) – the green, fruity and peppery extra-virgin olive oil made from unripe green olives that is especially low in acidity and high in antioxidants. Alternatively, if it's clear and golden olive oil that you prefer, the oil from Metaggitsi (made with Hondrolia and Galano olives) has also been given Protected Destination of Origin status.
You can visit producers, such as Toleo Halkidiki Olive Grove in Metaggitsi, for an olive oil tasting session, where you'll learn all about Greece's noble fruit: What makes olive oil extra virgin? Why do olive oils taste different? How are they healthy? Which should I cook with? Tastings are offered elsewhere too, such as at Yanni's Olive Grove (upon request). Or you could simply enjoy all those groves in Ormylia, Olynthos, Vatopedi etc, where you can pick up a bottle of olive oil straight from the source.
A dolmades cookery lesson
Behind every local product and dish, there's a person who adds their passion and family knowhow. So your next Halkidiki food experience is to absorb all that wisdom in a cookery lesson. The cookery classes at Marianna's Vineyards, in Nea Gonia, do all that and more because they also let you explore the family vineyard that is distinctive for not producing a single drop of wine. Instead, the product here is the vine leaves, picked and processed with incredible attention to detail.
Vine leaves are, of course, the key ingredient to Greece's famous dolmades (stuffed vine leaves). You'll learn how to prepare the stuffing, as well as the secrets of the rolling and folding technique and the cooking method. Marianna's conversation and a glass or two of the family tsipouro are the other ingredients that make up the lunch menu.
Wine tasting and a vineyard tour
The sight of vineyards on gently rolling hills is one of the joys of driving around the Halkidiki countryside, where you'll find everything from large-scale vineyards that export internationally to family-owned boutique wineries. Many offer wine tasting and vineyard tours that can be the highlight of your day or the focus of your entire holidays in Halkidiki.
The classic wine route of Halkidiki is from Agios Pavlos near Nea Kalikratia on the road towards Kassandra to the slopes of Mt Meliton in Sithonia (the second finger) and up to the vineyards around the villages of Arnea and Marathousa in central Halkidiki. A final treat (for men) is to explore one or two of the monastic vineyards of Mt Athos in the east.
Wherever you go, you'll be introduced to local grape varieties (Assyrtiko, Malagouzia, Roditis, Xinomavro etc) and the ancient grape mentioned by Aristotle, Limnio, from which elegant, dry single-variety red wines dominated by the aromas or fresh herbs and the flavour of red berries are made today. Some Halkidiki wines have been given Protected Designation of Origin status and many vineyards have sea views that are part of the experience.
* For details of olive presses, apiaries and wineries offering culinary experiences, see the Good to Know section.
Book your trip
All your holiday planning needs in one place, letting you book direct and benefit from official online rates
Group
GET PLANNING
How do you get to Halkidiki in Greece?
The closest airport to Halkidiki is in Thessaloniki (around 1.5-2hrs by car depending on your destination). The smaller airport of Kavala is also around 2.5-3hrs from many destinations in Halkidiki.
Thessaloniki has regular flights to Athens and international flights throughout the year (more in summer months).
Your best experience will be to hire a car. Alternatively, there are plenty of bus routes from Thessaloniki towards destinations throughout Halkidiki.
Culinary experiences in Halkidiki (incl. distances from Thessaloniki airport)
When is the best time of year to enjoy food & drink experiences in Halkidiki?
The gastronomy experiences of Halkidiki can be enjoyed all year round.
We suggest May-June and September-October as the weather is warm and you can still enjoy the beaches but there are fewer visitors.
Discover Greece tip:
✓ May and September are ideal months for wineries (check when to go here).
✓ Honey is usually harvested in the summer and autumn months (depending on the local flora, so check with your provider).
✓ Olives are usually collected between October and January (unripe green olives are picked in September).
✓ Vine leaves for dolmades are picked in May.
Autumn
Spring
Summer
Winter
How long do you need to enjoy Halkidiki's food and drink experiences?
Each culinary experience will last 2-3 hours.
If you want to visit a winery and live all the experiences outlined here (honey, olive oil, cookery class, wineries), we recommend dedicating 3-4 days (ie 1-2 experiences per day) to the Halkidiki food scene.
Of course, you can spread your culinary experiences throughout your holidays in Halkidiki and visit as many wineries etc as you want to.
Discover Greece tip: Most bucket list holidays in Halkidiki require a minimum of 5-6 days.