COVER STORY
Island-hopping from Naxos in the Cyclades
READING TIME
As long as it takes to eat a slice of watermelon
Pack well, you're off-island hopping! You're heading to Naxos, vibrant and welcoming, but also the perfect gateway to the Cyclades… to Amorgos, the island of the Big Blue, and on top Small Cyclades – the intriguingly named Koufonisia isles and on to Donousa, Iraklia and Schinoussa, with wonderful food, fine white sand and shallow waters that turn the sea all manner of dreamy blues and greens.
Whetting your appetite in Naxos
Naxos knows how to treat its guests. Arriving by ship, you're greeted by the ancient Portara (the one that looks like that National Geographic logo), after which there's a litany of beaches to worship the sun on.
From organised Agia Anna and Agios Prokopios, to the smaller gems of Aliko and Panormos, spending a day by sea comes so easily here. After all, Naxians are as laid back as the iconic Kouroi – the colossal, half-finished statues of men that have been resting on their backs in the same spot on the island for centuries.
You'll be welcome with open arms and a full plate – the island's cheeses (graviera, arseniko, myzithra and xynotiri) and potatoes (thanks to the potassium-rich soil) are famed around Greece. And the honey… well, if you take some home you'll also be packing the thyme, heather, sage, oregano and spring flowers on which the bees feed.
And nor should your visit be limited to high summer. The picturesque Tragaia valley, with its dozen delightful villages and more than 30 Byzantine churches, and easy airport access, give you plenty of island break options.
The irresistible charm of Amorgos
You'll want to work off those cheeses and potatoes from Naxos. So as soon as you've arrived on Amorgos (around 75 minutes by ferry), it's up to the impossibly tall and thin Panagia Hozoviotissa monastery, that clings dramatically to the rock face. You'll instantly understand why the Big Blue was filmed here with a view that charms you beyond words.
Swimming options abound - beyond the main beaches of Katapolas and Aigiali, to sandy Agios Pavlos and tranquil Fokiotrypa to the north, or Kalotaritsa to the south… and so on.
The remains of the city states of Arkesini, Minoa and Aigiali are fascinating, and there's a 13th-century castle, but save some time to sample potato – honey-baked goat's meat cooked in tomato sauce with potatoes and the trademark schnapps-like toasted raki. You won't be disappointed.
Two slices of heaven on Koufonisia
We're moving on to not just one slice of paradise but two – the heavenly Koufonisia isles. As little as 40 minutes from Naxos, the islands belong to the so-called Small Cyclades. Indeed, the inhabited Ano (Upper) Koufonisi is the smallest in circumference of all the Cyclades isles. But it still manages to pack a punch.
The golden sands and blue-green waters have long lured those in the know. Just check out Finikas, Fanos, Italida and Pori beaches and you'll understand why.
There's an irresistible simplicity about Koufonisia, with only one settlement, hora. But that's all you need. The locals here are as house-proud and welcoming as you'd expect.
Donousa, Iraklia & Schinoussa
For a final flourish, we move on to Donousa, Iraklia, Schinousa – between 1-1.2hrs from Naxos and also members of the Small (or Lesser) Cyclades. With fewer than 1,000 inhabitants between them, they still manage to find their own identities.
As you circumnavigate Donousa on a caique, you'll adore the sea caves – as do the monk seals who take refuge here. And the heavenly bay of Kedros, cedars, golden sand and blue waters is made more memorable by the German shipwreck found there.
Iraklia is an island of rolling hills, with the 100m vertical rock of Merihas the perfect nesting site for many a rare bird. It also has the beautiful caves of Agios Ioannis Prodomos, with impressive stalactites and stalagmites.
And finally to Schinoussa. Here, beyond the delicious produce of green beans cucumbers, melons, tomatoes, aubergines, figs and more, the islanders have won international recognition with prize-winning fava (split yellow peas).
Naxos, Amorgos, the Small Cyclades
A tasting menu of islands in the Cyclades
From the welcoming arms of Naxos, to the charm of Amorgos, and simplicity and natural beauty of the Small Cyclades… an island hopping adventure that both satisfies your appetite and leaves you yearning for your journey to never end.
Book your trip
All your holiday planning needs in one place, letting you book direct and benefit from official online rates
Private
Private
5 hours
Free cancellation
Not sure? You can cancel this reservation up to 48 hours in advance for a full refund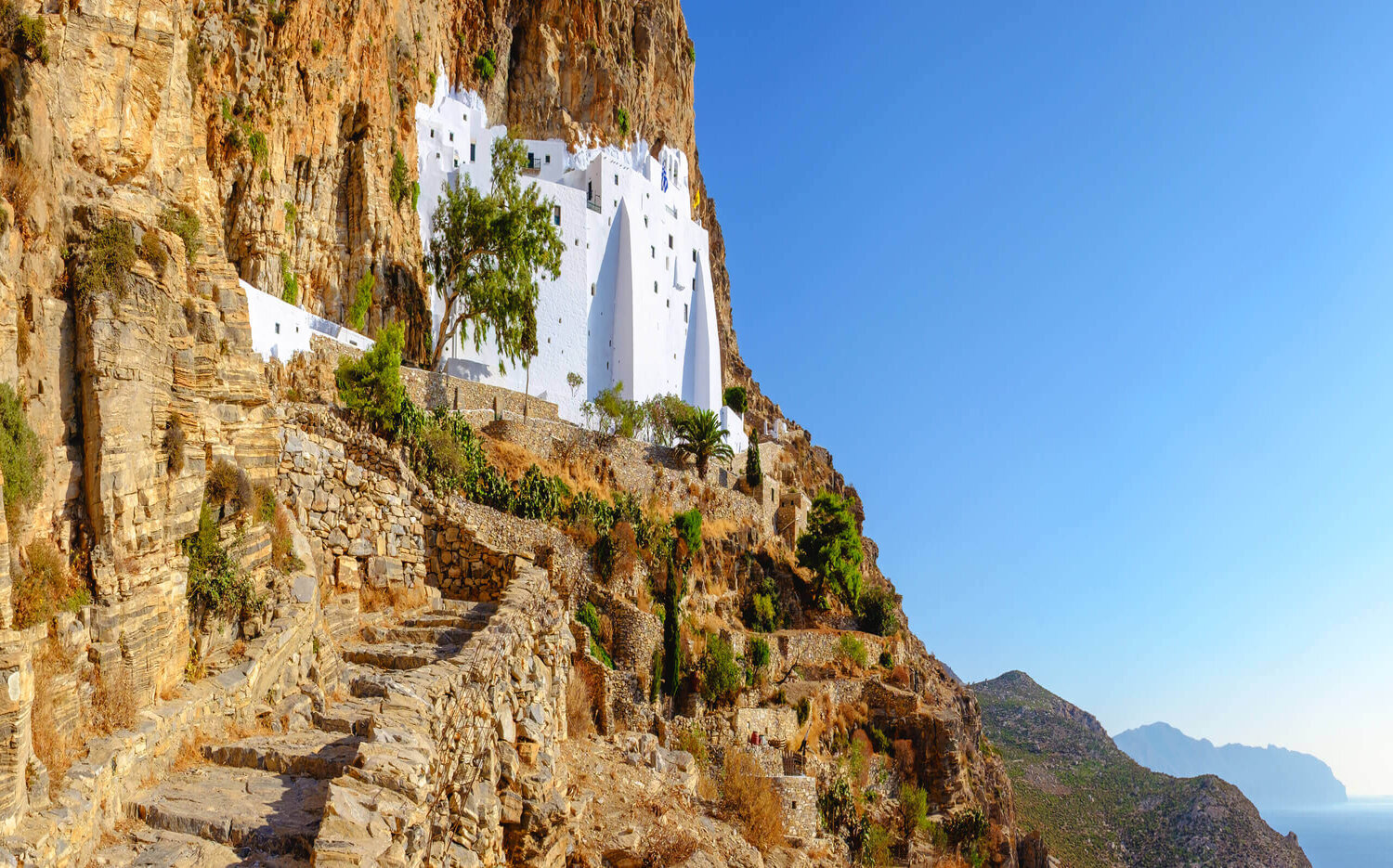 Group
8 hours
Free cancellation
To receive a full refund, you must cancel up to 24 hours before the experience start time in the local timezone