Part of the Small Cyclades, the Koufonisia islands are a pair of heavenly isles famed for their turquoise waters, fine sand and pristine landscape. Often referred to as the Greek Caribbean, they are the gold standard for summer holidays in Greece thanks to their incredible beaches. Of the two, only Pano (Upper) Koufonisi is inhabited, with a tempo so slow it will feel like time has stood still, while Kato (Lower) Koufonisi is a short boat ride away and guaranteed to remove the last bit of stress from your body. So let's get your bucket list of the best beaches on the Koufonisia isles started and prepare you for a double dose of paradise.
Pori beach
Pano Koufonisi
The longest beach in Pano Koufonisi, Pori is also one of the prettiest and as you survey the white sandy shore and emerald-green waters, you won't argue with that. It is located within a large bay, around 30mins by foot from Hora (it's one of the furthest beaches from the main town) or a short boat trip from the port. There's nothing but a couple of tavernas here, so bring supplies. If you must wrench yourself away, there are a few nearby attractions worth seeking out. To Mati tou Diavolou (The Devil's Eye) is a cave that connects to the sea and Pisina is a natural rock formation that serves as an al-fresco pool and diving platform.
To the north is Gala beach, with photogenic caves around a fjord-like cove and just to the west are the Xilobati Caves (a great snorkelling spot).
Amenities: Tavernas
Access: By road or by boat

Ammos beach
Pano Koufonisi
You'll find the colours of Ammos beach hypnotising. They are a tropical blend of blues and greens and come with fine white sand, backed by sugar-cube houses and a smattering of tamarisk trees. This is the beach favoured by locals as its proximity to the comforts of Hora means you have everything you need at your fingertips. There are no amenities on the beach (so come prepared) but there is assisted access into the sea for people with mobility difficulties. The view of the uninhabited island of Keros is easy on the eye. And try the lobster spaghetti at one of the tavernas. It's a local delicacy!
Amenities: tavernas & cafes (Hora), sea ramp
Access: By road or by foot from Hora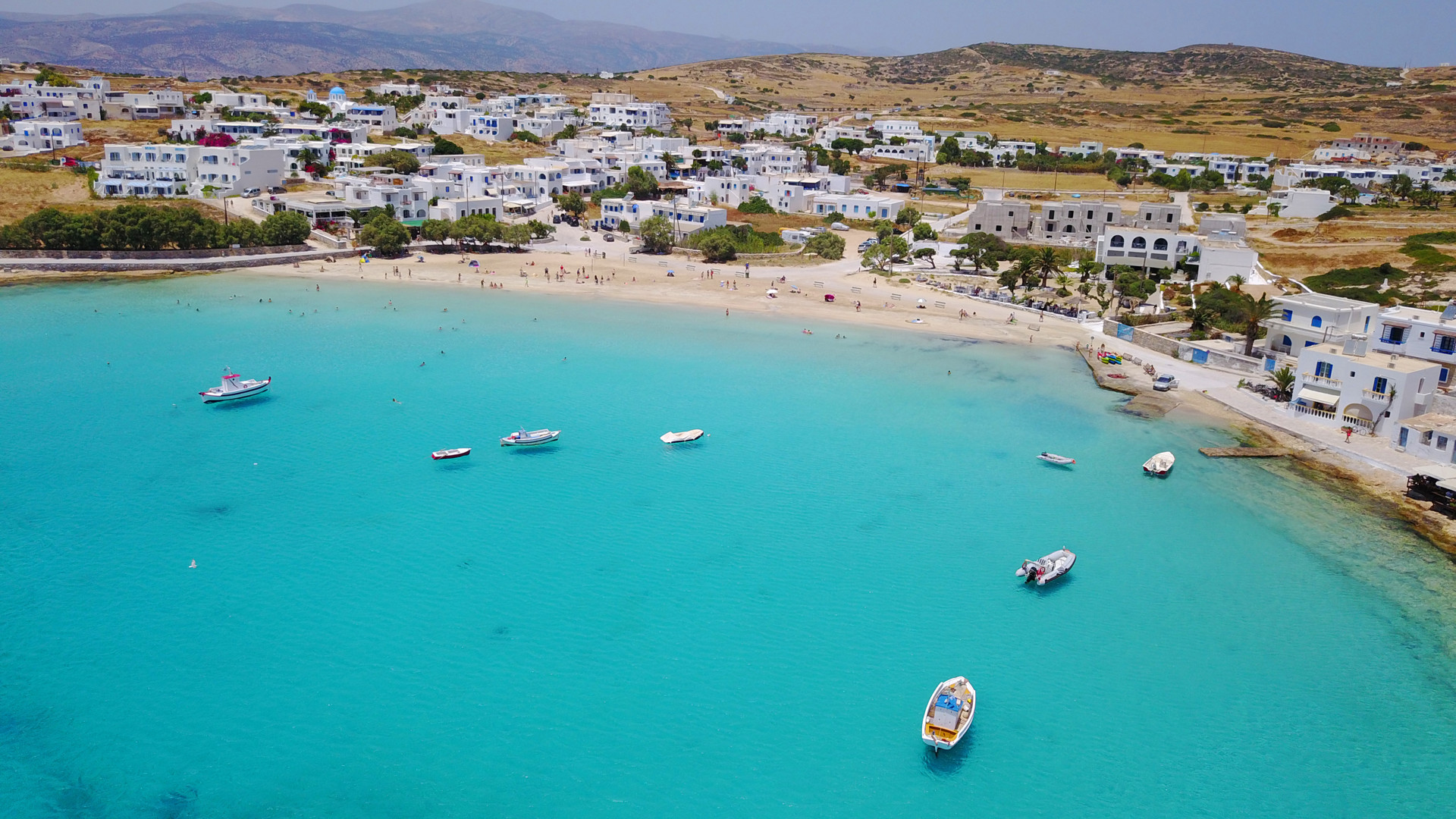 Finikas beach
Pano Koufonisi
Another beauty amongst the beaches of Pano Koufonisi is Finikas (aka Harakopou), a gem endowed with the customary turquoise waters and fine white sand of the Koufonisia isles. It's a 20min walk from Ammos beach and has no amenities (although there are tamarisk trees that offer some shade). Another nearby beach worth seeking out is Hondros Kavos, with an extra level of wild if you're looking for solitude. There is a taverna right by the beach, adding to the attraction.
Amenities: Taverna
Access: By road or by foot

Fanos beach
Pano Koufonisi
A few hundred metres east of Finikas is Fanos, one of the Koufonisia isles' most organised beaches. What stands out here, apart from the turquoise waters and yellow sand, are the rocky coves at either end of the beach. If snorkelling is your thing, you have to check them out. The scattered tamarisk trees offer some natural shade (although there are some sunbeds and umbrellas). Otherwise, grab an iced drink and enjoy life. You've earned it.
Amenities: A few sunbeds & umbrellas, beach bar
Access: By road or by foot

Italida beach
Pano Koufonisi
So heaven really is a place on Earth. Italida beach (aka Platia Pounta) combines the same turquoise waters and fine sand of other Koufonisia beaches with the feeling of being totally remote. It's one cove down from Fanos beach (close enough to reach by foot) or a boat trip from Hora and is one of the Koufonisia isles' many nudist-friendly beaches. There are more rock coves for snorkelling.
Amenities: None
Access: By road or by boat

Nero beach
Kato Koufonisi
The first of our beaches on Kato Koufonisi. Nero beach is full-on tropical which, combined with the seclusion coming from being accessible only by boat, makes it one of our favourite beaches in the Koufonisia isles. The shoreline is a mix of sand and some fine pebbles by the sea, while the seabed is visible from the surface. So don't forget your goggles. You've got two options when taking the kaiki from Pano Koufonisi to Nero beach. You can be dropped off at the beach or at Kato Koufonisi's solitary taverna, from which it's a 30-40min hike to the beach – the perfect way to get to know the island a bit better. Total relaxation.
Amenities: None
Access: By boat (and hike)
Detis beach
Kato Koufonisi
Another Kato Koufonisi stunner, Detis beach is balm for the senses. It is encased within a small bay, with shallow, turquoise water and fluffy white sand, while some neat rock formations along the edges have created caves and crannies in which to hide. Protected from the wind, this slice of paradise is ideal for snorkelling. And it's worth noting that Kato Koufonisi's taverna is closer to Detis than it is to Nero.
Amenities: None
Access: By boat and walk

Hawaii beach
Kato Koufonisi
As the name suggests, Hawaii beach is our final slice of paradise on Kato Koufonisi. Postcard-perfect hardly seems to do it justice. It's a mere 10min walk from the taverna, with the fluffiest white sand and green-blue water, with some interconnecting caves that have created passages and nooks and crannies. It's a pure and wild landscape. Holidays in the Cyclades don't get any better than this – and nor do beaches in Koufonisia.
Amenities: None
Access: By boat and walk
8 of the best beaches in the Koufonisia isles
If you're after heavenly beaches on a small Greek island, then the Koufonisia isles have your name on them. Holidays there are about total relaxation and seclusion. Are you ready to experience these masterpieces in the Aegean Sea?
Book your trip
All your holiday planning needs in one place, letting you book direct and benefit from official online rates
Private
6 hours
Free cancellation
Not sure? You can cancel this reservation up to 48 hours in advance for a full refund
Private
Group