EXPERIENCE
Mountain village hopping in Naxos
The quaint little mountain settlements of Naxos stand ready to reveal all the authenticity of the island… one cobblestone at a time.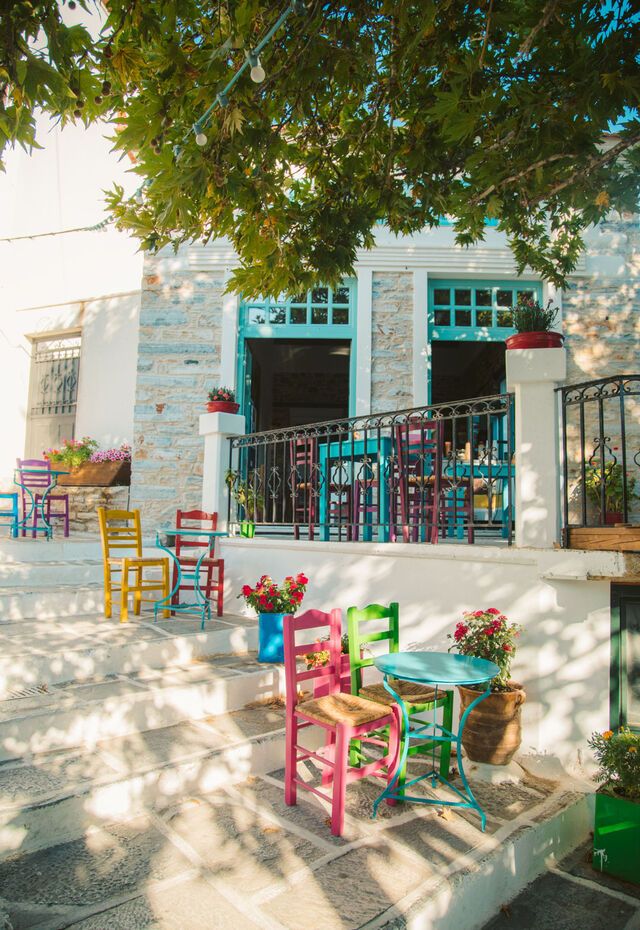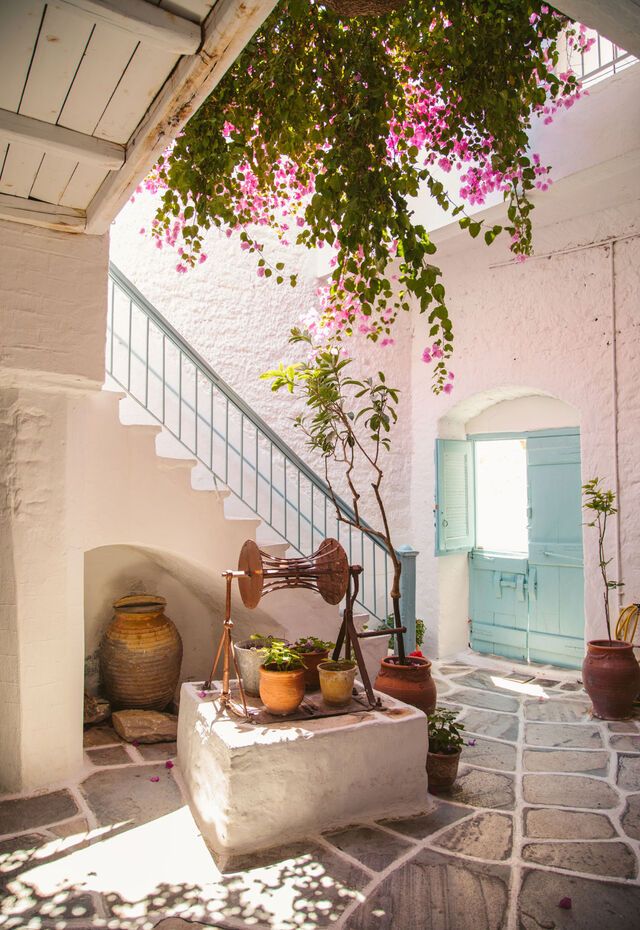 Duration
Full day
Season
April - October
OVERVIEW
Naxos is an island renowned for long, sandy beaches and terrific food. It wraps its arms around you so generously that you barely have to do a thing and you'll leave eager to return. But there's another side to Naxos that you could easily miss if you didn't go looking for it. Dotted around the mountainous interior are villages scarcely touched by time.
Stone houses, medieval towers, Byzantine churches, folk museums and shaded little squares with traditional coffee shops where village elders spend long, lazy afternoons twirling their worry beads and reminiscing. If you come again next year, you know you'll find them in exactly the same spot.
Naxos has dozens of mountain villages, so it's worth following a short itinerary for a day, or even overnighting in one of the larger ones. You can either join an organised tour or explore by yourself. One way or another, you'll return with a deeper understanding of a wonderfully authentic island that just can't stop giving.
DON'T MISS
Two possible routes from the main town, Hora, are given below, the first including some of Naxos' best-known mountain villages and the second with lesser-known options. But feel free to mix and match.
Route 1: Hora to Apiranthos
(6 villages)
Glinado/Galanado
A little village with panoramic views of Hora and the Livadi plain. You can enjoy a quick visit to the Venetian tower of Belonia and the diminutive church of Agios Ioannis, which is both Catholic and Orthodox, or the nearby remains of the Sanctuary of Dionysius. On the way back, Glinado is an excellent spot to catch the sunset before returning to Hora.
Potamia
Actually three settlements (Upper, Middle and Lower Potamia), the name derives from the river which crosses here. A wonderful hiking spot, there are also Venetian towers and other ruins to explore, and more than a dozen mills. Look out for the 17th-century Kokos Tower with a watermill in its basement.
Sangri
Again, a village with an upper and lower part, combining medieval architecture and Cycladic, whitewashed alleyways with little cafes, tavernas and shops selling local products (cheese, citrus liqueur, etc). The Temple of the goddess Demeter and Archaeological Museum of Gyroula are nearby and, each summer, the Bazeos Tower becomes part of the Naxos Festival.
Halki
Beautiful paved streets, neoclassical buildings and a lively market and shops all testify to Halki's past as the capital of Naxos. Amongst the olive groves are medieval towers and Byzantine churches. Also worth visiting are a citrus liqueur distillery and (from the outside) the three-storey Tower of Barozzi-Gratsia, inhabited since the 17th century!
Filoti
The hillside village of Filoti is Naxos' largest. Its picturesque square (with plane trees and a main street of cafes, tavernas and shops) and whitewashed houses, flower-potted courtyards and narrow alleyways are typically Cycladic. And it is renowned for its agricultural products (figs, grapes, wine, olives, olive oil, sheep and goats' cheese called arseniko). On August 15, the Naxian violins ring out here during one of the island's biggest festivals. A 2km hike away is the Arion springs, from which there is a wonderful view of the village and 15km away is the 15m tall Chimaros Tower, made of Naxian marble and one of the most important classical monuments of the island.
Apiranthos
Surrounded by lush greenery, Apiranthos is a wonderful example of Venetian towers and arches, old stone houses and small squares. Known as the Marble Village because of its stonework, it offers picturesque coffee shops, right in the heart of Naxos. There are also a number of interesting museums here – Archaeological, Natural and Folklore, as well as other little nuggets like the Women's Textile Cooperative and the Nikos Glezos Library (containing the largest collection of books of the Cyclades). The Church of Panagia of Aperanthitissa here is amongst the oldest of the island and the Towers of Zevgoli and Bardani date from the 17th century.
Route 2: Hora to Koronos
(5 villages)
Galini
A quiet little village northeast of Hora with a reputation for high-quality meat, vegetables and wine. Whilst you're here, make sure you seek out the old path that leads to the ancient springs of the Messonissi area, once used by monks.
Egares
The church of Kimiseos Theotokou takes pride of place here and, right next door, is an olive oil museum. It's worth wondering around the two uninhabited neighbourhoods of Lagada, with seven watermills, and Mesa Gitonia, where the Foufopoulos Tower is located.
Melanes
One of the oldest settlements in Naxos, Melanes is famous for its 6th century BC Kouros statue and Temple of the Sources, as well as the island's ancient aqueduct, which transported water from the nearby springs to Hora. The surrounding area is ideal for hiking.
Keramoti
A lovely little village to explore in the heart of Naxos, with stone houses and scenic narrow streets and an old olive press in the square. To the north and south are the two major rivers of Naxos, which connect close by to create a 6m waterfall. Just outside the village is a fantastic viewpoint, next to the small church dedicated to Timios Stavros.
Koronos
Located in a lush valley at an altitude of 540m, with running water and vineyards, Koronos has a reputation for producing very good wines and a range of agricultural products. There's a renovated olive press where you can witness olive oil being produced in the traditional way. The Church of Panagia Agrokiliotissa each year celebrates the Friday after Easter Sunday with a festival full of music, dance, food and wine. If you're here in the summer, the nearby 20m tall Routsouna Waterfall forms refreshing pools – perfect for cooling off.
GET PLANNING
If you choose to follow our routes, the distance from Hora to Glinado is 5.5km and to Galini is 8km.
Bus tours leave from Hora and include a number of the recommended villages.
Τhe villages are easy to find, but don't feel you need to see them all. You can stay overnight in some of the bigger ones (but make sure you've booked as accommodation is limited).
Feel free to mix and match the villages depending on what you want to see.
Museums and cultural sites:
Glinado
Sanctuary of Dionysius: Open daily (except Monday) from 8:30-15:00. Free entry. Access for visitors with disabilities. Tel +30 22850 29389/24150.
Sangri
Bazeos Tower: Open daily June-September from 10:00-17:00. Ticket: €5 (€3 reduced). Limited access for visitors with mobility difficulties.
Archaeological Museum of Gyroula: Open daily (except Tuesday) 8:30-15:00. Ticket: €4 (€2 reduced). Suitable for visitors with disabilities.
Apiranthos
Archaeological Museum: Open daily (except Tuesday) 8:00-16:00. Ticket: €2 (€1 reduced). Access for visitors with disabilities. Tel. +30 22850 61725.
Natural History and Folklore Museum: Open daily from 10:00-18:00 during summer. Closed in winter. Free entry. Access for visitors with disabilities. Tel +30 22850 61725.
Women's Textile Cooperative: Open Mon-Fri from 9:00-17:00. Access for visitors with mobility difficulties to textiles display and gift shop but not factory. Tel: +30 22850 61436.
Nikos Glezos Library: Mon-Fri from 9:00-13:00. Not suitable for visitors with disabilities.
Eggares
Olive Press Museum: Open daily 10:00-18:00 from April-October. Free entry (including guided tour and tasting). Not suitable for people with disabilities. More info
Keramoti
Traditional Olive Press: Open daily from 8:00 till sunset. Free entry. Not suitable for people with disabilities.
Koronos
Renovated Olive Press: Visits upon request. Tel: +30 22850 51457
As opening times may change according to season, we suggest calling before your visit.
Organised tours typically run from April and cost around 25-30 euros per person.
You can visit the villages of Naxos at any time of year but the ideal months are April to October.
Autumn
Spring
Summer
Winter
Organised tours are typically day trips (9am-5pm).
Each suggested itinerary lasts a day (40-43km from Hora to the last village)