EXPERIENCE
A walking tour of Naxos' Hora, the complete island town
From a Venetian castle that's still full of life to enjoying a sneaky swim at the beach, exploring Naxos' main town is the ideal way to understand an island that has it all.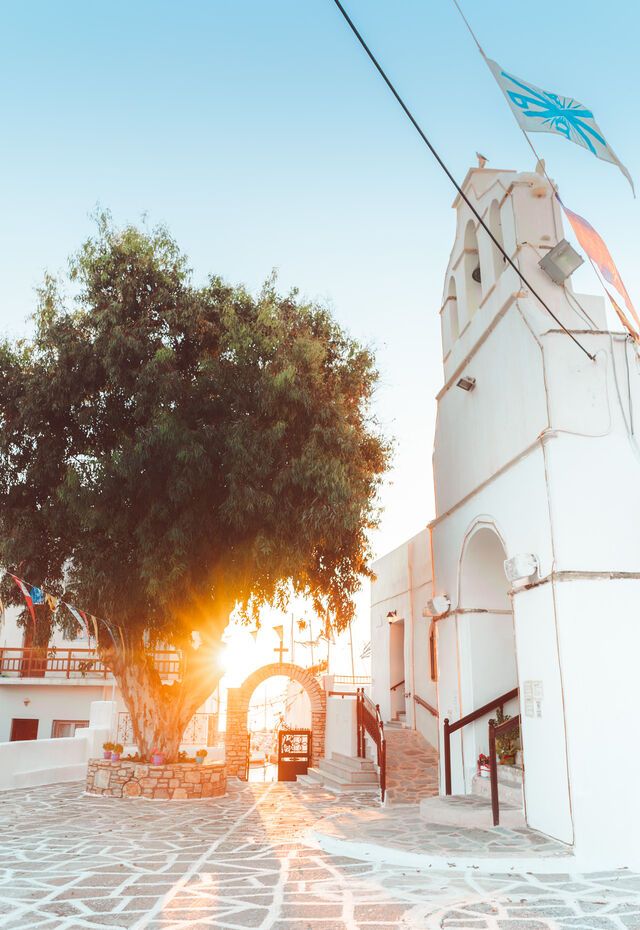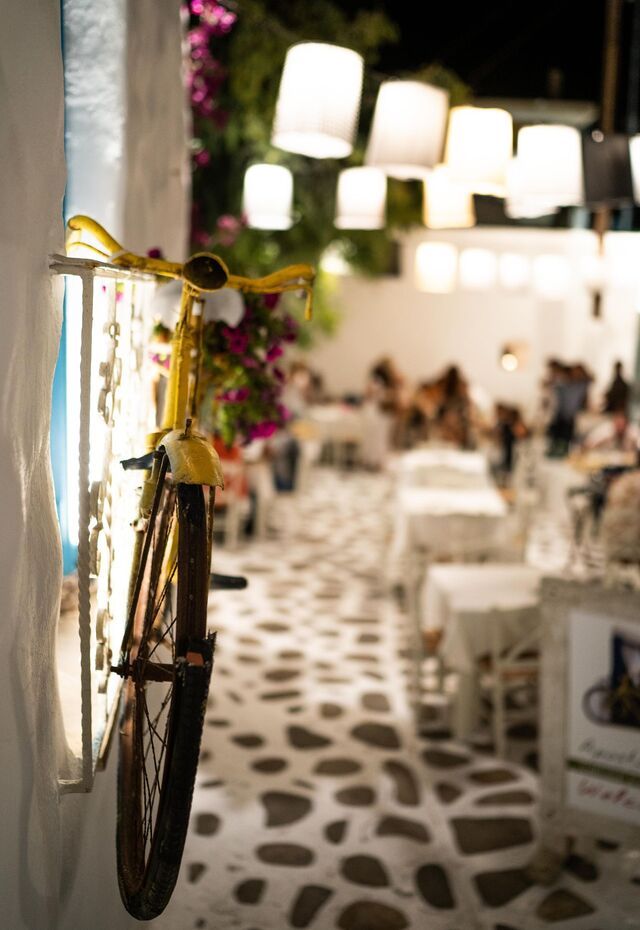 Duration
Full day
Season
All year round
OVERVIEW
It simply wouldn't be possible for the biggest town of the biggest island in the Cyclades not to offer a complete walking tour experience. And Naxos' Hora doesn't disappoint.

From the famous Portara (the gateway that looks like the National Geographic logo) that greets you if you arrive by boat, to the Venetian Castle at the top of the hill on which Hora is located, you'll enjoy discovering a town believed to have been built on the island's original ancient city.

But what you won't have guessed by simply looking up at the castle is that, within its walls, there's a medieval settlement that's still very much alive. You'll particularly enjoy how Venetian and Catholic elements merge into classic Cycladic architecture and colours as the neighbourhood expands beyond the castle.

You could spend hours just walking the streets of Hora, building up an appetite as you go. Thankfully, Naxos' legendary food is fully represented in Hora's tavernas and shops with local products. And to top it all, how about a quick swim on a beach right by town? What more could you want?
DON'T MISS
The Portara
If there's a landmark of Naxos, this is it. The Portara is all that exists of a 6th century temple to Apollo that was never completed (but you can imagine its intended size just from its standalone marble doorway). The little island on which it stands, Palatia, is now connected to the mainland. According to mythology, it is where Theseus abandoned his love Ariadne, after killing the Minotaur in Crete.
The Venetian Castle and settlement
Walking through the castle's Trani Gate, you're transported to another time and mood. Next to you is the Glezos Tower (or Aperathitissas or Krispi Tower, as it's also called), housing a Byzantine Museum. And as you wander around, you'll find mansion houses with coats of arms, dating to the 14th and 15th centuries, although the castle itself goes back to the early 13th century. It was built by Venetian Marco Sanudo, who with his comrades occupied 17 Aegean islands and formed the Duchy of Aegean, based in Naxos. Elsewhere within the castle, you will find the Della Rocca Barozzi, which has been converted into a Venetian Museum, and a Catholic Cathedral. The scene is completed by small picturesque cafes and concept stores with souvenirs shops with views all the way to the port.

The Archaeological Museum
Located near the castle, the Archaeological Museum is housed in a handsome 17th century building. You'll enjoy a sweeping journey of Naxian history through artefacts from Early Christian times (5300BC - 5th century AD) all the way to the Archaic, Classical and Hellenistic eras. Look out for the mosaic floor on the terrace, depicting a female figure riding a sea monster.
Agios Giorgos Beach
Popular with families because of its sand and shallow water, Agios Giorgos beach is just a short distance from the main town. You'll find everything you need here (umbrellas, sunbeds, bars and tavernas) to take the weight off your feet and soak up a bit of sun during your walk.
The food
You'll pass no shortage of eating options (brunch, lunch or dinner), so it's worth scouting your ideal spot. There's plenty Naxos is famous for on the food front: seafood, cheese (arseniko and graviera), and meat dishes such as pork rosto (pork leg stuffed with garlic and cooked in wine) and fricassee with provatsa (the leafy part of sea lavender). The island is also renowned for its potatoes. For something sweet, ask for Melachrino (walnut pie scented with citrus and drenched in syrup) served with kaimaki (mastic resin-scented ice cream) … and of course Naxian citron liqueur.
GET PLANNING
From Agios Prokopios & Agia Anna
By car or taxi: 5.7km (13mins) & 7.2km (16mins)
By bus: More info
From Plaka
By car or taxi: 10km (22 mins)
If you are not staying in Naxos town and arrive by car, there are municipal parking areas. The coast road is closed for all vehicles during the afternoon and at night.
The Hora of Naxos can be visited all year round.
You'll find most of the shops, restaurants and cultural sites open between May-October.
If you can, visit in May-June and September-October, when Naxos is at its most charming and quiet.
Autumn
Spring
Summer
Winter
The length of your walk is up to you, but the sites mentioned here can be covered in one day.
You can break up your walk around Naxos town over the course of your holiday. The more you walk, the more you'll discover.