READING TIME
As long as it takes to eat a Greek salad
The most fertile of Greece's Cycladic islands, Naxos is also the largest and that means more beaches. It's an island for everyone, with quaint villages, a lively Hora (main town) and some of the best food in the Aegean. And true to form, the beaches cater to all tastes, with families, young adults and couples all finding their spot of paradise under the Greek sun. And you'll quickly understand why. Naxos' beaches are known for their fine, white sand and green-blue waters, with many boasting lush foliage, too (rare for a Cycladic island). But as Naxos is a big island, you'd be well-advised to plan ahead and find which ones fall within your range, whether you've already booked or are looking for a little inspiration. So stick around as we give you a sneak preview of 10 of the best beaches in Naxos.
Agios Prokopios beach
With miles of style and the softest, fluffiest sand, Agios Prokopios beach and its absurdly picturesque setting are the perfect place to start your holidays in Naxos. Located on the west coast, in the homonymous Agios Prokopios resort town right by the sea, this sprawling 2km beach has all the amenities you're looking for and is popular with every age group. There is a scuba diving centre for the adventurous (there are wrecks in the vicinity) and it's protected from the wind, making it ideal for families. If you're looking for tranquility, just shuffle across to the less organised side, plant your flag and enjoy one of the best beaches in Naxos.
Amenities: Sunbeds & umbrellas, tavernas, restaurants, cafes, beach bars, water sports, parking
Access: By road
Distance from Hora: 3.8km

Agia Anna beach
Just down the road from Agios Prokopios lies awesome Agia Anna beach (connected by a footpath). Favoured by couples and the young for its cosmopolitan vibe, beach bars and parties, Agia Anna is ideal if you want to hang loose or scuba dive. It is smaller than Agios Prokopios beach and can get crowded, so get there early. The water is crystal-clear and the sand is golden. And there's the bonus of having tavernas with tables right on the beach. Top it all off with sunset cocktails.
Amenities: Sunbeds & umbrellas , beach bars, tavernas, restaurants, water sports
Access: By road
Distance from Hora: 5km
Maragas beach
The next stop on your beach-hopping tour on Naxos is Maragas, also connected by a footpath to Agia Anna. The glimmering, yellow sand and crystal-clear blue waters greet you like a mirage. But this is no illusion. Maragas measures a robust 4km and its size allows you to blend in with whatever beach style you want. There are scattered trees that provide natural shade or you could opt for the organised part, including water sports facilities. It's a nice choice for families as it gets deep very gradually, with a choice of al fresco seafood dining options right by the beach.
Amenities: Sunbeds & umbrellas, beach bars, tavernas, restaurants, water sports
Access: By road
Distance from Hora: 6km
Plaka beach
White, fluffy sand, crystal-clear turquoise waters and a few scattered trees… welcome to Plaka, one of the most famous beaches in Naxos, next to the seaside settlement of the same name. Plaka beach is essentially the continuation of Maragas beach and its size is only surpassed by its beauty. It is wild and windy, with deep blue waters and a boho feel, attracting wind- and kite-surfers galore. Or you can just as easily retreat into its vastness.
Mikri Vigla beach
If you're into water sports, this is your Woodstock. Mikri Vigla is a designated wind- and kite-surfing spot that is blessed with frequent gusts, shallow blue waters, and golden sand. And when it's not windy, you can rent a canoe and explore the coastline. Just around the cove is scenic Kastraki beach, where you'll also find a kite- and wind-surfing club. Also found on Naxos' west coast, both beaches benefit from magical sunsets.
Amenities: Sunbeds & umbrellas, taverna, snack bar, water sports
Access: By road
Distance from Hora: 12km

Aliko beach
Continuing south, we reach Aliko beach. Surrounded by a cedar forest and fat fluffy sand dunes, Aliko is flat-out exotic, one of the prettiest beaches that Naxos, with shallow green-blue waters and a decidedly romantic ambience. A shell of a hotel nearby provides a neat little curio as it's dubbed with colourful graffiti, good for some urban exploring amidst the thick foliage. Investigate further and you'll get to the chapel of St George (awesome views). Just a brief hike away lies Hawaii beach, known for snorkelling and its singular rock formations that create a natural rock wall. Yet more mesmerising sunsets await.
Amenities: None
Access: By road
Distance from Hora: 17.5km
Pyrgaki beach
A short distance away from Aliko is Pyrgaki beach, surrounded by cedar trees and with fine white sand and shallow green-blue waters. It can get windy here which has the plus side that it attracts fewer people. Favoured by families, it's the sort of beach you'll choose if you're looking for somewhere tranquil but still need some comforts on your holidays in Naxos. That said, if you're after some action, you can rock dive from the eastern edge of the beach.
Agiassos beach
Our final beach on Naxos' west coast is Agiassos. It is big and carefree, surrounded by greenery and with small little coves on both sides for exploring, fine white sand and shallow green-blue waters that are ideal for families. And if you tire of doing your best beached whale impersonation, head to Athena beach, which is just a short swim away. With even more seclusion, you can go full Robinson Crusoe here.
Amenities: Nearby taverna
Access: By road
Distance from Hora: 16km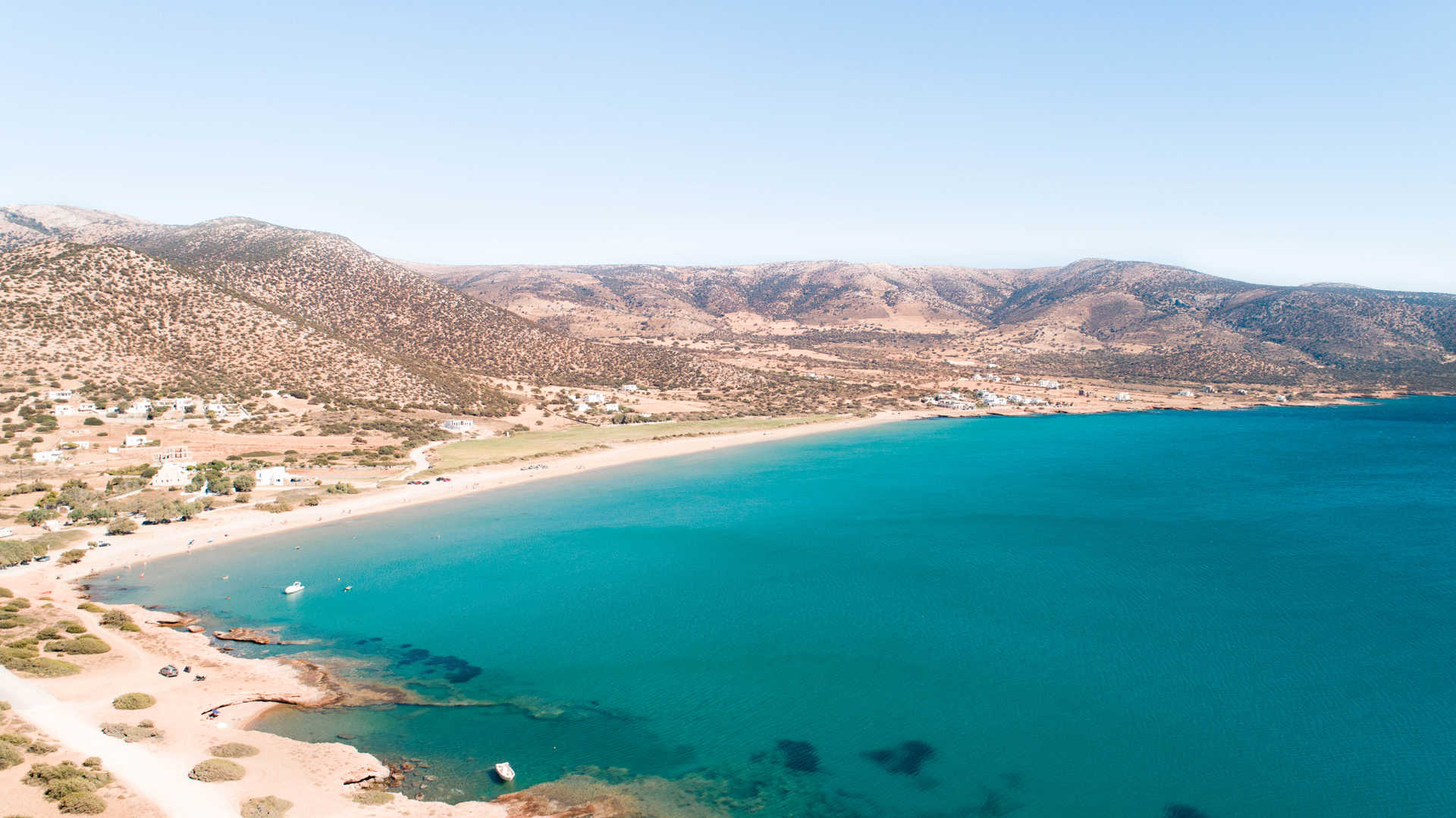 Panermos beach
Switching coast, Panermos beach (aka Panormos) is found at the southeastern tip of Naxos. The first thing that pops out when you get here are the palm trees that provide natural shade. How's that for exotic? This windless, arid cove is covered in fine white-yellow sand and pebbles, making it a great option for those wanting to escape the crowds and the winds. You can get yourself a little fishing boat and explore, snorkel or lay back with a book in hand and enjoy one of the most scenic beaches in Naxos. Panermos won't disappoint.
Amenities: Snack bar
Access: By road
Distance from Hora: 30km
Psili Ammos beach
Our last beach on Naxos lies just up the eastern coast. Psili Ammos and its isolated little enclave welcome visitors with white, sandy shores. This is one of the most tranquil beaches in Naxos, with no amenities whatsoever, guaranteeing you a slice of heaven. The beach is scattered with cedar trees and dunes (its name translates as 'fine sand') and has shallow green-blue waters. The final touch is the Koufonisia isles, visible from the shore. Psilli Ammos is where you come for chilling and exploring.
Amenities: None
Access: By road
Distance from Hora: 44.2km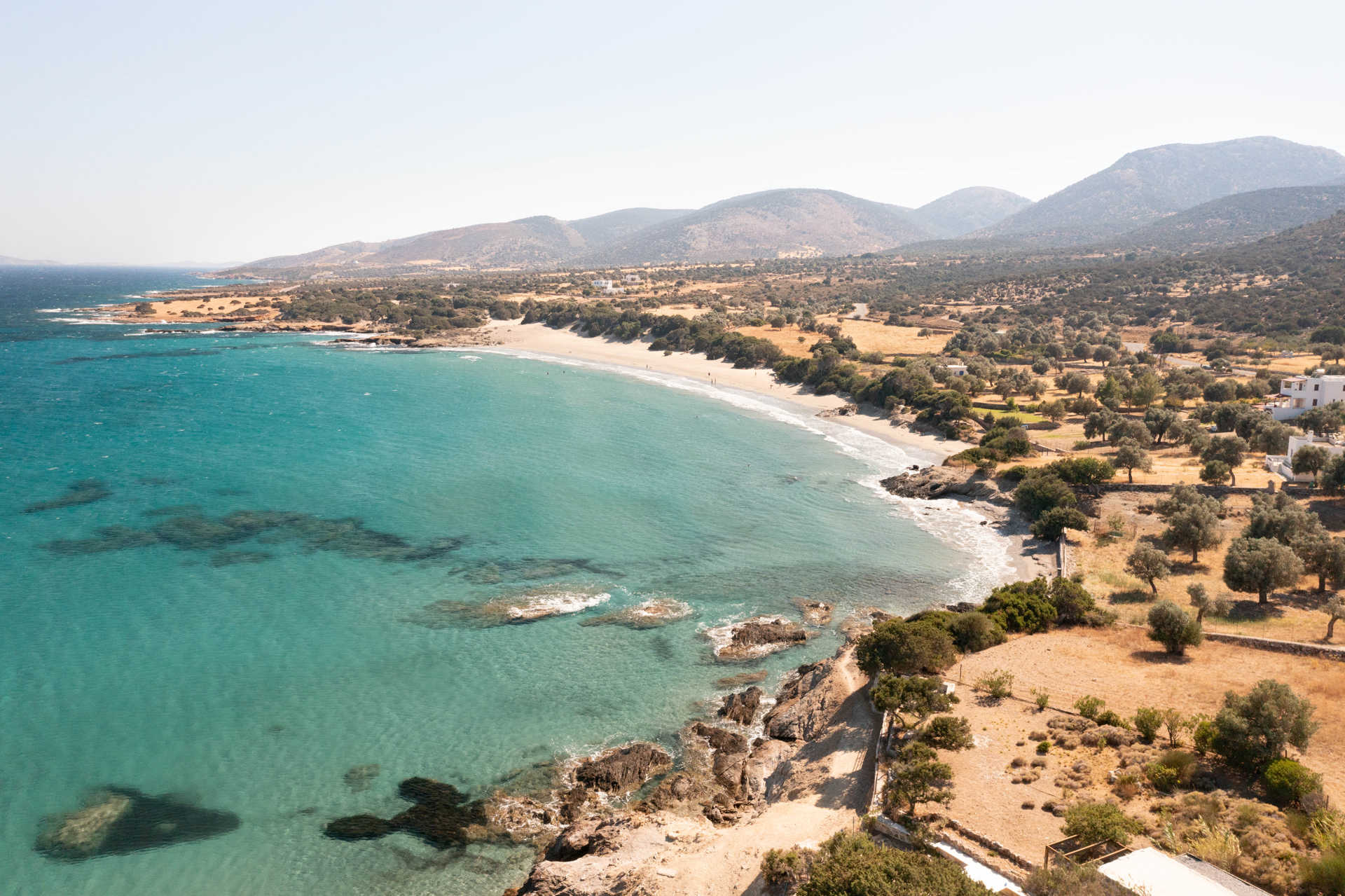 10 of the best beaches in Naxos
Naxos is one of the most incredible islands in the Aegean. It is a legitimate foodie destination, with bountiful natural produce, and has incredible natural scenery and cultural landmarks. Combine that with some of the most exotic beaches in Greece and you'll have yourself a holiday to remember.