READING TIME
As long as it takes to drink a glass of ouzo
Right in the heart of the Cyclades, Paros is an Aegean island famous for its great beaches, water sports and the fantastic vibe of its main town. And just a 10-minute boat trip away is its perfect little brother, Antiparos. But it's also got another side you'll love discovering, blending style and tradition in an irresistible way. There are so many great things to do in Paros. So let's get your holidays started.
Feel the vibe of Parikia
The main town and port of Paros captures all the magic of the Cyclades: sugar-cubed houses with colourful doors and balconies, cobblestoned alleyways and the scent of jasmine. But it also has its own special atmosphere. After being greeted by the windmill in the port, you'll be seduced by the Cycladic architecture, especially up in the Castle district. Look for the church of Panagia Ekatondapyliani (a hundred doors) and the Archaeological Museum. And on an island famous for its swagger, pop into the lively cafes and bars as well as the gorgeous boutiques. Exploring Parikia should definitely be top of your list of things to do in Paros.

Take a walking tour of Parikia
Stroll around the fishing village of Naoussa
You could spend hours exploring the narrow alleyways of Naoussa. On the one hand, it's a charming little fishing village, with taverna tables piled high with delicious dishes. But you'll also find stylish art galleries and elegant shops. There are the remnants of a Venetian Castle in the port and a Folk Museum to visit. Until evening falls and the cafes and bars come alive and another mood takes over.
Spend the day at Kolymbithres beach
Just across the bay from Naoussa, accessible by road or boat, is perhaps Paros' most iconic beach. Kolymbithres is a series of sandy coves but the area is best known for its smooth granite rock formations. Sculpted into incredible shapes by the wind and sea, they wouldn't look out of place in a modern art gallery. But even they can't keep your attention for long once you set eyes on the crystal-clear, shallow water. There are several tavernas and beach bars near Kalymbithres. And completing the scene is the magical view of the island of Agia Kali, just opposite.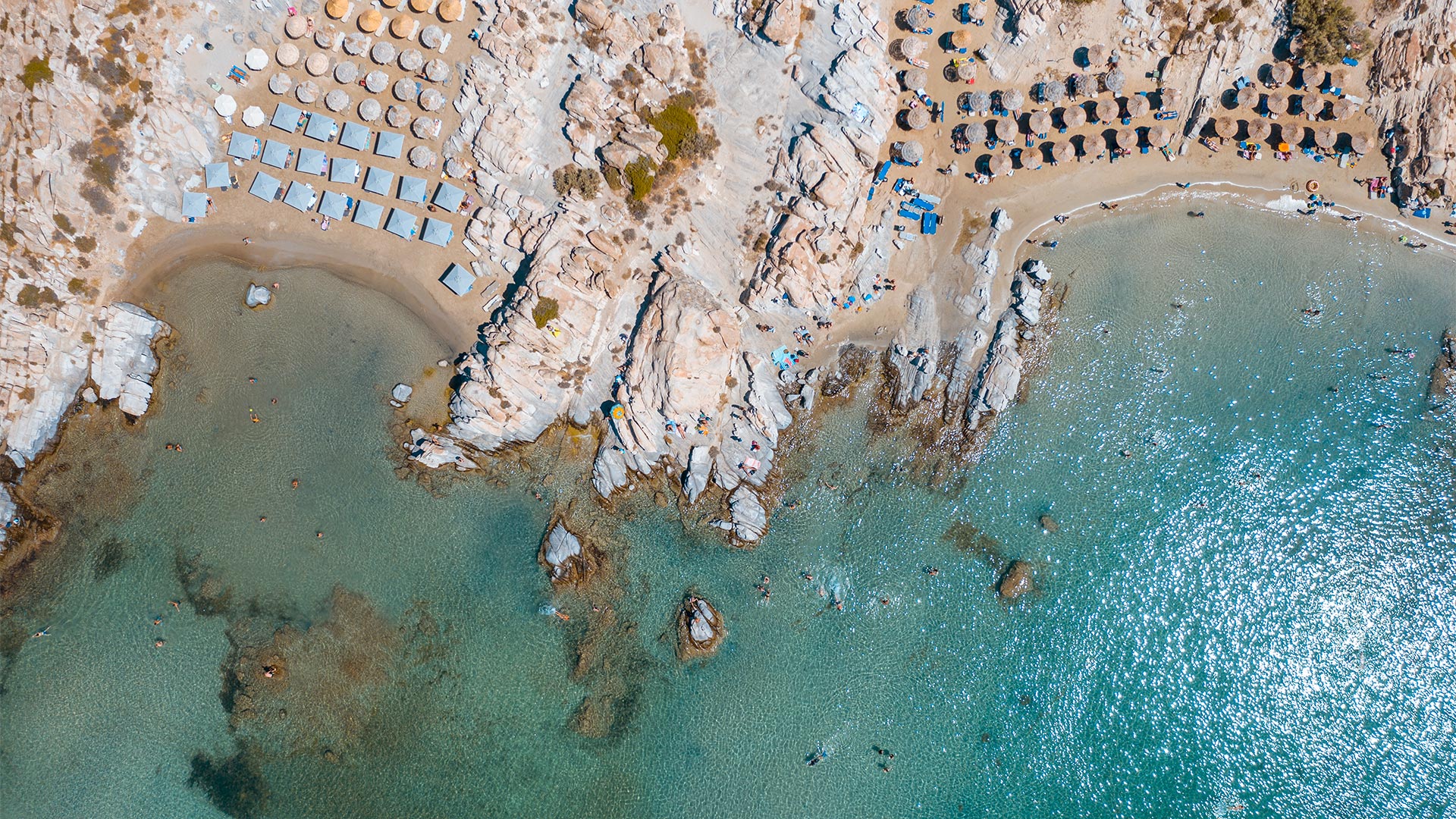 Enjoy legendary water sports and more signature beaches
If you ask many visitors what's top of their things to do list on their holidays in Paros, they'll answer water sports. Windsurfing aficionados rank it one of the best in the world for their sport. And not just windsurfing. Paros is great for kitesurfing, kiteboarding, jet skiing, scuba diving and more sedate activities such as kayaking are available at many beaches. The best known are Golden (Chrysi) and New Golden beach, Pounda (where the Windsurfing World Cup is held each year) and Santa Maria. And don't think you need to be an expert, with equipment and certified trainers widely available for all levels.
Dine by the sea with a glass of Parian wine
From all the fishing boats in Parikia and Naoussa, you'll have guessed that seafood is king in Paros, whether you're in a traditional taverna or being given the white tablecloth treatment as the sun sets over the Aegean. Chargrilled octopus, stuffed squid, gouna (sundried mackerel served with lemon) and much more await. Other foodie favourites are the cheeses (spicy graviera, aromatic krasotiri and smooth myzithra), pulses, mushrooms, snails and homemade pies. And make time to visit a local winery to learn more about Paros' wines and local grape varieties such as Mandilaria.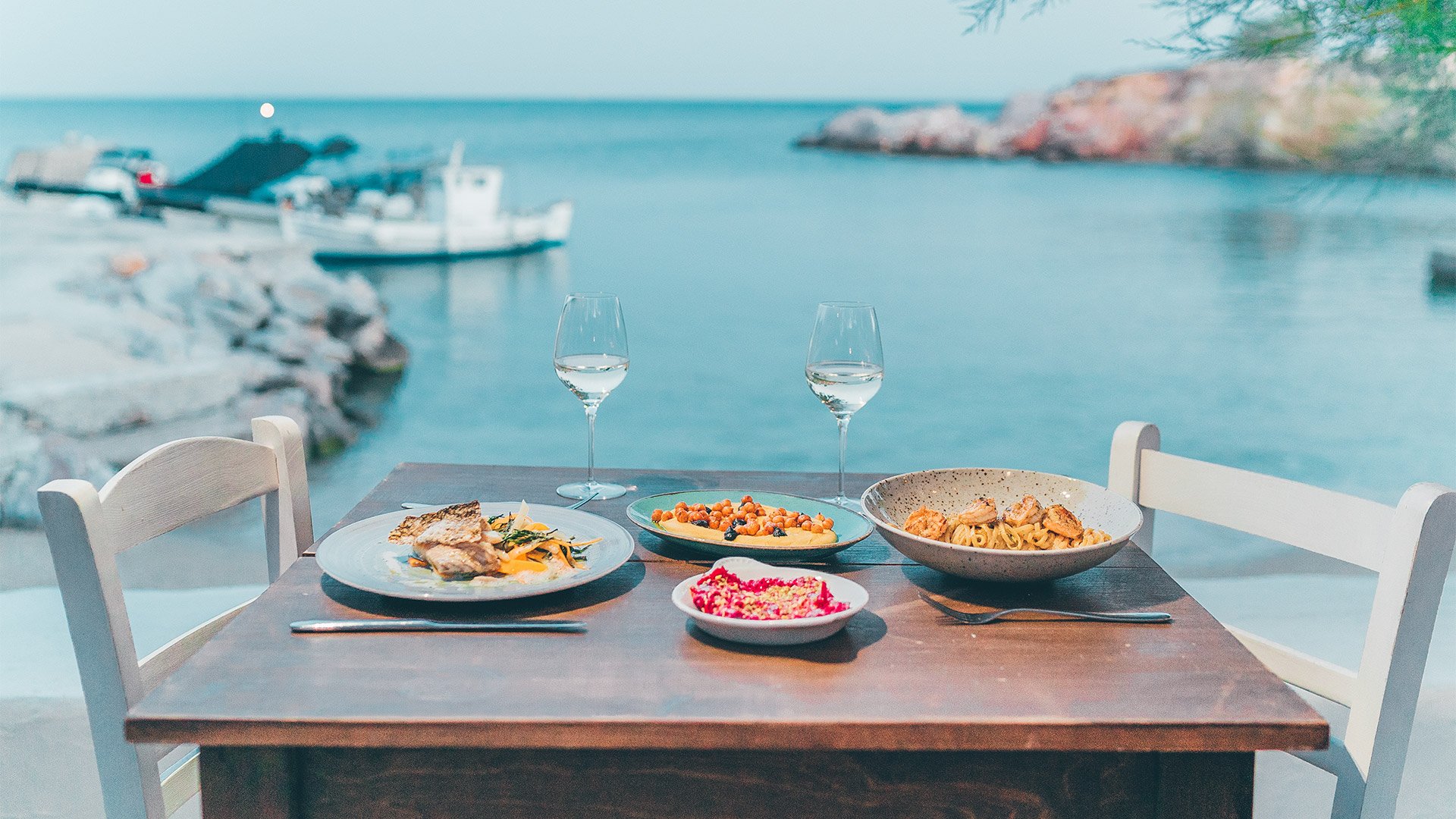 Discover the charm hidden in the villages
There's no better way to immerse yourself in everything authentic and traditional about Paros than exploring the villages. Right in the heart of the island, Lefkes was the original capital, with neoclassical houses, peaceful alleyways, flower-filled courtyards and panoramic views.
And to the east is a collection of three coastal villages – Prodromos (look for the architecture of this once fortified 17th-century village), Marpissa (with the remains of a 16th-century hilltop castle and a collection of churches) and Piso Livadi (where you can end your day in a seaside taverna).
Explore the countryside in Paros Park
Your next excursion on your things to do list takes you to Paros Park, a local initiative that has turned 800 acres of the Ai Giannis Detis peninsula into an environmentally protected area. There are three well-marked walking paths that allow you to enjoy the peace and tranquility and a side of Paros you probably weren't expecting. Along the way, you can visit the pre-Byzantine Monastery of Ai Giannis Detis and the 19th-century lighthouse of Korakas.
Take a boat trip to Antiparos, a celebrity getaway
The last item on your bucket list of things to do list isn't in Paros at all. Antiparos is Paros' little brother, just 10 minutes by boat from the port of Pounta, with fantastic beaches, great places to eat and a stylish main town of its own. You can take a daytrip here at any time of year or spend the night to soak up the special nighttime atmosphere … and you'll feel everything you love about Paros but with even more privacy. You'll quickly understand why Antiparos has become a celebrity hideaway.
Top things to do in Paros
Great vibe or Cycladic traditions? Or both? Paros can be whatever you want it to be … especially if you visit in quieter months of the year (May-June or September-early October) when the experience will be even more personal.
Book your trip
All your holiday planning needs in one place, letting you book direct and benefit from official online rates
Group
9 hours
Free cancellation
96 hours prior to departure – full refund 96-48 hours – 50% refund Less than 48 hours – no refund
Multi-day Tours