EXPERIENCE
A walking tour of Antiparos' quiet and quaint Hora
A wonderful antithesis to its popular and lively big brother, Antiparos – so close to Paros that you can be there in as little as 10mins – offers Cycladic beauty at its tranquil best.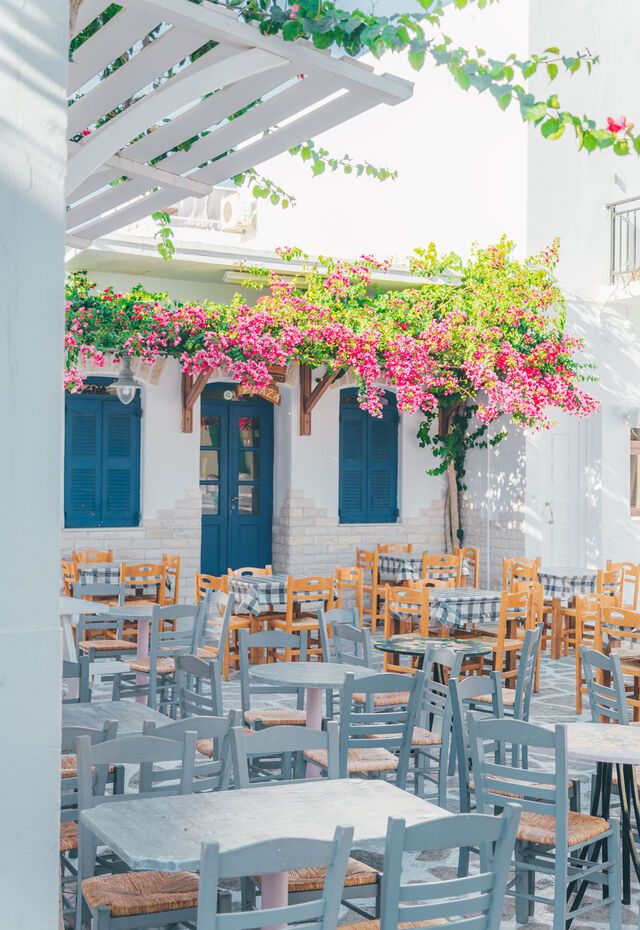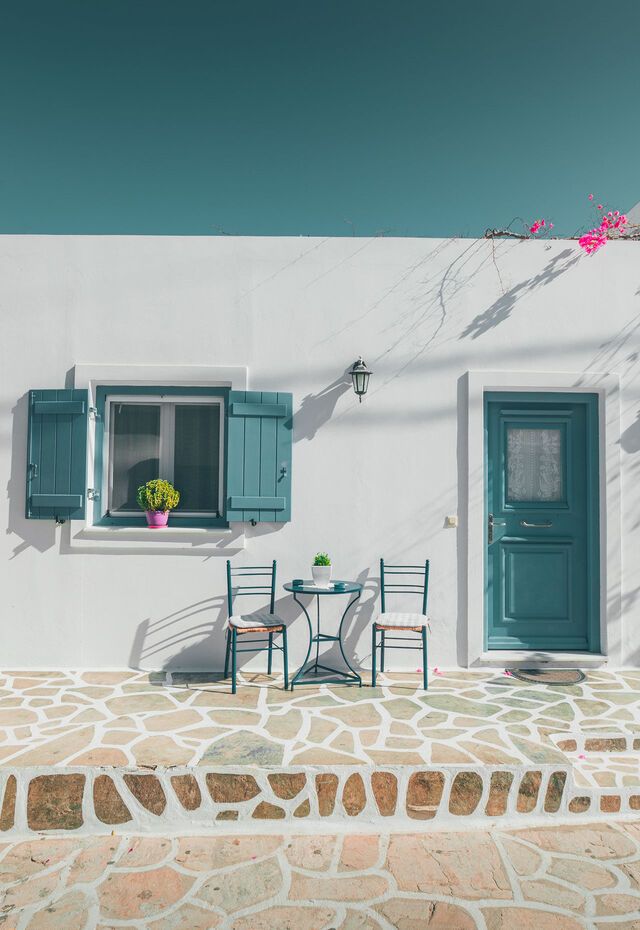 Duration
Full day
Season
April - October
OVERVIEW
If you're looking for classic Cycladic beauty – sugar-cubed houses with blue doors and overhanging bougainvillea, fishing boats bobbing in the harbour and little churches seemingly around every corner – but also the feeling that you've found an island untouched by the holiday crowds, then say a warm welcome to Antiparos.

There are so many layers to the personality of Paros' little brother, from the warmth of locals to the meticulously decorated storefronts of the main town (which is also the port). And you'll especially love the fact that it is unusually flat for a Cycladic island, making it easy to discover on foot.

As you stroll past little shops selling handcrafted local products and colourful mosaic-tiled coffee tables in tiny alleyways, and are tempted by the smell of chargrilled fish in the waterfront tavernas, you'll wonder why Paros and other Cyclades islands got all the attention for so long. Until, that is, you learn that Tom Hanks owns a holiday home here and you realise that those in the knοw about Antiparos' charms would rather keep the secret to themselves.
DON'T MISS
You can simply stroll around Hora (main town) or take advantage of Antiparos' flatness and hire a bike to also explore the wider area – either way, you're in for a treat.
The port
Your first encounter with Antiparos starts in the port, where you're greeted by the church of Agia Marina, with its characteristic blue-domed roof, and the windmill immediately behind it. If your visit coincides with it, there's a two-day St Marina nameday celebration (including local food and drink and sailing races) here on 16-17 July. Boats leave for Despotiko, an island southwest of Antiparos that is popular for its exotic beaches.
Agios Nikolaos Square
As you stroll down the waterfront, turn left into the pedestrianised main street (Agios Nikolaos), lined with stylish boutiques, tavernas and bars. At the end of the street you reach a distinctive large plane tree that marks your arrival at Agios Nikolaou Square. This is the town's main meeting point, with more shops and restaurants and a lively atmosphere – cafes for daytime and cocktail bars for night.
Church of Agios Nikolaos
Ahead of you is Antiparos' main church, built in 1783 (the date is inscribed above one of the doors). This marks the start of the castle area, in which there are a further three churches (Agios Antonios, Christos, and Agios Ioannis).
Venetian Castle
Heading through an archway, you'll enter the Venetian Castle, which dates from the 15th century. It was built to protect the residents from pirate raids and such was its dominance that the entire town is sometimes called Kastro. Strolling around, you'll see how the houses (some built to three storeys, each with a separate front door and staircase) acted as outer walls to the fortification.
Folk Museum
The Folk Museum has gathered an interesting exhibition of traditional artefacts and exhibits – photographs, maps, manuscripts and objects of daily Antiparian life from days gone by.
The sunset from Sifneikos beach
To finish your walk, continue the road away from town towards the west coast. It's a simple stroll (500m) and you'll be rewarded with a wonderful sandy beach and the tranquility you've been dreaming of. The sunset from here his sublime, dipping into the Aegean.
Bonus
Not in the main town, but an absolute must see when visiting, is the Antiparos Cave about 15mins away by car (9km). Around 400 steps lead you to the heart of the cave, at a depth of 85m, where you arrive at a chamber of astonishing stalagmites and stalactites. The oldest stalagmite, by the entrance, is estimated at 45 million years old. The cave has been used as a refuge, from the Stone Age (according to archaeological findings and carvings) to the 4th century when Macedonian generals hid here after a failed conspiracy against Alexander the Great.
GET PLANNING
From Parikia (Paros)
By boat: During summer months only. Crossings take 25mins and cost €5 each way.
More Info
From Pounta (Paros)
By ferry: All year round. Crossings take approx. 5-10mins and cost €1-2 each way.
From Naxos
By ferry: You can hop from Naxos to Paros in around 45mins.
Antiparos is a wonderful addition to any holiday to Paros.
August is the only month with significantly increased visitor numbers, although the beaches and nightlife spots do become busier with weekend visitors from Paros, so midweek is best.
The Ai Giannis Festival in mid-June celebrates the Klidonas tradition, where local men sing folk songs around a fire while young local girls pick a name out of a pot that is supposed to be their future husband.
Museums & cultural sights:
Antiparos Cave

April-October: 10:00-16:00
Winter admission upon request (Tel: +30 22840 61640)
Entry: €6 (€3 reduced)
Your ticket also allows access to the Folklore Museum
Autumn
Spring
Summer
Winter
As it's more of an exploration than a walking tour, you can dedicate one day to the experience and ideally stay overnight.