SUP, canoe, windsurf, kitesurf, diving … whatever your favourite water sports, here's where to find them on your holidays in Paros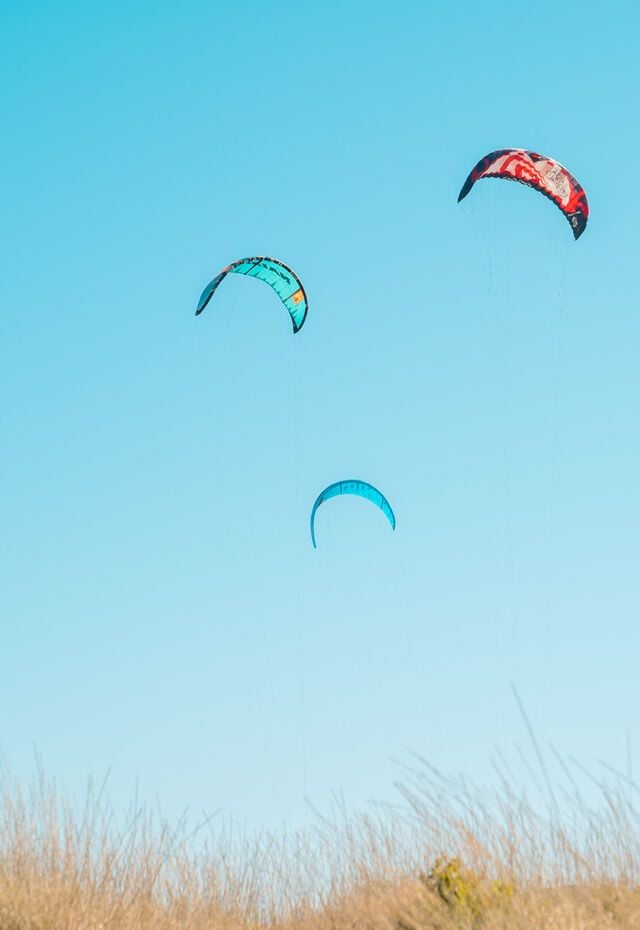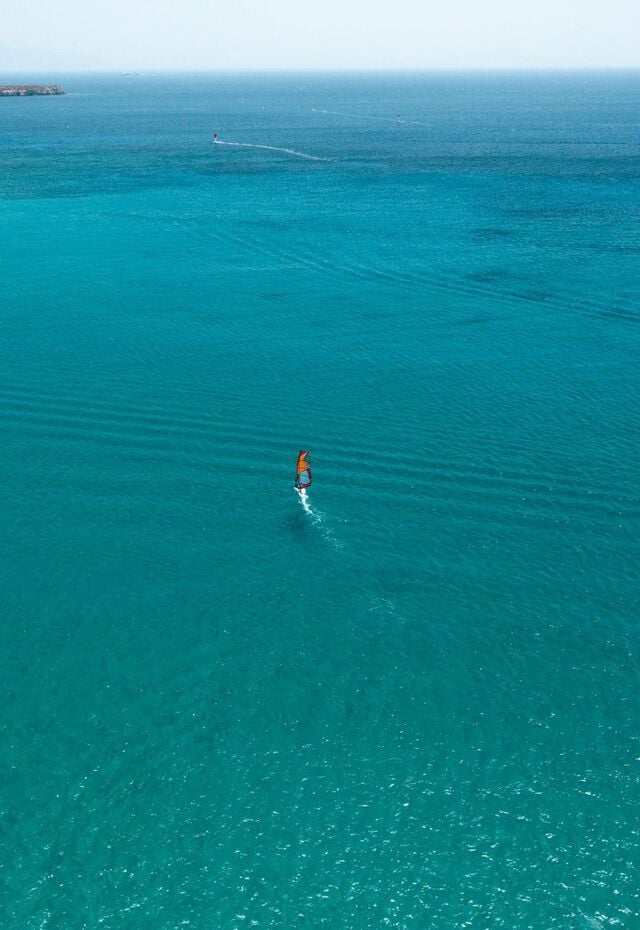 Duration
15min - 1hr
Season
May-June & September-October
OVERVIEW
One of the most popular Cyclades islands, Paros offers the complete package when it comes to summer holidays in Greece, whether you're chilling on the beach or in a traditional village or enjoying its legendary nightlife. And to that list, you can add water sports. Lots of them! Whatever you're after – gently SUPing or canoeing round the coast or full-on action behind a speedboat, you'll find it in Paros.
Many of Paros' most popular beaches offer water sports, so we've broken down some of the best venues for thrills and spills. There's adrenaline-fuelled fun like waterskiing and jet skiing or being pulled on inflatable bananas and tubes and even flyfish. Or maybe you're looking to leave a smaller carbon footprint. No problem. You can wind & kitesurf or opt for a more intrepid option, like hiring Stand up Paddleboard (SUP), sea bikes or kayaks. It's simple. If you're into water sports, you'll find what you're looking for in Paros.

DON'T MISS
The best water sports beaches in Paros
All-time classic water sports
When talking about all-time classic water sports, we're referring to the favourites you'll find on so many Greek islands, like inflatable tubes, banana and waterskiing. You'll find them all on Chrissi Akti and Monastiri (amongst the best beaches in Paros). Chrissi Akti (along with its sibling Nea Chrissi Akti, which offers the same features despite being smaller) is a spacious stretch of yellow sand, with green-blue water and a choice of water sports centres. It's fully organised with sunbeds & umbrellas and beach bars and is the only beach in Paros to offer flyfish. Monastiri beach, located in a secluded cove in northern Paros, is similarly endowed with sand and green-blue water and is part of a nature reserve and ideal for families with children. It offers a wide range of classic water sports and facilities including sunbeds & umbrellas and a beach bar.
Windsurf & Kitesurf
If your thing is wind & kite surfing, then Nea Chrissi Akti (small, secluded, with green-blue water and sand) is the beach for you, as more times than not you'll find favourable wind here. Alternatively, Chrissi Akti more than caters to windsurfers, whether novice or experienced, as does Molos, a small, semi-circular beach located inside a small cove on the east coast. The bonus here is that it's next to a Natura 2000 reserve and the shallow water is a magnet for families with young kids. Don't expect amenities (there are just a few scattered tamarisk trees for shade) so make sure you pack accordingly. Finally, Pounda Kite beach is true to its name. It's a popular beach although its size allows you to blend in. Just 9km south of Parikia, it's perhaps the most famous water sports spot in Paros.

Diving
If your thing is scuba diving, you'll want to head for the diving centres at Chrissi Akti, Santa Maria, Pounda Kite beach, or Alyki. Santa Maria is a large beach, covered in fine sand and with facilities like sunbeds & umbrellas and beach bars. If you're into snorkelling, it's a must. And despite its popularity, you should be able to find a tranquil spot on which to chill. Meanwhile, Alyki beach is next to the seaside settlement of the same name, with all the amenities to keep you occupied. The beach is made up of sand and fine shells, with green-blue water and a diving centre. It's worth combining your day with a walk around the village and a seafood taverna lunch.
SUP, Sea bike, canoe & kayak
If you're into quieter water sports, Paros has you covered with Stand-up-Paddleboard (SUP) on Monastiri beach, as well as SUP and canoeing on Chrissi Akti, Nea Chrissi Akti, Alyki, Molos, Laggeri (a secluded, beach with fine sand and crystalline waters) and Faragas (located in northern Paros, next to Alyki beach, with sand, sunbeds and a beach bar). You'll find sea bikes on Monastiri, Molos and Chrissi Akti, and kayaks and SUPs for hire at Chrissi Akti and Kolymbithres (one of Paros' more exotic beaches, with wild rock formations, green-blue waters, white sand and amenities).

GET PLANNING
What is the best way to get to the beaches in Paros?
Paros is a fairly big Greek island, so renting a car is the easiest way to get around and the best option for being able to swim at as many beaches as possible. There is also a bus service to the beaches of Chrissi Akti, Alyki, Santa Maria and Kolymbithres.
When is the best time of year for water sports in Paros?
Most water sports providers in Paros operate in the summer months.
May-June & September-October are the best months for water sports in Paros, as there are fewer people on the island.
How much do water sports in Paros cost?
The cost of water sports in Paros depends on your level of expertise and the number of participants, as well as whether you hire equipment or bring your own. Equipment is provided for most of the water sports featured here, so that will be included in the price.
Wind Surfing: Equipment rental begins at around €35/hr (depending on your level and whether require a private lesson).
SUP: Prices start at €20/hr
Kayak: Prices start at €20/hr
Diving: Diving from €85 (increasing depending on the number and style of dives).
Kitesurfing: Equipment rentals start at €30/hr (depending on your level and whether you require a private lesson).
Waterski: €50/15min
How long can I rent water sports equipment for?
Most water sports activities are for set amounts of time (from 15min to 1hr). However, it is possible to hire canoes, kayaks etc for multiple hours or even days.
We recommend you spend at least half a day on a water sports beach in Paros to enjoy your activity and leave yourself time to enjoy a swim.