Tradition and style go hand in hand as you explore Paros' charming fishing village of Naoussa.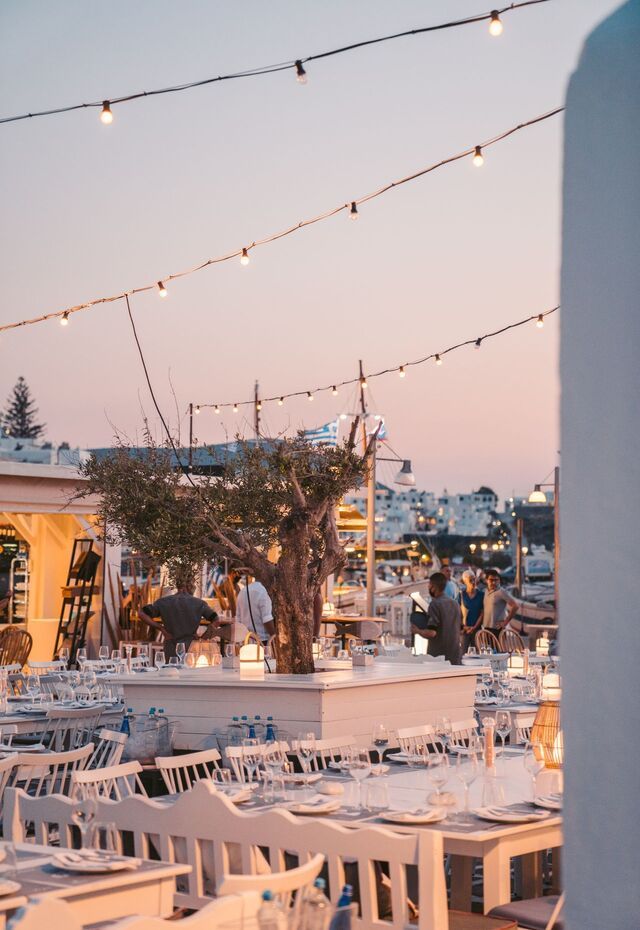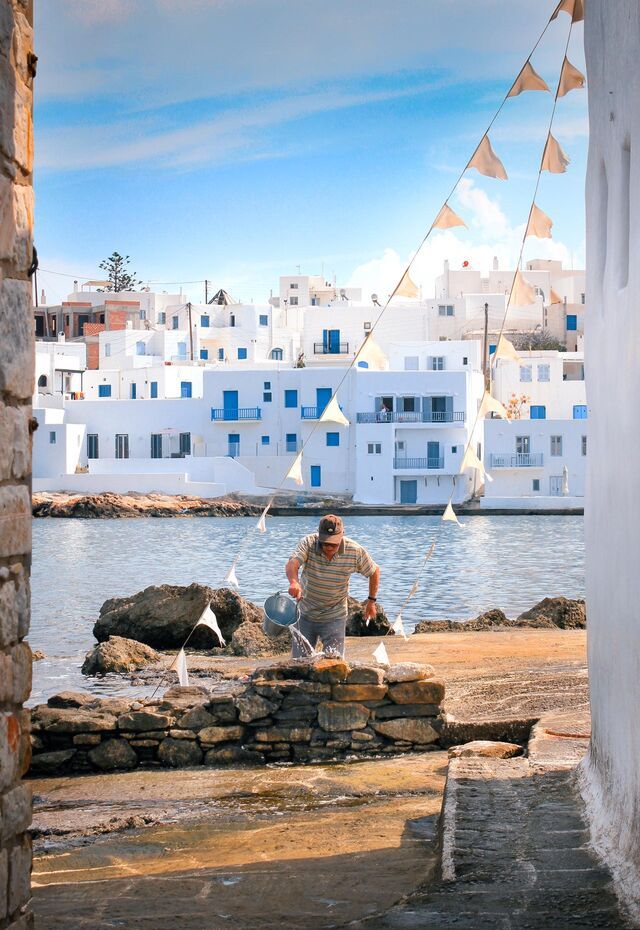 Duration
Half day
Season
April - October
OVERVIEW
Emotions run deep as you explore the fishing village of Naoussa. Paros' second largest settlement is also its most atmospheric: picture-perfect quaintness through one eye and island chic through the other. It manages, at the same time, to be both deeply authentic and flush with a love of living life for today.

All those whitewashed houses and Aegean-blue shutters, elegant shops and cobblestone alleyways, and little churches and bougainvillaea-filled courtyards … this is the Cyclades doing what it does best. It's a scene of tranquility that's a far cry from when the island was the subject of frequent pirate raids during Venetian times.

But where Naoussa, on the northern shores of Paros, reveals its soul is in simply exploring its tiny harbour, with remnants of its Venetian past and an abundance of traditional fishing boats and seafood tavernas.
DON'T MISS
The port
Strolling through the port of Naoussa, you're instantly struck by two things: the remnants of the Venetian Castle (Kastelli) and the delicious seafood in all the seafront tavernas.

A part of the 15th century Venetian fortress can still be seen in the harbour, including a partially submerged watchtower. Meanwhile, all around you are coffee shops and tavernas serving char-grilled octopus and the island's other speciality, gouna – or sun-dried mackerel, seasoned and grilled and served with souma (a local raki) or wine.
Take your time to wander around, marvelling at how the tavernas, shops and churches blend into one another. Some of the tavernas are actually former boat sheds. Taking pride of place at the northern end of the harbour is the picturesque chapel of Agios Nikolaos, protector of sailors and fishermen (they say Paros has the largest fleet of fishing boats in the Cyclades).
The alleyways
From here, disappear into the whitewashed alleyways, amidst the bougainvillea, cobblestones, souvenir shops, art galleries and countless small bars & cafés. You won't be able to miss the Church of the Assumption of the Virgin, occupying the highest spot of the village.
The Folklore Museum
And make some time to visit the Historical and Folklore Museum of Paros, next to the main square, housing the collection of Othon Kaparis, a celebrated local doctor – from findings from the island's Mycenaean Acropolis to items of everyday life in rural Paros, nautical maps and historical books.
GET PLANNING
From Parikia (the capital of Paros):
By car, taxi, or bus (KTEL): 11km
From the airport to Parikia (and then as above):
By car, taxi, or bus (KTEL): 20km
You can enjoy the full experience of Naoussa from April-October.
We recommend visiting from May-June and September-October, when shops and archaeological sites are still open but the streets are quieter.
On August 23 there is a re-enactment of a pirate raid, including fireworks and dancing.
The Folklore Museum: Opening hours 10:00-13:00 daily from April to October (seasonal opening hours apply). Tickets €2.
There's a lively wine and fish festival on the first Sunday of July.
Autumn
Spring
Summer
Winter
You don't need a guided tour to enjoy Naoussa, so how long you take to explore is up to you.
The sights mentioned can be covered in half a day.
With excellent nearby beaches and all tavernas and bars, why not make a day (and night) of it?