Doubling as the main town and port of Paros, Parikia hides many secrets that you'll adore discovering on one of the most cosmopolitan yet traditional islands in the Cyclades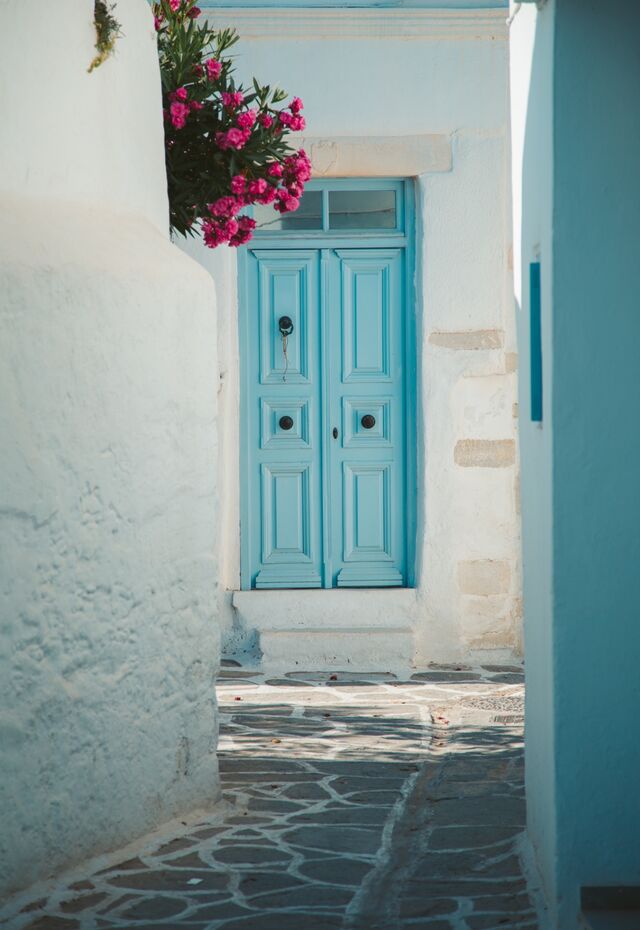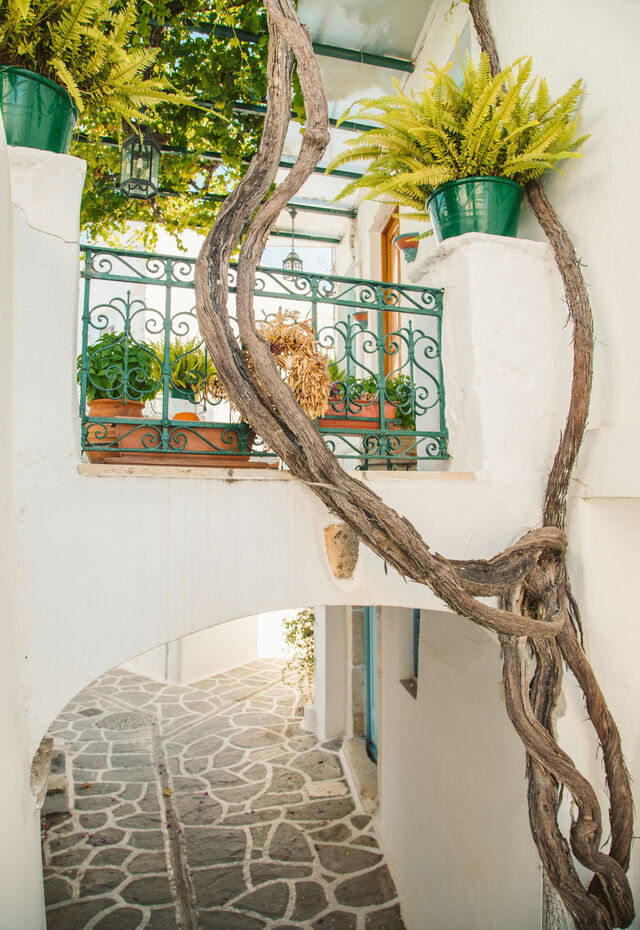 Duration
2 - 3 hours
Season
All year round
OVERVIEW
A walking tour of Parikia in Paros
The fact that Paros is one of the most cosmopolitan islands in the Cyclades (which is saying something!) hasn't stopped it from retaining its traditional character. It has fans all over the world… some who come to have fun with friends and others who simply long to lay back and enjoy the peace and quiet. But whichever category of traveller you fall into, your first impression (if you arrive by boat) will be the same as you set eyes on Parikia, the settlement that doubles as Paros' main town (or Hora) and port.

All the magic of the Cyclades is concentrated here. So whatever plans you've got lined up for your holidays in Paros, make sure to set aside some time to explore Parikia's cobblestone streets. You'll find colourful doors and window frames, tasteful shops, bars and restaurants, and discover sunset spots and historic sights you might otherwise have missed.

We're here to help you get the most out of your time in Parikia, with suggestions and tips – such as coinciding your visit with the Paros Festival (usually in July), when Parikia becomes the epicentre of the island's cultural celebrations. So whenever you visit, you can put a walking tour of Parikia on your bucket list of things to do in Paros.

DON'T MISS
Highlights of Parikia in Paros
A walk along the waterfront
Your date with Parikia begins at the windmill which welcomes visitors arriving at the port. The route we propose follows the waterfront, passing plenty of cafes, restaurants and shops, as well as bars and other nighttime venues you might well be returning to. Make sure to stop at the Church of Zoodochos Pigi on the way, a picturesque little church in a cobblestone square. As Paros is in the Cyclades, it won't surprise you that you keep walking until you reach a second windmill at the end of the gulf, where you'll find a small harbour with wooden finishing boats bobbing in the sea. There's a small beach and a wonderful view of both the sugar cube houses of Parikia and the port. Sunsets here are magical.
Main Street
Your journey continues as you meander through the narrow cobblestone streets of Parikia, with their brightly coloured bougainvillea and welcoming shops. Enjoy the alleyways at your leisure, but be sure to leave time for the main shopping street of Parikia. Officially, it's called Navarchou Vasiliou Gavrani (continuing onto Lohagou Kourtinou Street) but you can call it Main Street, as many others do. It ends at Manto Mavrogenous Square (named after a Greek War of Independence heroine) and is filled with stores, ceramics workshops and little bars and cafes with wooden tables, as well as tavernas and restaurants hidden in nooks and crannies. You can pop into the Church of the Holy Trinity and the Church of Pamegiston Taxiarchon, which has beautiful frescoes.
Kastro
Carry on walking and it'll be just a matter of time before you arrive at Paros' castle (Frangokastello) on the hill of Agios Konstantinos in the southwest of Parikia. It was built on the site of an ancient acropolis and you can still see the foundations of ancient temples, as well as part of the tower of the Venetian castle. Constructed in 1260 when Paros was still part of the Duchy of Naxos, it was essentially the only medieval settlement on the island.

So the streets and alleys are narrower than elsewhere, while the houses are small and built in clusters, according to the medieval playbook of fortifications (as on many other Cycladic islands). Your walk around the castle yields a number of gems, with chapels literally built into the rock (such as the 16th-century Virgin of the Cross, Agia Anna, Agios Markos, Agios Stylianos and the architecturally impressive Agios Konstantinos). Sunsets here carry the bonus of being able to enjoy a cocktail with a view of the Aegean.
Panagia Ekatontapiliani
Close to the harbour, the Church of Panagia Ekatontapiliani (the church of a hundred doors) is another Paros landmark. It's one of the most important and best-preserved Early Christian temples in Greece, said to have been built in the middle of the 4th century AD by Saint Helen or Constantine the Great who was fulfilling his mother's last wish. The older church of St Konstantinos & St Eleni was destroyed and rebuilt by Emperor Justinian, according to the architectural rites of the time. Inside are several icons dating to the 17th and 18th centuries, and it also houses the Byzantine Museum of Paros, which includes exhibits from the church. If you find yourself in Paros on August 15, you'll be treated to a unique spectacle that involves a parade of the icon of the Virgin Mary and Panagia Ekatontapiliani's epitaph, as well as a nighttime festival and fireworks display.
Archaeological Museum of Paros
Very close to Panagia Ekatontapiliani, you'll find the Archaeological Museum, another must on your bucket list of things to do in Paros. You'll find exhibits from the Neolithic Age up to Early Christian times as well as two halls and an atrium dedicated to Cycladic idols and figurines, marble sculptures, ancient coins, Roman and Greek sarcophagi, and fragments of mosaics found inside Panagia Ekatontapiliani.

Book your trip
All your holiday planning needs in one place, letting you book direct and benefit from official online rates
Group
GET PLANNING
How do you get to Paros?
You can get to Paros by boat from Piraeus and Lavrio (close to Athens) and there are ferry connections from other islands in the Cyclades (Santorini, Mykonos, Naxos, Milos, Tinos etc), as well as from Crete. Paros also has an airport with regular connections to Athens.
How do you get to Parikia from Paros' airport?
Parikia is 11km (15-20min) from the airport. You can reach it by hire car or taxi. Alternatively, a shuttle bus runs from the airport to town.

When is the best time to visit Parikia in Paros?
You can visit Parikia all year round, but during the summer months you're likely to find more shops and restaurants open and considerably more life.
With all the things to do in Paros, it has become one the most popular Greek islands so we recommend visiting in April-May or September-October when the weather is still warm enough to swim and Parikia – and Paros in general – are less busy.
— Museums and Cultural sites

Archaeological Museum of Paros
Opening Hours & Tickets
Autumn
Spring
Summer
Winter
How much time will I need to visit Parikia in Paros?
If you follow the walk we've suggested, the distance will be around 2.6km, so you'll need around 2-3hrs to include all the stops.
However, it's worth spending the whole morning or afternoon in Parikia (even though you're likely to revisit during your holidays in Paros), so you can take in the sights, do some shopping and enjoy a drink or some food, especially if you choose a cafe or restaurant with a sea view.