READING TIME
As long as it takes to eat a slice of watermelon
As Greece's biggest island, and practically a separate country unto itself, Crete has everything you need for your holidays. There's awesome food, wine and culture, the locals are famed for their hospitality and the beaches in Crete are some of the best in the world. There are more than 600 of them laid out along 1,000km of coastline, from small, barely accessible gems to more developed and family-friendly ones, which means that unless you plan to stay for a few months, seeing them all could prove tricky. With that in mind, we've compiled a list of 15 of the best (with distances from Chania, Rethymno, Heraklion and Agios Nikolaos) so you can go about organising your vacations in Crete straight away.
Balos beach
Love it for its Instagrammability
This world-famous, double-sided lagoon beach and its surroundings in the Chania district are a Natura 2000 enclave for endangered species and, predictably, getting there is somewhat of a mission. Once upon the eminently Instagrammable viewpoint, though, it all becomes clear. Balos beach itself is a smattering of pink, crushed-up shells and fine white sand, with its shallow waters (ideal for children and families) a turquoise rainbow.
Amenities: Sunbeds & umbrellas, snack bar, parking
Access: By road & 20min hike or 90min boat ride from Kissamos
Distance from Chania: 90km
Elafonisi beach
Love it for its exotic feel
Elafonisi beach is similar to Balos in that it's also lagoon-like with shallow turquoise waters and rose-tinted sand, optimal for young children to splash around in. It's popular with families and kids as well as wind- and kite-surfers and is a nature reserve, but that's where the similarities end as it's on an islet connected by a thin causeway. Nearby is Kedrodasos beach, which you can explore for a quiet walk away from the crowds.
Amenities: Sunbeds & umbrellas, snack bar, water sports, parking
Access: By road or hiking on the E4 from Paleochora
Distance from Chania: 75km

Preveli beach
Love it for its unique estuary
Flanked by rugged cliffs, exotic, palm-fringed Preveli beach boasts a river that cuts right across it, forming a freshwater lagoon that spills into the Libyan Sea. This sandy paradise, with its shingle-strewn seabed, is what dreams are made of. Singular is an understatement. You can take a walk around and hike into the Kourtaliotiko Gorge, through the palm grove canopy and further towards Preveli Monastery, or swim to the mythical heart-shaped rock across from the beach. You might find a new meaning to your holidays in Crete. You can bet your kids will.
Amenities: Snack bar, parking
Access: By road & 20min walk or boat from Plakias or Agia Galini
Distance from Rethymno: 46km
Matala beach
Love it for its hippy past
The claim to fame of Matala beach goes back several decades to the heyday of the free love movement, with the limestone caves that line the fine-pebble beach once serving as makeshift homes for the hippies who visited. Nowadays, it's fully organised (and family-friendly) which makes it feel a little incongruous, but don't let that stop you from enjoying it. A 1.5km hike away is Kokkini Ammos beach, equally pretty and worthy of your time (it caters to nudists at its northern end). If you feel bold, the Minoan Palace of Phaistos is not too far away.
Amenities: Sunbeds & umbrellas, snack bar, parking, cafes, tavernas, bars, souvenir shops
Access: By road
Distance from Heraklion: 69km
Vai beach
Love it for its palm tree forest
Nothing says vacations in Crete like palms on a beach, right? With Europe's biggest palm tree forest, Vai beach has appeared widely in the Insta-verse. Rest assured, Vai does exactly what it says on the tin. When you get hungry, head to the taverna and try some of the local fare. Burn it off with a hike to the nearby Psilli Ammos bay, and at no point should you consider leaving without snagging some of the regional miniature bananas from local farmers.
Amenities: Sunbeds & umbrellas, water sports, parking, snack bar, taverna
Access: By road
Distance from Agios Nikolaos: 50km

Seitan Limani beach
Love it for its cliff-side setting
Like a good cup of coffee, Seitan Limani is best enjoyed early morning or late afternoon when the crowds are sparse. This fine pebble beach is extremely Instagrammable, and despite its grisly origin (the name literally means 'devil's port' on account of the strong currents) and the steep 20-minute downhill trek, it is a must-see. This secluded cove, wedged in between sheer cliffs, is as small as it is charming. Best beach in Crete? Maybe. Most quaint? Definitely. Look out for local kri kri goats.
Amenities: Snack bar on the plateau
Access: By road & 20min hike
Distance from Chania: 22km

Chrissi beach
Love it for its golden touch
Chrissi beach (golden in Greek, or Belegrina) is a bit of a misnomer as it is in fact part of a small homonymous islet off the south coast of Crete that includes many other superb beaches. It lives up to its name, though, which is immediately apparent once you step off the boat (the only way of visiting).
This Natura 2000-protected habitat is paradise on earth and home to several migratory species as well as the largest Lebanon cedar tree forest in Europe. You can explore the Minoan ruins, snorkel and relax on its sandy shores till the boat comes back. Gold, indeed.
Amenities: Sunbeds & umbrellas, snack bar
Access: By boat from Ierapetra
Falasarna beach
Love it for its water sports
Found on the west coast (as many of the best beaches in Crete are), this is the all-inclusive of beaches in Chania, with a wide array of water sports (jet-ski, SUP, windsurf, paragliding) to keep the kids and adults happy. Essentially an assortment of one big and some smaller sandy beaches, Falasarna beach benefits from big waves when it's windy (it's more suited to families on calmer days) and some of the clearest water you'll see. Sunset cocktails will never taste as good.
Amenities: Sunbeds & umbrellas, beach bars, water sports, parking, tavernas
Access: By road
Distance from Chania: 51km
Loutro
Love it for its postcard charm
The small fishing village of Loutro punches well above its weight. Getting there is about a 10min boat ride (or an hour's walk) from Hora Sfakion(other options include Sougia, Gavdos, Paleohora and Agia Roumeli) but the route is magical and the destination is postcard-perfect. There are numerous beaches here, most of which you can freely explore (we recommend Glyka Nera, Marmara and Perivolakia). The snorkelling is also fantastic so pack for that, and if you're into exploring you'll be rewarded with some impressive Venetian ruins nearby.
Amenities: Sunbeds & umbrellas, water sports, tavernas, cafes
Access: By boat
Triopetra beach
Love it for the tranquility
One of the best beaches in Crete, and certainly one of the most peculiar, is Triopetra (which gets its name from the three giant boulders sticking out of the sea). This long, sandy expanse splits into two separate enclaves, Mikri & Megali beaches, courtesy of a rocky outcrop that also doubles as the designated Instagram spot. It is usually bereft of crowds, even in high season, thanks to the frequent westerly winds, making it ideal for anyone looking for tranquility on their holidays in Crete.
Amenities: Sunbeds & umbrellas, parking, tavernas
Access: By road
Distance from Rethymno: 47km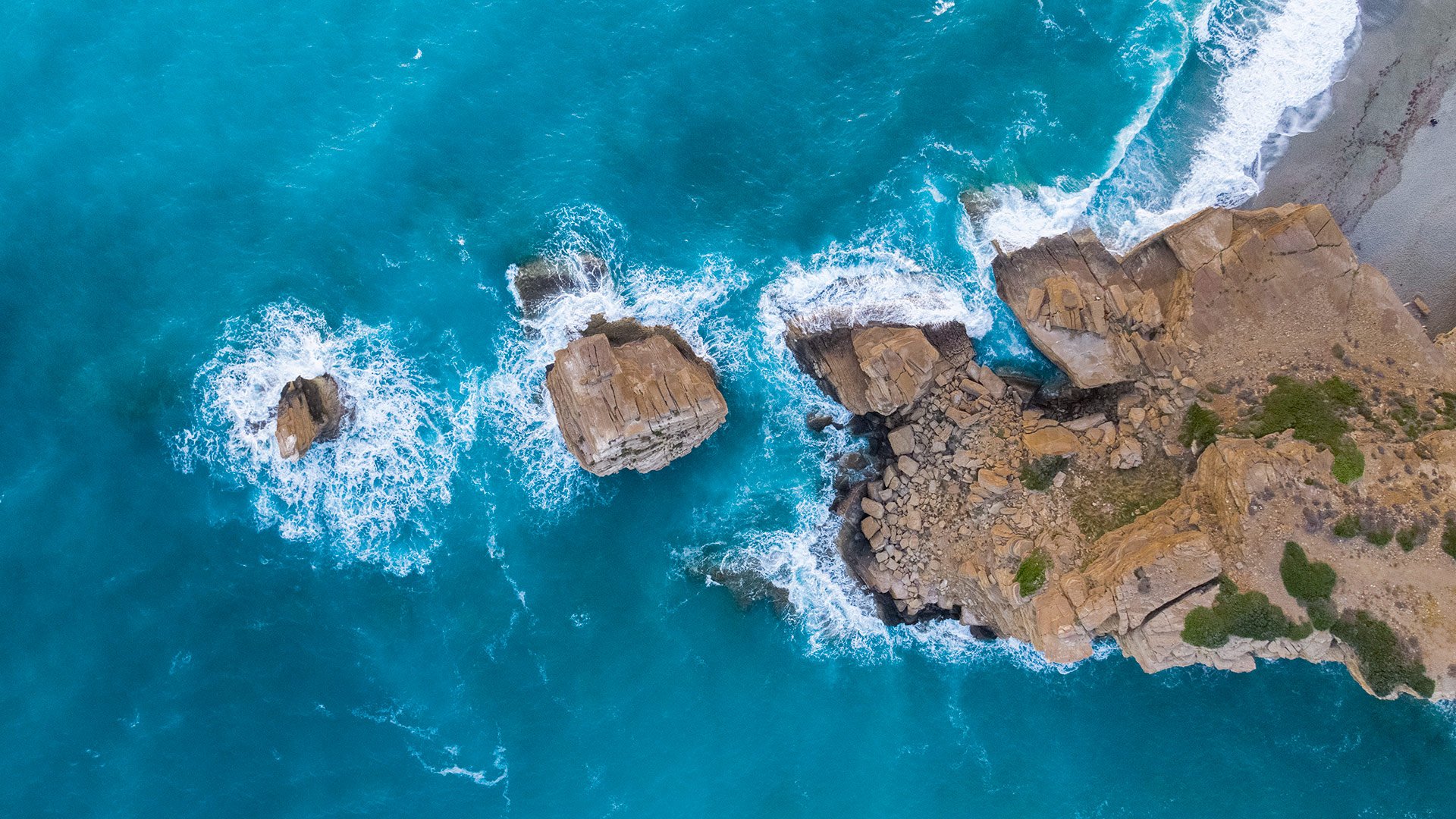 Agiofarago beach
Love it for its seclusion
Secluded takes on a whole new meaning at Agiofarago beach. If the name doesn't clue you in (it means saint's gorge) the obligatory 30-minute hike through the imposing canyon (unless you take a boat from Matala, Agia Galini or Kaloi Limenes) and lack of any amenities surely will. Flanked by sheer rock face, with clear waters lapping its golden sand, this place is great for couples and snorkelling enthusiasts. Some of the caves inside the gorge are reportedly also home to ascetics and hermits so maybe pack a flashlight.
Amenities: None
Access: By road & 30min hike or by boat
Distance from Heraklion: 71km

Kolokytha beach
Love it for its remoteness
They say the journey is as important as the destination. Here to prove it we present Kolokytha, whose landscape offers a wonderful contrast with cosmopolitan Elounda. This small islet near Spinalonga is accessible by crossing the Elounda channel and greets you with a delightful combination of old water mills, salt flats and wetlands (it's a flamingo spot), as well as the chapel of Agios Loukas above the beach. Kolokytha is not the only beach on the islet but it is one of the best, attracting a fair few people, so be prepared to share the shiny, shallow turquoise waters with families and snorkelers.
Amenities: None
Access: By road to Elounda or by boat (day trips)
Distance from Agios Nikolaos: 12km

Voulisma beach
Love it for being family-friendly
The white sand and teal-hued waters of Voulisma beach will have you thinking of the exotic Caribbean in a hurry. This organised beach (and the less developed Istron Bay next to it) attracts a good cross-section of families and the water sports crowd.
The semi-circular cove is easily accessible and if you're not staying in Agios Nikolaos, it's worth combining your visit with a trip to the capital of the Lassithi region, where you can explore one of the most charming settlements in Crete.
Amenities: Sunbeds & umbrellas, water sports, parking, tavernas, beach bar
Access: By road
Distance from Agios Nikolaos: 12km

Kalypso beach
Love it for its photogenic scenery
Kalypso beach certainly lives up to its name, as you'd need Herculean amounts of willpower to stop Insta-snapping it. This tiny, hidden-away strip of fjord-like bay is said to be where Ulysses met with the queen temptress. There's no sand, but the natural pool formations inside the fjord and the diving opportunities from the rocks more than offsets this. The beach is part of a hotel complex and is fully organised. During the summer, you can rent water bikes and take scuba lessons. Legend!
Amenities: Sunbeds & umbrellas, beach bar, water sports, parking (provided by the hotel)
Access: By road
Distance from Rethymno: 36km

Agia Pelagia beach
Love it for its cosmopolitan vibe
Agia Pelagia beach caters to everyone. This once small fishing village has turned into a fully functioning tourist resort with hotels, restaurants, bars and excellent water sports facilities (including scuba diving). It attracts families as well as younger crowds due to its party vibe. If you want something a bit quieter, you can swim round to the tiny sandy beach around the bay to the north, close to the cave-chapel of Evresi. As for Agia Pelagia, enjoy with abandon.
Amenities: Sunbeds & umbrellas, water sports, beach bars, parking, tavernas
Access: By road
Distance from Heraklion: 24km

The best beaches in Crete
Crete is a beach delicacy that caters to every palette. From off-grid, remote natural wonders to the more accessible and relaxed, complete with all facilities, it's got you covered.
Book your trip
All your holiday planning needs in one place, letting you book direct and benefit from official online rates
Private
Private