EXPERIENCE
Sampling the ouzo tradition of Plomari
Discovering the secrets of Lesvos' ouzo production is to listen in to the heartbeat of the legendary Greek summer.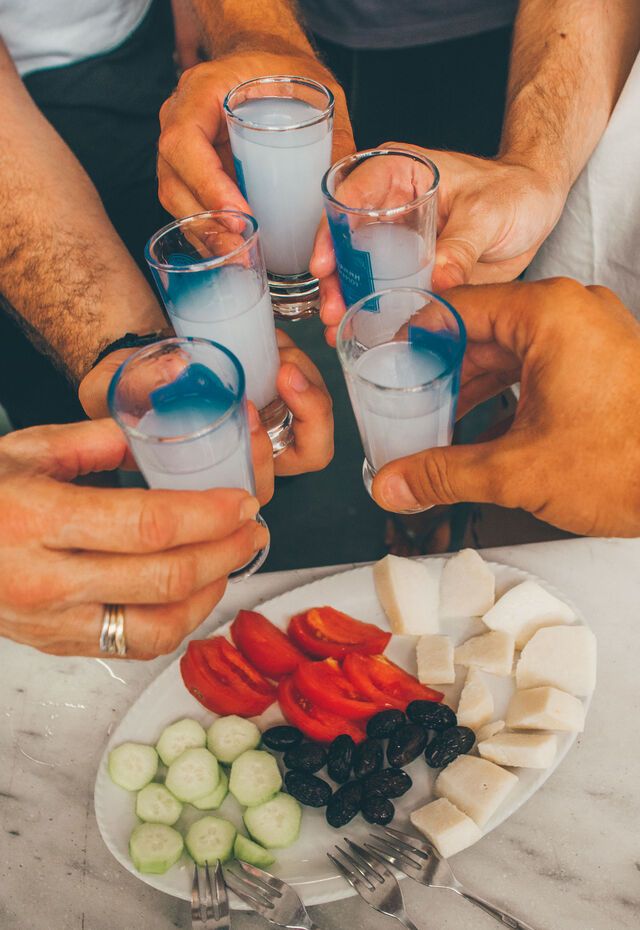 Duration
30 mins - 1 hour
Season
All year round
OVERVIEW
Nothing captures the essence of Greece quite like ouzo. You can picture the scene. A taverna overlooking the sea, with the sun just beginning to set on the horizon. A crystal clear liquid is poured into a glass and in drops an ice cube, instantly emitting magical swirls of white. To the sound of cicadas chirping in the background, you take sip. It tastes of camaraderie and laughter and music and sunshine; of clanking backgammon dice and twirling worry beads; and sometimes of the happiest kind of silence. Whatever the time of year, you're instantly transported to the legendary Greek summer.
The island of Lesvos is the heart of Greece's ouzo production, but to feel its pulse you have to head to Plomari, on the south coast. Ouzo-making here can be traced from the 19th century, when merchant families from Asia Minor settled and began producing the anise-scented distillate in bronze or copper stills. Each added their own character in the form of secret blends of herbs and spices that gave different versions of the subtle liquorice taste. A legend was born and a country has been celebrating ever since.
So what better way to learn about this unique grape- or grain-based spirit than to visit a Plomari distillery? You'll witness the production processes (traditional and modern), learn just when the aniseed is added, and what herbs and spices give the best result: fennel seed, star anise, mastic, cardamom, coriander, cloves, cinnamon and salt from the local Kalloni saltpans. Just don't expect to come away with the secret formula.
After some ouzo tasting, you're sure to buy a bottle or two. And you'll immediately want to find yourself a seaside taverna and order a seafood meze – and taste for yourself the camaraderie and laughter and sunshine… and the happiest kind of silence that ouzo can bring.

DON'T MISS
Barbayanni distillery & museum
Barbayanni is a name that has become synonymous with ouzo and Lesvos. Its distillery features a museum where you will find original equipment used to bottle and label the spirit, as well as the first alembic, constructed in 1858 in Constantinople and used for testing the century-old recipes and techniques that became the Barbayannis family's trademark formula.
Ouzo Plomari Isidoros Arvanitis distillery & museum
The World of Ouzo Μuseum will take you on a journey of modern and traditional ouzo production in small handmade copper stills. You will find historical artefacts of more than 120 years of production and learn why the ouzo here is double distilled for nine hours at a time.
Book your trip
All your holiday planning needs in one place, letting you book direct and benefit from official online rates
GET PLANNING
Both museums are found on the main road from Mytilene town to Plomari.
You can take a taxi or walk 1.7km between the museums.
Plomari can be reached by bus from Mytilene town.
From Mytilene town to the World of Ouzo Museum:
By car or taxi: 37km (50mins)
From Mytilini town to the Barbayanni Ouzo Museum:
By car or taxi: 39km (55mins)
Visiting the Plomari ouzo distilleries can be done at any time of year, but what a shame not to do so in spring and summer when you can have the full taverna and meze experience afterwards.
The museum opening times differ between winter and summertime. So we suggest checking before you visit.
On holidays and Sundays, the Isidoros Arvanitis Museum is closed whilst the Barbayannis Museum may open upon agreement.
Autumn
Spring
Summer
Winter
Each museum can be visited in 30mins – 1hr.
Entry is either free or costs two euros for the tour and tasting.
You can just turn up and join other visitors, or the distilleries may start a tour just for you upon your arrival.