Discover all the best food & drink experiences in Naxos, with cookery classes and food tours including cheese-tasting and visits to an olive oil press, a citron liqueur distillery and a vineyard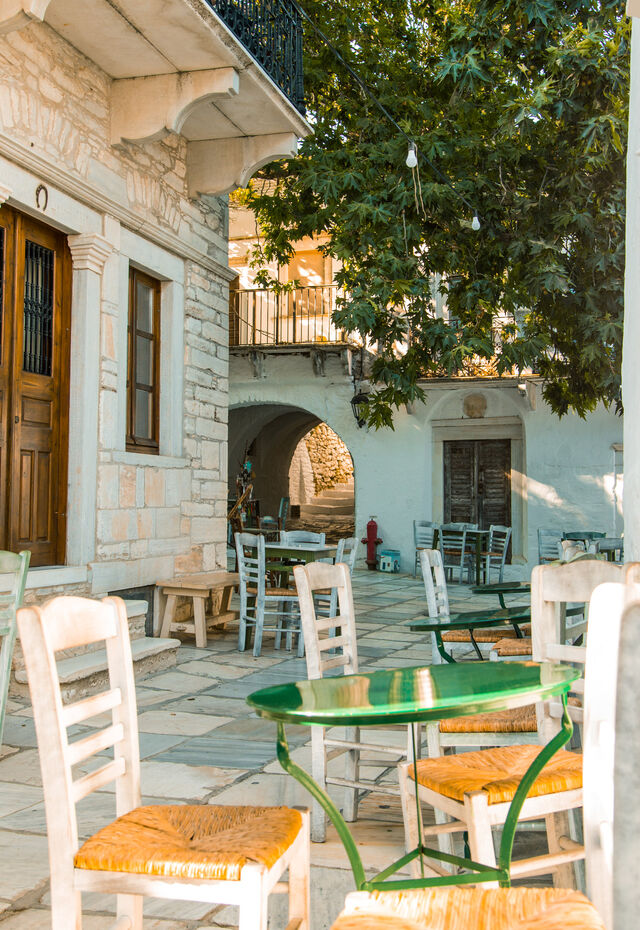 Duration
Ηalf a day
Season
Spring & Autumn
OVERVIEW
Summer holidays in Naxos mean eating and drinking the best that the Mediterranean has to offer. The secret lies in the green mountains and fertile planes that create a landscape that couldn't be more different to the dry and arid conditions on many other Cycladic islands and allow around half the local population to be involved in agriculture. As a result, Naxos is virtually self-sufficient when it comes to local produce. Pastures, fruit & vegetable plots, dairy farms, olive groves, vineyards, apiaries … you'll enjoy their produce in tavernas and shops all over the island. And seafood, too, of course … fresh from the Aegean Sea. So adding a gastro tour or a cooking lesson to your holidays in Naxos, won't just be an unforgettable taste experience. It is one of the best ways to help you get to know the island and its inhabitants.
If there's a local product in Naxos that stands out, it's the cheeses. Three have been given Protected Designation of Origin (PDO) status (graviera, arseniko and xinotiro). Likewise, Naxos' potatoes (Protected Geographical Indication) are famed in Greece, as is the island's aperitif, citron liqueur.
Many tavernas are farm-to-table, especially in the villages (Eggares, Kastraki, Apiranthos, Chalki, Filoti etc). And those that don't have their own farms or vegetable plots make a point of using local products in their dishes. This is the secret to so many classic Naxian dishes… rosto pork (slow-cooked with wine, tomatoes and garlic), kokoras krasatos (cockerel in red sauce), pork fricassee with amaranth grass, kalogeros (beef with aubergines and a mix of cheeses), zoula (stewed nanny goat) and many more. Naxos's best-known cold cut is zamboni (ham cured in salt and flavoured with garlic, cinnamon and cloves) and melahrino (a kind of walnut pie with citron liqueur) stands out amongst the sweets.
There's plenty of choice when it comes to gastro tours and other food experiences in Naxos, allowing you to get to know the products and the people behind them. Some concentrate on the main town (Hora) and others take you to mountain villages. There are also half or full-day tours that include both.