Whichever type of waters sports you're into, Naxos and its awesome beaches have you covered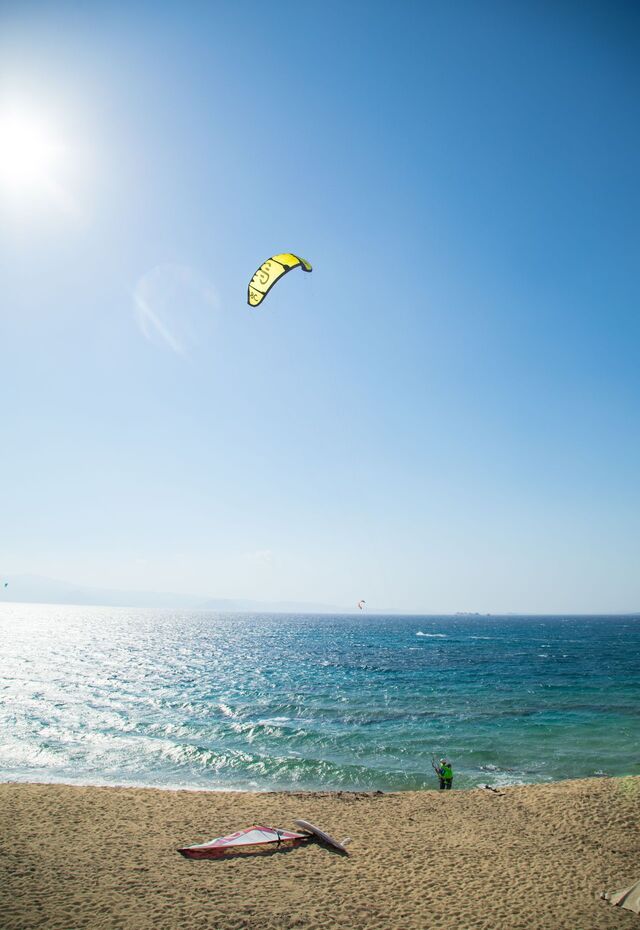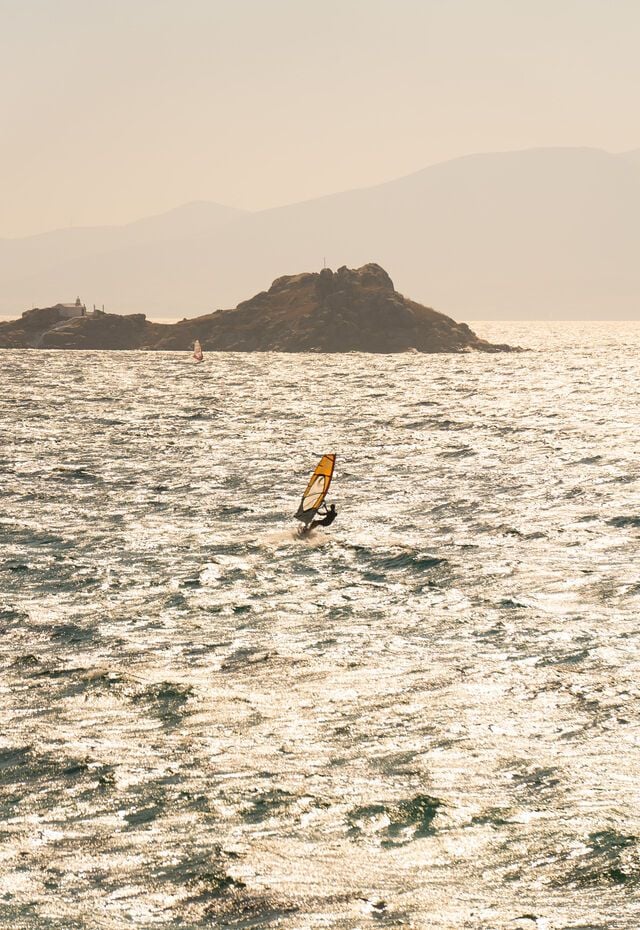 Duration
Half a day
Season
May - October
OVERVIEW
The water sports scene in Naxos
The biggest of the Cyclades islands, Naxos caters to everyone, welcoming families, friends and couples who never fail to enjoy the charms of Hora (the main town) and the many villages, as well as the wealth of food and cultural sights like the Temple of Demeter. But Naxos also gives you the chance to try your hand at a whole range of different water sports that are certain to add bounce and adventure to your days on the beach.
So to help you make the most of your holidays in Naxos, we've gone looking for the best water sports beaches, whether you're after something adventurous or an activity for the whole family. There's adrenaline-fuelled fun like waterskiing and jet skiing or being pulled on inflatable bananas and tubes. Or maybe you're looking to leave a smaller carbon footprint. No problem. You can wind & kitesurf or opt for a more intrepid option, like hiring Stand up Paddleboards (SUP), sea bikes or kayaks. If you're into water sports, you'll find it in Naxos.

DON'T MISS
The best water sports beaches in Naxos
All-time classic water sports
You know that classic water sports fun you associate with summer holidays in Greece … like being pulled on inflatable tubes and bananas, or jet-skiing & waterskiing? Well, you'll find them in Naxos on beaches like Agios Georgios and Plaka. Agios Georgios is fairly close to Hora (the main town) and it's one of the most popular water sports spots on the island (right up to fly-boarding and wakeboarding). It also boasts fine sand and shallow blue water to go with sunbeds, umbrellas and beach bars. Meanwhile, Plaka has shallow green-blue water and white sand that lends it an exotic tinge. Apart from all the classic water sports options, Plaka also offers parasailing and parasailing.

Windsurf & Kitesurf
Agios Georgios and Plaka are also beaches on Naxos that are excellent for wind & kitesurfing, as is Mikri Vigla, where the wind conditions are often excellent. And when your work is done, the fine sand and shallow waters await. Meanwhile, Kastraki is essentially the continuation of Mikri Vigla and comes equipped with a wind & kitesurfing club. Meanwhile, a popular spot for wind & kitesurfers in southern Naxos is Glyfada beach. Even if you're not a wind- or kitesurfer, you'll love the seclusion of the sandy shore as you watch the acrobatic figures racing up and down.

Diving & Snorkelling
For underwater exploration, Agios Prokopios and Agia Anna are the beaches for you as both have diving centres. Agios Prokopios is family-friendly, with fine white sand that stretches for 2km and is lapped by green-blue water. It is windless, organised and thanks to its size offers tranquil nooks and crannies. Agia Anna is livelier and also long and sandy, but here you can kick back and – once you're done diving – enjoy a seafood lunch by the sea at one of the tavernas lining the shore. If you stay for sunset cocktails, so much the better.

SUP, Sea Bike, Canoe & Kayak
If you're looking for a mellower water sports experience, Naxos has you covered in the form of Stand up Paddleboard at beaches like Agios Georgios, Agia Anna, Plaka, Kastraki and Panermos. Panermos beach (aka Panormos) is a windless cove with green-blue waters and a mix of sand and shingle, as well as some palm trees giving it an extra tropical vibe. There is also a series of caves that you can explore. If you fancy hiring a sea bike or canoe, you'll find them at Agios Georgios, Agia Anna and Plaka. What's more, you can book an organised kayaking excursion, with stops to swim at various points before ending up in the famous Portara (the giant, half-finished ancient doorway by the port) to view the awesome sunset.
Book your trip
All your holiday planning needs in one place, letting you book direct and benefit from official online rates
Group
5 Hours
Free cancellation
Not sure? You can cancel this reservation up to 6 days in advance for a full refund
Private
Private
6 hours
Free cancellation
Not sure? You can cancel this reservation up to 48 hours in advance for a full refund
GET PLANNING
How do you get to Naxos?
Naxos has an airport with regular domestic flights to Athens and has daily ferry connections with Piraeus (the port of Athens) and regular seasonal ferry connections with other islands in the Cyclades as well as the Dodecanese and Crete.
How do I get to the beaches of Naxos?
Naxos is a relatively big Greek island, so you'll have the best experience if you rent a car. There is also a bus service to beaches at Agios Prokopios, Agia Anna, Mikri Vigla and Plaka.

What is the best season for water sports in Naxos?
Summer is the most popular season for water sports in Naxos. The weather conditions are ideal (and safe) and you are sure to find diving centres and water sports clubs open.
If you wish to enjoy your water sports fun with fewer people around, then visit Naxos in May-June or September-October, when it is quieter but the weather is still warm enough to swim.
If you have your own gear and want to have a go at wind & kite surfing, you'll find some of the specialised centres and clubs operating in autumn and winter, but keep in mind that weather conditions may not be safe for the inexperienced.
How long can I rent the equipment for?
Some water sports like canoeing, kayaking and wind & kitesurfing have rental packages for half-day, whole-day or several-day options. Waterskiing and inflatable tubes are by the turn.
We suggest you spend at least half a day at the beach to enjoy both a good swim and your water sports time.
What is the cost of water sports in Naxos?
Costs are dependent on your chosen water sports, your level of experience, whether you are alone or in a group, whether you're supervised or not, and if you rent equipment or bring your own gear. With most water sports, it's worth noting that equipment is included in the final price.
Windsurfing: Rental prices start from about €30/hour (depending on your level of experience and whether you have private lessons)
SUP: Prices start from about €15/hour
Diving: The cost is dependent on the course you choose. Snorkelling starts from about €25/hour and diving from €60 (depending on the number of dives)
Canoe: Prices start from about €15-20/hour
Kitesurfing: Rental prices begin at about €40/hour (depending on your level of experience and whether you choose to take private lessons)
Waterski: Prices start at about €30-40/10min
Inflatable tube & banana: Prices start at about €15-20/per person