Sifnos is where class meets tradition in the Cyclades. The whites of the churches, blues of the Aegean and pinks of the bougainvillea all seem even more vibrant here than on other Greek islands. And let's not even get started on the food! Sifnos is, after all, where Nikos Tselementes (a legendary Greek chef and cookbook writer) was born. With glorious sandy beaches, local crafts such as pottery and weaving, and ancient and medieval remains, there is no end to the attractions in Sifnos. And there's the bonus that it's one of the closer Cyclades islands to Athens, just 2-3 hours by fast ferry from Piraeus. Tempted? You will be after discovering all the amazing things to do on your holidays in Sifnos.
Be introduced to Apollonia, Sifnos' classy capital
The obvious place for everyone's holidays in Sifnos to start. The island's capital since 1836, Apollonia (or Hora) captures everything magical about this beautiful island – the food, the churches and the Cycladic aura – and presents it with unparalleled style, day and night. The Steno (the Narrow, as the name of Sifnos' central alleyway translates) gathers chic shops, cool bars and delicious eateries, ending at Heroes' Square (Platia Iroon).
But don't rush. Just wondering around Apollonia gives you a feel for Sifnos. Boutiques display elegant jewellery and memorabilia inspired by the Cyclades islands and the brightly coloured doorways and window frames beckon you to stop and soak up the atmosphere. A must-do in Sifnos' Hora is to pop into Rabagas – a 'multi-space' off the Steno that gathers a bar, a seafood restaurant, a gallery and an assortment of elegant clothes and jewellery shops. Pure class.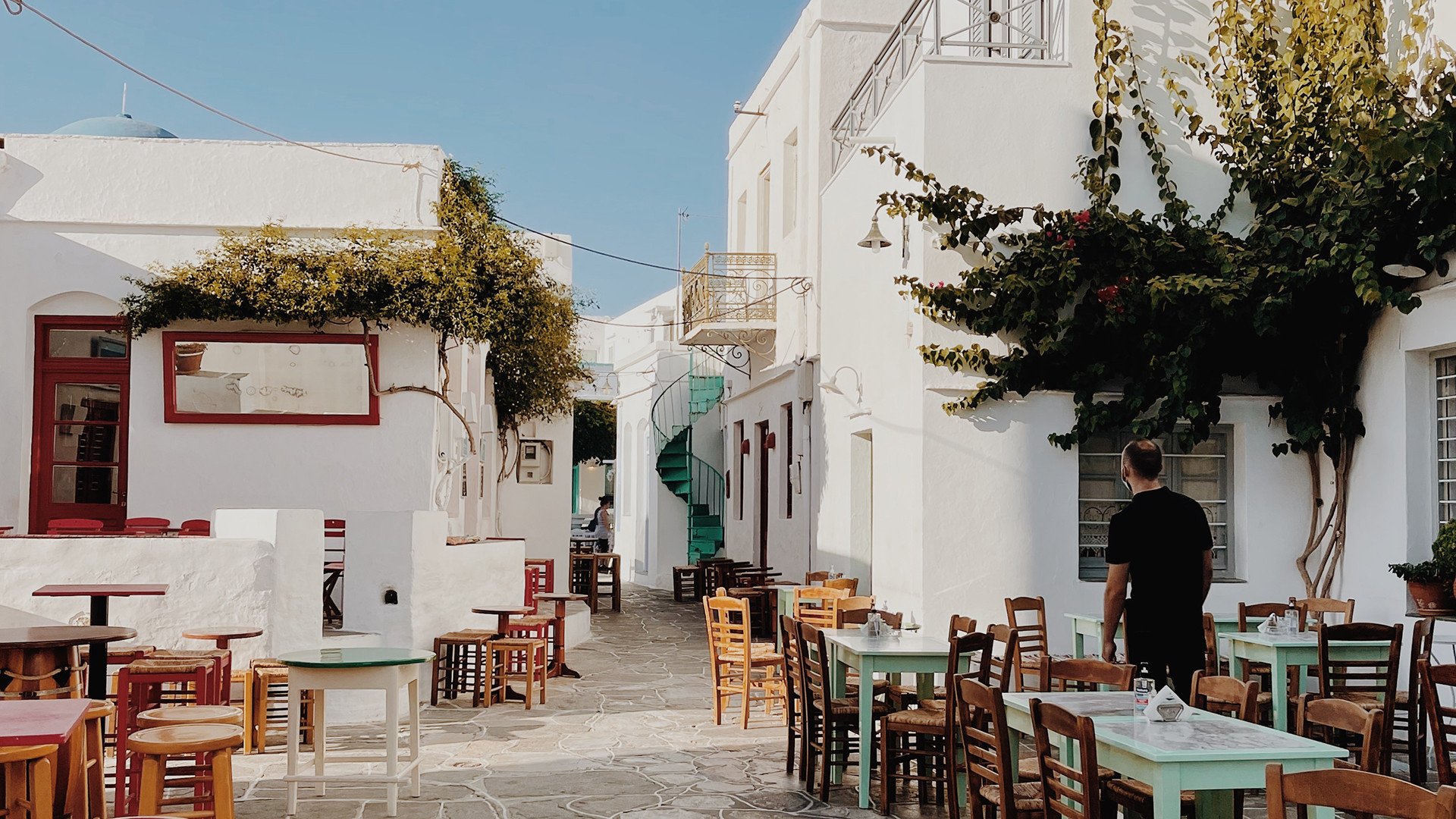 Photo by Petros Kaminiotis
Tip: In the summer months, keep an eye out for events in Apollonia and elsewhere – such as music & dance, pottery and painting exhibitions – which will give you yet another insight into the traditions of this magical island.
Set out on the footpaths of Sifnos
If you are into hiking, Sifnos is the island for you. It is literally covered in footpaths, some bigger and some smaller, with plenty of options to match your endurance. There's no better way to discover the island's beauty and reach spots with incredible views. An easy hike to start with is from Glyfos beach (or Vlychos) to Apokofto beach in Chrisopigi. You'll need just 15-20 minutes to complete it and the view from the chapel of Agia Ekaterini, with Chrisopigi and the blue of the Aegean Sea in the background, will be the star of your Instagram feed.
At Chrisopigi beach, you can continue a little further to the monastery (of the same name) overlooking the beach. Or if you've got it in you, there is a more demanding path to Fikiada, a beach that can be reached only by foot or boat. It starts from Platis Gialos beach and continues for 45-50 minutes through a cedar forest. That might sound a little tiring, but your first sight of the beach will be all the reward you need. Naturally, you'll need to come prepared with water, food and shade as you won't find anything here other than golden sand and blue-green water.
Tip: All the hiking paths of Sifnos are signposted, so don't worry about getting lost. Just relish the views! And if you want to enjoy the best sunset in Sifnos, climb to the church of St Simeon above Kamares beach. The view over the sea is breathtaking. Other great alternative sunset spots are the chapel of St Anna (Kamares) or the Monastery of Profitis Ilias.

Enjoy the photogenic beauty of Artemonas
Next up on your list of things to do on your holidays in Sifnos is to visit Artemonas, a traditional settlement just 1.5km outside Hora, offering a different kind of authenticity. You'll love strolling down the picturesque alleyways (with even prettier shops) at any time of day. And Artemonas is extra-special in how the old neoclassical buildings blend so perfectly with the Cycladic houses and colourful flowers. You'll want to take a photo every time you stop. Don't forget to climb to the top of the hill where there are two windmills with panoramic views of Kastro and Antiparos!
Explore the traditional settlement of Kastro
It doesn't matter who you ask on the island, you'll be told that no holidays in Sifnos are complete without visiting the historic settlement of Kastro (castle). Built on a rock, it has a unique view of the Aegean and is probably the most picturesque spot on the island, with a history dating to antiquity when it was the island's capital (as witnessed by the exhibits in the Archaeological Museum of Sifnos, which is found here). What makes Kastro unique, however, are the architectural elements that give it the semblance of a medieval fortress – narrow streets, loggias, arcades, coats of arms on the entrances to shops – which come from the era of the House of Da Coronia from 1307-1464 AD (a Spanish knight who belonged to the Knight Order of Saint Johann).
The best time of day to take a stroll around Kastro is before sunset, combined with an evening drink. But before you sit down, we've got something else for you. Just outside Kastro, there's a little road that takes you to the most Instagrammable chapel on the island, one of the star attractions of Sifnos. You'll probably already have seen it in photos: the Church of the Seven Martyrs, built on a rock and surrounded by sea. If you've got it in you, descend the footpath to the chapel and admire the view from there!
Tip: The best sunrise on Sifnos is from Kastro. Find yourself a bench and wait for the sun to rise above the Church of the Seven Martyrs. Breathtaking.

Take your choice of heavenly beaches
Let's face it. Most of your time on your holidays in Sifnos will be spent on the beach. And rightly so. Most beaches in Sifnos are sandy and just as nature created them but there are options with facilities if you want a little more comfort. The most cosmopolitan beach (and one of the largest) is Platis Gialos (sandy, with sunbeds, umbrellas, water sports and shops for evening entertainment) and Vathi and Kamares (by the port) also offer sunbeds and shade. Alternatively, the little tavernas and cafe at Faros beach are perfect extensions to your day by the sea. If a pebbly beach is more your thing, there's Vroulida on the north-western coast. And if it's untouched natural landscape you're looking for, our recommendation is Glyfo beach. It's an easy 5-minute walk from Faros beach (before setting off, pick up essentials from a cafe). As soon as you see Glyfo beach from above, in a beautiful cove with sparkling water and tamarisk trees, you'll understand.
For a swim in the most glorious blue water, followed by sunbathing and a meal with a sea view, Apokofto (with its view of the Monastery of Chrisopigi) is the beach for you. And for even greater isolation, you can dive from the rocks around the monastery. Meanwhile, the fishing village Cherronisos offers a relaxing setting with a small beach as well as little seafood tavernas and more churches.
Poulati beach features wild rocks, crystalline water and views of Kastro. And last but by no means least is Fikiada, a dream beach with amazing blue-green water (possibly the most beautiful on the island) – although it's quite a demanding walk to get here. If you're up for the challenge, be sure to come prepared.
Tip: On windy days, we recommend Glyfo and Apokofto, both of which are sheltered.

Learn all about Sifnos' pottery tradition
Sifnos has a long tradition in pottery, a craft that dates from the Early Cycladic period. Whether you're in Hora, Artemonas, Platis Gialos or just about any other inhabited part of the island, you'll find ceramics stores and workshops, so you'll be sure to find something to take home that matches your taste.
Our recommendation is the ceramics and local crafts of Lembesis. The Lembesis family, whose workshop is in a central location in Apollonia, has a distinct style you can see in all their work – popular but unpretentious and mainly blue and white. Buying something will make you feel like you've taken a piece of Sifnos home with you.
Another workshop with a very long history belongs to the Atsonios family, at Tsopos beach just outside Vathi. You'll immediately see their love for their craft. Their work is traditional yet modern, with minimal lines, bright colours and wonderful designs. You won't know what to choose first. Meanwhile, another workshop with special tradition is the aptly named I Diskoli (the Difficult) in Cherronisos, where each work of art is also a puzzle. And finally, yet another excellent choice is the Peristeriona workshop in Kamares. You'll find some of the most beautiful and elaborate ceramics on the island, with designs that are so detailed you won't believe they are drawn by hand.
Tip: The distinct chimney pots in Sifnos (known as Flari – or Flaros in the singular) are a key part of the island's pottery tradition and can also be found in ceramics shops.

Fall in love with the foodie side of Sifnos
There is no way that the birthplace of Nikos Tselementes, whose cookbook is a bible in so many Greek kitchens, wouldn't be one of Greece's great foodie destinations. And Sifnos doesn't disappoint. Whether you're in a traditional seafood taverna or enjoying the high-end dining scene, the experience will be exceptional. Just about anything you order will be memorable, but don't leave without trying revithada, a humble chickpea soup cooked overnight in a wooden pot that is a mainstay of festivals and Sunday lunches. Meanwhile, wild caper bushes grow in yards around town and their ripe fruit is used in Sifnos' famous kapparosalata (caper salad).
Yellow and crumbly manoura cheese belongs to the so-called 'wine cheeses' of Greece (ripening in wine leaves) and takes its place next to other Sinfian culinary stalwarts such as mastelo (lamb or goat slow-cooked in a clay pot), revithokeftedes (chickpea fritters), melopita (honey and cheese pie) and amygtholota (almond-based sweets). And what better way to get to know the soul of Sifnos than booking a cookery class on a farm and learning from a local?

Tip: The Nikos Tselementes Cycladic Gastronomy Festival takes place around the start of September each year, with authentic Sifnian recipes and dishes from other Cyclades islands. It's also an opportunity to learn about traditional crafts such as pottery and weaving and buy local products.

Become a local at a summer festival
If you want to feel an authentic Sifnian welcome then find yourself a festival. Some are easy to take part in and others require a long walk. But either way, you'll arrive at a little church where you'll find the most wonderful scene. A joyous mood, music without microphones and speakers, and (the only certainty) … food and wine for everyone. Don't hesitate to join in the dancing. It's one of the most memorable things to do in Sifnos.
Tip: Just note that the festivals, despite being one of the star attractions of Sifnos, aren't advertised, so ask a local if any are happening while you're there.

Best things to do in Sifnos
So what tempted you amongst all the things to do on your holidays in Sifnos? Are you a closet culture vulture planning to explore Kastro and Sifnos' pottery tradition? A foodie looking forward to tasting revithada? A stylista tempted by those boutiques? Or are you already making a wish list of sandy beaches?

FAQs about Sifnos
Kouvanos (or officially Kavos Sunrise) – Located in Kastro and one of Sifnos' most characteristic bars. To go you must: a) be cool, b) drink rum, c) like Cuba. After listening to Kostas' Cuban stories, you'll get served your drink and on a terrace listening (or dancing) to Cuban rhythms. Tip: The light at dusk makes early evenings the ideal time to visit.
Botzi – Located in the Steno (the central alleyway of Apollonia) but you feel like you are in a hidden neighbourhood. Nice music and even nicer cocktails.
Diachroniko – A small bar in Artemonas with just a few tables. A favourite hangout where you'll be joined by the locals.
Doloma – In the nicest part of the Steno in Apollonia. A relaxed and quiet little bar with nice drinks and good taste in music.
Kitrino Podilato (Yellow Bicycle) – In a beautiful courtyard in Artemonas, with a wide variety of delicious sweets. If you visit early in the evening, you'll get the best choice.
Dipseli – Located in the Steno of Apollonia and (rightly) famous for its loukoumades (donuts).
Krypti – For something sweet in Kastro, Krypti is the place for you – especially if you've got a taste for loukoumades. Check out the opening hours before you go.

Book your trip
All your holiday planning needs in one place, letting you book direct and benefit from official online rates
Private
5 hours
Free cancellation
Not sure? You can cancel this reservation up to 48 hours in advance for a full refund
Group
5 hours
Free cancellation
Not sure? You can cancel this reservation up to 24 hours in advance for a full refund
Private
6-7 hours
Free cancellation
Not sure? You can cancel this reservation up to 48 hours in advance for a full refund