EXPERIENCE
A walking tour of Sifnos' main town
Apollonia takes everything most authentic and classy about Sifnos and presents it with classic Cycladic grace.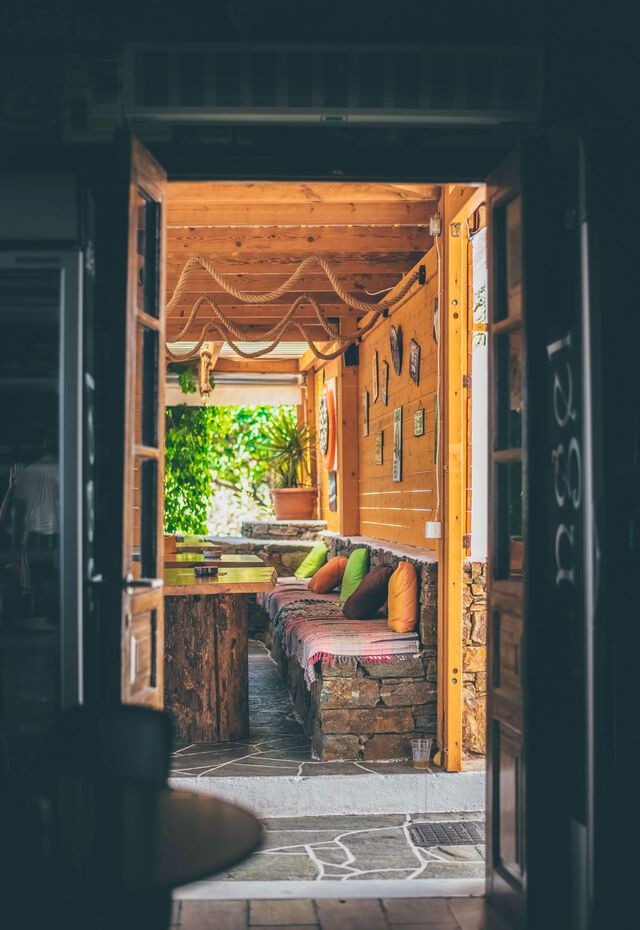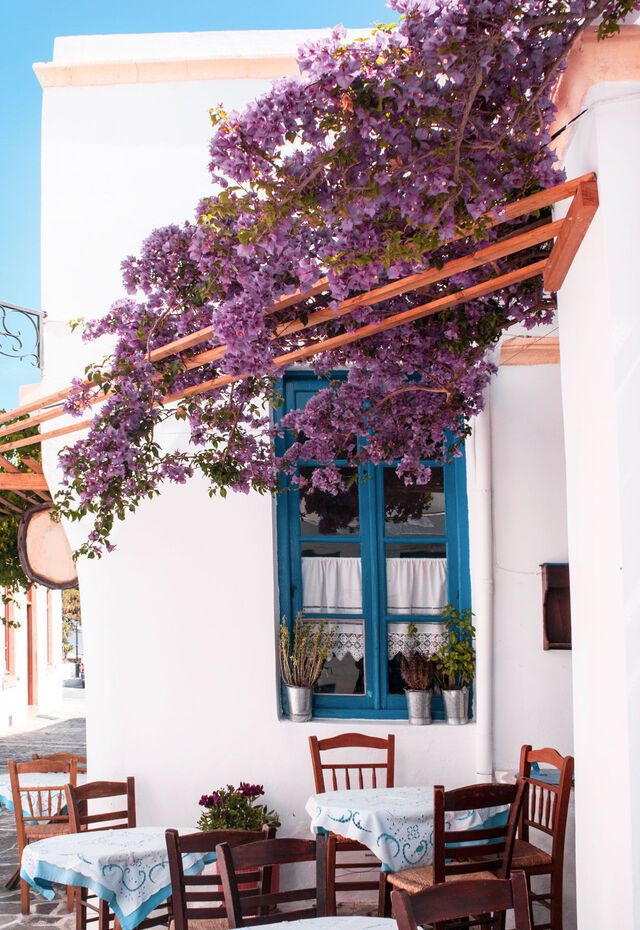 Duration
Half day
Season
All year round
OVERVIEW
What greater invitation can there be to explore Apollonia, the main town of Sifnos, than the sight of all those little whitewashed houses speckled on the mountainside? Each of them seems to capture the pure Cycladic beauty of this magical island. They stand ready to radiate their charm on anyone curious enough to look beyond the island's beautiful beaches and go in search of what makes Sifnos really tick.

Whatever it is that captures your heart most is entirely up to you. It could be the little whitewashed alleyways, the brightly coloured doors and window frames, or the bougainvillea and pots of geraniums dotted around town. You can contemplate it all you like over a morning coffee or an evening cocktail – and you'll still be left undecided.

Just as you'll be undecided over what was your best meal: A fourtalia omelette with sausage and potatoes, octopus with capers, local Sifneiki mantoura cheese, chickpea soup cooked overnight in a clay pot… or maybe the fried shrimps (all are fantastic!).

There's an authenticity to Apollonia, built on three hillsides in the heart of Sifnos, that's impossible to fully describe. You can feel it in how the town harmonises with the landscape and see it in the family-run businesses, some operating for more than 100 years! You won't believe you're only 3-5hrs from Piraeus, depending on which speed ferry you choose.
DON'T MISS
The Steno
The Steno – or the Narrow (as Apollonia's central walkway translates) is a catwalk of cuteness: souvenir stores, trendy bars with rooftops, little tavernas, churches (Agios Spiridonas, Panagia Ouranofora and Agios Ioannis to name but three) and an assortment of other Cycladic perfection. This is where your day could begin or end (or both), strolling along to find the perfect coffee or cocktail spot. Day or night, the Steno puts on quite a show.
Heroes' Square
There are plenty of reasons to visit Apollonia's main square (Platia Iroon) but a visit to the Folklore Museum of Sifnos ranks high amongst them. It's a treasure trove of authenticity, with artefacts from daily life in Sifnos in days gone by (including a collection of textiles, pottery, costumes and paintings).
The coffee experience
There are plenty of family-owned 'kafeneia' to choose from in Apollonia, each priding itself in serving what it claims to be the best Greek coffee in the country. And not just coffee. Try the omelettes (with country sausage for that extra taste of Sifnos), or perhaps a mountain herb tea (camomile, mint, sage…) or a homemade lemonade or sour cherry juice. And a spoon sweet… definitely a spoon sweet!
Rabagas
Just before you reach the end of the Steno (or at the beginning, depending on your direction), you can enter Apollonia's famous 'Cycladic multi-space', commonly known as 'Rabagas'. The renovated cluster of buildings has taken on iconic status because it has gathered everything most classy and refined about Sifnos and presented it in one place. You'll find a bar (serving everything from breakfast to ice cream to cocktails), a seafood restaurant, a gallery and an assortment of elegant clothes and jewellery boutiques. The shops are a little pricy but feel free to window shop all you like.
GET PLANNING
Apollonia can be visited all year round, but Sifnos is a small island and gets busy in July-August. So it's best to visit in April-June and September-October when it is at its most charming.
Because of Apollonia's hillside setting, it is recommended to choose a day that isn't windy, so you can enjoy the open views and soak up the atmosphere.
Museums and cultural sites:
Folklore Museum of Sifnos

Open in summer: 19:00-23:00
Tickets: €2
Not suitable for visitors with disabilities
Autumn
Spring
Summer
Winter
You will enjoy Apollonia throughout your holiday, but to explore the sights highlighted here will take half a day.