The more you learn about Ios, the more you realise that beautiful beaches, hundreds of churches and a healthy love of a good night out are just the start of what this famous island in the Cyclades has to offer. It was named after the Ia flower that blossomed here in antiquity (it's also known as Nios) and its older name was Foiniki – not after the Phoenicians (as most people think) but after the Greek word for palm trees (foinikes). And as for the nightlife and great food … well, it's all true but Ios also has a quiet side that you'll adore. You'll see what we mean in our 8 best things to do on holiday in Ios.
A stroll around labyrinthine Hora
It's possible for a visitor to never learn all the alleyways of Hora (the main town). It's a total labyrinth … and that's the charm. Exploring Hora should be at the top of your things to do in Ios because it's the best way to get a feeling for the island. The Niotes (as the locals are known) are welcoming and proud. As with all Greek islands, the epicentre of social life in Ios is the main square. And just look at those freshly whitewashed houses and churches, and those bakeries and little bars. Important stops include the Archaeological Museum and the famous windmills above town. And near the windmills is the Odysseus Elytis Theatre, named after Greece's Nobel prize-winning poet and built in the style of an ancient amphitheatre.
The sunset view from the Church Panagia Gremiotissa
A visit to the little church of Panagia Gremiotissa is part of any stroll in town but it deserves to be a standalone item because it's an emblem, not just of Hora but of Ios as a whole. It dominates the highest point of town, with a view that does justice to its name (it means Virgin Mary of the Steep Cliff). If you are in Ios on August 15 (Greece's biggest summer holiday, marking the Dormition of Virgin Mary) you're in for an extra-special treat. And if you can, don't stop here. The path continues to another couple of churches. You can't enter them, but they have a 360-degree view of the Aegean. On a good day, you can make out other Cyclades island close to Ios (Sikinos, Santorini, Folegandros and Iraklia) but the real treasure is a sunset view, either from here or from Panagia Gremiotissa.
Mylopotas beach
Where do we start with the beaches of Ios? They are some of the best in the Cyclades (which is saying something), with everything from fully organised stretches of sand with facilities to enjoy fun in the sun to quiet and secluded bays for total relaxation. If there has to be a beach to start with, it's cosmopolitan Mylopotas, with tavernas, water sports (including tubes, wakeboard, SUP, windsurfing and canoe rental and a diving centre) and beach bars that often hold parties. It's just 2km from Hora and an especially good choice for when northerly winds blow (which is most days on Ios).
Manganari beach
Manganari might be the furthest beach from Hora (25km), but the blue, blue water will make you want to stay here all day. It's a long double-fronted beach, with lacy coves either side of it that can be reached by a footpath. It is ideal for windless days and just next door is another little bay called Varvarosini, which gained Insta-fame with the name 'Never bay'. The name has stuck. You'll find water sports and other facilities on Manganari beach.
More beaches
We did say that we barely knew where to start. You'll be spoilt for choice when it comes to beaches in Ios, that's all you really need to know. From Mylopotas (and the main port), you can hire a boat and skipper and visit Ios' more remote beaches – Tripiti, Pikro Nero, Klima, Manousou and Sapounochoma (accessible only by boat and without facilities or shade). Or you could walk for 20min from Manganari to Tris Klisies, a gorgeous sandy cove. Koumbara beach is another wonderful little beach, very close to Hora and split into two, with fully shaded luxury sunbeds on one half and more traditional sunbeds & umbrellas on the other. The water and sunset are amazing. Agia Theodoti, Kalamos, Psathi, Loretzaina and Gialos … the list goes on. And a final recommendation is Papa beach, an exotic beach topped by a hotel.
The Archaeological site of Skarkos
Just a few kilometres west of Hora, you'll find the Archaeological site of Skarkos, one of the most important remains of the Bronze Age Proto-Cycladic civilisation. It is estimated to be around 1,000 years older than Santorini's Akrotiri and is notable for its size and well-preserved condition. Built in a series of concentric rings on a hill, it offers archaeologists an invaluable insight into one of Europe's oldest civilisations. Cultural events have been staged here in recent times.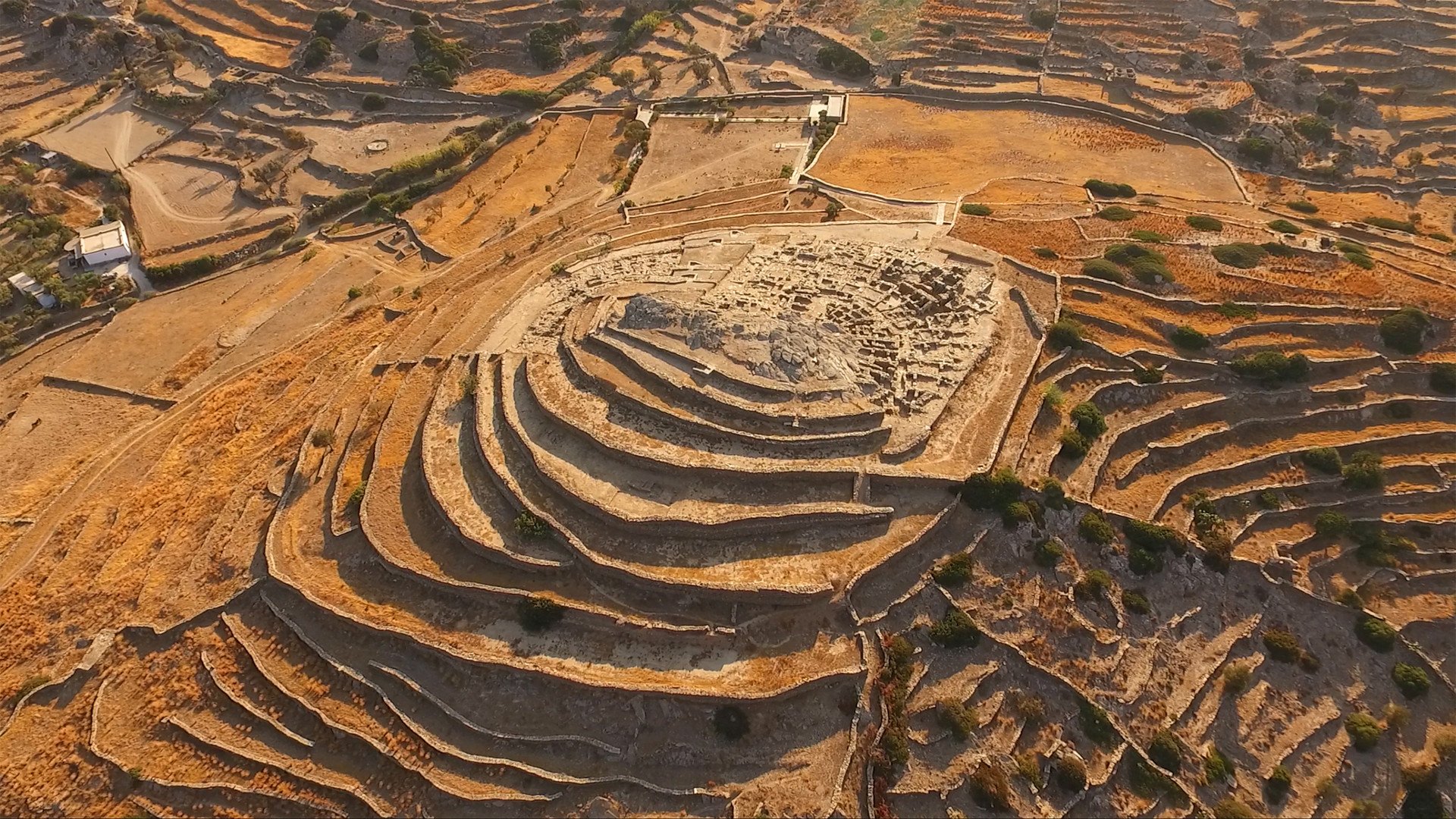 Homer's Tomb
It is believed (although opinions differ) that Homer was born on Ios and that – having established literary immortality with the Odyssey and the Iliad – chose to take his last breath on the island of his birth. His burial site has been identified as a picturesque spot above Plakoto Bay in a tomb with precious few markings, except a modern-day plaque reading 'Here the earth covers the sacred head of men and heroes Homer the divine poet'. But the wonderful view is undeniable and even the thought that the remains of one of the world's greatest playwrights could be lying beneath your feet is reason enough to visit.
Hiking Paths
The last of our things to do in Ios will give you a whole new perspective of the island. There are numerous trails to beaches like Mylopotas, Manganari and Tripiti or from Hora to Skaros Archaeological Park and Gialos to the Cape Fanari Lighthouse. One of the longest is the Hora-Pyrgos trail, taking you past the windmills of Hora and the Odysseus Elytis Theatre and across the interior until you join the Ioannis Prodromos Pyrgou Monastery trail, leading to the monastery and eventually the 713m altitude viewpoint at Pyrgos. On the way, you can visit the Diaseli cheese factory, an absolute gem with local cheeses made in the traditional way. The path there and back is 16km (5+hrs) so come prepared and (as with all hikes) ideally use a local guide. An alternative much shorter walk with a great view is a well-maintained (but quite exposed) 600m stone path starting at a bend in the road close to Psathi beach, taking you to the church of Paleokastritissa.
Discover the 8 best things to do in Ios
So there you have it… all the best things to do on your holidays in Ios. You might have been expecting the beaches but what about the Cycladic beauty of Hora and those epic views and hiking trails? Which are you adding to your wish list?
FAQs about Ios
Koumbara Seafood Restaurant – One of the best tavernas in Ios, by Koumbara beach. You can stay till late drinking raki from Crete, an island that locals have close ties with.
Vilaeti – Specialising in meat dishes a little outside Hora, on the way to Manganari beach. Evi and her mother (who is in charge of the kitchen) are always ready to take care of you. Tip: One portion is enough for two!
Agosto Ristorante – Excellent Italian cuisine hidden in the alleyways of Hora. Sheltered from the wind and with very good food and a great wine list.
Grandma's Restaurant – Gourmet food from the exceptionally creative chef of Liostasi Hotel, with excellent dishes and desserts enjoyed by the hotel swimming pool and with views of the port.
Ithaka – A relatively recent arrival, with views of the sailing boats in the marina. The concept here is fish and seafood meze combined with traditional Greek cuisine. A very good option for brunch.
A good night out in Ios starts early in the afternoon! Younger visitors slip effortlessly from swim mode to night out at the popular beach bars and clubs of Mylopotas beach. But in recent years, another quieter dimension has been added with lounge and cocktail bars, as well of course as the traditional cafes.
Ios Club Sunset Dining Bar – Located high up in Hora and built amphitheatrically to have a wonderful view of the port, from wherever you sit.
Doors – A recent addition by Gialos beach (next to the port) that has made an impression for its drinks, food and shopping therapy (in whichever order you prefer).
Alma Sunset Bar – Another recent opening, with relaxing music, smooth cocktails, sunset views and a swimming pool (bring your swimwear if you want).
Jar Bar – In the main square of Hora with imaginative cocktails inspired by the beaches of Ios.
Click Cocktail Bar – Also in the main square and guaranteed to lift your mood with music and an always-smiling team.
Nios – The best-known cafe on the island, inviting visitors to relax in the main square either after a swim or after dinner with raki and live music. The purple bougainvillea intertwined in the pergola is the finishing touch.

Book your trip
All your holiday planning needs in one place, letting you book direct and benefit from official online rates
Group
Group
Group
5 Hours
Free cancellation
Not sure? You can cancel this reservation up to 6 days in advance for a full refund