Akrotiri in Santorini is one of Europe's most important prehistoric settlements and also one of the best-designed archaeological sites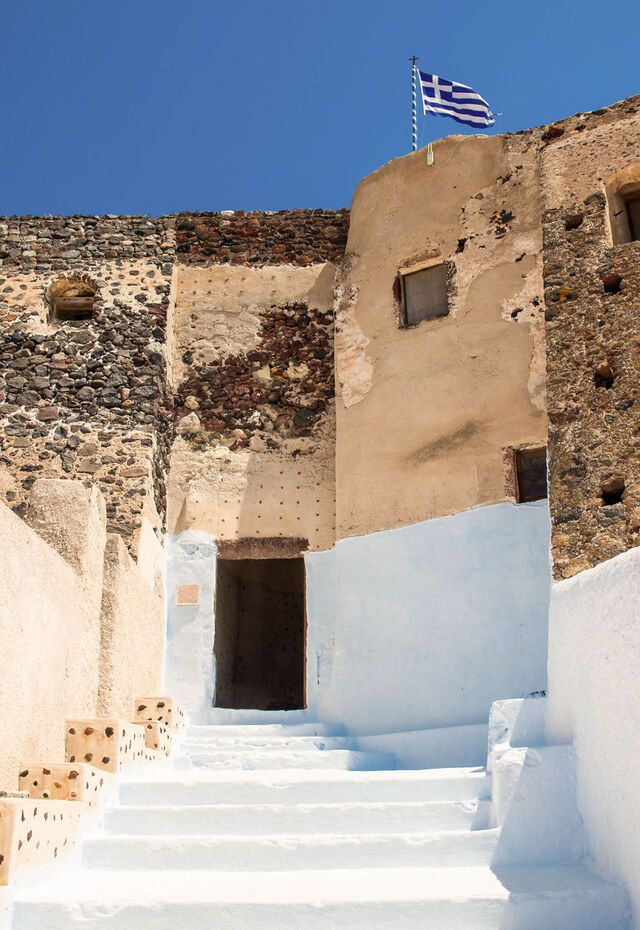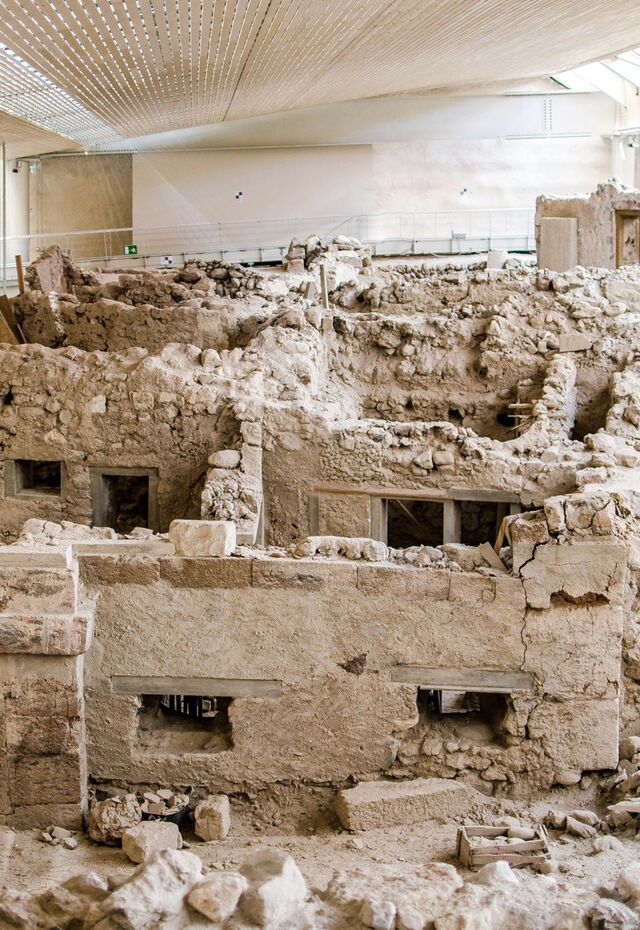 Duration
1-2 hrs
Season
May - October
OVERVIEW
A tour of Akrotiri on Santorini
If you've done your homework, you'll know that visiting Akrotiri always features in lists of top things to do on Santorini. The archaeological site in the southwest of the island is old – very old! – and represents a vital piece in the puzzle of European prehistory.
To put it into perspective, the ancient city of Akrotiri was inhabited before the volcanic eruption that created Santorini and its caldera. We're talking about at least the 4th millennium BC (the Neolithic Period). Indeed, various settlements existed here through the Bronze Age until Akrotiri became, in around 1500 BC, one of the main urban centres of the Aegean. The 50-acre excavation you see today is from that time, much of it preserved in volcanic ash, giving it the nickname 'Greece's Pompeii'
It's also one of the best-designed archaeological sites in Greece, with a bioclimatic roof maintaining a comfortable temperature even in peak summer through natural ventilation at the same time as providing natural light and protecting the artefacts from the elements.
There are walkways suspended above buildings that reach as high as three storeys. The design allows you to fully appreciate the public spaces and town planning of the ancient city, including a complex drainage system, as well as artefacts showing that engineers, architects and artists inhabited what was once a flourishing and advanced society that traded widely with the region.
DON'T MISS
A tour of Akrotiri on Santorini
Although your focus should rightly be on the archaeological site of Arkrotiri, there are other attractions in this corner of Santorini that you can add to your itinerary if you want to make a day of it.
Santorini's Red beach
Around 1.7km from the archaeological site of Akrotiri is one of Santorini's best-known swimming spots. As the name suggests, the Red Beach (Kokkini Paralia) is famous for the iron ore deposits in the volcanic rock face and the rust-coloured pebbles on the beach – although in reality there is a whole palette of colours on the beach. It's one of the most dramatic places to swim in Santorini.
Seafood in a taverna
Either before or after your swim, there's a perfect place for you to enjoy a seafood meal by the sea. As you walk from Akrotiri along the coast to Red beach, there's a great spot that serves the freshest seafood (you have to try the red mullet – or barbounia) along with other fantastic local produce, like cherry tomatoes and fava (split peas). Order yourself a glass of chilled Asyrtiko whiter wine (locally produced) and admire the view.
Akrotiri town
Around 2km north of the archaeological site is the town of Akrotiri, a settlement that grew around the 14th-century fortress built at its highest point. There's a great view of the caldera but what you'll most enjoy is just exploring the alleyways. You'll find the same Cycladic beauty as elsewhere on Santorini, but there's a down-to-earth authenticity about it here that is enjoyable in a different way. Within La Ponda (as the Venetian castle is known), there's a workshop and exhibition of tsampouna – the bagpipe-like instruments made from goats' skin, for which Santorini is known. Take the opportunity to pop into the church of Agia Theodosia, just before the fortress.
The Akrotiri Lighthouse
Every sunset on Santorini is magical, but there's something extra-special about how the sun melts into the Aegean when viewed from the lighthouse at the island's westernmost point. It's 4.7km from Akrotiri town (meaning you can hike there and back if you're feeling energetic) and the lighthouse is one of the oldest in Greece. Having been built by a French trading company in 1892, it still emits a pulse of light every 20 seconds. There are seafood tavernas around here, too.
Book your trip
All your holiday planning needs in one place, letting you book direct and benefit from official online rates
Group
Group
4 hours
Free cancellation
Not sure? You can cancel this reservation up to 8 days in advance for a full refund.
Group
5 Hours
Free cancellation
Not sure? You can cancel this reservation up to 6 days in advance for a full refund
GET PLANNING
How do you get to the archaeological site of Akrotiri on Santorini?
By car or taxi: 10.2km (15mins)
By bus: More info: KTEL Santorini
By car or taxi: 20.4km (30mins)

When is the best time to visit Santorini?
You can enjoy the archaeological site of Akrotiri all year round but the months with the best swimming weather in Santorini are May to October.
You'll have the best experience by visiting in April-June & September-October, when there are fewer visitors and all the things to do on Santorini (including Akrotiri) feel more personalised.
How much do tickets for The archaeological site of Akrotiri in Santorini cost?
Tickets cost €12 (€6 reduced) to enter the archaeological site.
Note that seasonal opening times apply.
Skip the line - Book your tickets
Autumn
Spring
Summer
Winter
How long do you need to visit Akrotiri in Santorini?
You will need 1-2hrs to visit the archaeological site, depending on how much depth you want to go into.
Depending on your means of transport, you'll need at least a day to include everything included in this experience.