READING TIME
As long as it takes to eat a Greek salad
Nowhere conjures visions of an idyllic Greek holiday quite like Mykonos. The beaches and nightlife of an island synonymous with style and sophistication are legendary. But Mykonos is also an island in the Cyclades that offers peace and escape. You'll find all this and more in our 12 best things to do on your holidays in Mykonos.
Stroll around the one-and-only Hora
Strolling around the cobblestone alleyways of the main town (or Hora) encapsulates everything magical about Mykonos. You are greeted by purple bougainvillea and sugar-cube houses with doors and balconies painted the colour of the Aegean.
Up on the hill are the iconic windmills you'll have seen in so many postcards and just around the corner is Little Venice. And what about the Cycladic perfection of the church (actually five churches) of Panagia Paraportiani? Just the idea of it makes you feel special.
Choose your world-famous beach
Then again, discovering your beach style could also rank No.1 on our list of unmissable things to do in Mykonos. Party and beach club, family fun, sport and adventure, some more cosmopolitan and some relaxed… whatever your style, you'll find it on Mykonos. From Psarou and Panormos to the aptly named Paradise and Super Paradise, the sand is silky smooth, the service flawless and the atmosphere legendary. If it's boho chic you're looking for, Paraga and Kalo Livadi cater to every taste, or perhaps head to Ftelia and Agios Ioannis. Meanwhile, the umbrella-and sunbed-free Agios Sostis manages at the same time to be both chilled and filled with Mykonian lifestyle. But that's just scratching the surface. Most are in the protected south, but it's also worth exploring the quieter north coast.
Take a bit of glitz home with you
A holiday on this iconic Greek island wouldn't be a holiday without some shopping. The alleyways of Hora ooze style when it comes to the shops, especially on and around Matoyianni Street. Look at all those designer labels and the elegant beachwear, jewellery, leather goods, artwork and local crafts... much of it inspired by the island. Most shops are open from morning till late, but if you really get the urge, there are even luxury shops by Psarou and other beaches.
Prepare for legendary nightlife
Don't pretend this isn't one of your main reasons for choosing Mykonos. It doesn't matter if you're in a cocktails-and-bubbly state of mind, or in the mood for a perfectly chilled glass of wine. It's time to sample the legendary Mykonian nightlife.
Experience Mykonos' legendary nightlife
Some bars are institutions and others are cute and tucked away, and most have outdoor space that will make you feel as radiant as the stars above you. From sundowner to dance floor, the mood carries you as late into the night as you like.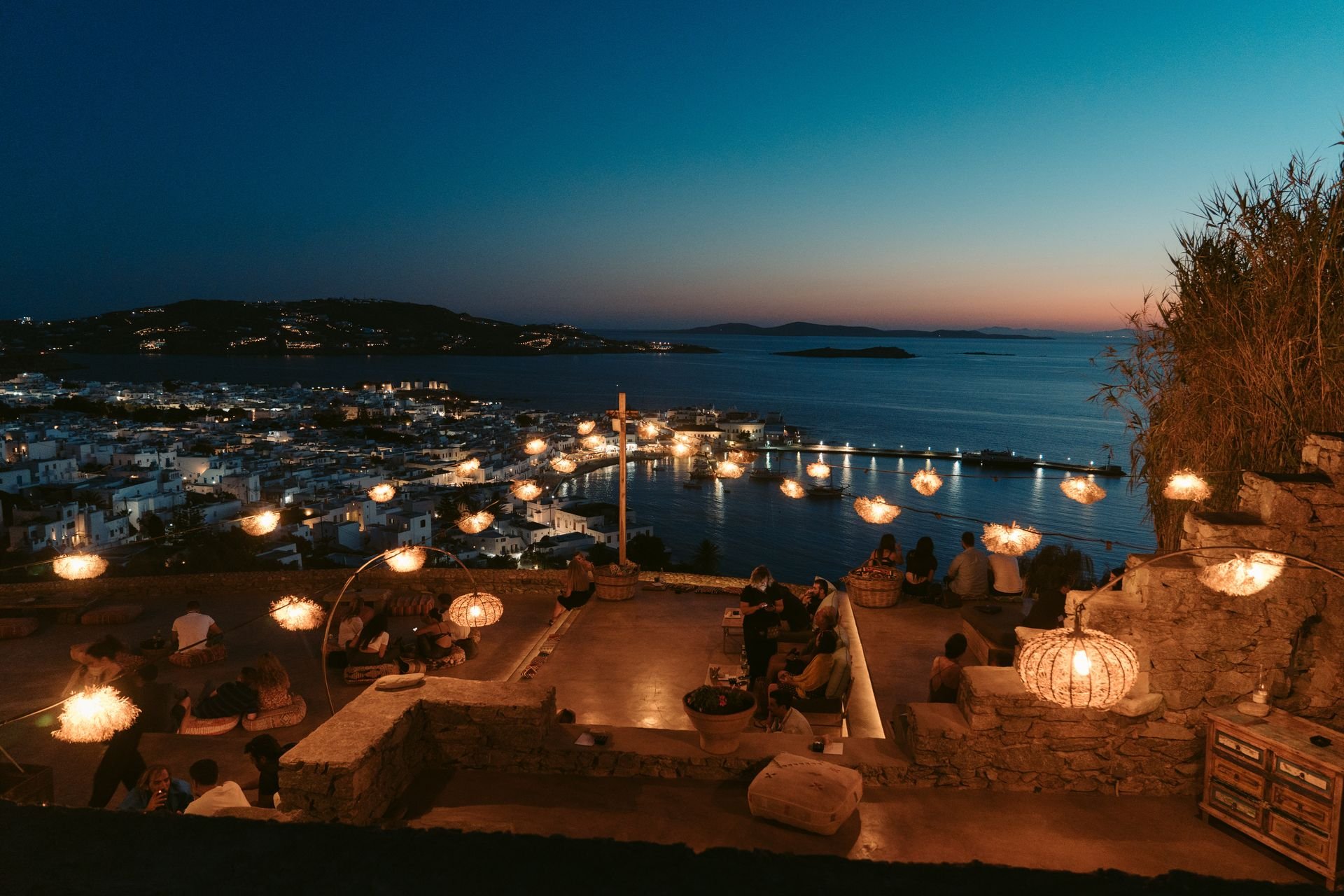 From refined to homely, dishes you'll never forget
Food is an experience in itself in Mykonos, not just in Hora but all around the island. At the top end, there's perhaps nowhere more refined in Greece, whether it be Mediterranean or international cuisine. It's the sort of place world-renowned chefs don't just grill octopus… they might turn it into octopus carpaccio; and the humble panna cotta could be given a savoury spin, with goat's cheese, dried figs and prosciutto (all locally sourced). You'll find tavernas where classics have been given a modern twist as well as home-cooked local dishes and plenty more.
A day cruise to Delos and Rinia islands
Visiting the nearby island of Delos will be one of the cultural highlights of your stay. The whole island is an archaeological wonder, said to be the birthplace of the twin gods Apollo and Artemis. You'll walk amongst the remains of temples, marketplaces, houses, statues and sculptures – most dating from the 6th century BC - 1st century AD, the glory years of Delos. And don't just leave it at that. A day cruise will also take you to nearby Rinia isle for a spot of snorkelling and a cooling swim? Definitely one of the unique things to do in Mykonos.
Explore the southern coastline
With so much to experience along the southern coastline, how about dedicating a full day to discovering all those magical beaches on a boat trip?
From Agios Ioannis, past Ornos, Paradise, Paraga, Elia. Name the beach and it's yours… world-famous or more relaxed. Pull in wherever you want. Or how about anchoring in a cove where you can take advantage of the more sheltered conditions along this coast.
Village life and the other side of Mykonos
It's time to really change your impression of Mykonos as we head inland. Ano Mera is the second-largest settlement on the island and a wonderful contrast to the buzz of Hora or a day on the beach. You'll find traditional Mykonian homes and a community keeping local traditions very much alive. The villages contain some of the most special places to visit in Mykonos, with a couple of handsome monasteries, including Panagia Tourliani and its well-preserved bell tower.
Visit the dairies and farmsteads
Probably the least expected of our things to do in Mykonos. Now that you've visited the villages, why not go the whole hog and discover the island's dairies and farms? Behind all the whitewashed luxury and glamour of Mykonos, you'll find a scene of authenticity that's completely in tune with nature. Farm-to-fork dining experiences, where you pick your produce and cook a traditional meal with a local, meeting cheese-makers, visiting apiaries … the list of activities to do in Mykonos is a long one.
Become one with the island
On an island that specialises in making you feel special, how about connecting with it on every level? It could be yoga or pilates, or maybe personal training (you'll have no problem finding an expert). And what better setting can you think of for morning or evening meditation, made all the more special by the backdrop of the Aegean and a milder Mediterranean climate? Simple, stylish and totally fulfilling.
Choose from all the outdoor activities to do in Mykonos
Once smitten by the beauty of the landscape and the sea, you'll need no second invitation to get active. You can enjoy kite- and wind-surfing, or perhaps scuba diving is more your thing. There's horse-riding and cycling (individually or as part of a group) on paths between villages or around the coast. Whenever you get the urge, pull into a cove and go for a swim. It's that kind of island.
Enjoy a generous slice of culture
The last of our unforgettable things to do in Mykonos is to delve deeper into island's creative side. The annual Mykonos Art Festival allows locals and guests to express their creativity over numerous months and you'll be fully rewarded by dropping into the exhibitions of the Municipal Art Gallery or Archaeological Museum, or any of the numerous private galleries in town. For a great alternative night out, how about watching a film under the stars in Hora's outdoor cinema? It's tucked away in a quiet square in town, with an elegant garden and restaurant.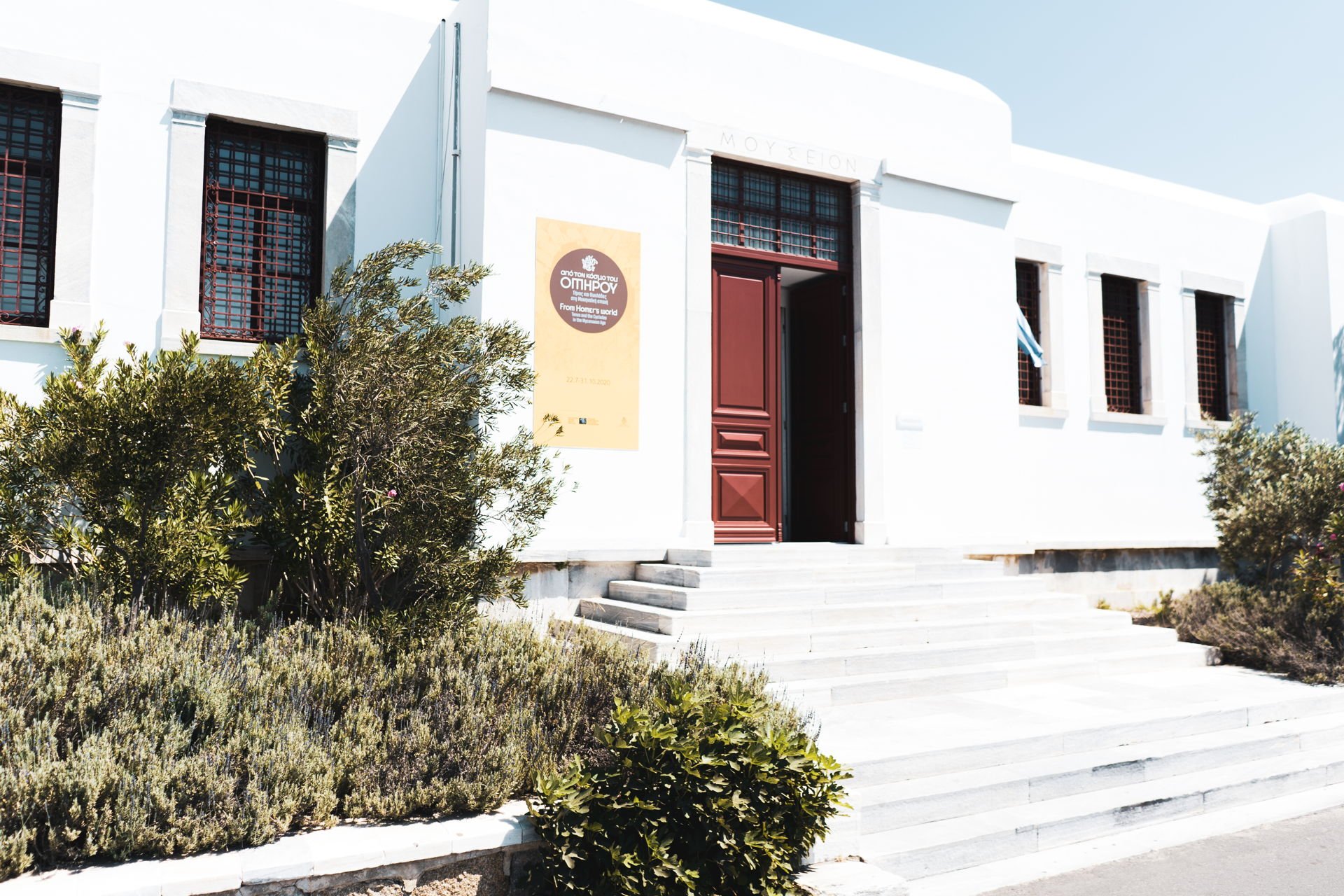 The island legend that is Mykonos
So how do you feel after reading about all these unique things to do in Mykonos? The Hora, beaches, restaurants and nightlife… all pretty special, right? But what about those unexpected highlights on an island that's stayed true to its roots? Pretty hard to resist!
FAQs about Mykonos island
Mykonos is a member of Greece's Cyclades islands, the most famous island chain in the Aegean Sea.
There are regular ferries to/from Piraeus and Rafina (eastern Attica) and many other Greek islands, including the Cyclades (Santorini, Ios, Milos, Syros, Paros, Naxos, Tinos etc), Dodecanese (including Rhodes and Kos) and Crete. High-speed ferries can reach Santorini from Piraeus in 2.5hrs while conventional ferries take 5-6hrs. There are two ports on Mykonos, the Old and New Port, approximately 1.5km apart. Most ferries from Piraeus arrive at the New Port (Tourlos). The Old Port, which is closer to the main town (Hora), serves smaller vessels.
Mykonos has an airport with regular direct flights to Athens and international arrivals during the summer months.
Mykonos is known for its Cycladic architecture (whitewashed houses, alleyways and chapels), cosmopolitan vibe and luxury accommodation and services, as well as its party scene and beautiful, sandy beaches. Many have internationally-acclaimed restaurants and beach clubs, attracting celebrity DJs. Hora is considered one of the most iconic capitals of the Greek islands, with a selection of gourmet and traditional restaurants and bars as well as galleries and shopping options (boutique and traditional). But you will also find plenty of hotels/villas, restaurants and shops in settlements and by beaches around the island.
The most famous landmarks on Mykonos are the windmills and Little Venice of Hora, as well as the 17th-century Church of Paraportiani, Castle of Gyzi, Monastery of Panagia Tourliani in Ano Mera and the Neolithic settlement of Ftelia.
There are so many things to do in Mykonos that you can dedicate your entire holiday (6-7 days) to the island, but you can also spend just a few days there as part of an island-hopping itinerary to get a taste for it.
There are boat tours to Delos and Rinia, which are the islands closest to Mykonos. Delos is a fascinating ancient site, with temples dedicated to the god Apollo who (according to legend) was born on the island. Rinia has beautiful swimming spots. Other Cycladic neighbours, perfect for island-hopping, are Tinos, Syros, Paros and Naxos.
Mykonos does get busy in the peak holiday months, so visit in April-mid-June & mid-September-early November if you can, when the experience becomes even more personal but the weather is usually still great.
Book your trip
All your holiday planning needs in one place, letting you book direct and benefit from official online rates