READING TIME
As long as it takes to drink a Greek coffee
Long sandy bays with pulsating beach bars and partying into the night; luxury sunbeds and first-class waiter service; fine dining or traditional taverna; calm, clear water perfect for water sports… whatever beach perfection is for you, you'll find it on Mykonos.
Exploring the more sheltered and popular southern coast, welcome to the best-known beaches in Mykonos and what you'll love about each of them. And we pop up to Panormos in the north, where there are alternative beaches with a very different vibe.
Starting with the superstars, we move to the quieter but equally iconic beaches on Greece's ultimate luxury isle.
Psarou
Love it for its luxury
It's difficult to know where to start when it comes to the best beaches in Mykonos, but Psarou – just 4km from Hora (the main town) – gets the nod. It's a celebrity magnet, with fine (almost white) sand, clear blue water and beach bars renowned for their epic parties. Want a taste of fame and luxury? Just say the word. There's a choice of restaurants nearby where you'll get VIP service and a high-end menu to match as well as boutique shops with Greek and international brands. But don't let that distract you from the fact that Psarou is also a great swimming spot, with a diving school and water sports.
Paradise
Love it for its party vibe
This is where it all began! You can hardly imagine Paradise beach as a once quiet stretch of sand, attracting 70s hippies looking for fun, love and freedom. Restaurants, bars and international DJs were added and – along the way – the legend that is Paradise beach was established as a destination in its own right. The mood is relaxing in the morning, before the music kicks in and, before you know it, it's party time long into the night. And if you're looking for added water fun, you'll find a water sports and diving centre on the beach.
Super Paradise
Love it for its party and chic mix
It takes something special to pull off being called Super Paradise. Just around the bay from Paradise, the party mood continues at the beach club here, but Super Paradise takes the swimming experience a notch higher. The water is especially clear and the sand is fine and golden, attracting a more chic ambience. There are exquisite dining options to cap the experience.
Paraga
Love it for its boho style
Between Psarou and Paradise, we have Paraga beach – another easy addition to any list of best beaches in Mykonos. You'll adore the restaurant and beach club scene here too – stylish, sophisticated and intimate, perfectly blending in with the surroundings. The water is shallow and inviting, and the bay is protected from the summer winds that can affect other beaches. It's worth staying till sunset.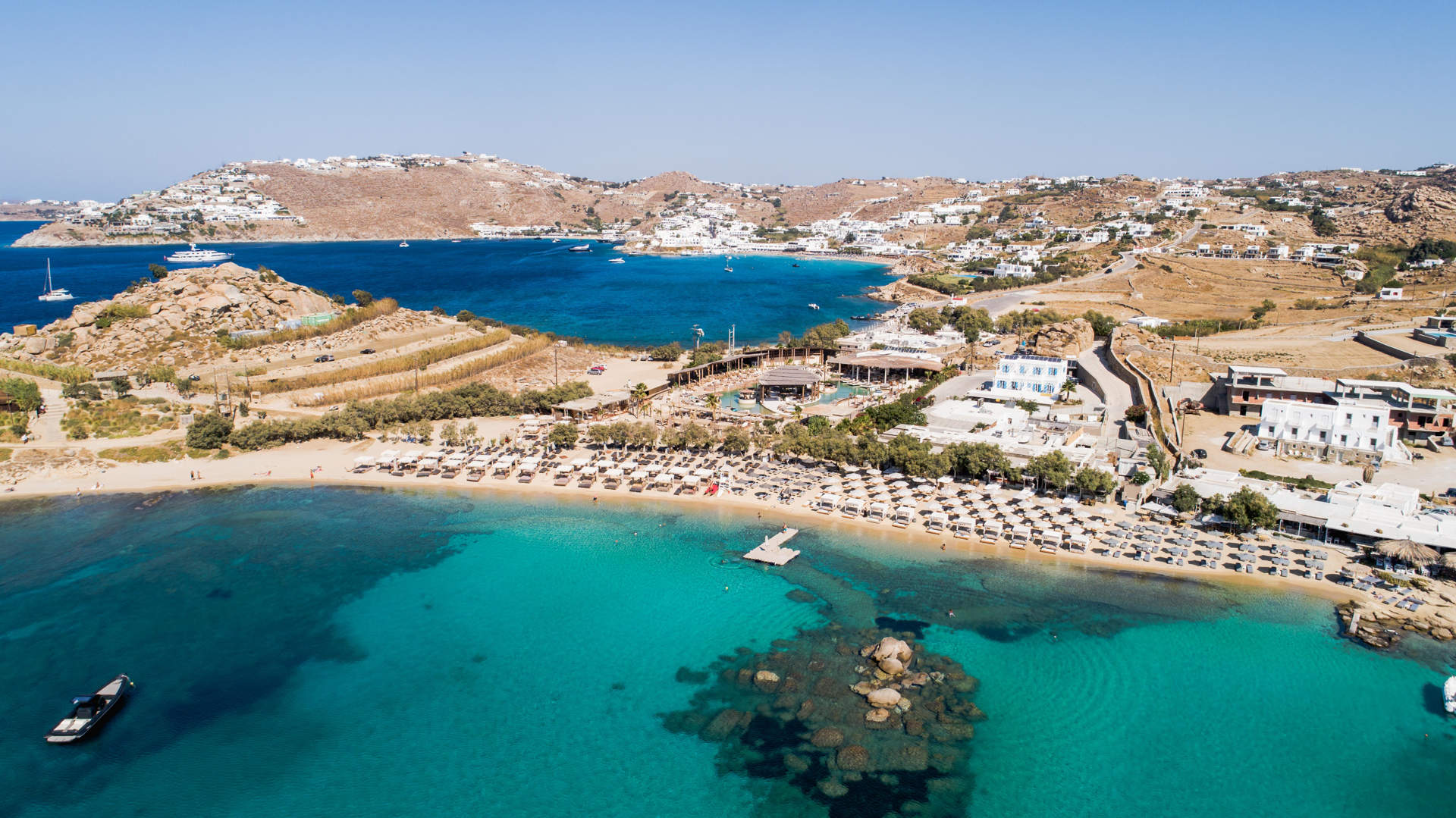 Kalo Livadi
Love it for catering to every taste
There's another cluster of beaches on the south coast, this time further east, starting with Kalo Livadi. One of Mykonos' biggest beaches, it caters to every taste. Again there are trendy bars and restaurants that turn heads. But there's also a long stretch with nothing on it and a water sports centre. It's shallow, making it a big favourite with families and there's a handrail that's helpful for anyone needing a little support getting into and out of the sea.
Agia Anna (Kalafatis)
Love it for its unpretentious vibe
Not to be confused with the Agia Anna beach near Paraga, this small, sandy cove, near Kalafatis is one of the more exotic settings on Mykonos' southeastern coast, next door to picturesque Divounia Bay.
Ornos
Love it for its cosmopolitan atmosphere
The settlement of Ornos has grown ever more popular over the years and its sandy beach has a cosmopolitan atmosphere to match. You'll find all the facilities to let you spend a full day here, with a choice of restaurants serving everything from Mediterranean dishes to sushi and beach clubs with refreshing cocktails and other drinks. There are water sports and diving centres, but it's the fine sand and calm blue water that you'll remember most.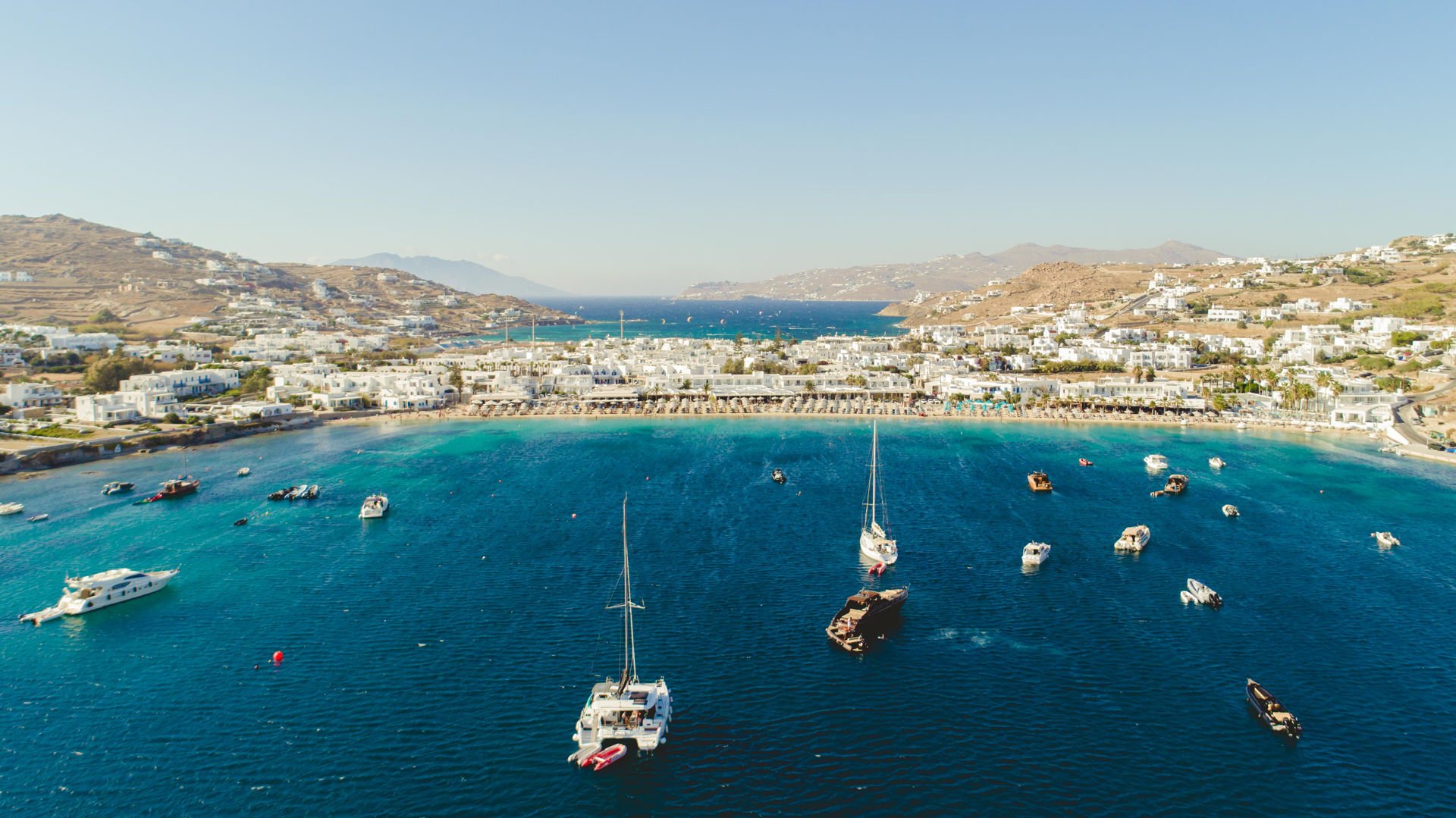 Panormos
Love it for its dramatic scenery
Our one entry on Mykonos' north coast, Panormos proudly takes its place alongside all of the most popular beaches in the south. It is surrounded by a rocky landscape and is known for its amazingly clear water, but where it really stands out is for its ability to provide both a chilled section with nothing but sand and a beautifully styled beach club that serves exquisite food and hosts legendary parties.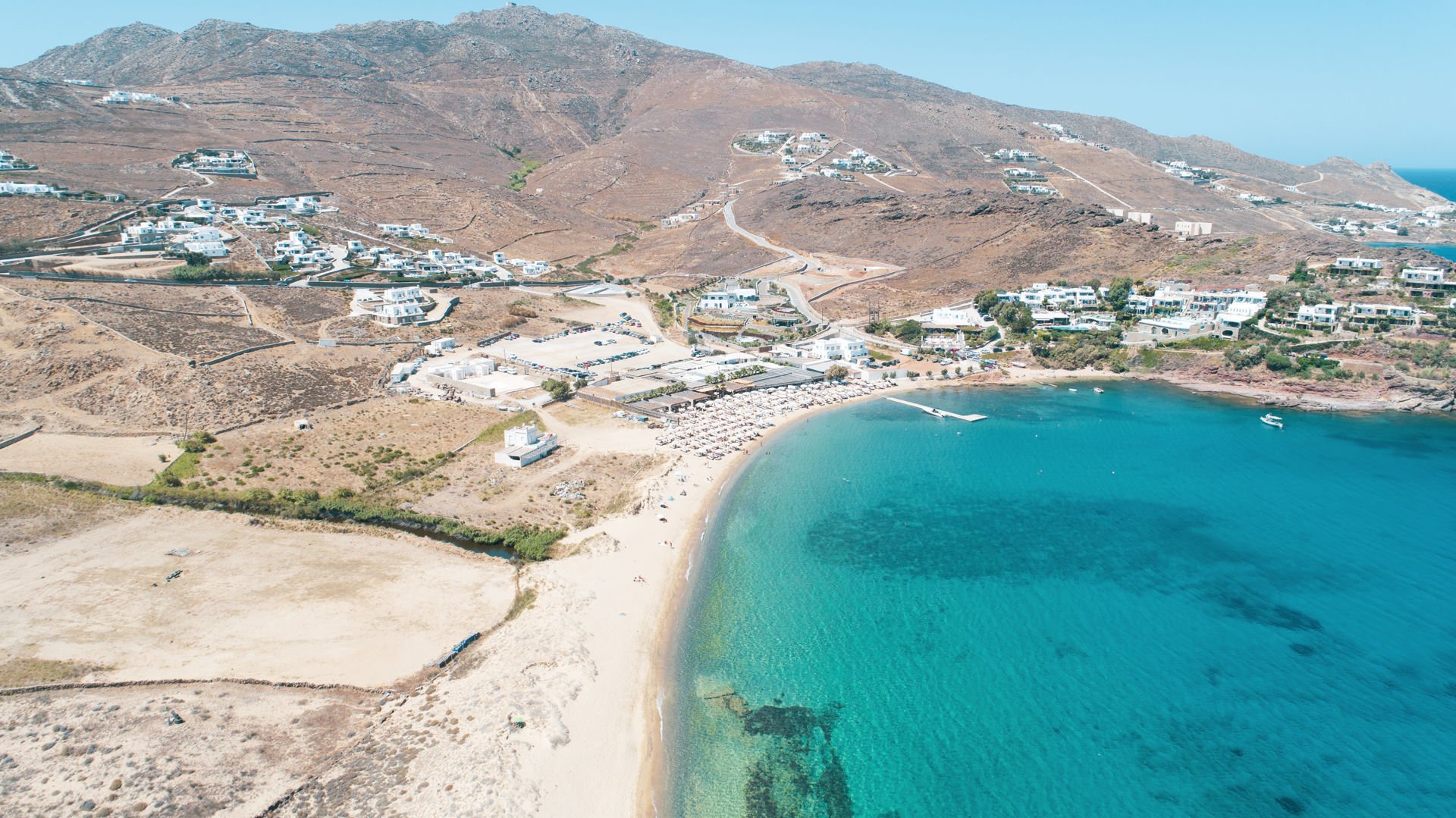 Elia
Love it for the perfect mix
You'll find everything you could wish for on the longest of our best-known beaches in Mykonos. Celebrities and VIPs mingle right next to honeymooning couples and families. And there's a choice of traditional taverna and upscale restaurant, beach bar and even a water sports centre where you can try everything from waterskiing to parasailing and jet skiing. Elia has the perfect mix and it knows it.
Platis Gialos
Love it for having everything
Platis Gialos has every facility to cater to couples, friends and families. Easy to get to (around 5km south of Hora), it has everything from traditional tavernas to beach bars and a wide selection of water sports (water ski, windsurf, jet ski, jet pack etc). It's also the main departure point for water taxis to Elia and the beaches in-between.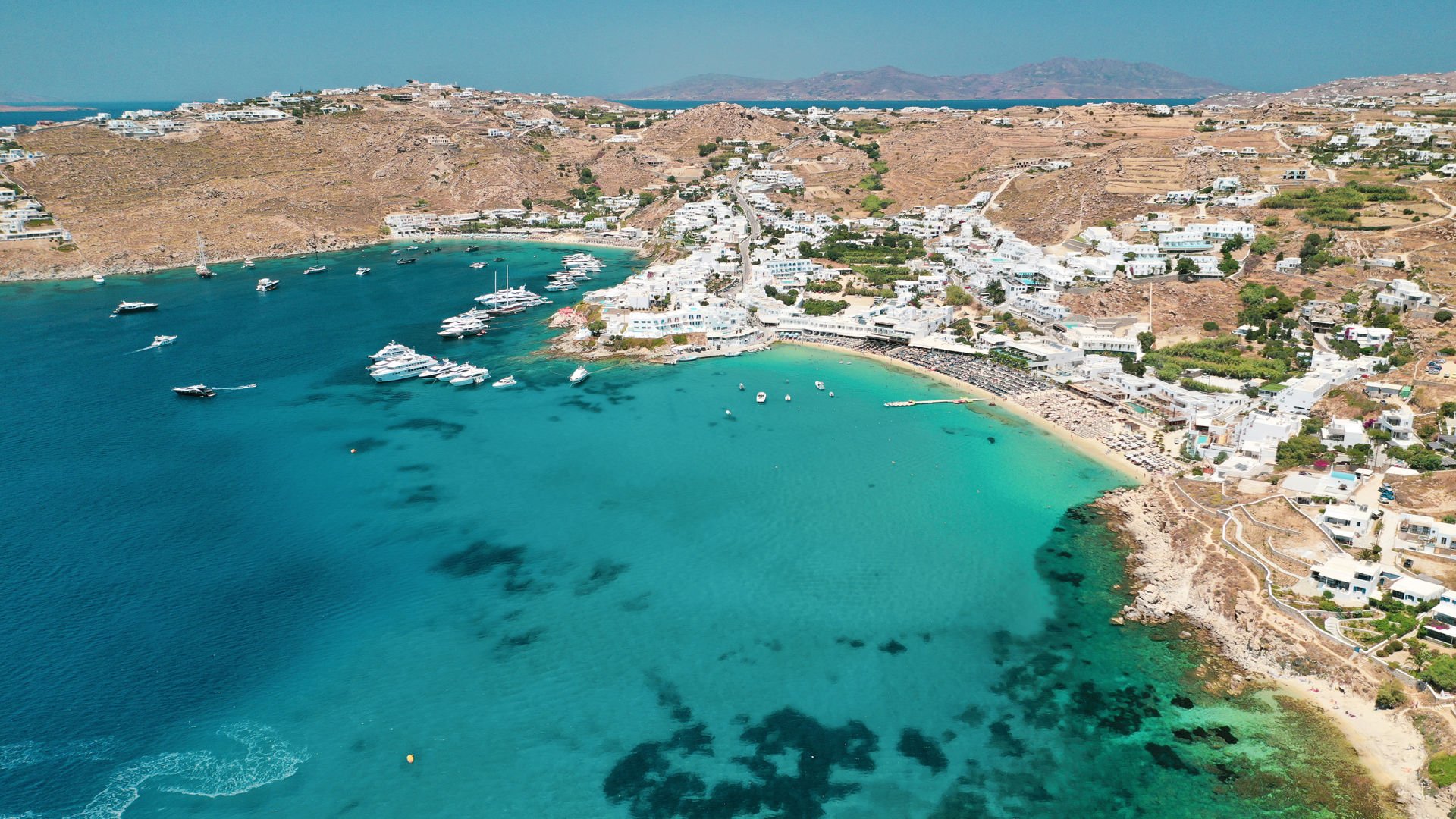 Agia Anna (Paraga)
Love it for ouzo and meze by the sea
Mykonos' 'other' Agia Anna beach (between Paraga and Platis Gialos) manages to strike a balance between having facilities and retaining a sense of remoteness. The sand is fine and the sunsets are magical. It is ideal meze & ouzo territory at a totally authentic taverna, with tables right on the sand.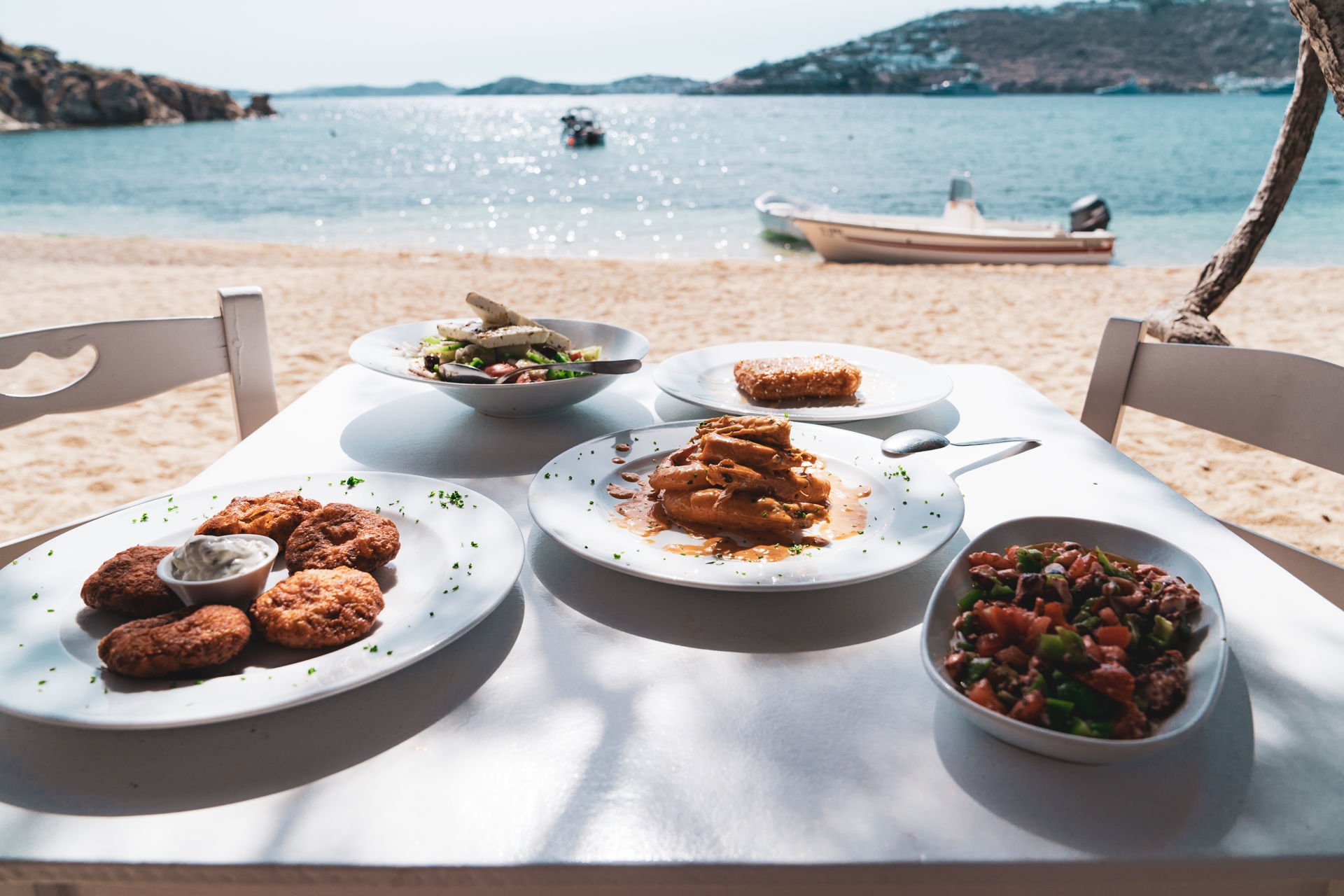 Agios Ioannis
Love it for the family vibe
Another idyllic setting to finish with, by the traditional Cycladic settlement of Diakofti (with its classic whitewashed houses with blue-painted balconies and window-frames). Agios Ioannis is sandy and shallow, with a unique view of the island of Delos. It's perfect for a quieter swim, whilst still having all the facilities you could need, including traditional tavernas, and there is a rail for easy access for visitors with disabilities. At the far end of the beach is the Agios Ioannis Diakoftis chapel, after which the beach was named.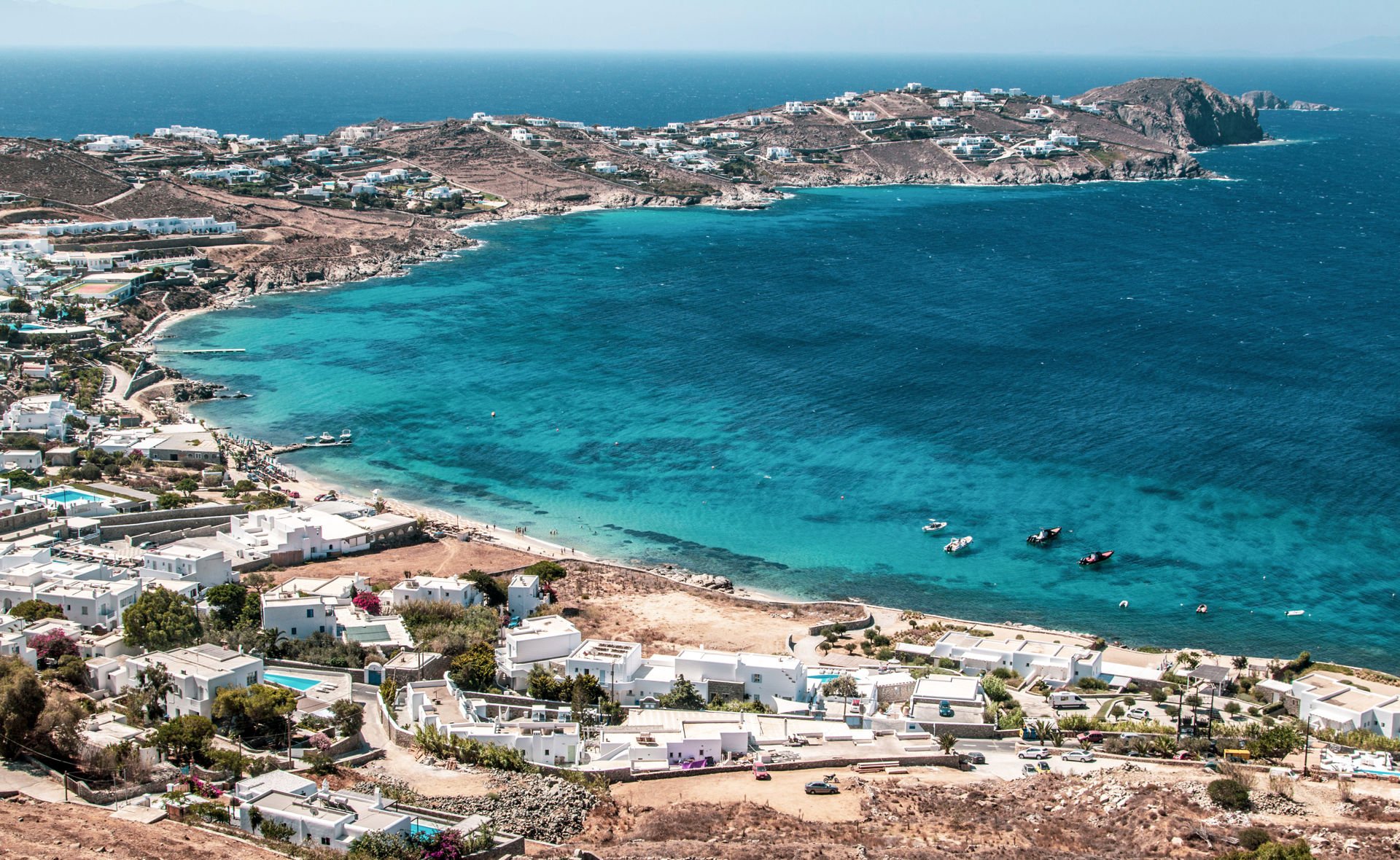 Discover the iconic beaches of Mykonos
No wonder so many of Mykonos' beaches have earned celebrity status. And to top it all, many are close enough to hop between. Or you could choose a different beach style every day. There's something unique to love about each of them.
FAQs about Mykonos island
Mykonos is a member of Greece's Cyclades islands, the most famous island chain in the Aegean Sea.
There are regular ferries to/from Piraeus and Rafina (eastern Attica) and many other Greek islands, including the Cyclades (Santorini, Ios, Milos, Syros, Paros, Naxos, Tinos etc), Dodecanese (including Rhodes and Kos) and Crete. High-speed ferries can reach Santorini from Piraeus in 2.5hrs while conventional ferries take 5-6hrs. There are two ports on Mykonos, the Old and New Port, approximately 1.5km apart. Most ferries from Piraeus arrive at the New Port (Tourlos). The Old Port, which is closer to the main town (Hora), serves smaller vessels.
Mykonos has an airport with regular direct flights to Athens and international arrivals during the summer months.
Mykonos is known for its Cycladic architecture (whitewashed houses, alleyways and chapels), cosmopolitan vibe and luxury accommodation and services, as well as its party scene and beautiful, sandy beaches. Many have internationally-acclaimed restaurants and beach clubs, attracting celebrity DJs. Hora is considered one of the most iconic capitals of the Greek islands, with a selection of gourmet and traditional restaurants and bars as well as galleries and shopping options (boutique and traditional). But you will also find plenty of hotels/villas, restaurants and shops in settlements and by beaches around the island.
The most famous landmarks on Mykonos are the windmills and Little Venice of Hora, as well as the 17th-century Church of Paraportiani, Castle of Gyzi, Monastery of Panagia Tourliani in Ano Mera and the Neolithic settlement of Ftelia.
There are so many things to do in Mykonos that you can dedicate your entire holiday (6-7 days) to the island, but you can also spend just a few days there as part of an island-hopping itinerary to get a taste for it.
There are boat tours to Delos and Rinia, which are the islands closest to Mykonos. Delos is a fascinating ancient site, with temples dedicated to the god Apollo who (according to legend) was born on the island. Rinia has beautiful swimming spots. Other Cycladic neighbours, perfect for island-hopping, are Tinos, Syros, Paros and Naxos.
Mykonos does get busy in the peak holiday months, so visit in April-mid-June & mid-September-early November if you can, when the experience becomes even more personal but the weather is usually still great.
Book your trip
All your holiday planning needs in one place, letting you book direct and benefit from official online rates
Group
Group
5 hours
Free cancellation
Not sure? You can cancel this reservation up to 24 hours in advance for a full refund.
Group