EXPERIENCE
The best Mykonos nightlife and dining spots
Nothing shouts style and sophistication like a night out in Mykonos. Cocktails, seafood, beach bars and the finest cuisine await. Are you ready to release your inner celebrity with tips for where to enjoy the best nightlife in Mykonos?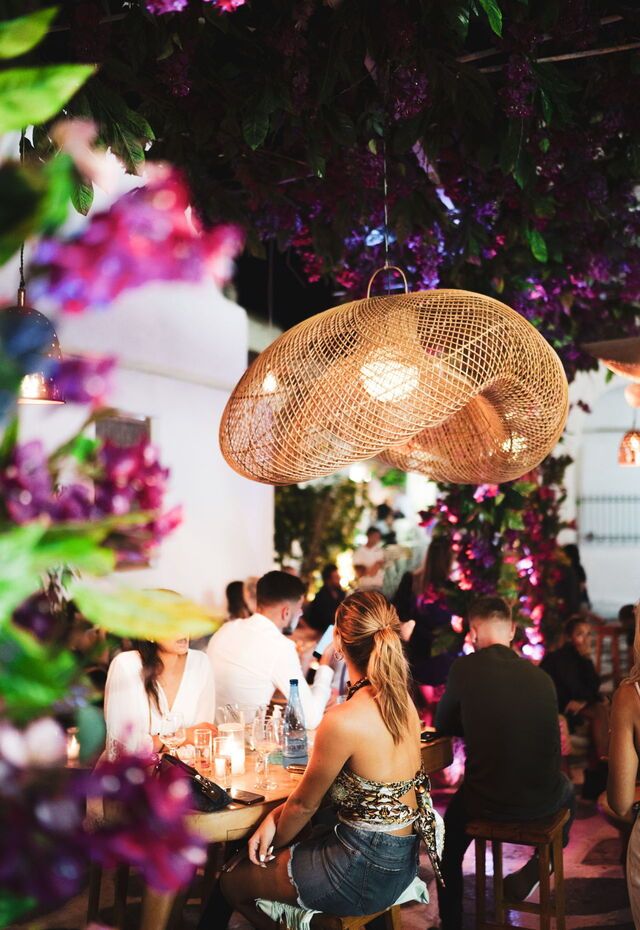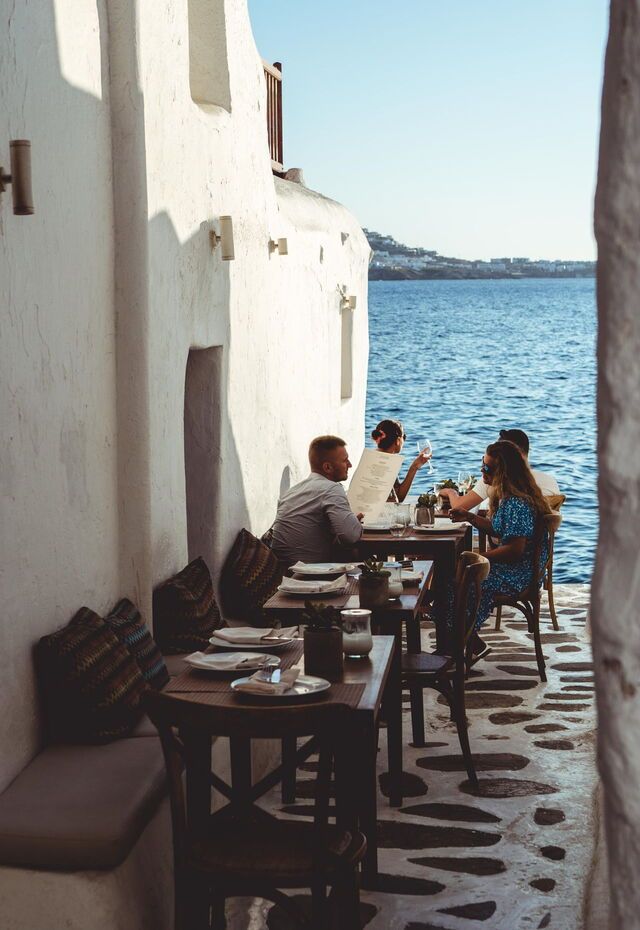 Duration
2 - 4 days
Season
April - October
OVERVIEW
The best Mykonos nightlife and dining spots
Nights out don't get any more legendary. Signature cocktails as the sun begins to set. A seafood meal that sends your taste buds to heaven and back. Or perhaps you're in a luxury beach bar mood… sushi, wagyu beef, internationally renowned DJs – that sort of thing. Now add that you're in Mykonos and, that's it, your imagination is in overdrive.
Every night out on this fabled Cycladic isle is an occasion. From a meal in a traditional Greek taverna to the most refined international tastes, there's an elegance and style to the food that sets Mykonos apart. Not just from other Greek islands but all other destinations.
You could be lounging on cushions outside a gorgeous little bar in one of the alleyways in town, surrounded by all that Cycladic blue-and-white, or in one of the more extravagant Mykonos restaurants. Either way, you'll feel like a celebrity. Or perhaps you are a celebrity. It comes to the same thing in Mykonos.
DON'T MISS
Where to enjoy the best Mykonos nightlife
Mykonos town (Hora)
If there's a town on a Greek island that was made for nights out, this is it. How about starting with a drink in a cute little bar full of Cycladic character down an alleyway? Or perhaps you feel like exploring the shops on and around Matogianni St. There's always Little Venice, where you'll find bars and restaurants with a view of the iconic windmills. As you wander around, keep an eye out for your dining spot amongst the restaurants of Hora. You'll probably already know about the chefs turning incredible local produce into delicious high-end Mediterranean dishes and the finest international tastes. Everything from local cold cuts such as louza (thinly sliced pork cured in salt, pepper and spices) and intense, peppery kopanisti cheese to Peking Duck and Iranian beluga caviar. Or perhaps you could delay the decision and order one more pre-dinner cocktail, allowing yourself to be seduced by all that Cycladic perfection. One way or another, the night's about to begin.
Psarou beach
If you've got an image of a beach & nightlife combo on Mykonos, this is probably it. Psarou beach is where it all began as humble fish tavernas started adding layers of sophistication to their decor and menu. Now, the champagne is on ice here for much of the year, with a food and nightlife experience that gets all five stars and more. From the luxury sunbeds and parasols on the beach, you can slip effortlessly into one of the bars or restaurants. Signature cocktails, lobster, seabass ceviche, salmon gravlax, Kobe beef or perfectly grilled catch-of-the-day with nothing but lemon, extra-virgin olive oil and a lot of Mykonian love… You get the idea.
Paraga beach
The style changes now with a different kind of scene. The white sand and clear blue water alone have given Paraga beach celebrity status. But that's before you add the beach bars, whose vibe and A-list DJs are known around the world, and decor that is in perfect harmony with the surroundings. The service matches the mood – with a high-end gastro and drinks menu specially designed for the party atmosphere that goes on late into the night (or early into the day). Alternatively, you could go for the quieter option of a seafood taverna on the sand or nearby Agia Anna beach.
Ftelia beach
Another legendary beach atmosphere. Ftelia is well known to expert windsurfers and has a Mykonos beach club scene to match. The mood is Cycladic but also totally chilled and the food is delicious (the farm-to-table kind). You'll love the view from here and just next door is the small bay of Tarsanas, an ideal location for relaxed early drinks or late-night parties.
Agia Anna (Kalafatis) beach
Next to Kalafatis beach, intimate Agia Anna provides an exotic setting for your next dining spot. It's up to you whether you choose a table overlooking the small, sandy cove, or one tucked into the rocks below. One way or another, you're in for a seafood treat. Oysters, mussels, sea urchins, crayfish, lobster… Do you need to hear more?
Panormos beach
We head to Mykonos' north coast for your final Mykonos nightlife spot. Panormos manages to be both chilled (with a long section of the beach with nothing but sand on it) and a beach club that serves exquisite food and has legendary parties to music from international DJs. Signature cocktails, VIP service and luxury sunbeds overlooking the Aegean. Tempted?
GET PLANNING
How do you get from the airport to Mykonos town?
- There are regular buses and taxis from the airport, around 3.5km from Hora. You can also hire a car from the airport.
How do you get from the port to Mykonos town?
- There are buses and taxis from both the Old Port and New Port to Hora (3.5/2.5km) and a sea bus service from the Old Port from April-November (8mins). You can also walk from Hora along the coast road (approx. 35mins)
What is the best way to get around Mykonos?
- You can visit most of Mykonos' beaches by bus or taxi. From Hora, you can easily reach the beaches mentioned here – Psarou (4.3km), Paraga (5.8km), Ftelia (7km).
When is the best time to visit Mykonos?
You can enjoy Mykonos all year round but to experience the best of the nightlife, visit from the end of April to October
Mykonos is at its most popular from June-August, so for the most personal experience it's worth visiting from April-early to June and late-September and October
Autumn
Spring
Summer
Winter