Behind the Instagrammable beauty of Mykonos' main town beats a strong, authentic heart that you'll adore discovering, reflecting everything magical about Greece's Cyclades isles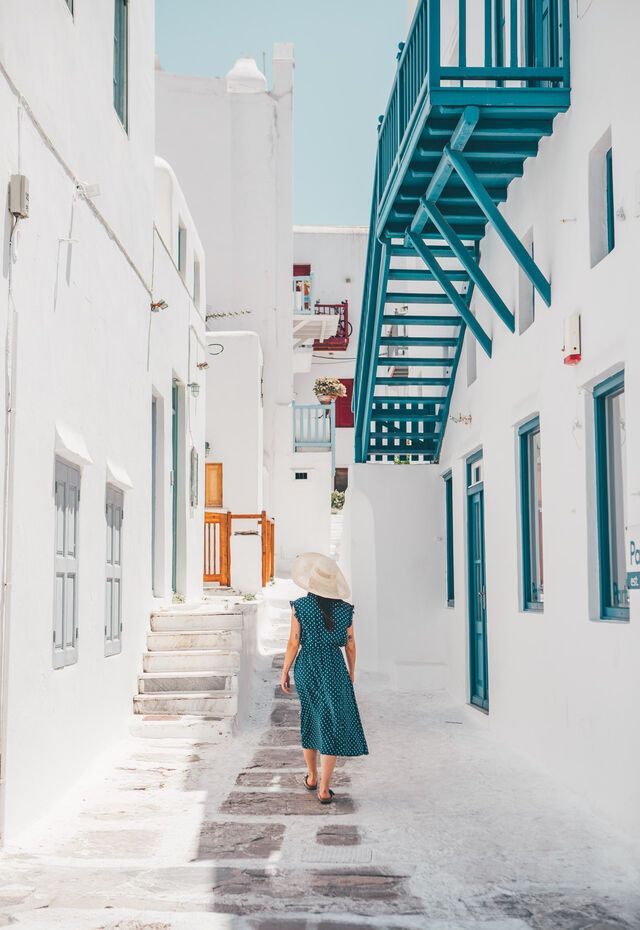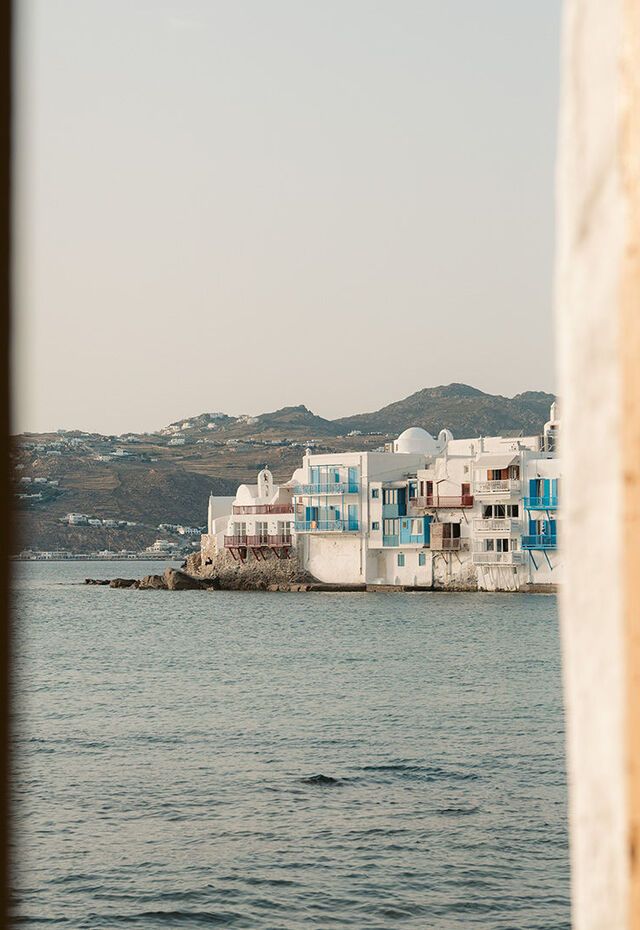 Duration
Half day
Season
All year round
OVERVIEW
A walking tour in Mykonos town
From celebrities to fashionistas, Mykonos' catwalk of visitors won't need convincing of the Instagrammable beauty of perhaps Greece's most iconic Aegean island. But what happens when you look beyond the clubs and cocktails, and glitz and glamour? Well, the answer is that it takes just a few steps to discover that the main town of Mykonos (known as Hora) has a deeply authentic pulse. And once you've found it, you won't want to let go.

You'll know all about the Cycladic beauty of Hora from the images of cascading bougainvillea and snow-white houses with blue window frames and balconies. But what about the captains' houses, full of nobility and grandeur? Or the story behind the Town Hall, built in the 1870s to house a Russian count during the Russo-Turkish wars, now housing a library?
And do you know the name of the female revolutionary ('la Bella Greca') who played a pivotal role in Mykonos' successful uprising against the Turks in the 1820s and who has a square named after her?
You'll visit museums that tease out Mykonos' history and visit centuries-old churches, as well as hearing the stories behind the island's famous windmills and Little Venice. And how about an insider's tip on where to experience the best sunset in town? All before you've ordered yourself that well-deserved cocktail!
DON'T MISS
Highlights of Mykonos town
The Archaeological Museum
It's worth starting at the very beginning. Located by the Old Harbour, the Archaeological Museum takes you as far back as the 9th and 8th centuries BC, with a special focus on ancient ceramics and pottery excavated in Mykonos and Delos (the archaeological treasure trove island a short boat ride away). Another of the museum's highlights are the remnants of a 2nd-century BC statue of Hercules, made of Parian marble.
Manto Square
At the end of the Old Harbour, you'll arrive at a square with an elegant bust that includes a short introduction to Manto Mavrogenous. Known in social circles as 'la Bella Greca', because of her beauty and finesse, she was born in 1796 in Italy to a wealthy Greek family and arrived in Mykonos in 1821. She brought not just her cosmopolitan charm and knowledge of multiple languages, but also a burning passion to take part in the liberation of Greece from the Ottomans. She is said to have funded (and even participated in) several naval operations and supported the training of local revolutionary forces.
Matogianni
Known for its boutiques and finery, the Matogianni district of Mykonos also has a number of historical treasures. You'll find three identical wells, which were the island's main water supply into the 18th century. Interestingly, they are only around 5m deep. The Maritime Museum of Mykonos is also here, with models of ships from the early Minoan period all the way to the 20th century, as well as other nautical memorabilia such as manuscripts and photos. You'll also pass the home of Manto Mavrogenous' mother.
The windmills of Mykonos
The windmills on the hill above the harbour need no introduction. Built by the Venetians in the 16th century, their thatched roofs and wooden sail frames are symbols of the island. Their construction revolutionised the agricultural landscape of Mykonos, in the town and in locations such as Ano Mera, allowing communities to expand and export grains.
Little Venice
Along with the windmills, Little Venice is the most photographed spot in Mykonos town. The line of colourful, interconnected homes was built in the 18th century. What makes them special is that their foundations are in the sea. It is said that pirates stored their loot here but, nowadays, they are mostly restaurants and bars – as well as a romantic backdrop to an evening stroll.
Panagia Paraportiani
And finally, to the insider's tip for a magical sunset spot to end your day: the most photographed church in Mykonos, Panagia Paraportiani. Sculpted into the rock and painted the most radiant white, its name translates as 'Our Lady of the Side Gate' because its entrance was found in a small side entrance to the Kastro area. It has stood in this spot for 600 years, with construction starting in 1425 and completed in the 17th century. What isn't immediately obvious is that it is actually five churches, with four built at ground level and a fifth, Byzantine church, one floor up.
Book your trip
All your holiday planning needs in one place, letting you book direct and benefit from official online rates
GET PLANNING
How do you get from the airport to Mykonos town?
- There are regular buses and taxis from the airport, around 3.5km from Hora. You can also hire a car from the airport.
How do you get from the port to Mykonos town?
- There are buses and taxis from both the New Port and Old Port to Hora (2.5/3.5km) and a sea bus service from the Old Port from April-November (8mins). You can also walk from Hora along the coast road (approx. 35mins)
When is the best time to visit Mykonos?
The main town can be enjoyed all year round but it does get very busy from June-August. So to get the most personal experience, it's best to visit from April-early June and late September-October.
Walking in the midday heat isn't recommended, as the sun reflects brightly off the whitewashed houses. However, the effect of the light (and often the gentle breeze) is magical in the morning and afternoon. So it is recommend to start your walk at either 9:00 (when the main town is at its quietest) or around 17:00.
Museums and archaeological sites
Archaeological Museum
Summer (April to October): Open daily 8:30-15:00 (except Mondays and national holidays)
Tickets: €4 (€2 reduced)
More info or call +30 22890 22325
Suitable for visitors with disabilities
Maritime Museum
Summer (April to October): Open daily 9:30-13:30 & 18:30-21:30
Tickets: €4 (€2 reduced)
Not suitable for visitors with disabilities
Autumn
Spring
Summer
Winter
How long do walking tours of Mykonos town last?
Organised tours covering some of the highlights take 3-4 hours. But it's worth dedication more time to exploring on your own (eg half a day) as there is so much to experience.