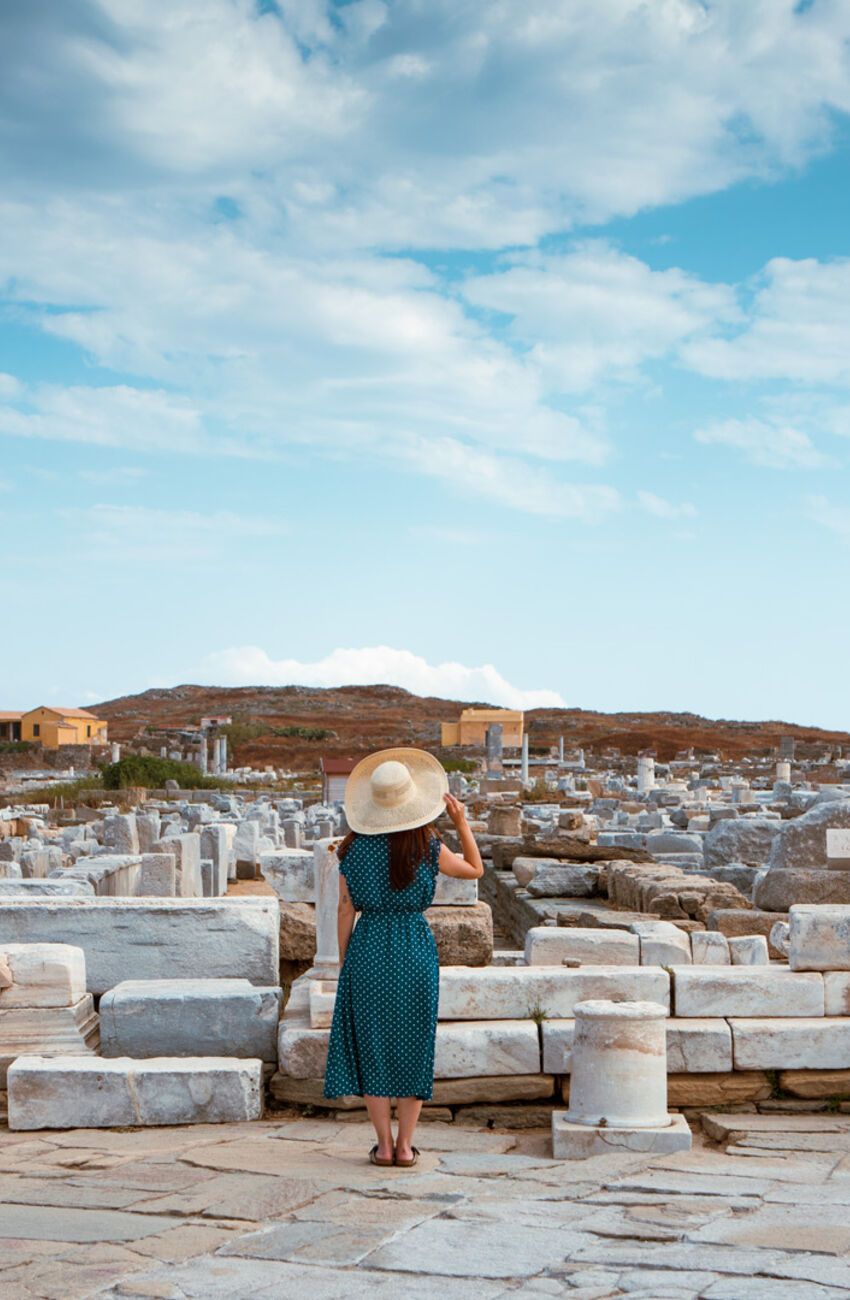 EXPERIENCE
Exploring the birthplace of Apollo on Delos
The most unexpected excursion you'll make when visiting Mykonos will take you to a neighbouring isle where you can walk amongst the sanctuaries and statues of a vast Greco-Roman settlement.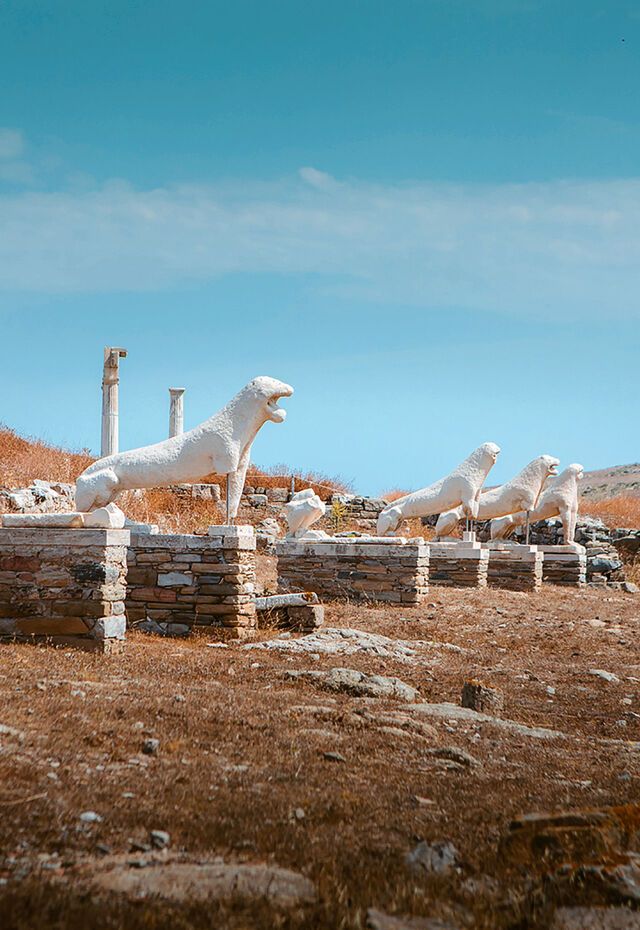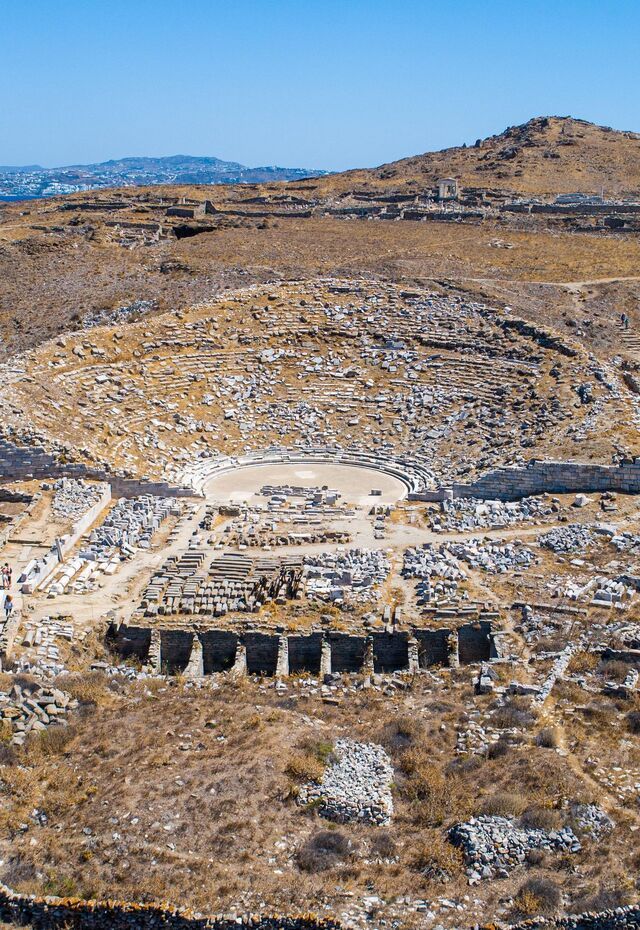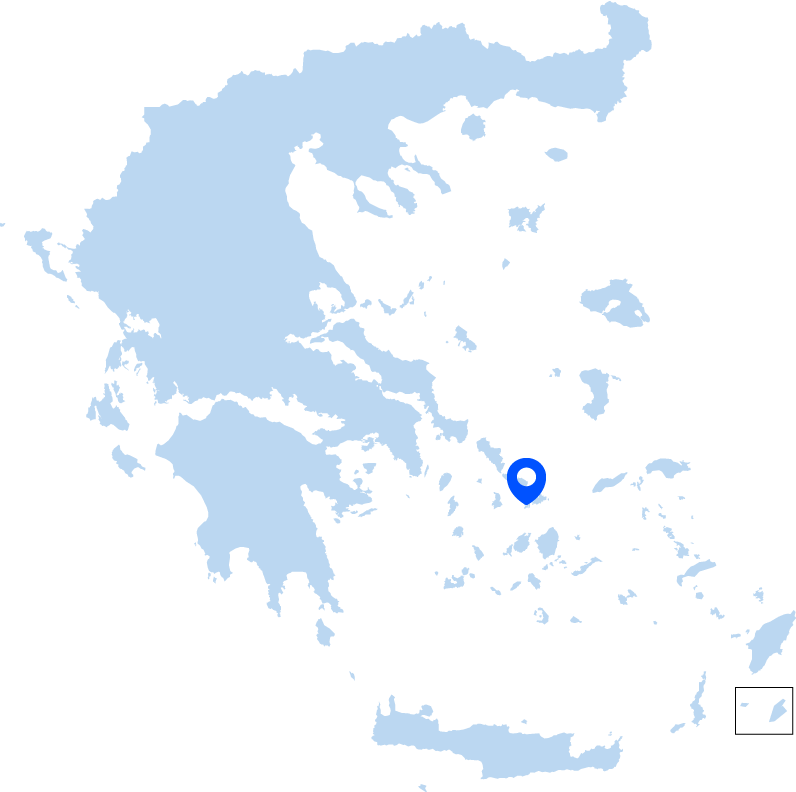 Duration
2 - 4 hrs
Season
All year round
OVERVIEW
You could spend half a lifetime exploring the UNESCO-protected World Heritage Site of Delos and still be thirsty for more. The birthplace of the god Apollo and his twin sister Artemis is not only one of the most important Greco-Roman settlements but also one of the most extensive. It's an extraordinary insight into power struggles, religion, art, commerce and everyday life in antiquity. The island itself is an open-air museum.

To walk amongst its remains is to pick your way through history dating from Mycenaean times, in the 3rd millennium BC. However, Delos' peak was from the 6th-1st century BC, amidst a constant interplay of Athenian and Roman domination – interspersed by the influence of powerful Cycladic neighbours, such as Naxos and Paros.

It's a story now told through of a bewildering number of sanctuaries and statues, as well as public and private buildings and the artefacts they once contained. To put it all into context, there's a hill on Delos called Kynthos. Climb it and take a look around you. Extraordinary!

DON'T MISS
The Temple of Delians
Apollo can have had no qualms with the Delians. Three temples were dedicated to him, the largest of which is The Temple of Delians – or the Great Temple. Built between 476-314BC, it's an example of Doric architecture, with colonnades on all four sides. Only remnants remain of the colossal Kouros of Apollo that once stood next to it. But there are other well-preserved places of worship, amongst them the Temple of Hera and the Temple of Isis (in the Sanctuary of the Foreign Gods, at the foot of Mt Kynthos).
The Terrace of Lions
Possibly the best known image from Delos. Today only seven of the dozen or so marble lions remain (some almost complete, others only in part), but the grandeur of the avenue of sculptures gifted as a tribute by the Naxians is clear for all to see. The lions are replicas but the originals are in the island's museum.
The Ancient Theatre
What impresses above all is the feeling of everyday life here. The Ancient Theatre isn't just a well-preserved 5,500-seat amphitheatre. Its location, with wonderful sea views, was clearly part of the experience.
Daily life on Delos
The Minoan Fountain was where locals stocked up on water, and there is not one but two marketplaces (or agoras) and a gymnasium. Meanwhile, the most impressive of the many residences is the House of Dionysos, famous for its intricate floor mosaic of Dionysus riding a tiger.
Archaeological Museum
There are yet more mosaics – along with murals, furniture, vessels and other artefacts – in the Archaeological Museum.
By boat from Mykonos port, leaving from 9:00-10:00 daily, and from Delos up to 19:30.
More info
There are also boat connections from Naxos, Paros & Tinos at various times of the year.
All crossings are dependent on weather conditions.
You can hire a private boat from Mykonos, which will allow you to also visit uninhabited Renia for a swim.
The archaeological site of Delos is open all year round (except for national holidays).
If you do visit during July and August, avoid the hottest times of the day.
Seasonal opening times apply (Summer: Monday to Sunday, 8:00-20:00;
Winter: 8:30-15:00)
It can get busy during the peak summer months so it's worth visiting in spring and autumn, as well as June and September.
Tickets are €12 (reduced €6) for the site and museum.
Return journeys are €20 per person (reduced €10).
Between 2-4 hours are needed to cover the archaeological site and museum, but it's worth taking your time.
Crossings from Mykonos port to Delos take 30-45 minutes.
There is nowhere to stay or eat in Delos so bring snacks and water with you.
There's very little shade so don't forget your hat, sunglasses, sunscreen and water bottle.
The ground can be uneven so wear comfortable footwear with a good grip.
TRAVEL RESPONSIBLY
Please help us preserve the magic of our heritage for future generations by following all the basic rules of visiting archaeological sites.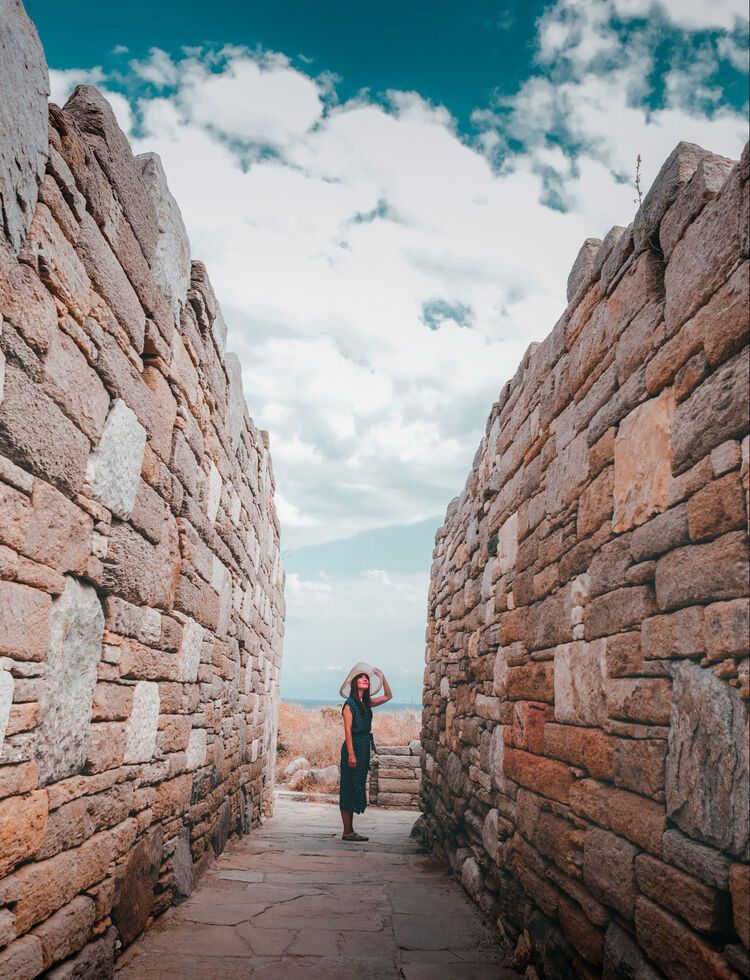 Refrain from touching any remains or monuments. The fingers' natural oils can be extremely damaging to artefacts.
Stay on the marked paths and respect your fellow visitors.
Use the bins provided or, if need be, take your rubbish with you.
If there's a "No flash photography" sign, please respect it. It's to protect the monuments.
Use a refillable water bottle to try to minimise your use of plastic.
No pets (other than guide dogs) are allowed in cultural sites.
Smoking is prohibited.