READING TIME
As long as it takes to eat a Greek salad
Famous for its celebrity beaches, Mykonos has another side when it comes to beach life where you'll enjoy all of the island's famous lifestyle but with a more relaxed, chilled out feel. Here are 12 selected by locals, some with facilities and others as pure as the day nature created them.
If there's a taverna, you can look forward to exquisite modern twists on local dishes (as well as some homely classics), all made with the freshest local products. Where there are sunbeds and umbrellas, they seem to blend into the Cycladic landscape. And on beaches without facilities, you might find only the shade of a tamarisk tree.
So, starting close to Hora (the main town), we explore the quieter beaches along the popular southern coast of Mykonos before revealing hidden gems in the more remote north.
Agios Stefanos
The biggest surprise when looking for Mykonos' quieter beaches is that you'll find the first right next to the port (in Tourlos), just 3km from Hora. Agios Stefanos is sandy, with water that gradually gets deeper, and is mostly sheltered from the wind. But the greatest draw (if it's what you're looking for) is that it's got all the facilities you could want without the music-filled party atmosphere of the celebrity beaches. Being on the west coast, Agios Stefanos also benefits from great sunsets and views of Delos island.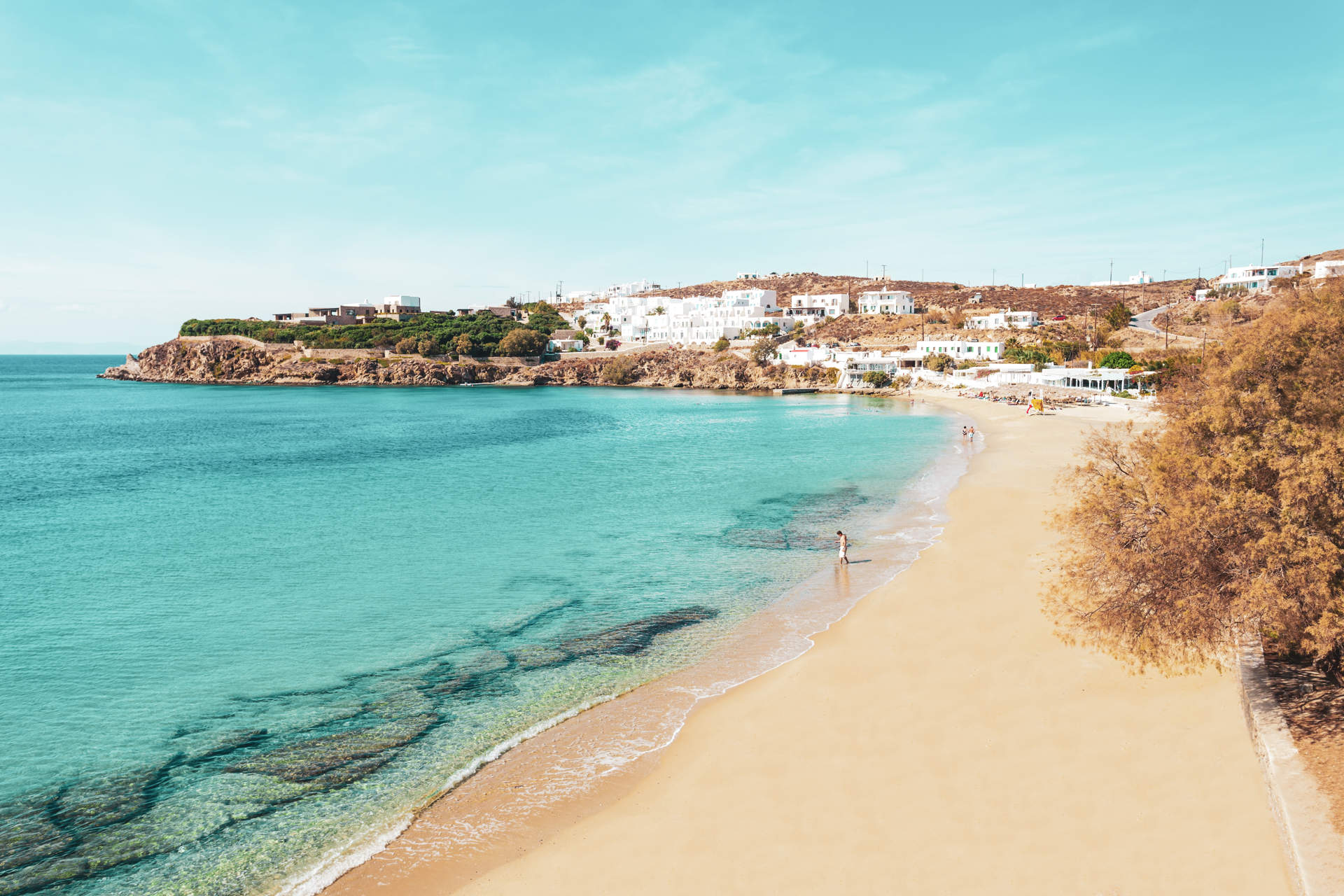 Megali Ammos
Your closest swim to Hora (just 10mins walk from the iconic windmills) is Megali Ammos. You won't find sunbeds and umbrellas (apart from a small section for a hotel)… only light beige sand and a traditional taverna serving Greek home cooking. When the wind is up, it also attracts windsurfers.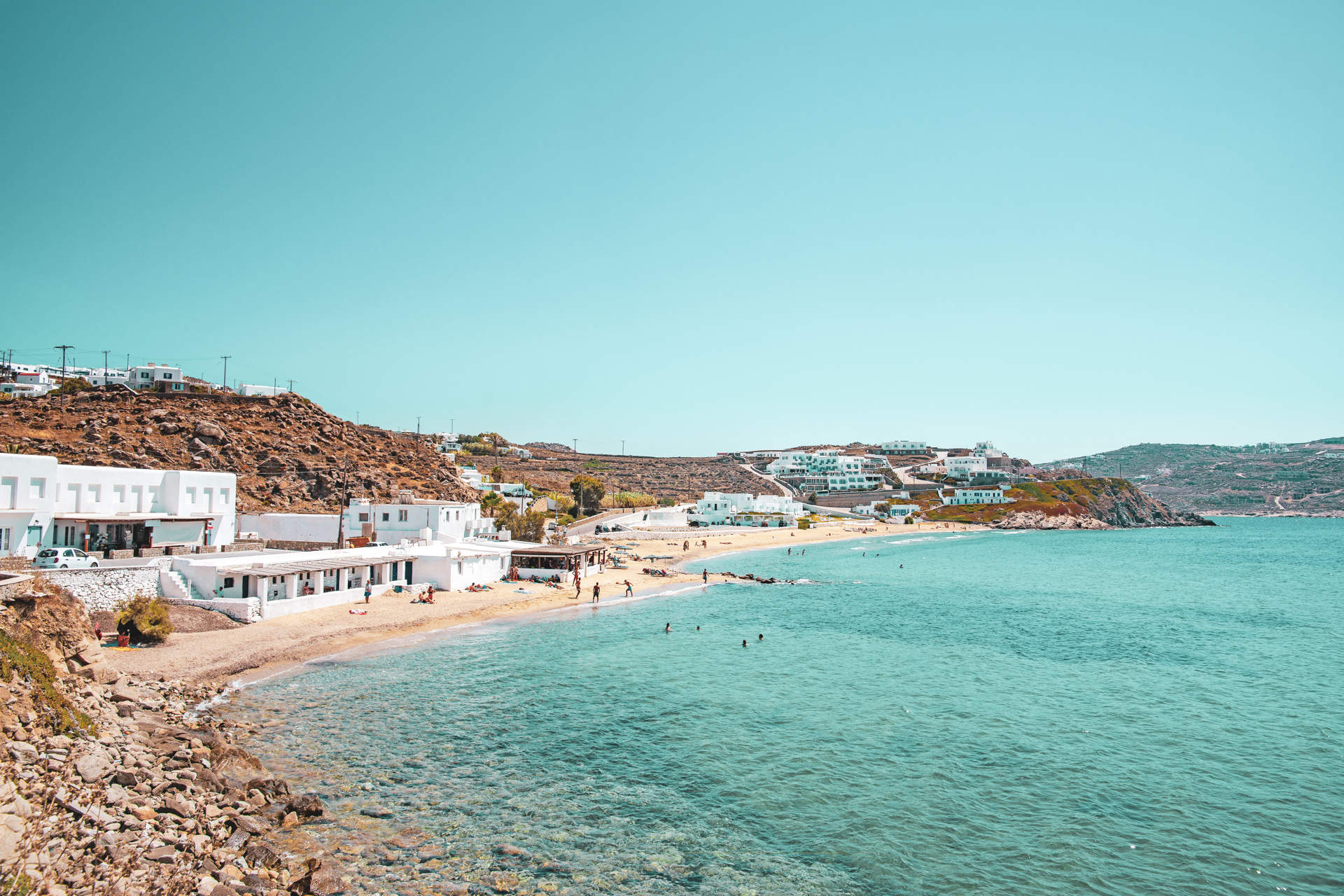 Korfos
Just north of Ornos, this is where you head if you want a wind- and kite-surfing beach. The combination of shallow water and strong wind that often blows across the bay makes the surfing conditions at Korfos legendary. Needless to say, you can hire equipment on the beach and have lessons before getting started. On calmer days, it's also a lovely swimming beach.
Kapari
Even though you're just 5km from Hora, and in one of the more developed sections of Mykonos, quiet little Kapari is a jewel of a beach. Near popular Agios Ioannis on the westernmost coast, it's for those whose dream day on the beach involves throwing a towel onto the sand and just lying back, listening to the gentle wash of the surf and going for the occasional cooling dip. It's a great swimming spot and just opposite is the island of Delos. The best view of all comes at sunset.
Agrari
We move now to the beaches along Mykonos' popular southern coast. Sandwiched between Super Paradise and Elia, you'll find a very different beach vibe at Agrari. There are umbrellas and sunbeds, a beach bar where you can order coffee or cocktails and a taverna serving traditional Mykonian dishes. But otherwise, Agrari is about total peace, especially on the large section with no facilities. It's also an ideal beach when the strong northerly wind blows.
Kalafatis
Heading east, Kalafatis is a hit with families and water sports fans. You can hire everything from snorkelling equipment to jet skis on Kalafatis, but windsurfing is especially popular. The trees at the back of the beach offer shade, if you prefer that to an umbrella, and there's plenty of space for everybody.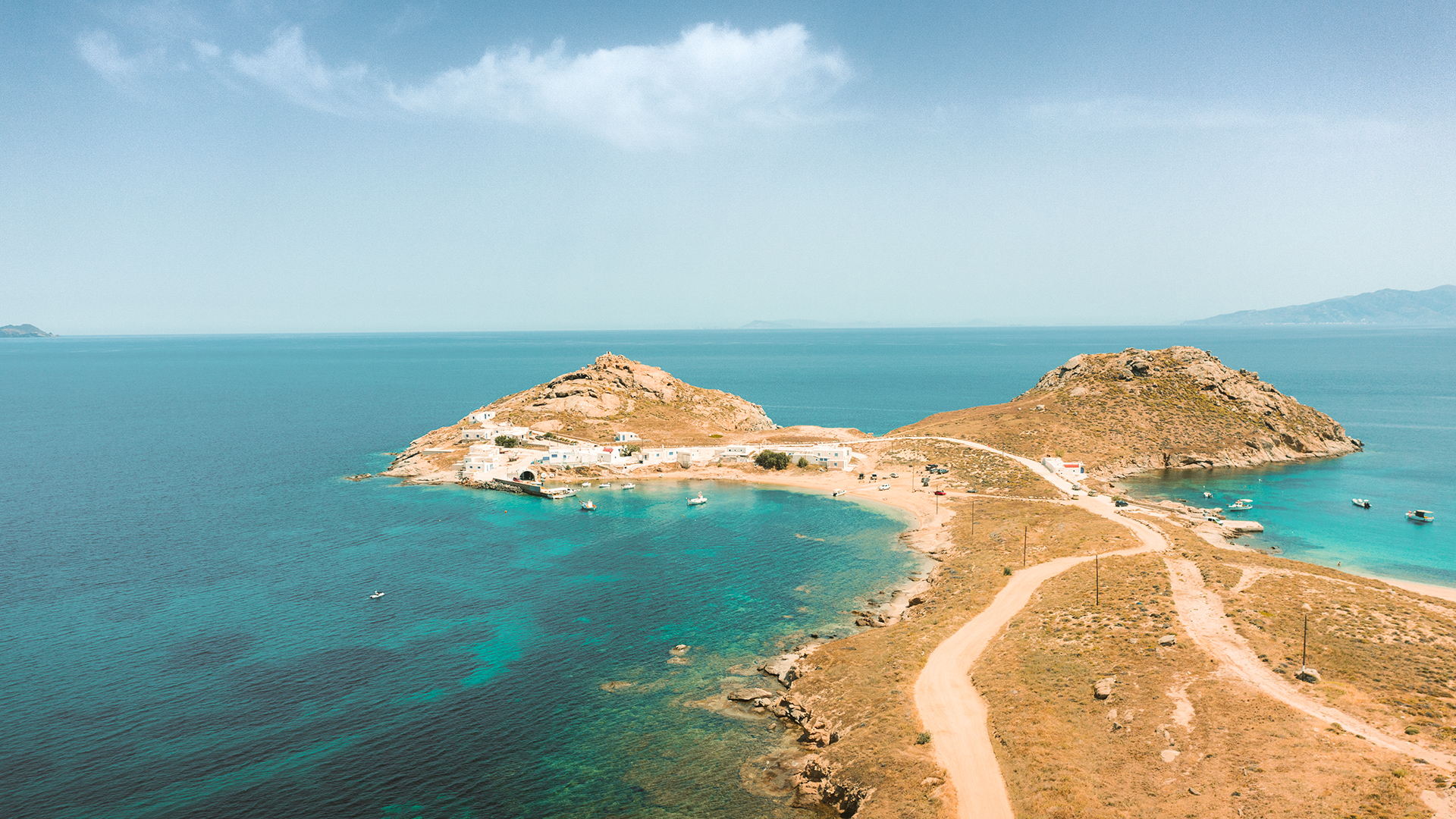 Lia
As the furthest beach from Hora on the south coast, Lia offers a more remote and relaxing feel but still has the facilities to make you comfortable all day long. The rocky landscape adds to the calming atmosphere and there are plenty of underwater features that make it a great snorkelling and diving spot.
Ftelia
We head north now to Ftelia, which has made the most of the winds that often blow stronger along this coast by attracting kite- and wind-surfers. There's a small road (sandy towards the end) that weaves towards the beach, where you'll find some cool restaurant-beach bars. There's a more boho, relaxed mood here and a large section of the beach has nothing but sand on it. The view into the gulf is magical.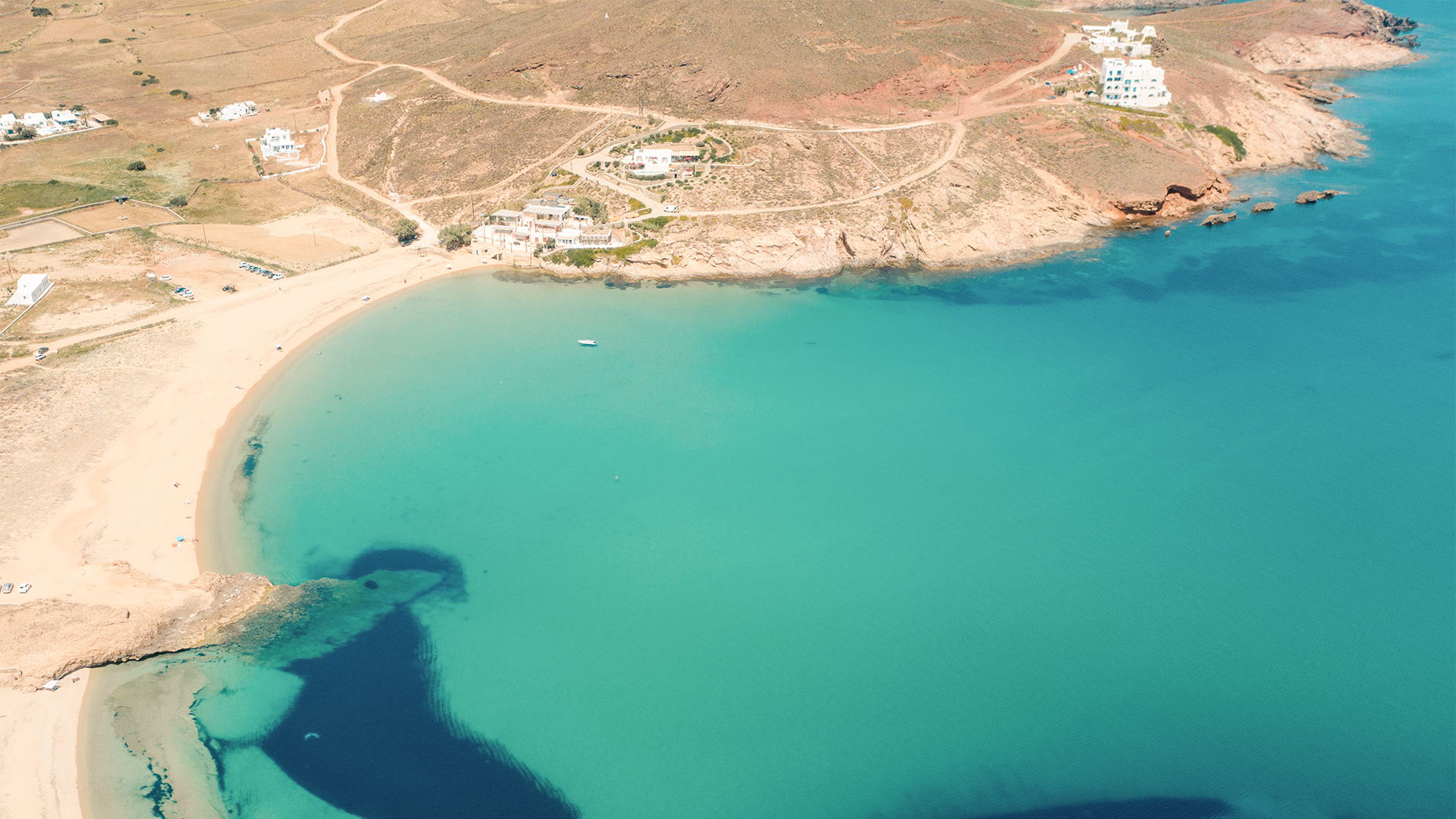 Agios Sostis
If you're looking for a beach without facilities or sunbeds but that still has a cosmopolitan feel, this is it. Just 15mins by car from Hora, Agios Sostis is a beautiful sandy cove with a wonderfully authentic taverna (without even electricity) where you'll experience Mykonian dishes made with love. Pets are welcome on the beach and, if you want to take the feeling of escape a step further, there's another little beach next door. To make sure you make the most of the day, it's worth bringing shade with you.
Fokos
Heading eastward along the northern coastline, you come across a gem that's for those seeking wild beauty. As on many northern beaches, the wind can be strong but on calmer days there are few places on Mykonos that offer such tranquillity. There are no umbrellas and sunbeds, just a taverna serving delicious, traditional dishes and nature at its most alluring. Horse riding excursions often visit the beach.
Mirsini
Less than 1km from Fokos, at the end of a dirt track, is Mirsini (or Mersini) beach. There are no facilities here, allowing you to give your undivided attention to the rocky landscape and dramatic sea. It is separated into two beaches by rocks, so you can choose where to sit to maximise the feeling of escape, especially when the summer meltemi winds aren't blowing. Just don't forget to bring everything you need for the day.
Merchia
Your final hidden gem is the most remote beach yet, even further along the north coast and accessible at the end of a winding dirt road. You'll find nothing but shingle and some tamarisk trees offering shade (so bring an umbrella if you can). The water is deeper than other beaches and nearby is the little chapel of Agios Nikolaos. Mykonos doesn't get any wilder than this.
Discover the relaxing beaches of Mykonos
There they are… the hidden gems and quieter beaches, as chosen by the locals and just as much a part of Mykonos' identity as its celebrity beaches. So if you're looking for a beach day full of peace and authenticity, you know who to ask.
Plan your trip
Outdoor activities
Santorini Cyclades
On this sunset kayak and snorkel adventure in Santorini, you will visit black, white and red beaches. Enter magnificent sea caves, swim and snorkel. Your...