READING TIME
As long as it takes to eat a Greek salad
For some, it's the pristine forests and fresh mountain air and for others, it's the lakes and rivers and striking coastline. And then there are those for whom balance and reconnecting with nature is everything. Whatever your reason for coming to Central Greece, you'll revel in discovering a part of the country that's way off the chart for most international visitors. And best of all, most of the highlights are just 2-3 hours' drive from Athens.
Tapping into the energy of Delphi
It has to be No.1 on the bucket list. Delphi is the cultural landmark of Central Greece, just as it was when the ancients travelled from far and wide to worship here. Visiting the archaeological site is a must, but to really feel its aura you have to explore. There's a footpath from the Livadi plateau following an ancient trail and passing the cave where the god Pan lived with the Corycean nymphs. The path ends at the olive groves above the Temple of Apollo. Or if you prefer, there are options on horseback or mountain biking (plenty more of that to come!) and, with Mt Parnassos and the winter fun of Arachova nearby, even exploring with snowshoes.
Feel the aura of Delphi's world-famous archaeological site
Recharge those batteries, step by step
One glimpse at all those mountains and valleys and you'll be reaching for your walking shoes and hiking pole. The European long-distance E4 hiking trail passes through Central Greece and there's an extensive network of well-marked paths. In Evritania, it's an easy hike along the beautiful gorge from the Proussos Monastery to the ominously named Black Cave (a more advanced option continues up the Via Ferrata). Or there's the gentle riverside trail starting outside Karpenisi, traversing the Kefalovrisso park to the picturesque village of Klafsi. And you can take your pick of different-level hikes on Evia, especially around Mt Dirfis, home to countless ravines and rivers and big Aegean views.
River trekking and hidden waterfalls
With all those mountains and gushing streams come river trekking and hidden waterfalls. If you want one nugget to entice you, hike along the riverbank of the impossibly clear Krikelopotamos River – past plane, oak, beech and walnuts trees and through a narrow mountain pass. You'll reach the spectacular large and small Panta Vrechi waterfalls, whose name translates as "Always Raining". Less well known but equally impressive are the Drymonas waterfalls (the largest is 15m tall), by Mt Xiron in northern Evia, surrounded by serene forest and upriver from the Monastery of St David the Elder.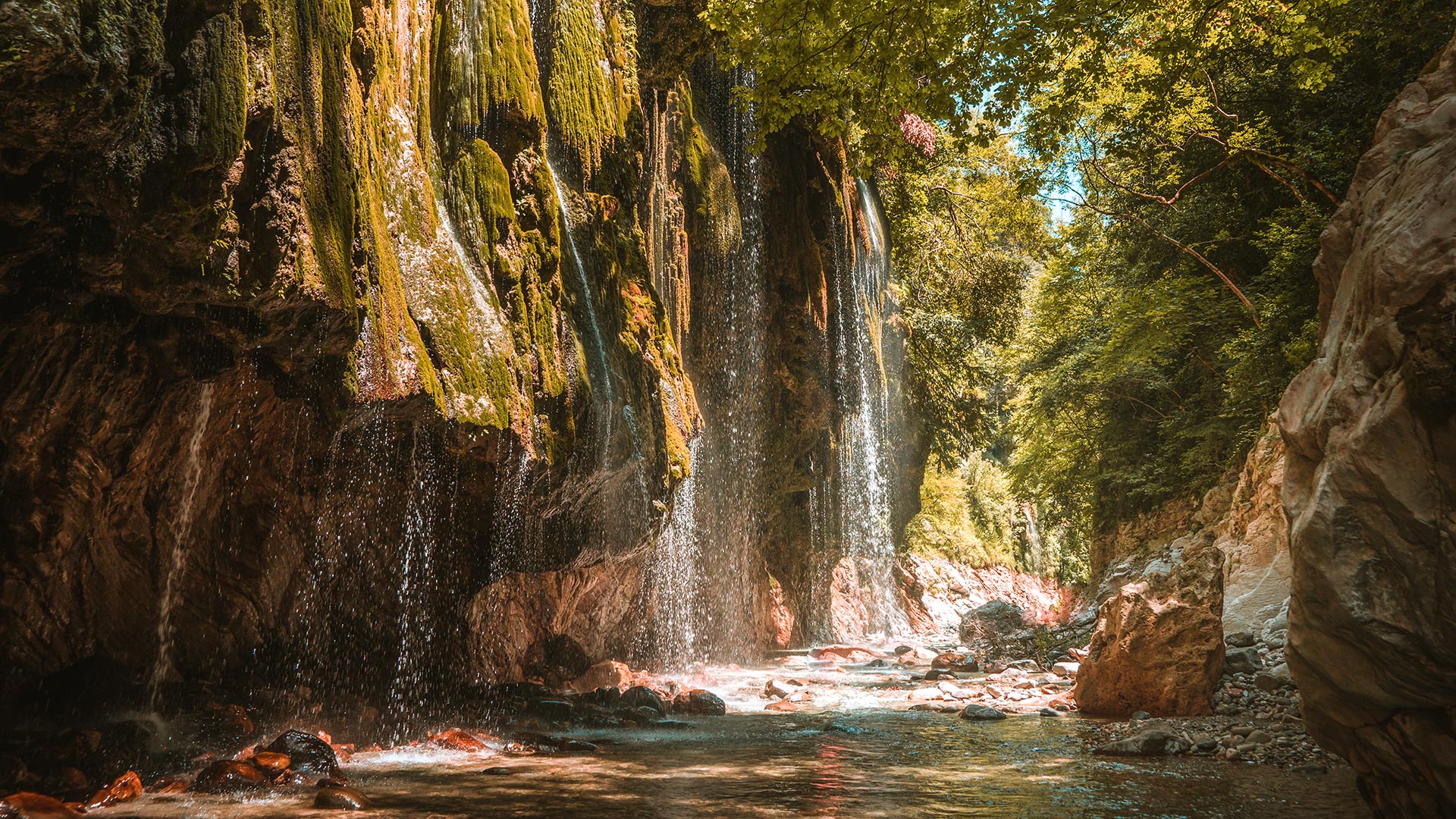 Village-hop your way to authenticity
It's not just nature that rules supreme in Central Greece. Authenticity holds court here too, most notably in the mountain and coastal villages. You'll find it in the cobblestones and architecture, in the stone fountains and village squares, and in the local products and delicious food of each hamlet.
There are the villages around Karpenisi, where you switch the vibe of the region's most cosmopolitan town for the chiselled quaintness of Megalo & Mikro Horio, Proussos, Koryschades (known for its fir trees and horse riding) and Tornos. Further south is the small town of Livadia, with its watermills and famed tavernas. And over on Evia, there's Limni and Rovies on the western coast and Steni and Prokopi in the mountainous interior.
A daytrip to the Seychelles
Now here's a gem Greeks have kept to themselves. Or rather, a collection of gems. Just a short boat trip from Kammena Vourla (on the mainland) or Agios Georgios (in northern Evia) you reach the Seychelles… aka the Lichadonisia isles. The lush greenery piercing shallow turquoise waters and exotic bays appear to belong to another part of the world. This is where you come for total serenity and escape. If you're really lucky, you'll encounter the family of Mediterranean monk seals (usually ultra-shy but at peace here) on your boat ride and there's the bonus of a shipwreck just 6m below the surface.
Off to Skyros, big on preservation
The southernmost Sporades island has embraced its customs and traditions and made them its trademark. Take the diminutive horse with which it is synonymous. Common in antiquity, only 250-odd are left in the world, but more than two-thirds are found here. You can learn everything about them (and younger visitors can ride them) at a conservation shelter that's also revived the fava-threshing process involving the horses, and they still roam freely on parts of the island. And with other local traditions also being preserved – like carving the tiny (but functional) furniture, embroidery and honey production – there's plenty more to explore.
Epic beaches that offer pure escape
When it comes to beaches, prepare for your jaw to hit the floor. There's a volcanic majesty to many of the beaches of eastern Evia that's straight out of Hawaii and yet the views are unmistakably of the Aegean. There's Vithouri, which you approach along a dusty road that winds down a pine-tree filled gorge, while others can only be reached by a short hike (like Anemaki, near the equally impressive Chiliadou). If you're lucky enough to get to Anemaki, look for the little beach within a cave at the far end. Elsewhere, there's the long, remote bay of Thapsa and, tucked away in a little cove, sandy Almirichi. This is where you come if you're looking for pure, unadulterated escape.
Feeling the wind in your sails
If you're into wind- or even kite-surfing, you'll find equipment and instructors for hire in Raches, above northwestern Evia. The passage generates excellent conditions to cross from the mainland to Evia. Or perhaps you're more of a Stand Up Paddleboard type. Either way, you'll feel energised by nature.
The call of nature #1: Lakes and rivers
It's back to the mountains of the mainland, this time focusing on lakes and other waterways. There is literally something for everyone: Boating as a family or kayaking as a couple or with friends on the gorgeous Lake Kremaston, where you can spend the day just exploring the little islands in the lake alone or with a guide to tell you all about the wildlife.
The call of nature #2: Mountain biking
And where there are mountains, there's mountain biking. Beginner, intermediate or advanced… whatever your level, welcome to a terrain that's made for adventure. With all that jaw-dropping scenery and nature, not to mention the sights (and tastes!) of the villages, you'll want to ride and ride. There are plenty of options but you'll be fully satisfied with routes on the slopes of Mt Dirfis in Evia (the paths around the village of Steni, along the Agali Gorge, are made for it), or around Karpenisi or Livadi on the slopes of Mt Parnassos.
End with some well-earned spa therapy
The thermal springs in these parts were famous in antiquity and, more recently, drew well-known Athenians to unwind and rejuvenate. Best-known is Edipsos, whose reputation is built on its steamy waters, rich in a whole assortment of minerals. (You could go for the full experience of a spa hotel!) There's also Ypati, just outside the city of Lamia, whose baths were once dedicated to the goddess Aphrodite). And there are the thermal springs of Thermopylae (and lesser-known Kallidromou nearby) offering a soak in 32-34 degree Celsius water.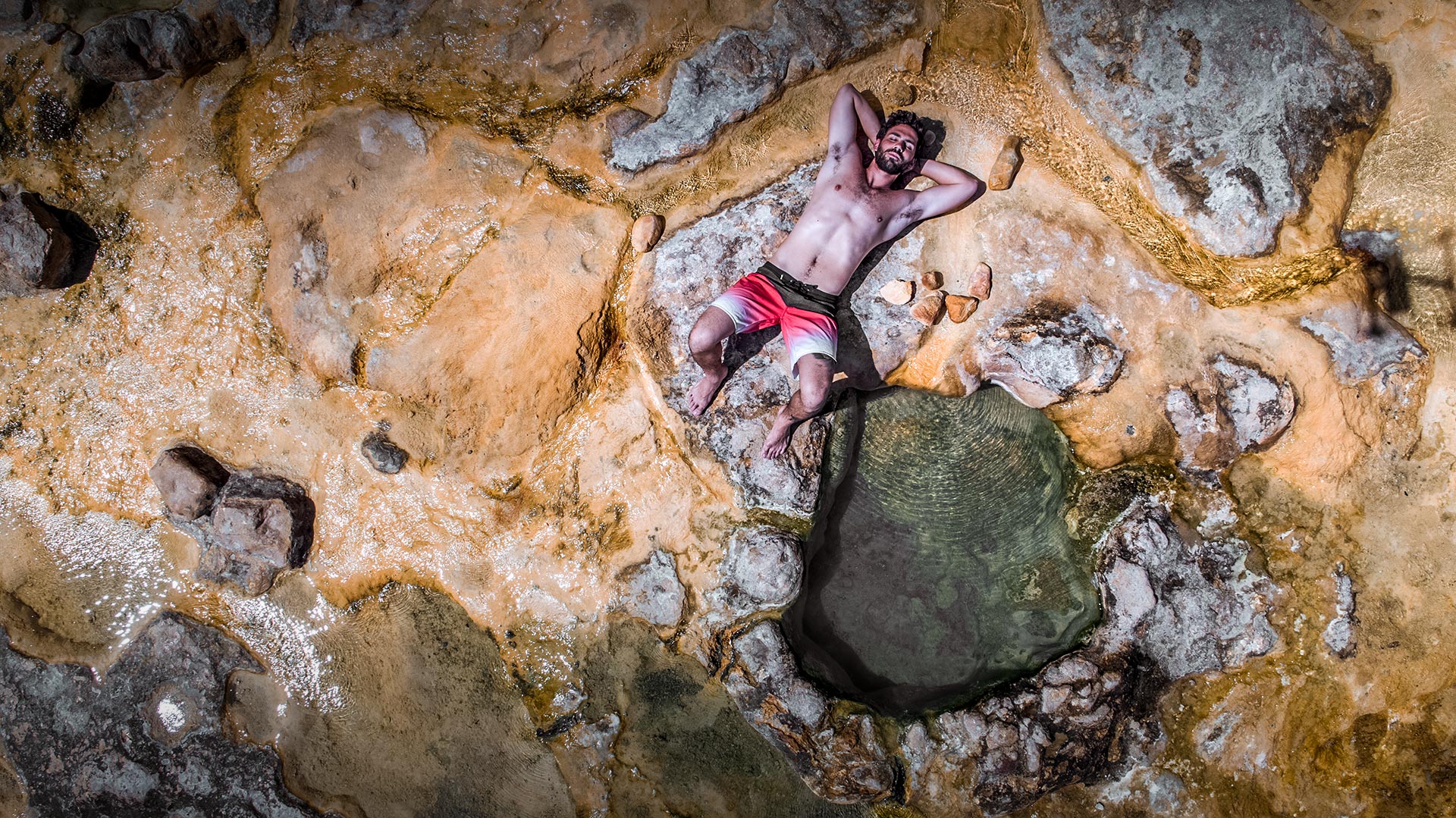 At one with nature in Central Greece
Discovering, recharging, healing, energising and filling up on that much-needed feeling of freedom and escape… all just 2-3 hours from Athens. Whatever your reason for visiting Central Greece, prepare to reconnect with nature and discover a whole new side to Greece.
Book your trip
All your holiday planning needs in one place, letting you book direct and benefit from official online rates