Fill up on nature at its best by hiking from the picturesque village of Proussos to the historic Black Cave, hidden within one of the most beautiful gorges of Central Greece.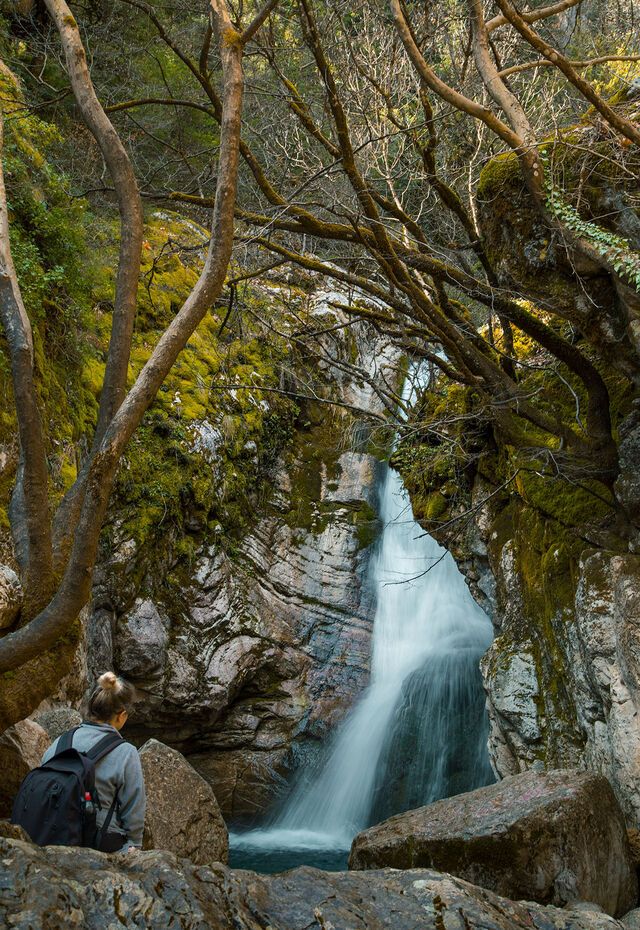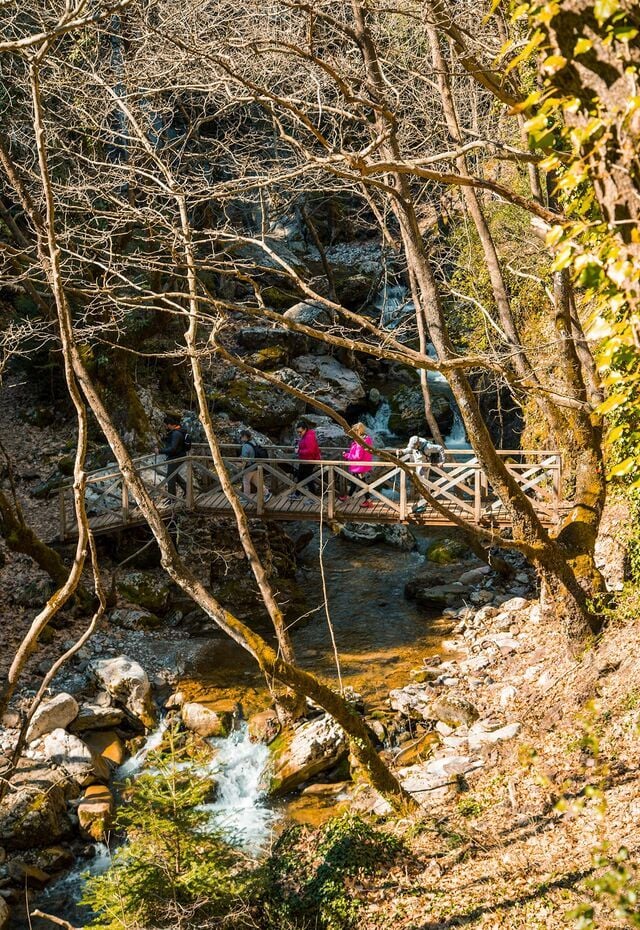 Duration
Full day
Season
All year round
OVERVIEW
It's impossible not to want to hike when you're in Evritania. The call of nature in this mountainous region of Central Greece is as irresistible as the flow of its streams and rivers. And hiking to the Black Cave takes you through one of the region's most beautiful gorges which, given Evritania's lofty status in the natural beauty stakes, is saying something!

Heading out from of the village of Proussos (or the neighbouring monastery) you follow a well-marked trail up the gorge, crossing little wooden bridges and gurgling brooks. Animal and plant life thrive here amongst firs, willows and plane trees. You pass a couple of waterfalls and some plunge pools big enough to take a dip in, which are especially refreshing in summer.

It's an uphill but straightforward hike to the Black Cave (Mavri Spilia), which makes a perfect picnic spot with family or friends. And for those with the technical skill (and ideally a guide), there's the option of continuing up the Via Ferrata – the section of the gorge accessible only with ropes and harnesses (and nerves of steel).
DON'T MISS
Proussos Monastery
It's a slightly longer walk but it's worth starting your hike from the Monastery of Panagia Prousiotissa (Proussos Monastery). Records show it was built in the 12th century, but it is said that the original monastery was built to house an icon of the Virgin Mary hidden here in 829. Centuries later, it found a different purpose when it sheltered rebels fighting against the Ottomans and Nazis during their respective occupations. The monastery has been rebuilt several times (it was burnt down by the Nazis) but its position, between two mountains, will always have been magical, with sweeping views of the tree-filled gorge. Inside, you can see the armour and weapons of revolutionary hero Georgios Karaiskakis.
Proussos village
The alternative starting point is the village of Proussos, whose plane tree-sheltered main square is a perfect place to rest before or after your walk. Water flows freely from the sources in the square (there's another where you can fill your water bottle by the entrance to the gorge) and you will find tavernas serving hearty mountain food. You can even stay the night here if you want to max out on Evritanian authenticity.
The Black Cave
After making your way over bridges and brooks, you reach the Black Cave. Not that you can see it coming. Hidden from view until you are upon it, you immediately understand why it served as a refuge during Greece's occupations. Much of the stone wall that once sealed the cave entrance remains intact. But its full history goes way back, with the ancient Evritanians said to have created an oracle here in honour of Odysseus (worshipping his capacity for combatting life's obstacles) and another legend saying that it was used as a refuge by the tragic Oedipus.
Via Ferrata
From here, things get technical. A Via Ferrata (or Iron Road) is a climbing route that uses steel cables, rungs and ladders fixed to the rock for climbers to harness ropes onto and repel over otherwise impassable terrain. If that sounds like fun, then it's for you. You'll be rewarded with even more memorable waterfalls and be completely alone in nature.
GET PLANNING
Το Proussos
From Athens
From Thessaloniki
To Karpenisi
From Athens
From Thessaloniki
Starting Point: Proussos Monastery or the Proussos-Tornos bridge (by the village)
Distance: 2.5km from the monastery and 1km from the village to the Black Cave and another 4km to complete the Via Ferrata.
Difficulty: 12+ (to the Black Cave)
Max elevation: 1,100m
Min elevation: 700m
Duration: 1hr15min from Proussos Monastery and 1hr from Proussos to the Black Cave and 4-5hrs to complete the entire route, including the Via Ferrata.
Equipment: You need only basic hiking equipment to reach the Black Cave, although a hiking stick would be helpful. Climbing equipment is essential for the Via Ferrata.
You may get wet shoes in winter and spring passing over some of the streams.
You can complete the Via Ferrata on your own, but it's strongly recommended to use a guide, who can supply all the gear and technical knowhow.
There's the bonus of a prosciutto producer near the start of the route. It has won multiple awards for its cold cuts (including air-dried salami and sausages), using organic, locally-sourced-ingredients.
What to pack:
Karpenisi is the nearest large settlement with plenty of accommodation and entertainment options.
Alternatively, there are hotels, guestrooms and a selection of tavernas in Megalo or Mikro Horio.
If you want even greater peace and quiet, there are accommodation options in Proussos and other villages in the area, such as Koryschades.
You can hike to the Black Cave all year round, but most organised excursions operate from May-October, when the weather conditions are more favourable.
If you come in spring, you'll find plenty of streams with running water and wildflowers. Autumn is particularly atmospheric because of the changing colours and falling leaves.
Autumn
Spring
Summer
Winter