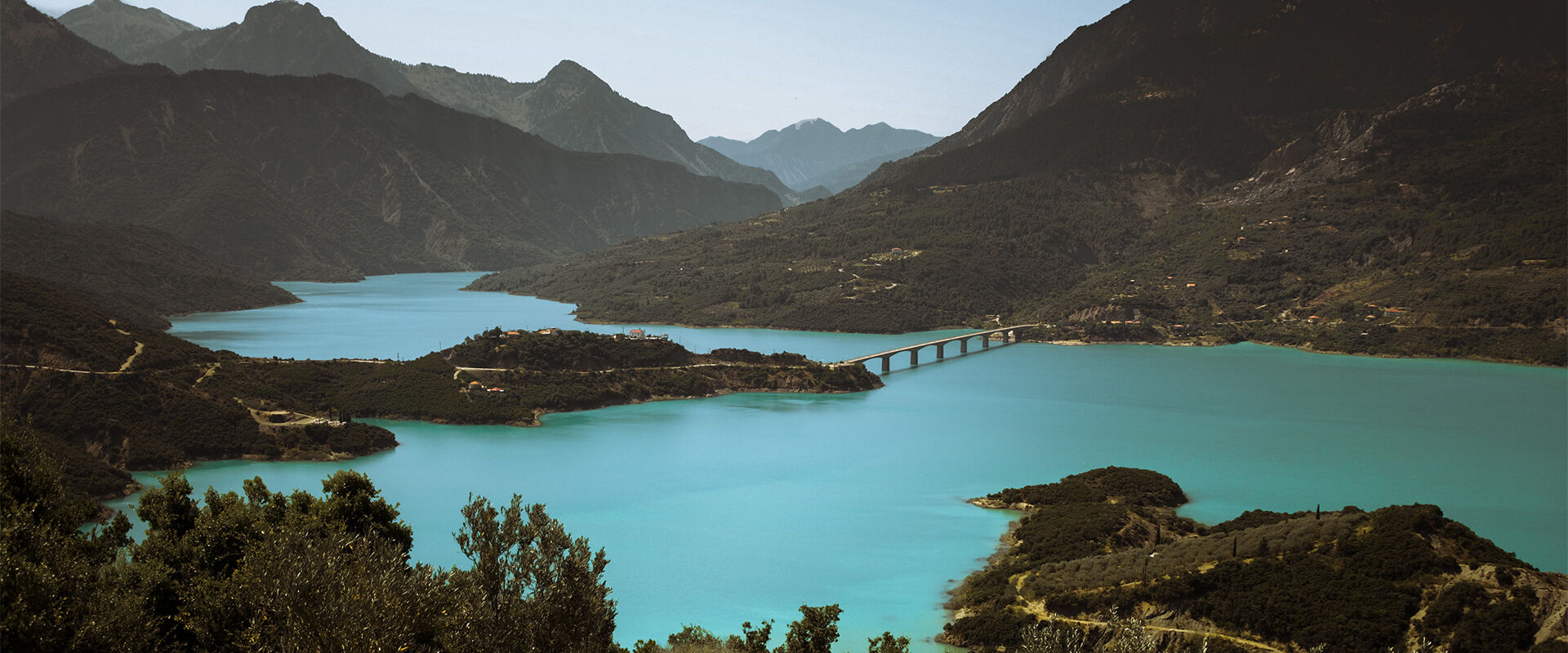 Shutterstock/ by ollirg
Spending a day kayaking or canoeing on the fjord-like Lake Kremaston is yet another magical outdoor activity in Central Greece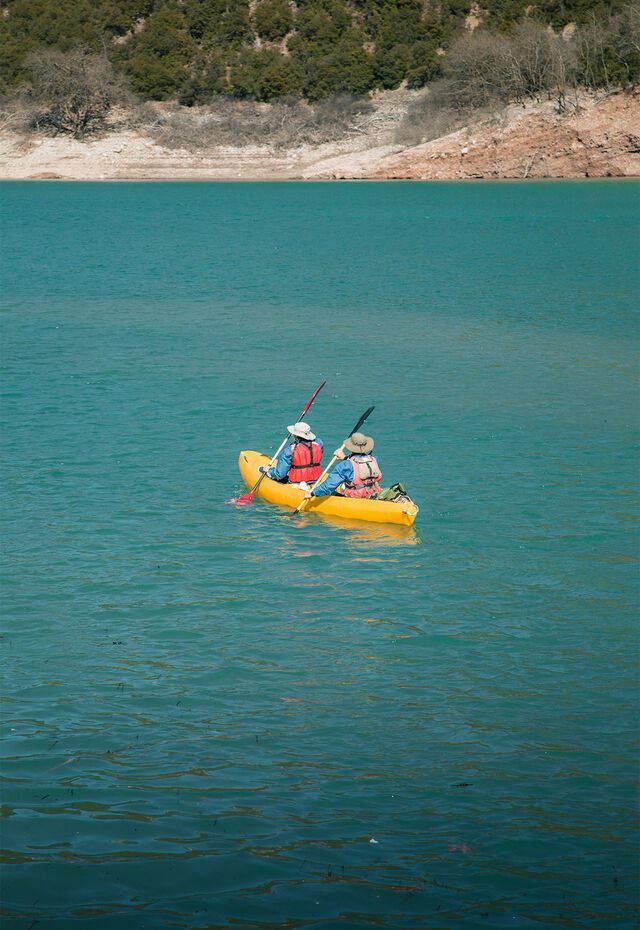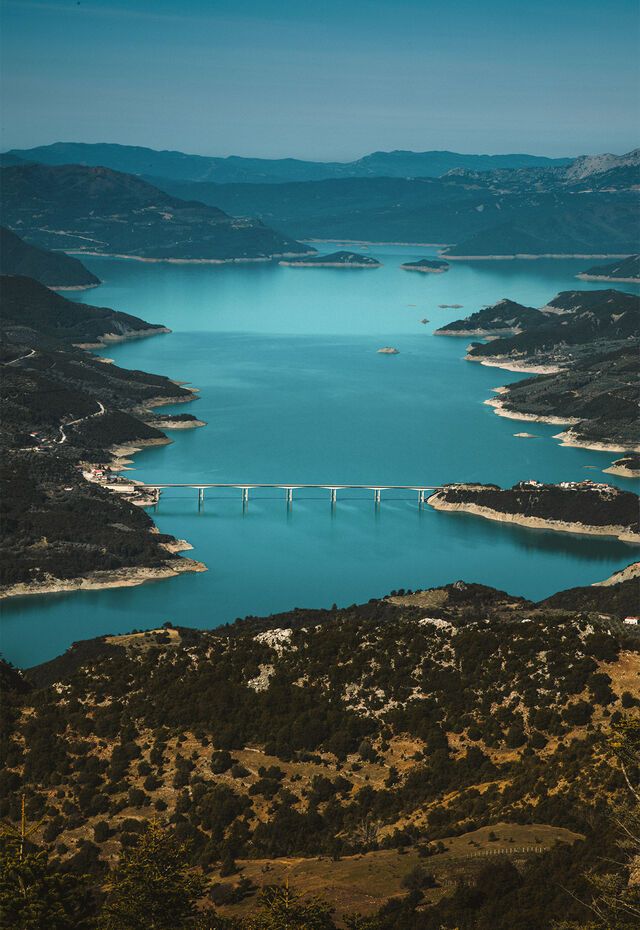 Duration
2 - 3 hrs
Season
April - October
OVERVIEW
Anyone who has experienced the alpine beauty of Central Greece won't be surprised to learn that the area holds another secret, virtually unknown to an international audience. Lake Kremaston lies below the Agrafa mountains, around 1hr30mins from the town of Karpenisi and near the villages of Evritania. An undisputed hidden gem of the mainland, it was created during a 1960s hydroelectric project to dam four rivers (the Agrafioti, Acheloos, Tavropos and Trikeriotis) and is Greece's largest artificial lake, ideal for exploring by canoe or kayak.
More like a fjord than a lake, it is dotted with islets that appear or disappear depending on the water level and is surrounded by the pine trees and other greenery so characteristic of Evritania. The water is an intense shade of blue, reflecting the mood of the seasons. There are times you could mistake it for the sea, especially in the summer when it offers itself for a cooling swim.
Largely set between two bridges (Kremaston or Episkopis and Tatarnas), it is an 81km2 body of water so it's best to join an organised tour. Your guide will tell you all about the rich biodiversity of a region that is part of the Natura 2000 network of environmentally protected biotopes.
You might also be taken up the Agrafiotis River, where you'll find the Manolis Bridge, an arch of stones that united the banks of the river for more than 300 years. Unlike other old bridges (and some buildings) that were covered with water during the damming project, the Manolis bridge is either partially submerged or fully revealed depending on the time of your visit.
Book your trip
All your holiday planning needs in one place, letting you book direct and benefit from official online rates
Culture
Athens Delphi Central Greece Piraeus
Outdoor activities
Delphi Central Greece Galaxidi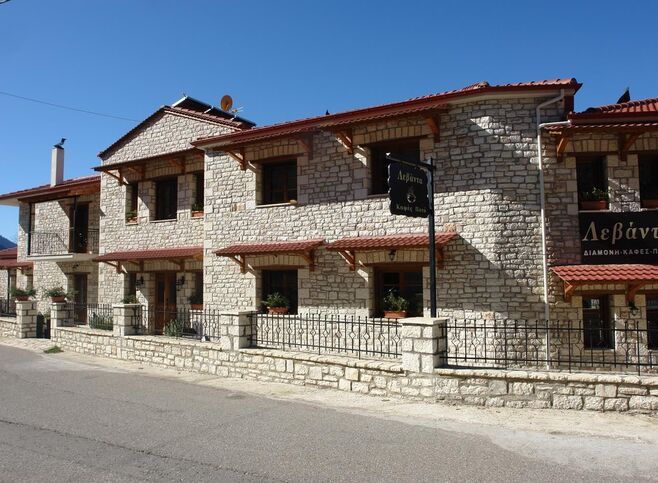 Accommodation
Karpenisi
Surrounded by the lush forests of Evritania, Levanta is a traditionally built, with stone and wood, guesthouse, housing 10 elegant rooms with modern faciliti...
From Karpenisi, head towards the villages of Evritania or follow signs to the lake. Alternatively, make your way to your meeting point, if you've booked an organised tour.
It is 55km (1hr30min) by road from Karpenisi to Kremaston (or Episkopis) Bridge.
---
To Karpenisi
From Athens
From Thessaloniki
Most organised excursions run from April to October when the weather conditions are best.
Each season is different at Lake Kremaston. Nature is most alive in spring, while the summers are best for swimming in the lake. The landscape becomes most atmospheric during autumn.
Most organised excursions last 2-3hrs
It's worth dedicating more time to the experience (half or even a whole day) to explore the gems within and around the lake.

Organised excursions include equipment and a light snack.
The experience is suitable for 6+ years old.
Don't miss the opportunity to see the lake from the village of Fidakia (Tsangaralona viewpoint), where you'll get the perfect Insta shot. There's also a traditional taverna here, serving local delicacies.
It's worth visiting the Tatarnas Monastery, just north of the lake, which contains heirlooms dating from the 13th century and gives you another fabulous view of the lake.
You'll find tavernas and other viewpoints around the lake, especially from the two bridges and the village of Agios Georgios. There are tavernas here specialising in grilled trout.
What to pack:
Karpenisi is the closest town, with a wide choice of accommodation and entertainment options.
There are plenty of hotels and guesthouses elsewhere in Evritania, including the villages of Megalo and Mikro Horio, Proussos, Koryschades.
TRAVEL RESPONSIBLY
The charm of canoeing in Lake Kremaston is that it is a wild and unspoilt environment, so please help keep it that way.
Follow the safety instructions of your guide, including food and alcohol consumption before your experience.
Don't forget to keep any rubbish with you until you reach a bin.
Use a refillable water bottle to try to minimise your use of plastic.
Respect the local environment by not disrupting the flora and fauna or removing rocks and other natural materials.
Always check the weather and don't attempt anything that is beyond your abilities or physical condition.