The villages of Evritania overflow with everything magical about Central Greece – tradition, history, local products, mouthwatering dishes and lots and lots of greenery. And best of all, they're an easy drive away from Athens or Thessaloniki.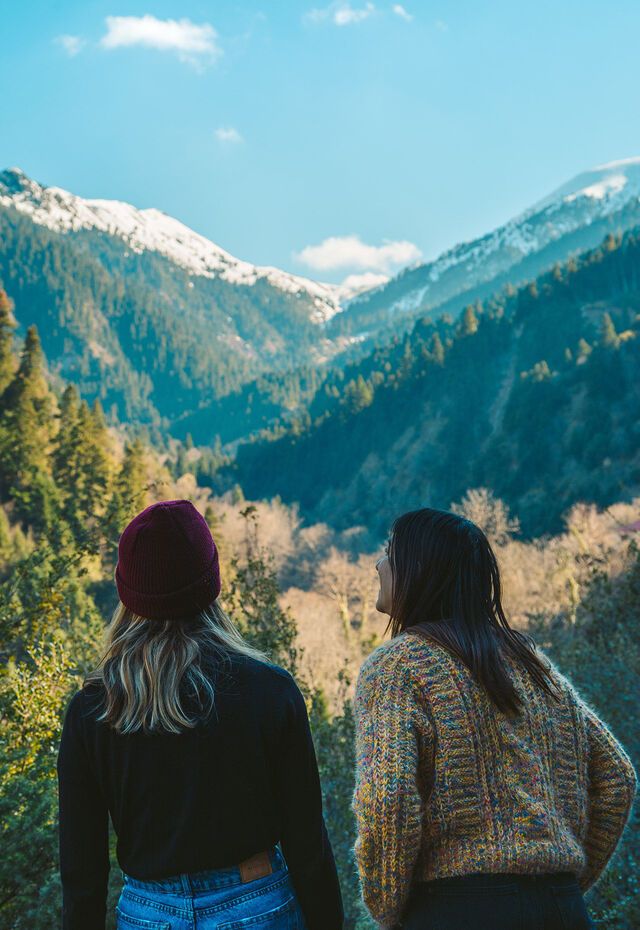 Duration
Full day or 2-3 days
Season
All year round
OVERVIEW
One of Greece's most mountainous destinations, Evritania is known principally for its main town, Karpenisi, which attracts a vibrant winter crowd, and neighbouring ski resort. Less well known but just as magical is its collection of mountain villages.

This is alpine territory and the Greek mainland at their best. Lakes, gorges, rivers and sloping forests of fir, pine and chestnut tree, everywhere you look. So, as well as immersing yourself in the authenticity of stone-built settlements, there are opportunities for outdoor adventure all around you… hiking, rafting, kayaking, horse riding etc. Followed, of course by a hearty taverna meal made up of a variety of meat-based dishes and pies, local cheeses (you have to try the tsalafouti, made from both goat's and sheep's milk), homemade sweets and a fireside glass of red wine or tsipouro.

You'll want to come back, most likely in another season. Each has its own charm – from snow-filled winter to the feeling of rebirth in spring, and from the cool and lush summers to the golden hues of autumn.
DON'T MISS
Koryschades
Village life begins just 10mins from Karpenisi. This small village is full of history and tradition, with a handsome listed former school building (now housing the Museum of National Resistance) dominating the main square. You'll find cafes and tavernas, where you can enjoy breakfast or a meze with tsipouro. On the adventure side, you can horse ride along the Karpenisiotis riverbank. And nearby is the church of Agios Ioannis, from where you can get an Insta-perfect shot of the village nestled within a blanket of fir trees.
Megalo Horio
Big Village (as the name translates) is one of the largest settlements in the area, with plenty of life and places to eat or stay. You get here by following the Karpenisiotis River until you reach the village, built amphitheatrically on the slopes of Mt Kaliakouda. The traditional architecture, cobbled streets, stone fountains and main square with gorgeous views of the river and valley are everything you could hope for. As for the regional food, you're in for a treat: Locally sourced meats, simply but deliciously chargrilled or served as traditional dishes (such as slow-cooked lamb in a pot or wild boar) and grilled or oven-baked trout, nowhere better than in the riverside village of Gavros (20mins walk or 5mins drive by car). You'll likely be offered a homemade liqueur or spoon sweet and look out for the local galaktoboureko (a filo pastry and semolina-based dessert). Before you head home, pick up a local product or two, such as hilopites (handmade pasta), mountain tea, marmalades, cold cuts and locally churned butter.
Mikro Horio (Paleo and Neo)
From one of the biggest villages to two of the smallest. Old and New Small Village live up to their names in every possible way. Located either side of the Karpenisiotis River, they ooze quaintness. It's worth walking the 1.5km between the villages to feel their connection. In the old village, there is a Folk Museum and a fantastic view from the church of Agios Sostis that will whet your appetite to spend the rest of the afternoon in a taverna. Look out for the wild boar stifado (with stewed onions), cockerel in red sauce and other succulent slow-cooked meat dishes, as well as homemade pies. And leave room for the orange pie (portokalopita). It's delicious.
Proussos
Proussos stands out for its nearby monastery and gorge. The Monastery of Panagia Prousiotissa (or Proussos Monastery) isn't just historically interesting but its location is sublime. Records confirm its existence since at least the 12th century, but local lore says the first monastery here was built in the 9th century to house a hidden icon of the Virgin Mary. Centuries later, it served as a revolutionary refuge in the battle against the Ottomans and Nazis. Built on the side of a ravine, it looks onto a grand-scale landscape of fir trees and mountains. Nearby begins the path up the narrow stretch of the gorge, towards the Black Cave.
Tornos
Practically hidden within the green hillside, at an altitude of 800m, Tornos is cute-as-can-be in its own right and the starting point for many an adventure. There are well-marked walking paths from here, taking you into the mountains or along riverside paths. You'll find a number of waterfalls near the village and, a little further away on the Krikeliotis River, the Panta Vrechi (Always Raining) waterfalls, a magical sight for anyone lucky enough to hike there.
Fidakia
A final gem, unknown even to most Greeks, is set apart from the other villages but worth seeking out. Fidakia sits above Lake Kremaston, Greece's largest artificial lake and a magnet for nature lovers. You can boat or kayak on the lake, but don't think twice about just settling down in one of the little tavernas for the afternoon. Or perhaps going to Tsangaralona (3km away) for an elevated view of the lake and surrounding countryside. It's like you're on your own private balcony with the whole of Evritania spread out before you.
Book your trip
All your holiday planning needs in one place, letting you book direct and benefit from official online rates
Group
Group
10 hours
Free cancellation
Not sure? You can cancel this reservation up to 24 hours in advance for a full refund.
Group
GET PLANNING
To Karpenisi
From Athens
From Thessaloniki
You'll need to hire a car in Athens or Thessaloniki (or perhaps Karpenisi) to tour all the villages:
Koryschades – Megalo Horio (12.1km, 18min)
Megalo Horio – Neo Mikro Horio (3.2km, 7min)
Neo Mikro Horio – Paleo Mikro Horio (2.5km, 6min)
Paleo Mikro Horio – Proussos (26.3km, 45min)
Proussos – Tornos (6.2km, 14min)
Tornos – Fidakia (42.2km, 1hr25min)
You can village-hop in Evritania all year round, with each season being special in its own way.
In winter, you can combine your visit with the Ski Centre above Karpenisi, while in autumn there is a mystical aura about the setting. Nature comes alive in spring, with plenty of running water in the rivers and streams, while in the summer you'll enjoy the cooling, fresh air.
Museums & Cultural sites:

Museum of National Resistance (Koryschades)
Open Wednesday-Sunday 10:00-15:00. More Info
Folklore Museum (Paleo Mikro Horio)
More Info: +30 22370 41023
Autumn
Spring
Summer
Winter
If you start early in the morning, you can do a quick tour of all the villages in a single day, to get a taste of all of them.
However, it's worth spending 2-3 days village-hopping, especially if you also want to enjoy some outdoor activities.
Driving between Koryschades – Megalo Horio – Neo Mikro Horio – Paleo Mikro Horio – Proussos – Tornos will take about 1hr30min (50.3km)
You then need another 1hr25min to reach Fidakia.