READING TIME
As long as it takes to eat a slice of watermelon
You'll have seen Lefkada even if you haven't been. Its beaches routinely feature in Top 10 lists around the world, capturing everything magical about the Ionian Sea: generous swathes of sand, mesmerising blues and a backdrop of white cliffs and forest green. Less well known are the hiking paths and villages. And just to add to the appeal, Lefkada is easily reached by plane to Aktio airport or by car from Athens (4hrs) or Thessaloniki (4hr30min).
Discover the supermodel beauty of Porto Katsiki
If Lefkada's beaches line up like a catwalk parade, then Porto Katsiki is its most-snapped supermodel. It manages to combine a dramatic cliff-side setting with a bird's eye view of the beach and sea.
Head to the Caribbean beach of Egremni
The 2km stretch of sand at Egremni is considered one of the most impressive in the Mediterranean – or perhaps that should be the Caribbean because that's what it will remind you of, with its combination of crystal-clear, turquoise-coloured water and white sand and shingle. Understandably, it's a drawcard beach – although (like so many of Lefkada's generously sized beaches) it more than handles its popularity. Reached by boat from Nydri or Vassiliki, it is completed by a cliff backdrop that has a way of locking in all that beauty.
Feel the cosmopolitan vibe of Kathisma
Lefkada's most cosmopolitan beach is a firm favourite because of its unique vibe. You'll find everything you need here – not just umbrellas & sunbeds but restaurants, beach bars and a water sports centre – and yet it still manages to generate a wild unspoilt beauty.
Tick off the rest of the best
The beauty of holidaying in Lefkada is that you can choose a different beach every day, depending on your mood and interests, and still feel like you need to return to discover the rest. To the west, there's the sandy trilogy of Avali, Megali Petra, Kavalikefta (near Kalamitsi village) and the cosy Agios Nikitas (a family favourite). Closest to Lefkada town is Ai Giannis (a magnet for wind- and kite-surfers) and to the south is Agiofylli, in a gorgeous bay and with blue-green water. And let's not forget Vassiliki, near the village of the same name, loved by wind-surfers and for its annual international water sports festival.
Be greeted by the castle and the sea
That said, if you arrive by car, your first impression won't be the beaches. It's of the remains of the castle you see on an islet by the floating bridge as you cross from the mainland. You should come back to explore this excellent example of 13th-century fortress architecture, known as Agia Mavra to the Venetians. Don't forget your swimsuit because right next door is Amoglossa, perfect for a sneaky dip after your cultural exploits.
Take a stroll around town
Grabbing your attention in town is the marina which, as well as being modern and well-equipped, holds more than 600 berths for an assortment of bobbing sailing boats and yachts. If you follow the waterfront around from the marina, you reach a wooden bridge (one of the island's trademarks and a great sunset spot). And right opposite, you'll find the start of the town's main thoroughfare. It won't matter how many times you stroll it, you'll find another shop, cafe or bar you hadn't noticed the last time.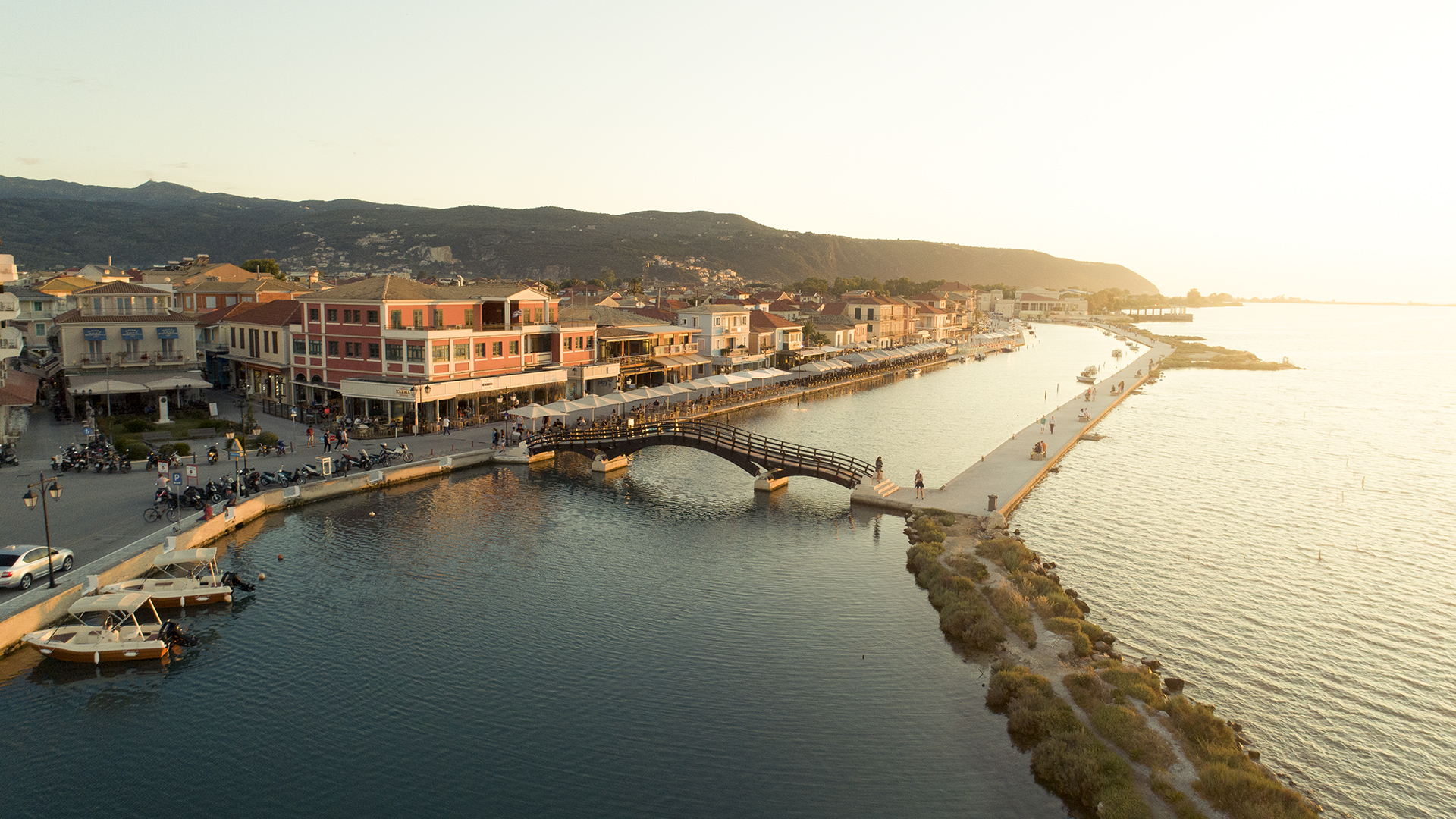 Hike to the fairytale waterfall of Nydri
As you leave town, you discover something else about this island you weren't expecting. It's not just green but hilly, too, which means hiking paths and even the occasional waterfall in the valleys. The best known is at the end of a trail that starts at the seaside village of Nydri (or you can start at Rachi, for a slightly shorter walk). The Nydri Waterfalls, as they are known, are in an especially beautiful spot and form a plunge pool that's great for a refreshing summer dip. Other walking paths to look out for start from the villages of Agios Nikitas and Vassiliki.
Go village-hopping in the green interior
Whilst you're exploring Lefkada, don't miss the chance to discover the villages, especially around Karia, right in the heart of the island. Karia is the biggest of the villages and one of the most lively. Surrounded by greenery, it's a cluster of impressive houses and atmospheric streets and cafes.
Tastes of the sea (and other local delicacies)
The food of Lefkada is dominated by seafood, with cod, squid, cuttlefish, eel, crab and sardines (a local favourite) just a few of the ingredients lighting up taverna dishes. Other delicacies are avgotaracho (made from cod roe), air-dried salami and the lentils still produced in the traditional way in the mountain village of Eglouvi. It's worth visiting Eglouvi where you can meet the locals behind the lentils famed for their taste and quick-cooking properties. Lefkada also produces excellent olive oil and wine, with a couple of wineries that you can visit.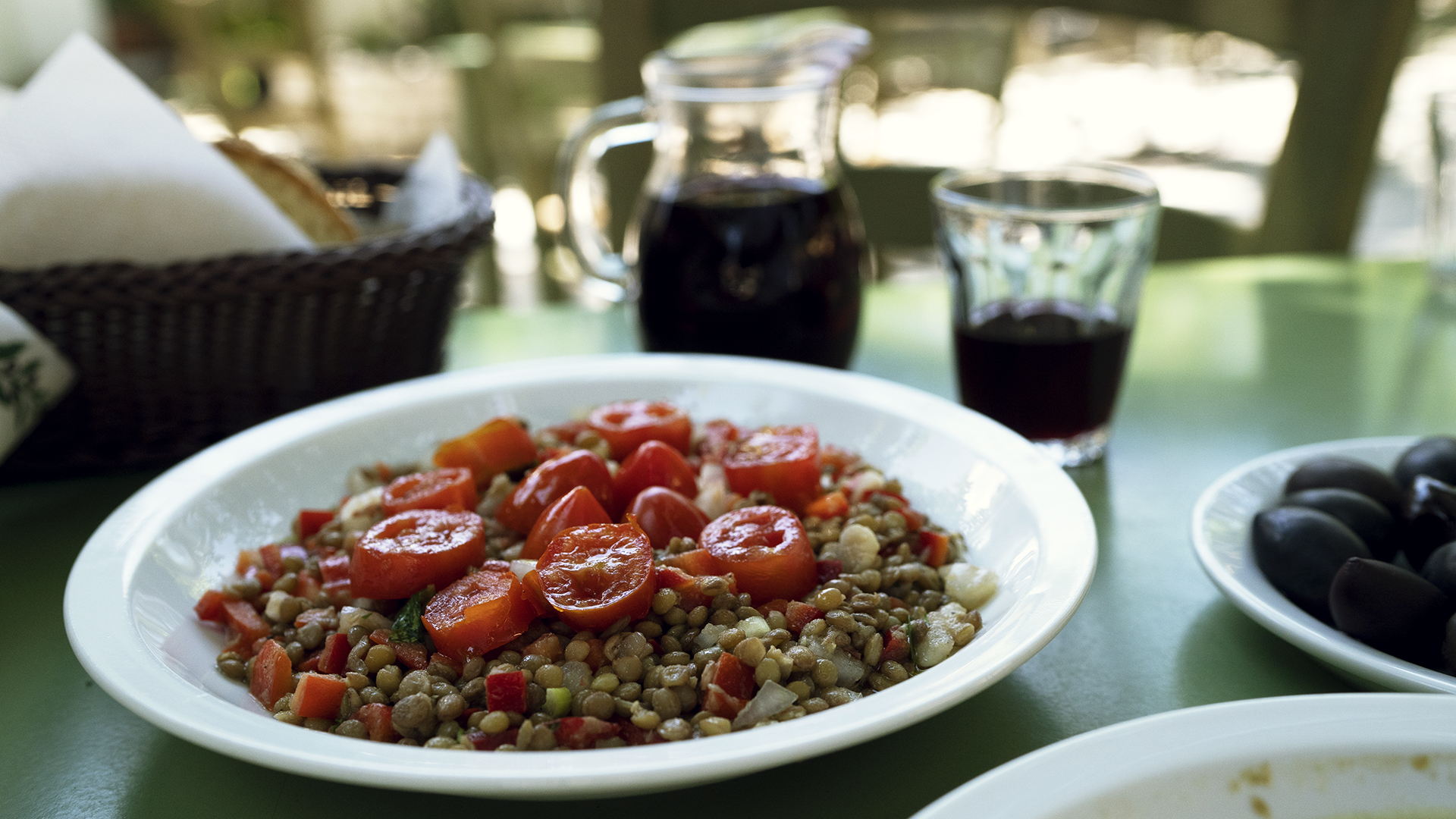 Set sail for Meganisi (and yet more beaches)
Back to the sea we go before heading home. By hiring a sailing boat and skipper, you can set sail from Nydri and explore all those gorgeous beaches you've heard about. But so too can you head past the Pringiponisia isles in Nydri bay and head for Meganisi, a green speech mark-shaped island off the south coast of Lefkada. There's plenty to see (meriting an overnight stay), including the Papanikolis Cave and – you guessed it – yet more beaches. Atherinos, Fanari, Porto Elia and Limnonari are the best known. But there's also Ai-Gianni, Loutrolimni, Ambelakia, Pasoumaki… You get the picture.
Experience the best of Lefkada island
There's nothing, it seems, that Lefkada doesn't give generously. From its star-studded beaches to the richness of its nature and ease of access, it radiates everything magical about the Ionian islands.
Book your trip
All your holiday planning needs in one place, letting you book direct and benefit from official online rates
Outdoor activities
Lefkada Ionian Islands
Accommodation
Lefkada
Villa Veneziano was built in 2009 from the Russian shipbroker Sergei Kauzov in memory of his wife Christina Onassis. Nestled on a ...