Unmissable beaches, island legends, traditional fishing villages and a sea cave that once sheltered a WW2 submarine are just part of the world that opens up to you as you set sail from Nydri on Lefkada.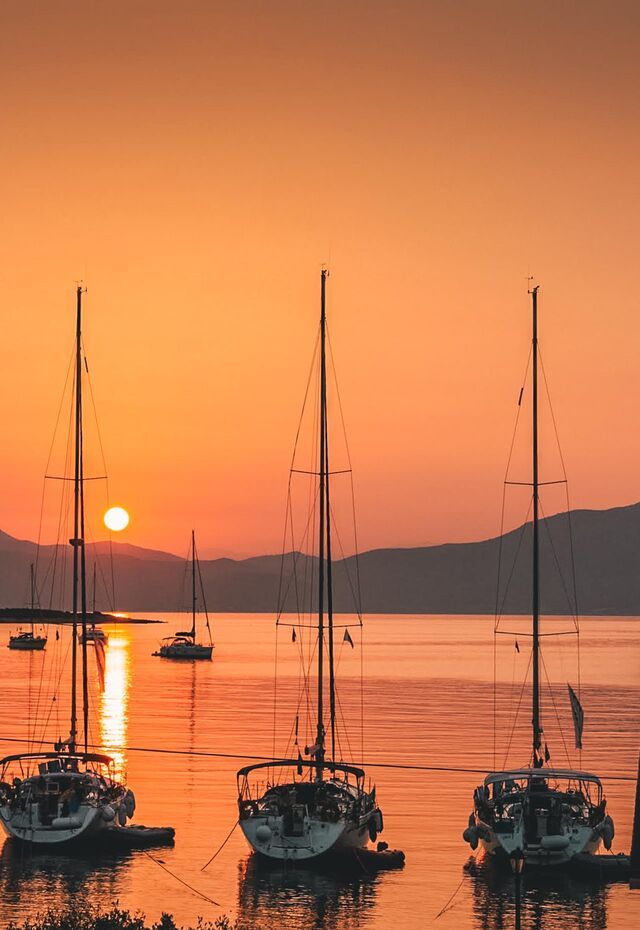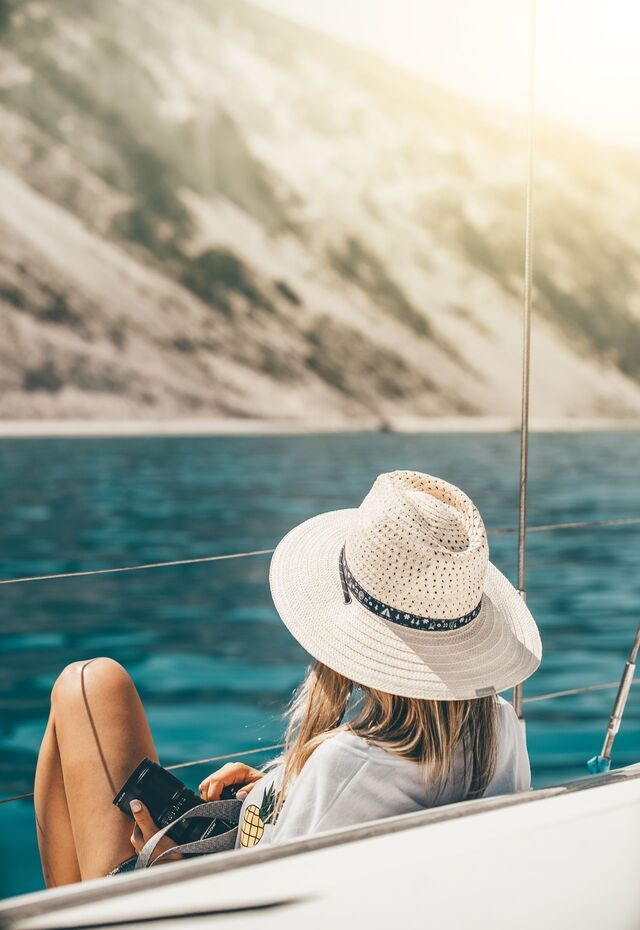 Duration
4 - 9 hrs
Season
May - October
OVERVIEW
It would be tempting to arrive at Nydri, on the eastern coast of Lefkada, and feel like your journey was complete. The beautiful bay and setting of rolling hills and forest green are, of course, wonderful in themselves. But as you look out onto the cluster of isles in the bay, you'd be right to let temptation get the better of you and set out to discover them and what lies beyond.
Magnificent beaches, sea caves and traditional fishing villages, and even star attractions on the other Ionian islands of Kefalonia and Ithaca… They're all easily accessible on boat trips from Nydri.
DON'T MISS
Depending on your choice of boat trip or if you hire your own boat, your experience will include some of the below:
Pringiponisia
The so-called Prince Islands, just outside the bay of Nydri, more than live up to their billing. The most famous is without doubt Skorpios, once owned by shipping tycoon Aristotle Onassis (and his even more internationally recognisable wife, Jackie). Although it is privately-owned, you can visit a beach directly opposite Meganisi. Also privately owned are the islets of Skorpidi and Madouri, where you can visit for a swim. If you hire a boat, it's worth asking exactly where you can stop.
The beaches of Lefkada
Here's your chance to visit beaches regarded as some of the best in Greece. Travelling clockwise around Lefkada, there's Agiofylli, with its fine pebbles and cool, deep water. And of course you can't miss Porto Katsiki… but instead of walking down the stairs carved into the rockface, your first view of this beach legend as you arrive by sea will be of the massive cliff and swathe of sand that feature in so many best-beach magazine articles. And on to Egremni, accessible only by sea and every bit as dramatic as Porto Katsiki in the natural beauty stakes.
Meganisi
An island of just three villages and a population of around 1,000, neighbouring Meganisi is big on intimacy and simple living. Arriving at Spartochori, you'll find an adorable little port with fishing and sailing boats. Take a stroll around the stone-built houses and unassuming yet delicious tavernas of a village surrounded by walnut groves. Meganisi is also famous for the Papanikolis Sea Cave, named after the submarine that sheltered here during World War 2. But the highlight of your visit will likely be swimming in the achingly beautiful Ambelaki Bay, to the north.
Kastos and Kalamos
Welcome to another couple of newcomers to your lexicon of Greek islands, this time just off the coast of the mainland opposite Lefkada. The sublime beaches and bays of Kastos and Kalamos have long been a secret of yacht owners sailing in the Ionian Sea and for good reason.
Fiskardo in Kefalonia
One of the highlights of any stay on Kefalonia, the fishing village of Fiskardo has been attracting visitors for decades. Make sure you spend a good amount of time strolling around the port and traditional houses before settling down to a waterfront meal you won't forget.
Kioni in Ithaca
Another village gem to finish with, this one on the hillside above a gorgeous little bay on the northeast of Ithaca. The village of Kioni represents everything that's most charming about Ithaca – quaint, roof-tiled houses, a setting of cypress and olive trees, and a sea view that's every landscape artist's dream.
GET PLANNING
Boats leave from Nydri:
Organised boat trips run daily from around 9:00 and return around 18:30.
There are numerous options, so it's worth comparing routes to find the one that's right for you.
There are also plenty of options for private boat hire, allowing you to set your own itinerary.
---
Reaching Nydri from Lefkada Town:
By car or taxi: 16km (30min)
By bus: More info
Most boat trips are available from May to October.
Tickets start from around €20-25 per person. Prices of private boat hire are more.
All boat trips are dependent on weather conditions.
May-June and September-October are the best and quietest months to visit Lefkada.
Autumn
Spring
Summer
Winter
Depending on whether you opt for the half or a full day option, your boat trip may last 4-9 hours.
There are facilities at the bigger beaches and some boat trips offer food and drink, but the more remote beaches are not organised.
Make sure you have everything with you to enjoy a full day in the sun: