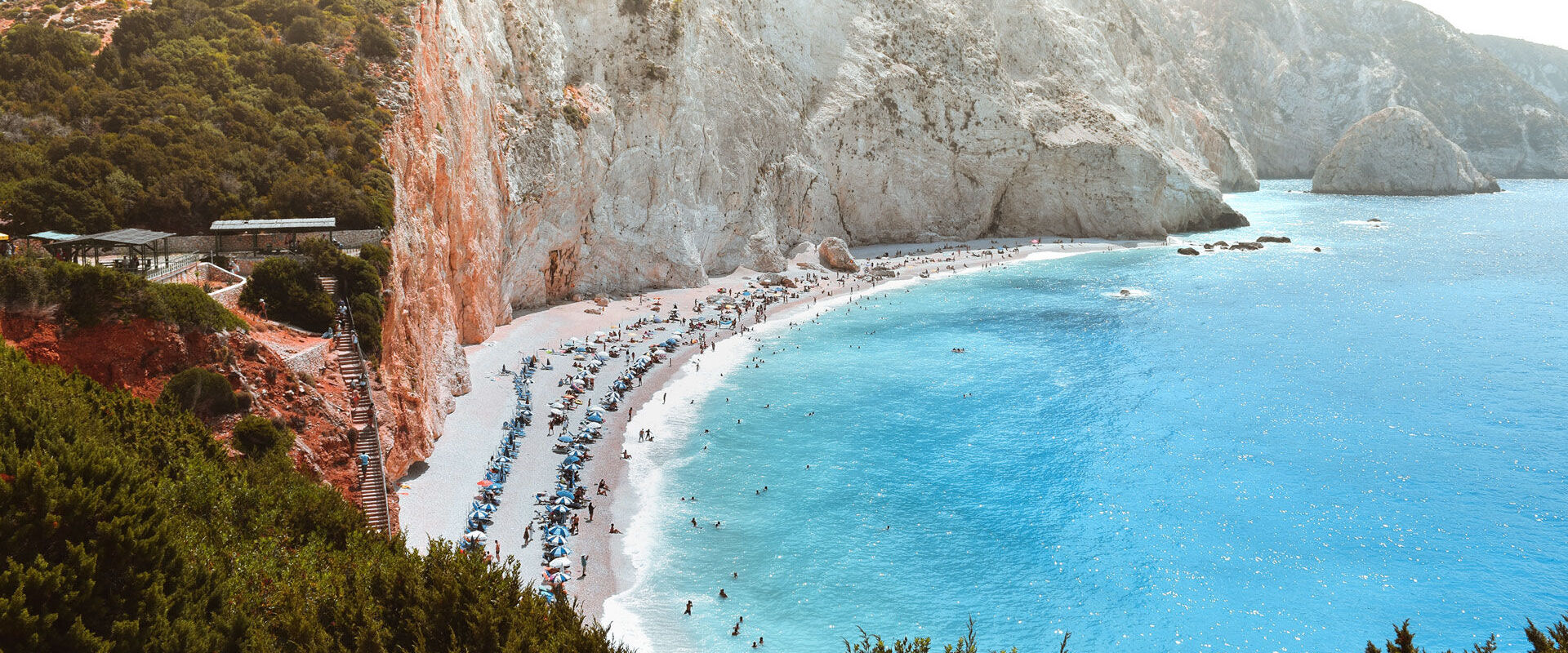 EXPERIENCE
The majesty of Porto Katsiki beach on Lefkada
George Prentzas
There's a grandeur and beauty to Porto Katsiki's cliff-face setting that no other beach can hope to capture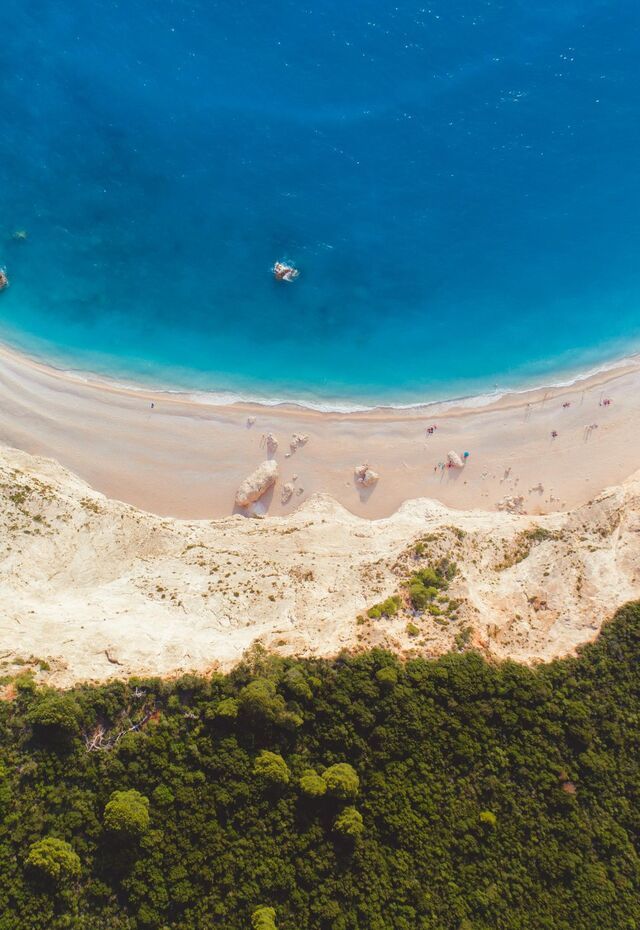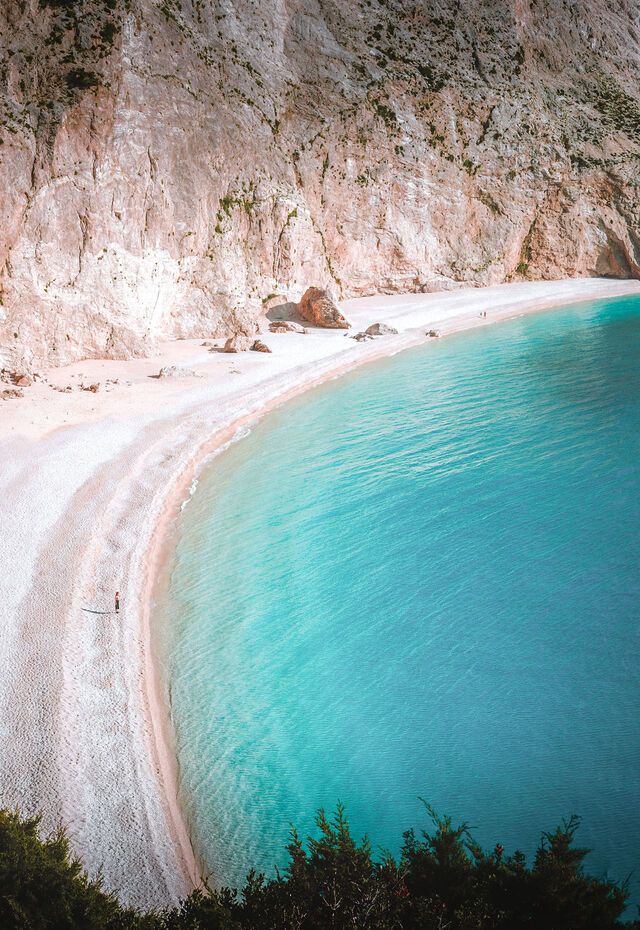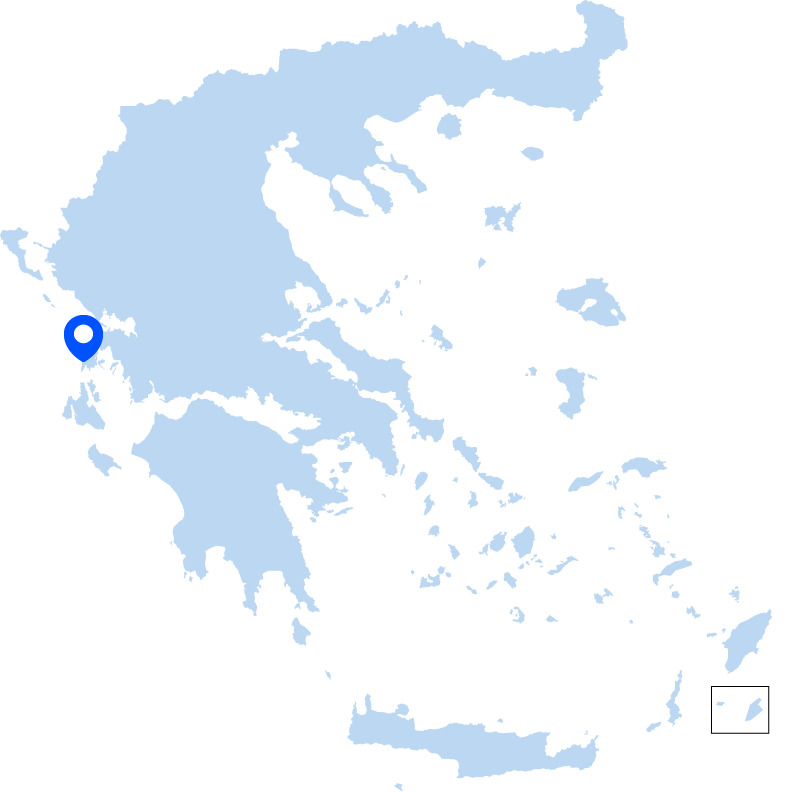 Duration
4 - 6 hrs
Season
May - October
OVERVIEW
You know you've arrived somewhere special when you emerge from a winding and densely tree-lined road to be greeted by a staircase of around 100 steps, carved right into the rockface. At the bottom is a wildly beautiful beach, far longer than you imagined, and before you an unbroken sea view… turquoise near the shore, shifting to a palette of ever-changing blues until it merges with the sky. No wonder Porto Katsiki, at the southern tip of Lefkada, routinely features in magazine articles amongst the most beautiful beaches in the Mediterranean.

A day on Porto Katsiki beach is about enjoying nature at its most alluring: tiny stones scrunching underfoot and the sound of gently lapping waves. To the northern end of the beach, the cliff towers so high above that sunbathers are reduced to ant-like specks.
No trip to Lefkada is complete without visiting. And once here, you'll want to enjoy it from every angle possible. From the beach with that horizon view ... from the sea with the rock-face behind you ... or from high up on the clifftop.
There's another stairway to a peninsula flanking the beach that's not for the faint-hearted. But what a spot to enjoy the amazing sunset and the sight of the cliffs turning orange!
GET PLANNING
You can reach Porto Katsiki by car from any direction on Lefkada. The road ends at a parking area.
From Lefkada town
By car or taxi: 44km (1hr30mins)
From Nydri
By car or taxi: 51km (1hr30mins)
From Athani village
By car or taxi: 11km (20mins)
You'll enjoy the beautiful scenery at any time of year, but swimming and sunbathing are best from May to October.
The beach and parking area do get busy in the high season, so make sure you arrive early in the morning or later in the afternoon.

May-June and September-October are the best and quietest months to visit.
There are sunbeds & umbrellas on the beach and a canteen selling refreshments in the parking area.
There are tavernas nearby, if you fancy grabbing a bite.
Make sure you have everything you need for a day in the sun:
TRAVEL RESPONSIBLY
Beaches are delicate ecosystems so please help keep them in the best possible condition and leave only your footprints.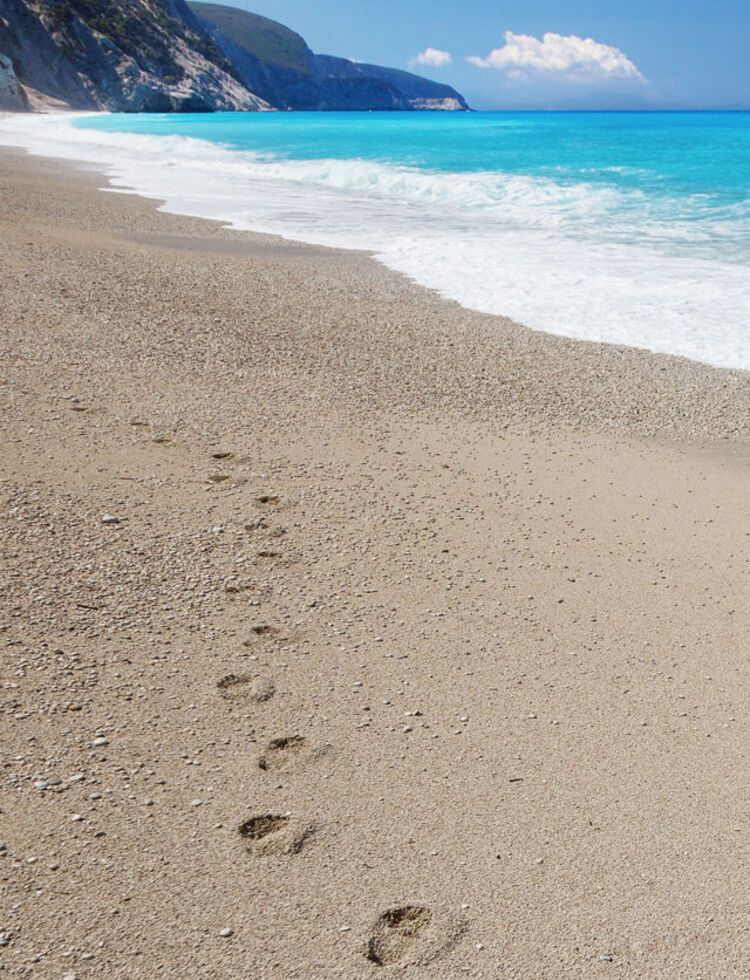 Use the bins provided or, if need be, take your rubbish with you.
Don't remove any shells, rocks, fossils or sand from the beach.
Respect the marine life and the plants and animals on shore.
Use a refillable water bottle to try to minimise your use of plastic.
The sea at Porto Katsiki beach gets deep and it can be wavy. It's recommended that you don't swim if the wind reaches 5 Beaufort.
Making fires on beaches is strictly forbidden.