Holidays in Syros revolve around the upper town (Ano Syros) and cosmopolitan Ermoupoli, filled with life all year round and colourful, neoclassical mansions and Venetian charm. But if you delve just a little bit deeper, you'll soon discover that the capital of the Cyclades is also an island of quaint seaside fishing villages and a rich culinary tradition. And as for the beaches, well there's something for everyone. Syros' beaches are ideal for families and friends, with facilities and water sports or pure relaxation depending on your mood. So join us as we get to know 10 of the best beaches in Syros.
Asteria beach
Asteria beach is ideal for a quick swim if you're staying in Ermoupoli. It does come with a disclaimer though as it's not really a beach and there's no sand. Instead, Asteria is a small concrete platform with a ladder into the sea. But that doesn't stop it from being one of the liveliest swimming spots in Syros. You can jump off the platform, swim or sit back and enjoy the views of Ermoupoli. It is situated in the lovely Vaporia district and enjoys a cosmopolitan vibe, with a number of bars and nearby restaurants. Asteria beach is a great choice if you want to combine your stroll around Ermpoupoli with a swim.
Amenities: Sunbeds & umbrellas, beach bars, restaurants
Access: By road

Galissas beach
Right by the seaside settlement of the same name, Galissas beach is one of Syros' biggest and most popular swimming spots, famed for its clear (Blue Flag-awarded) waters and easy disposition. Inside a U-shaped cove with fine sand and shallow water, it's a great option for families and friends. You can head up to the chapel of Agia Pakou for some panoramic views of Galissas village and, if you feel like exploring further, nearby Armeos beach is a nudist beach that is great for chilling. Don't forget your snorkelling gear and, as soon as you get hungry, there are tavernas nearby.
Amenities: Sunbeds & umbrellas, snack & beach bars, water sports, sea ramp
Access: By road

Kini beach
The seaside village resort of Kini and its beach are another popular holiday option in Syros, particularly with families. The water is shallow and clear, the sand is fine and the freshly caught fish is just one of the specialities the tavernas serve up. If you explore a bit (check out the bronze mermaid statue by the shore), you'll find a panoramic viewpoint that's also a great sunset spot and boats that take you to more secluded beaches, such as Gria Spilia (Amerikanou beach), Grammata, Varvarousa and Aetos. If you're looking for a quiet option just by Kini, Lotos beach is close by.
Amenities: Umbrellas, taverna, snack bar
Access: By road

Delfini beach
Delfini beach is unassuming and relaxed and a good option if you're looking for something quieter than neighbouring Kini or on windy days. Tucked away in a windless, rocky cove, there's a side to the beach with sunbeds & umbrellas and a side with nothing but pebbles and sand. The waters are calm and clear, ideal for snorkelling. Delfini is one of the best beaches in Syros if you're looking for something carefree but still want an iced coffee on the side.
Amenities: Sunbeds & umbrellas, beach bars
Access: By road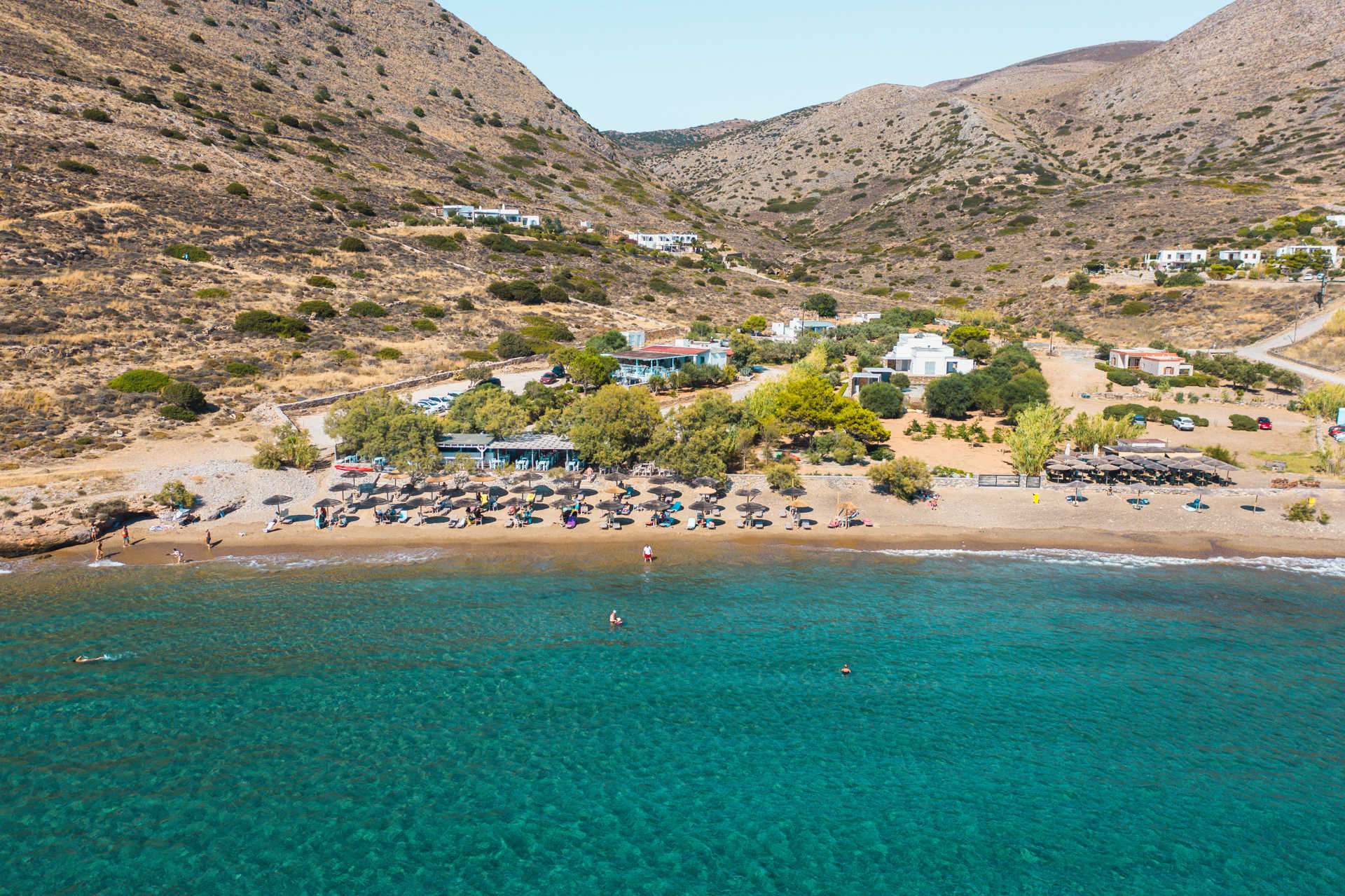 Agathopes beach
One of the best-known beaches in Syros, Agathopes is easy like Sunday morning. Located near one of the most popular village resorts of Syros, Posidonia (or Delagratsia), it offers plenty of amenities and eating options. The beach itself is mostly sandy, with shallow water that's always popular, especially with families with young children.
On the beach, you will find protected sand-lilies and nearby are the islets of Strongylo and Schinonisi.
Amenities: Sunbeds & umbrellas, beach bars, sea ramp
Access: By road

Komito beach
A little further down the southwest coast of Syros is Komito beach. It's blessed with fine golden sand and crystal-clear waters and is connected to Agathopes by a road. There's also a lively beach bar that attracts a young crowd. You can find some natural shade courtesy of the tamarisk trees here and get some water sports action by hiring a flyboard or windsurf, or maybe a SUP for something more leisurely. Your holidays in Syros just got an upgrade.
Amenities: Sunbeds & umbrellas, beach bar, water sports
Access: By road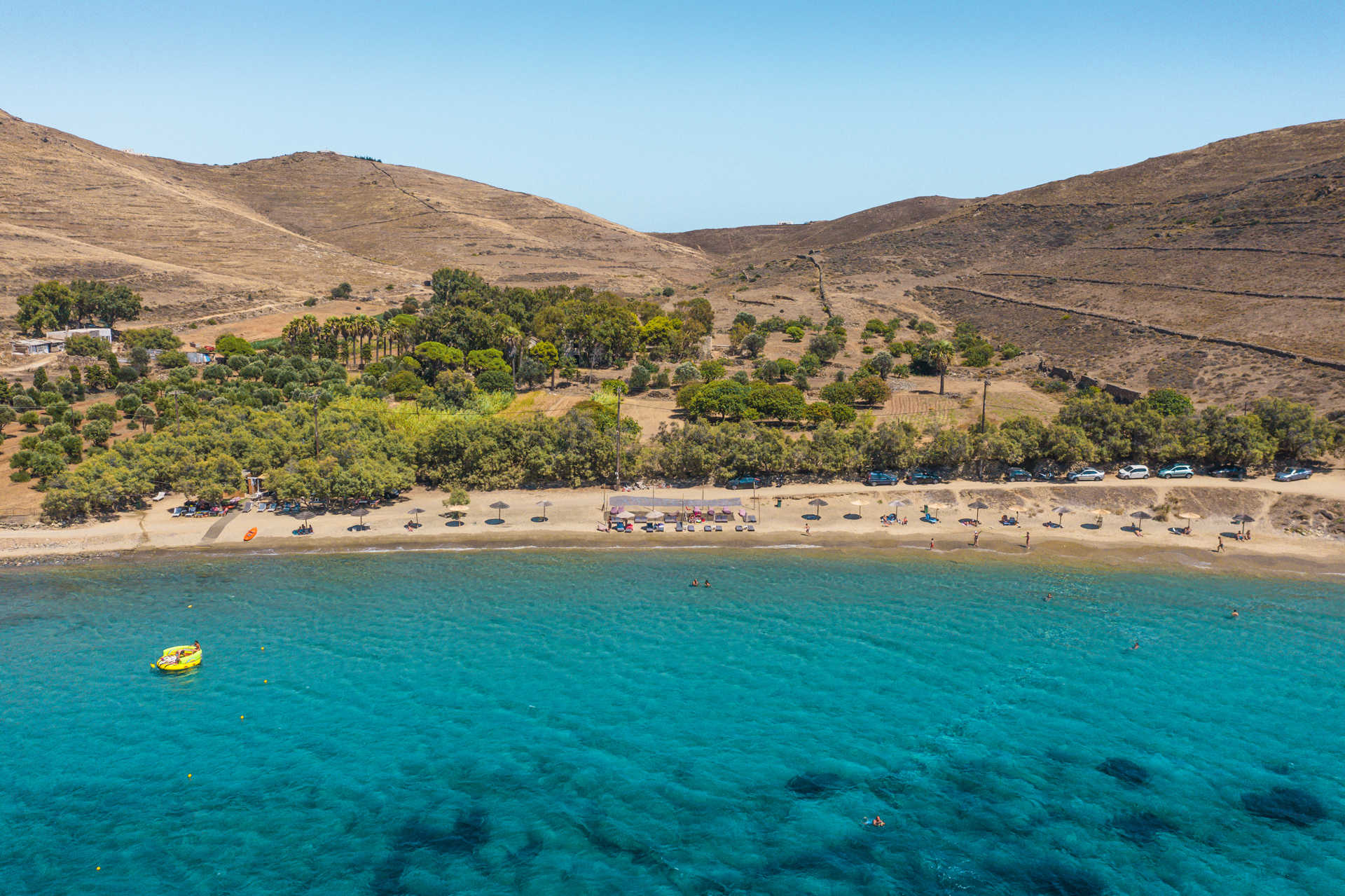 Megas Gialos beach
Another fine beach in southern Syros is Megas Gialos (the main beach of the popular settlement). Protected from the wind, this beach is made up of fine sand and has shallow, clear waters (ideal for younger kids) and a smattering of tamarisk trees that provide some natural shade. Meanwhile, nearby Ampela (one of the smallest beaches in Syros) has amazingly clear water and is more serene and chilled – although you'll still find some umbrellas and food & drink.
Amenities: Umbrellas, taverna, snack bar
Access: By road

Vari beach
One of the most popular beaches in Syros, Vari is the main beach of the same-named settlement, located in a windless cove with fine, yellow sand and blue-green waters that are shallow enough for kids to play around in.
Grab some lunch at one of the beach-side tavernas and, if you need to walk it off, the hillside chapel of the Virgin Mary above the beach provides a panoramic Insta-opp.
Amenities: Sunbeds & umbrellas, beach bars, tavernas, parking, sea ramp
Access: By road

Achladi beach
Cute and cosy, like Syros itself, Achladi beach and its fishing village are a delight. It's another popular beach in Syros, with pebbly sand and clear blue waters (ideal for snorkelling) and a beach-side taverna. There's a quaint little harbour at one end of the beach with small boats.
Amenities: Sunbeds & umbrellas, beach bar, taverna
Access: By road

Finikas beach
The village of Finikas is another popular destination in Syros, with a beach that's a mix of sand and fine pebbles and comes with a concrete platform for those who prefer to remain sand-free. It is a family-friendly beach, with a good variety of tavernas and bars and a well-equipped marina for sailing boats.
Amenities: Umbrellas, beach bars, tavernas
Access: By road
10 of the best beaches in Syros
As an island with a year-round population of around 22,000, Syros is a singular mix of cosmopolitan and traditional elements thanks to lively Ermoupoli and Ano Syros as well as the slow and steady way of life in its seaside villages.
Book your trip
All your holiday planning needs in one place, letting you book direct and benefit from official online rates
Private
5 hours
Free cancellation
Not sure? You can cancel this reservation up to 48 hours in advance for a full refund
Private
Group
5 Hours
Free cancellation
Not sure? You can cancel this reservation up to 6 days in advance for a full refund